Dealer Management System As a car dealer or an independent seller, you wear many hats. You are checking the inventory, updating your website or marketplace catalogs, engaging with customers, and whatnot! But how do you handle this multitasking? Do you maintain uncountable databases for everything? This means checking your inventory or customers' purchase history. You need to log in and open separate tracking sheets every time.
How will you focus on conversions and customer engagement if you are in manual and time-consuming processes?
Effective dealership operations call for programs that can help you escalate without navigating through processes manually, programs such as dealer management systems (DMS). Since you can integrate almost all operations in these systems, you save all the time and effort that would've been opening countless sheets and files while avoiding confusion.
This blog will run you through everything you need to know about a dealership management system, viz., what it is, what it does, features of an automotive dealer management software, what to look for in online management systems, and how Spyne can help you thrive in the online market.
Let's dive in.
What is a Dealer Management System?
Dealer management system is an automotive software program that helps dealers manage numerous dealership functions effectively. The term "DMS," which we frequently use for "dealership management system," can also refer to management software, solutions, or services. A typical management system for the automobile industry focuses diverse needs of dealerships like pre-sales, sales, purchases and post-purchases, financial accounting, inventory management, CRM, human resources, and customer relationship management. It improves efficiency, ultimately enhancing customer experience and decision-making.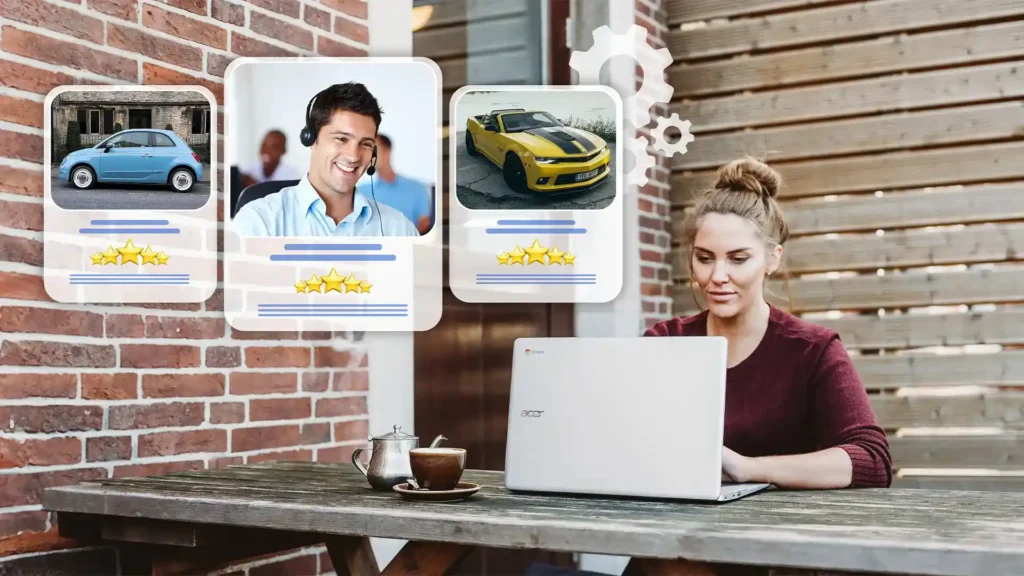 Automotive dealer management software can connect OEMs, dealers, distributors, automobile companies, and customers while providing a seamless and efficient operational experience.
Since they gained popularity in the early 1990s, Dealer Management Systems have come a long way. Initially introduced as a decentralized complex system, car apps have evolved into centralized mechanisms and are a crucial component of the supply chain network today. All dealers and distributors across leading segments (auto, manufacturing, retail, telco, etc.) will use auto management software in some form. Research by globenewswire.com and marketwatch.com says the market share of an online dealership management system will reach a whopping US$ 6395.1 million by 2028 and will keep growing at a CAGR of 8.37 percent.
What does a Dealer Management System do?
Dealer management system software allows a dealership to carry out all daily tasks, including sales operations, finance operations, service operations, etc., and makes them coordinate with each other. It is a powerful software tool that provides auto dealers with solutions on a fully integrated platform. These solutions help businesses stay profitable down the road. A cloud-based software that dealerships use for inventory management, customer information, paperwork, credit reports, and car sales, all on one platform.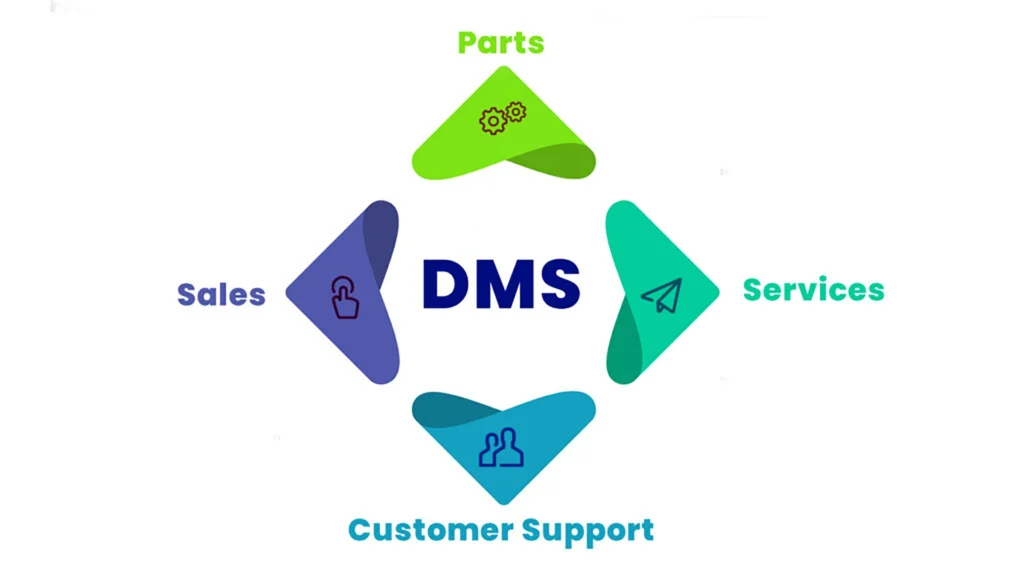 Dealers may enhance every aspect of their business with a DMS car by integrating all the necessary tools onto a single platform. You can manage your dealership's daily transactions more effectively if they are all in one location. To manage your inventory, you can build point-of-sale invoices, view service history, or follow up on leads, no longer logging in to separate systems.
Additionally, dealers can manage their whole business in one cloud-based auto dealership software, thanks to the software integration functionalities in a DMS. It enables you to track all dealership operations efficiently and have a clearer image of the big picture.
The integration capabilities in a DMS automotive help you easily streamline your business data and exchange across operational areas. It will help you stay informed about all aspects of your dealership, helping you improve operational efficiency, improve customer service, and even save money.
Remember that a successful dealership consists of efficiently running and well-coordinated departments. A car dealer management software will help you achieve that by giving departments room to communicate, interact, and be aware of transactions happening in other spheres. A sound dealership management system will enable you to save money, improve operational efficiency, and, most importantly, improve customer engagement across channels.
Features of a Dealership Management System (DMS)
With so many automotive DMS providers available, each offering a wide range of features and services, it's often a challenge to choose the right one for your business. However, most DMS share standard core features, such as deal structuring, inventory management, and BHPH (buy here, pay here) approach. While these are the basic features, some systems also offer advanced options like online marketing tools and website integration, which can significantly improve your business, but these solutions come with a higher price tag.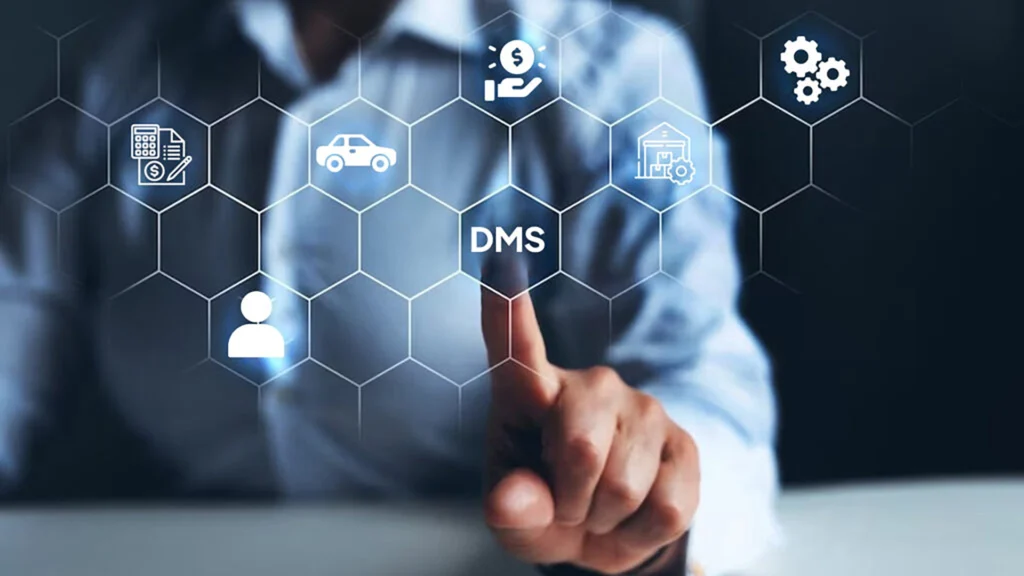 Here are a few core features of a dealership management system and how they can streamline your operations.
Vehicle dealing management
Vehicle dealing management is the fundamental feature of all DMS. It should be a quintessential element of your auto dealer software. This feature provides a framework for your business to manage deals effectively. It typically comes with numerous tools that help gather the necessary information to secure the best possible deal. Some car dealer management software also enables you to process credit applications, connecting customers to various lending and financing institutions seamlessly.
Inventory management
With an inventory management feature in the dealer management software, a car dealership can review all its vehicles without going for a physical inspection. This is especially useful if you are a dealership with a large inventory. All vehicle records can be stored in the program, allowing you to access and retrieve specific records in seconds. Additionally, you can monitor your expenses for reconditioning and flooring and swiftly provide industry-standard book values, such as NADA and KBB.
Customer relationship management
Say goodbye to manual searches through stacks of business cards or phonebooks to locate the right customer. The customer management feature of DMS Automotive enables you to store customer information and easily connect with them. With the auto dealership software, you can call or message them in real time. In addition, you can access customer information, record conversations, and categorize your contacts, enabling you to keep track of potential leads and discarded prospects.
Accounting
An effective Dealership Management System must be able to automate all aspects of accounting, including point of sale, inventory, and transaction costing. The accounting module of the auto shop management software should be at par with the capabilities of your dealership's current system. Some of the prime features of a robust accounting module include the ability to:
Swiftly and effortlessly generate financial reports for communication with managers and employees across departments.
Develop operating budgets, monitor actual performance, and analyze car dealership profitability of a specific location or department.
Automatically process all transactions related to unit inventory and sales.
Service management and productivity tracker
A management system with service management capabilities can enhance the productivity and profitability of your service department. The automotive dealer management software provides a clear view of your dealership's service schedule, enabling you to prioritize work orders and meet deadlines. Some of the additional features that a service management module should offer include the following:
Streamlining the service write-up process to make it more flexible and efficient
Scheduling service work to maximize billable hours
Allowing technicians to clock in and out with ease
Quick and efficient repair handling, as well as tracking of warranty claims
Reporting of tools and analytics
It is one of the dealer management features that allow users to generate, analyze, and visualize data of documents and activities within the system. This tool provides insights into document usage, workflow efficiency, user behavior, and other relevant metrics.
Estimating repair orders and billings
It is a functionality that enables automobile service centers or dealerships to create and manage repair orders and estimates for vehicle repairs and services. Dealership management requires proper documentation of all the repair orders and billings when providing services. An online dealership management system gives all of that on one platform. Additionally, it also includes service recommendations, parts, and labor management too.
LMQ(Lead Management Quoting)
A dealer management process involves managing leads and generating price quotes for potential customers interested in purchasing the product. A dealer management system allows dealers to capture and store information about customers who have expressed interest in the product. It also helps the sales team by tracking the progress of the leads.
Integrated accounting
A DMS allows one smooth and swift connection of financial data through integration between the DMS car software and QuickBooks. Now a dealer can get live updates of all the financial transactions and accurately map all the financial entries.
Benefits of a Dealership Management Systems
Besides these features, there are a million reasons why you should go for auto dealership management. Some of the noticeable benefits of services given by automotive DMS providers include the following:
Streamlined processes
Auto shop management software offers a centralized platform to manage all aspects of your dealership, making your processes more streamlined and reducing the time and effort required to run your business. By implementing car dealership management software, you can save time and resources and instead focus on crucial tasks such as expanding your business and providing exceptional customer service.
More efficiency
Dealership management software also helps you improve operational efficiency by automating many manual tasks. For instance, an automotive DMS can automate inventory management functions such as updating prices and generating reports, thus saving time and minimizing the likelihood of errors.
Better customer experience
A dealership management system can improve customer service by providing resources for managing customer connections and interactions. An automotive CRM system in your car DMS, for example, can assist in tracking customer preferences and interactions, allowing you to provide more effective and individualized service.
More saving and selling opportunities
Through auto dealer software, you can save time and positively impact your finances. For instance, a DMS helps reduce mobility expenses and decrease shuffling between sheets and files. Additionally, it enables you to highlight your inventory on multiple platforms, viz., your website, giving a professional impression to potential buyers. Similarly, the system's CRM allows for quick and efficient communication and transactions, resulting in faster revenue generation.
What Integrations to Look for in a Dealer Management System
Before choosing an Automotive DMS software, consider a few things. Some of them that could drive your company to excellence involves the following.
How many third-party integrations does the automotive DMS offer?
This is a significant bit. An online dealership management software that integrates with third-party solutions is crucial for operational efficiency. Such integrations include online payment gateways such as PayPal and Stripe, shipping software, live chat, multichannel inventory management, accounting software, email, and car dealership marketing automation, feedback and rating software, customer relationship management, analytics, and more.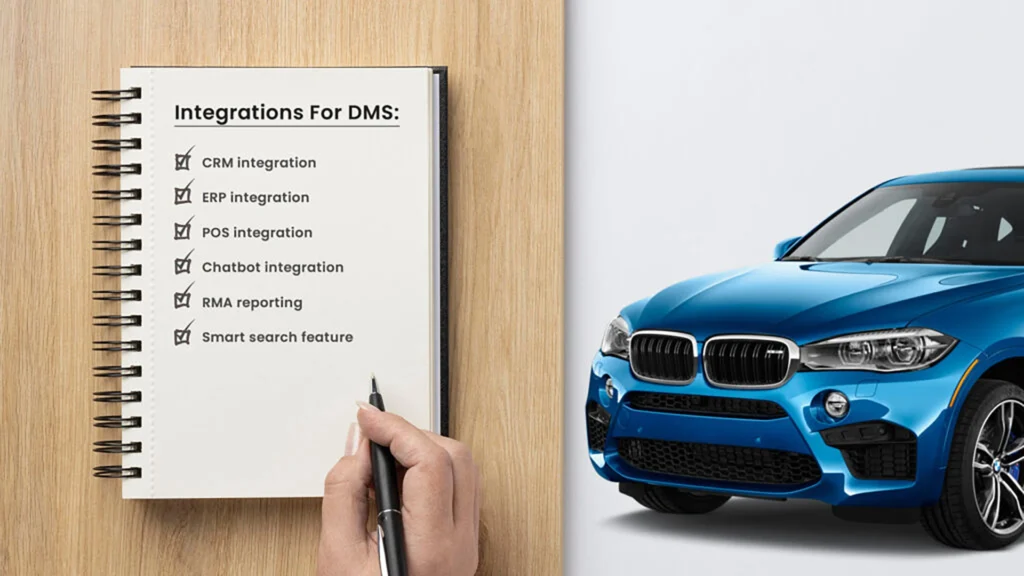 These integrations can help drive growth and improve the overall functioning of your business on the online platform.
CRM integration
A CRM system helps you enhance the customer experience by providing a deeper understanding of customer engagement. It also enables meaningful interactions with customers visiting your dealership, from pre-sales communication to standard interaction, post-purchase service, and support. This process ultimately contributes to improved customer satisfaction.
ERP integration
It is a multi-channel third-party integration that serves as the backbone of car dealer management software. The ERP system facilitates effective management of the items you want to sell, including efficient customer-specific pricing, inventory management, and streamlined sales and order processing.
POS integration
POS integration streamlines the connection between a point of sale software and an automotive accounting and operations platform, allowing for quick and easy retrieval of detailed data.
Chatbot integration
E-commerce chatbots for dealerships are a valuable asset that helps enhance customer experience. These chatbots use smart prompts and quick responses to engage with interested customers and casual website visitors. They also address queries and questions related to specific vehicles, leading to improved sales and profits and boosting overall revenues.
RMA reporting
This integration feature, termed return merchandise authorization (RMA), enables customers to return vehicles and receive a refund, replacement, or repair while the car is still under warranty.
Smart search feature
The Smart Search integration helps sort product labeling and reduce confusion by providing relevant charts. Buyers can quickly and easily search for their desired vehicles and products on the dealership management system's website.
How to Select a Dealer Management System
Investing in a DMS is not a cakewalk because you must evaluate a DMS through many lenses, viz., long-term benefits, overall relevance, ease of onboarding, etc. Many dealer management system providers provide various features. These features are critical to running an automotive dealership. Consider the following points when selecting a management system.
What problems do you need your car DMS solution to solve?
What specific problems do you hope to solve with a DMS? Are there issues with financial health, departmental performance, and inefficiencies leading to lost sales and employee hours? The more specific you can be, the better. What are the biggest challenges, and what impact would solving them have? Ensure to find the answer to these questions before diving headlong into implementing auto dealer management software.
Don't forget to get buy-in before investing in auto dealership software.
To overcome employee resistance to a new DMS, involve key employees in evaluating it, give them ownership of the project, and make it fun with contests. This will help them see the benefits, feel in control, and minimize disruptions.
Collaborate more for successful automotive DMS implementation
The success of DMS implementation depends on your dealership and employees, but your implementation team will be a valuable resource. Partner with them to make it a positive experience with minimal disruptions through open and frequent communication. Make onboarding easy by providing the necessary training.
Training is crucial for a smooth DMS implementation. Without proper training, it can be a disaster. Refrain from assuming you can figure it out on your own. You need experts with experience to help, just like you wouldn't let a novice work on a complex engine. The software affects all aspects of your business, so make sure you receive adequate training.
Clarity on the total cost of ownership
Price is important, but 80% of buying decisions are based on factors other than the initial price. The total Cost of Ownership includes all costs over a product's lifespan, including lost employee time, malfunctions, and lost sales. Buying a DMS solely on price can result in unplanned expenses and frustration, such as inaccurate data, stability issues, and a need for another DMS change. Hidden costs will eventually contribute to the Total Cost of Ownership.
Are you getting a long-term ROI
While the price may be a short-term concern, a DMS can offer a long-term return on investment in improved efficiencies, better morale, and reduced frustration. However, calculating ROI based only on hard numbers only partially captures the benefits of a DMS.
Why Spyne AI Integration is Popular With Dealer Platform
Integrating an AI image editor into your existing workflow may be a hassle and can disrupt your current workflow. To give you a seamless and smooth experience, Spyne works with your dealer platforms to integrate into your workflow with no extra effort. No need to go through the process of reshooting images. We pick up your inventory images directly from your DMS, beautify them, and send it directly to be published on your listings.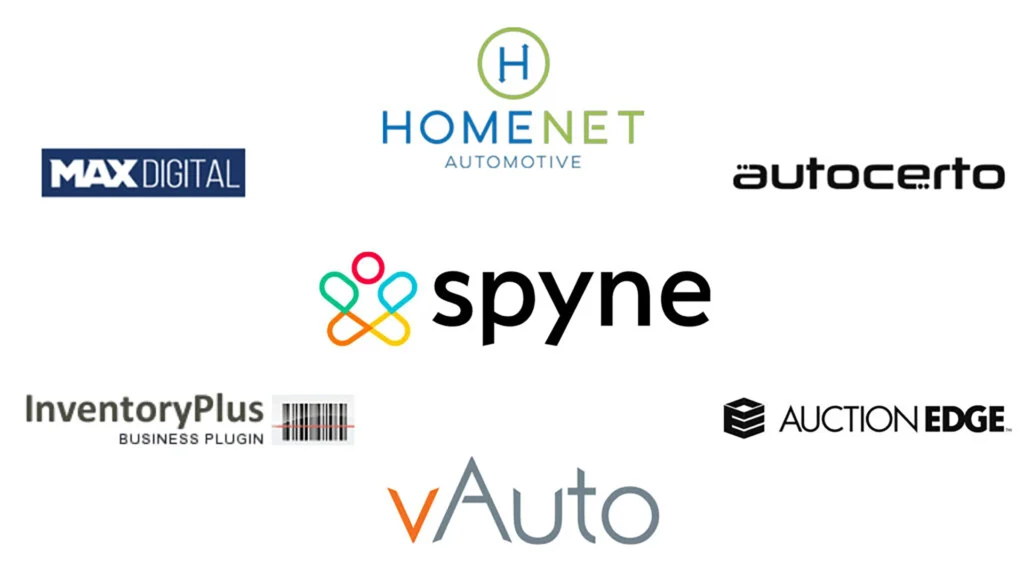 Spyne is currently working with dealership, marketplace, and auction integration services listed below:
vAuto
Inventory+
MaxDigital
Homenet
Auction Edge
Auto Certo
And we're expanding our integration support to more!
Final Word
We hope this blog helps you delve deeper into the mechanisms of a dealer management system. Long story short, as a dealer or an individual car seller, you have a short time to scale, grow your audience, and raise conversion while taking care of customer experience, post-sale service, inventory, accounting, and everything else. A good auto dealership software will help you organize your business while escaping the struggles of switching between sheets.
Want to know more about how you can add value to your automobile business? Or explore how Spyne can be of help to you. Reach out to us today.