In the automotive industry, dealerships are searching for efficient solutions to streamline their operations and reduce time-consuming tasks. VehiclesNetwork, a well-established DMS (Dealer Management System), has proven to be a valuable tool for numerous dealerships. It enables them to enhance their performance. If you're interested in learning more about this inventory platform for your auto dealership, this blog is the perfect resource for you.
What is VehiclesNetwork?
VehiclesNETWORK is an SEO and internet software development company with a focus on the automotive industry. Serving clients across North America, they understand the unique needs of dealers and excel at reaching their desired audience. Whether it's Buy Here Pay Here (BHPH) or franchise dealerships, they possess the expertise and track record to boost online visibility and generate high-quality leads for their customers. They also have a team of experienced professionals who can help you with all aspects of your online marketing, including:
1. Website design and development
2. Search engine optimization (SEO)
3. Pay-per-click (PPC) advertising
4. Social media marketing
5. Email marketing

Services Offered by VehiclesNetwork
VehiclesNETWORK is a company that's really good at helping car dealerships get better noticed on the internet and find more customers. They provide different services to help, like:
1. Responsive auto dealer websites: They can create a website that works well on all types of devices like computers, tablets, and phones. This will make more people visit your site and find what they want easily.
2. Automotive SEO software: Provide you with special car website software that helps in automotive SEO show up higher on Google and other search engines. That way, when people look for car dealerships near you, they'll probably find your website.
3. Organic top search engine placement websites: Help your car dealership website show up at the very top of Google and other search results when people search for things related to your business. That way, more people will find your website without you having to pay for ads.
4. BHPH SEO responsive websites: They will make a special website for your car dealership, especially for Buy Here Pay Here (BHPH). It will bring in the right people who might buy cars from you and also follow all the rules and laws.
Advantage of VehiclesNetwork
VehiclesNETWORK can help auto dealerships achieve various goals. Here are some of the advantages that you as a dealership can obtain by using VehicleNetwork:
1. Increased website traffic: They will use different techniques to get more people to visit your website. That way, you'll have a better chance of finding new customers.
2. Improved website ranking: Make your website show up higher on Google and other search engines. So when people are looking for car dealerships nearby, they'll probably find your website first.
3. More qualified leads: Use different online methods and techniques to find more people who might be interested in buying a car from you. That way, you'll talk to the right folks who are more likely to become your customers.
4. Increased sales: Increase your sales by helping you attract more qualified leads and improve your website's conversion rate.
5. Reduced marketing costs: Cut down on your advertising expenses by using online methods that don't cost as much as traditional advertising.
Disadvantages of VehiclesNetwork
VehiclesNetwork can really help car dealerships do better on the internet and find more customers. But, it's a good idea to know the downsides of using their services before you decide.
Here are some of the disadvantages that you should consider:
1. Cost: Their services might cost a lot, especially if your car dealership is small or doesn't have much money to spend.
2. Limited control: car dealerships may give up some control over their online marketing campaigns.
3. Dependence: Car dealerships that become reliant on Vehiclenetwork services may find it difficult to switch to a different provider in the future.
4. Lack of transparency: They often don't give full details regarding their pricing or regarding the results.
How Does VehiclesNetwork Posting Assistant Work
Posting assistant is a unique Chrome extension launched by VehiclesNetwork that is approved by Google and allows posting to eBay Motor and Facebook marketplace. It is easy to set up and has a strong user interface for changing inventory details and queuing units so that they can posted online. All you will require is to click, and the posting assistant will do the rest of the posting of images, videos, and descriptions.
What Optional Services Does Vehicles Network Provide?
They offer different optional services for your autoSTRADA website to make your business really noticeable. Here are the choices for these service packages:
1. Custom website theme: They make you a special website theme that looks amazing and is just right for the people you want to attract and turn into customers. When they create your website theme, they will use cool design stuff like trendy colors, unique header styles, and fancy text effects.
2. Banner advertisements & social media: The banner ads that come with this package can be used to promote a particular product, make more people recognize your brand, or get more visitors to your website to find new potential customers.
3. Professional Page & Content Creation: The words on your website are super important for people checking it out and search engines deciding how good it is. You can trust the staff at VehiclesNetwork to make content that grabs attention and shows up high.
4. Professional logo design: We'll make a unique and memorable logo just for you, so more people will remember your brand. Our super designers know all about fonts, pictures, and matching colors, and they'll create a logo that's one-of-a-kind and can be used in lots of different ways.
5. Multi-Language translation: This platform gives you a whole multi-language system that you can change to work just right for your translation needs, and you can even make each language look different to match your style.
How Spyne Integrates With VehiclesNetwork
Spyne provides one of a kind and the best Image processing solutions for auto merchandisers. Integrating Spyne with VehiclesNetwork can bring a whole lot of benefits, but lets understand how you we integrate with this DMS:
Step 1: Starting the integration
The process of combining things starts with getting permission from both the dealership and VehiclesNetwork. Once they give the green light, we can look at the DMS platform's database, where we can get details and pictures of specific vehicles.
Step 2: Images received through FTP
If the dealership takes pictures independently, then DMS sends us the raw images, and we turn them into processed images. But if the dealerships use the Spyne app to take pictures, the app does the work automatically and sends the processed images to the DMS platform, so you don't have to upload them manually.
Step 3: Processing images
We use our smart image processing to turn regular pictures into really professional-quality photos even if they are taken traditionally.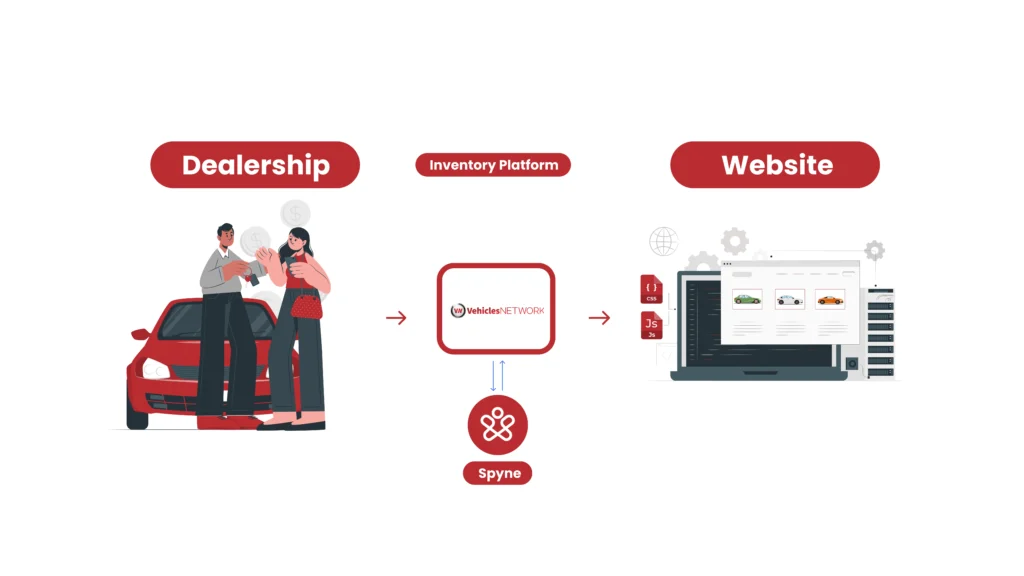 This automatic method saves a lot of time and work that would be needed for manual photo editing and makes sure all the pictures in the dealership's inventory look great.
Step 4: Image transfer through FTP
After we finish processing the images from VehicleNetwork, our software sends the improved pictures to the DMS using a strong file transfer method called FTP.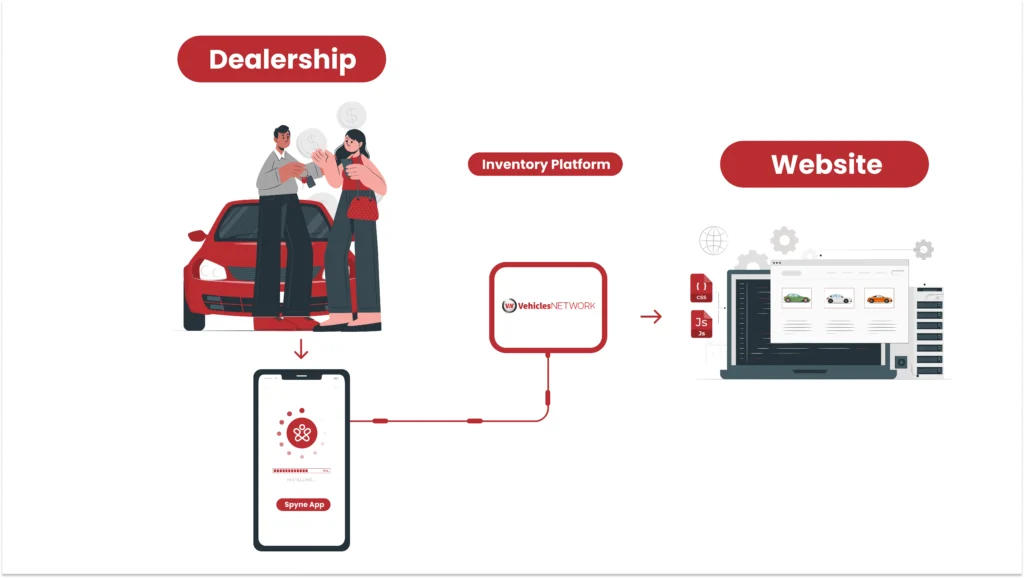 This makes sure the data flows smoothly between the two platforms. If you're using our app, the images are sent to the DMS through FTP as well.
Step 5: Distribution to website and marketing channels
The API smoothly puts the improved images into its system, making it easy to show them on the dealership's website, social media, and ads. This all-in-one way ensures customers can see great pictures of the vehicles, no matter where they look.
Step 6: Continuos update
The setup makes sure that if there are any changes to the vehicle details or pictures, they automatically show up on the dealership's website, social media, and ads. This way, customers always get the newest and correct info.
Benefits of Spyne and VehiclesNetwork Integration
Some of the benefits dealerships can receive after spyne and VehicleNetwork integration are:
1. Our high-resolution vehicle images and VehiclesNetwork's SEO expertise can work together to create more engaging and informative vehicle listings. This can improve the quality of a dealership's online presence and attract more potential customers.
2. Provide car dealerships one place to handle all their vehicle listings and online marketing. It simplifies everything and lets them see how well their marketing is doing.
3. When you put together really good vehicle pictures and well-arranged listings, it makes the customer experience better. People can easily find what they want to know, which helps them make smart decisions.
Conclusion
In short, the VehiclesNetwork automotive dealer management system gives car dealers important tools to manage their inventory and improve sales. They do things like handling inventory, car merchandising and creating custom websites. When you add Spyne, dealerships get automatic listings, better visibility on other websites, and easier inventory management. So, why not give this DMS a try and see your dealership's sales go up?