Online purchasing has become a significant part of every industry, including automotive. With growing competition in the space, buyers are now spoilt for choice, and sellers have to up their game to stay relevant. The more interactive and engaging their online sales platform, the better the chances of making a sale. A great way to do that is to deploy automotive chatbots on your digital channels.
The automobile industry is the sector that generates the most significant revenue and more so in the digital space. Thus, you will be facing a lot of competition. Chatbots for your website will eliminate customer conversation issues and help with the sales hierarchy, answering FAQs, assisting with purchasing, resolving maintenance-related questions, pricing, explaining finance, and more benefits. Thus, implementing the will drive sales for your website. 
If you're curious about this technology and how to leverage it to your advantage, you've come to the right place! This blog will explain in detail what an automotive chatbot is and why you need this tech for your dealership website.
What are automotive chatbots?
An automobile chatbot is an AI-powered program designed to assist users with various automobile-related queries on a dealership website or vehicle marketplace. These systems can interact with consumers through NLP (natural language processing), identifying and answering complex customer queries in a human-like dialogue. Including a chatbot that can resolve customer queries such as deals on cars, new car launches, booking test drives, scheduling service appointments, and on-road assistance will help turn around business a lot faster.
Chatbots are one-on-one conversations between an automotive company and a customer. They guide customers, understand their queries and give appropriate responses to them, personalize experiences, and offer recommendations. Additionally, they also appreciate leads and save customer details. The program can understand the customer's language and intent and respond accordingly.
They make it possible to immediately chat with a (computerized) dealership representative instead of waiting on a call or meeting them personally for assistance.
Key benefits of chatbots for car retail businesses
Now that you understand what a chatbot for car dealerships is, let's understand the key benefits of using one for your dealership website or online vehicle marketplace.
Free up your staff
When a customer needs consistent support, you must hire representatives to do mundane and repetitive tasks like scheduling appointments and answering calls. They make work easier and give you spare time to focus on other critical tasks.
Quicker response time
Another benefit of implementing chatbots in the automotive industry is the high probability of response time for customers. When you invest in an automobile chatbot for your car dealership website, customers are happy because conversations are more accessible and smoother. They can get their queries cleared before an hour. If they ask, "What's the best deal on a car?", they can get these immediately resolved.
Conduct initial queries automatically
If your business is growing and is a highly competitive marketplace, you must choose a chatbot for simple queries. They can become repetitive, and your business can lose focus on high-value questions. Since they offer immediate responses, you will also see a boost in conversion rates.
24×7 availability for consumer interaction
Your sales and conversion rates will grow if you install a chatbot. Their 24X7 availability makes it possible for customers to be aware of unanswered queries. Customers prefer a chatbot by rating immediate responses as highly important.
Chatbot for car dealerships ensures that automobile questions get resolved quickly without human interference, such as car specifications, warranty, and insurance. This will help reduce costs and save time.
Improve the car-buying experience
The car-buying process can be tedious and draining. A car dealer chatbot can make the process less challenging and provide comfort. It can help establish a conversation through every part of the delivery process. Even after the sales process, chatbots schedule post-service appointments and track delivery, boosting retention rates.
Track consumer data with ease
The best automotive chatbots help in not only customer retention but also personalization. How? By personalizing experiences and efficiently working around the customers' preferences, they store data and save it for the future. You can experience this when the chatbot notifies you of offers or deals. They make you feel safe.
Acquire more qualified leads
Customers are not just looking for the best experience; they also want options. Some are certain of the car they want, but many others are not. Through intelligent chatbot conversations, you can create an effective lead acquisition channel – get people to enter their contact info and car preference, then follow up with the appropriate options.
Enhanced customer-business relationship
An excellent user interface and customer experience go hand in hand for better customer-business relationships. An automotive industry chatbot can eliminate delays in responses and lack of reactions regarding products or services. They can give details about mileage, car loans, car customizations and designs, and more. With such an engaging customer experience, this is bound to result in loyalty even if your company is on the high end of pricing.
Top industry use cases of automotive chatbots
Chatbots have a lot of specific applications, even in the automotive retail industry. They range from answering simple questions to approving user requests for specific services. Here, we have listed the top use cases for dealership chatbots.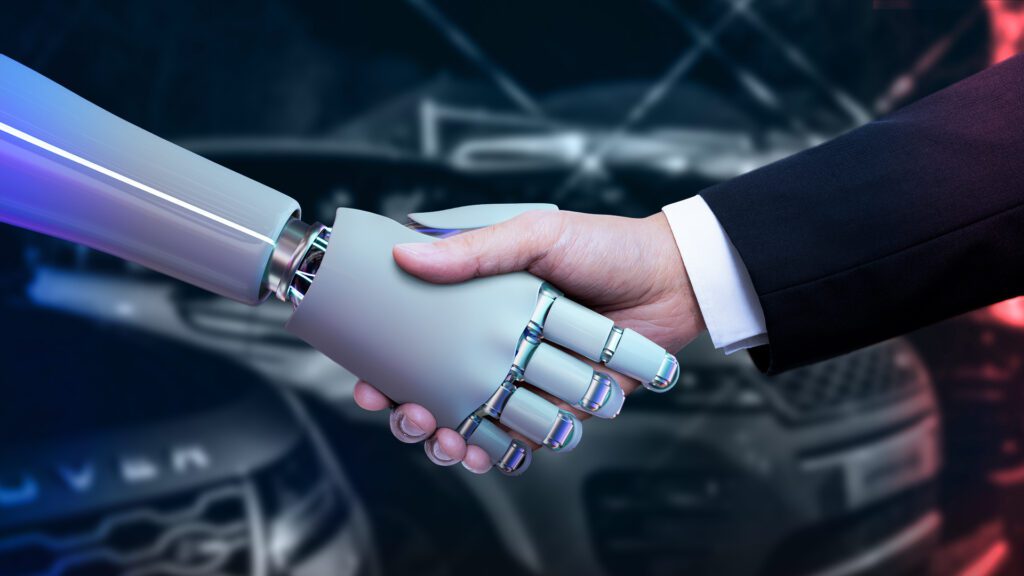 Assist customers with queries
A chatbot for a car dealership is necessary to build a customer base. Since conversational AI is a preferred channel, you must stay competitive and respond quickly. It would be best not to let your customers wait for responses or information.
Interact with people on social media
Understanding your customer's pain points and being conversational on all social channels is essential. People often send queries to dealerships and car brands on social media, expecting a reply, but the representatives are usually busy and don't respond. A chatbot can solve this problem, by replying to consumers and delegating to a sales representative if the need arises.
Handle pre-booking and test drives
You do not need human assistance for something as simple as pre-booking a car or a test drive. Dealership chatbots understand this intelligently, collect customer data, and book a test drive automatically based on the consumer and dealership availability.
Seamless purchase assistance
The program will understand your customer and provide the proper assistance by answering customer-dealer-centric inquiries such as browsing inventory, choosing the best deals, car inspection, making online payments, car-trade value, documentation, etc.
Insurance renewal reminders
Businesses assign human resources to remind customers about service appointments or renewals. This repetitive but simple hassle can be eliminated when you hire a chatbot for car dealerships and other mundane tasks.
Customers can be reminded on WhatsApp or Facebook, benefiting customers and car dealerships.
Help provide on-road assistance
Customers need quick assistance on the road to their queries, especially at a remote location or highway. When you have a car chatbot, this processes the requests and alerts the teams responsible for the service quickly, helping improve your brand's customer experience.
Who can leverage automotive chatbots?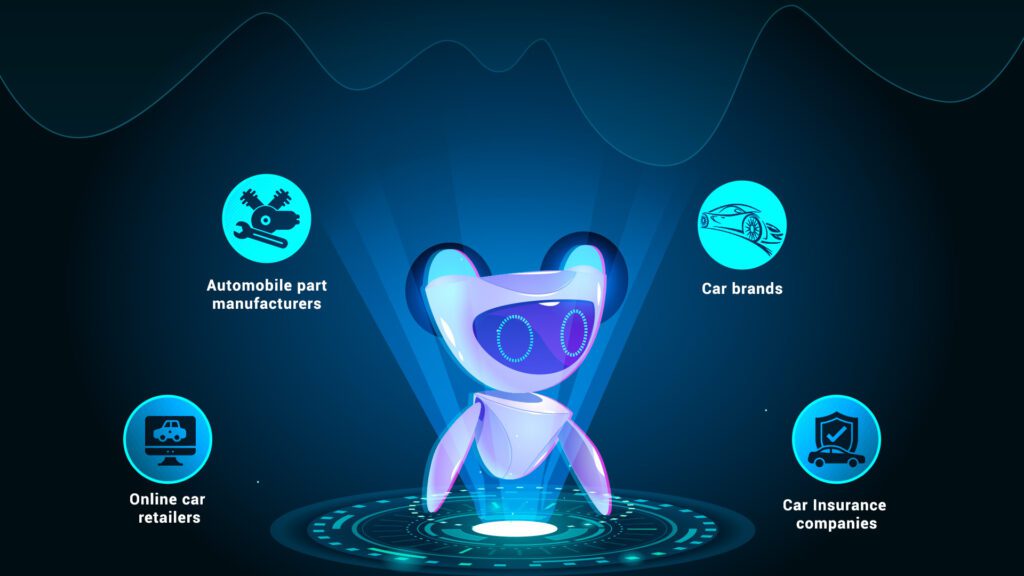 Multiple industries can benefit from chatbots in the automotive industry, including the following:
1. Car brands
Car manufacturers can deploy chatbots on their websites and social media profiles for consumer interactions. Plenty of people comment and/or ask questions about their existing or upcoming vehicles, and it becomes difficult for a single team to answer everyone. Automated replies can make things a lot easier.
2. Automobile parts manufacturers
Automotive parts manufacturers have to cover businesses (i.e., car brands) as well as general consumers (i.e., car owners), which means that their potential market size is enormous. A chatbot is one of the most important parts of their marketing strategy, as they need to be quick to engage buyers or risk losing a sale.
3. Car Insurance companies
Buying insurance is a complicated task, and people usually have thousands of questions when buying one. Automated chatbots can answer many basic questions, and forward the more tedious ones to a representative. This can help save a lot of time and effort, for both the insurance company and the consumers.
4. Online car retailers – dealerships and marketplaces
Dealerships and online car marketplaces (like Carvana, etc.) can drive consumer engagement using chatbots. Chatbots can not only answer consumer queries but also capture details of your website viewer, announce any deals/discounts you have on offer, etc. Better engagement leads to higher sales probability.
Things to keep in mind when deploying a chatbot
Before you add a chatbot to your digital car sales channel(s), there are a few things that you should remember! Let's take a look at what these are: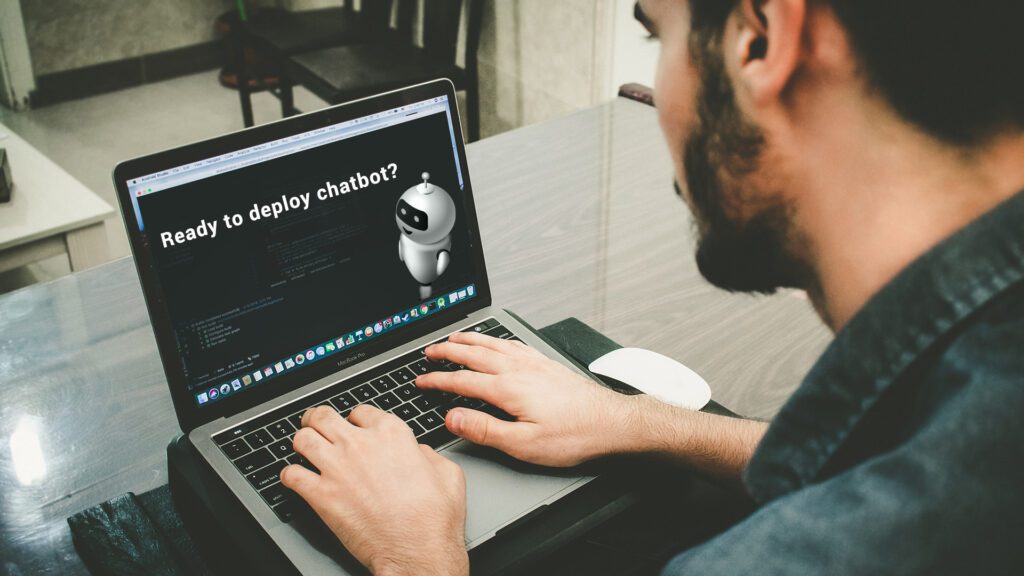 Don't limit your customer base
The whole purpose of a chatbot is to expand your customer base and learn more about what people want. It would help if you reached wider audiences to stay competitive and boost your business. An automobile chatbot does this job automatically for you by gathering data from all sources.
Your chatbot should build trust
Buying a car is a big decision, and a lot of thought goes into when a customer will finally make a purchase. A simplistic chatbot will cheapen the whole process and customer experience, so you should keep that from happening. It should also avoid bombarding customers with promotional offers immediately. Keep the chatbot upgraded, understand the customer pain points and design it well; this will ensure you maintain credibility and trust.
Collect information from potential customers
Collect information from your customers to generate more leads for your business. If the consumer drops off in the middle of the buying journey, you can follow up with a call and ask them the reason, perhaps even getting them to complete the purchase.
Keep learning and adapting
You can only use technology by actually knowing that it keeps changing. Ask what your customers want; you will learn much about their preferences, budget, demographics, etc. The best automotive chatbots will keep themselves upgrading intelligently. But more than that, invest your time and effort in research. So do trends in the automobile industry, so keep adapting, and your chatbot should be too.