As a car dealer or independent seller, you have lots of different jobs to do. You need to keep track of the cars you have for sale, update your website or listings on places where you sell cars, talk to customers, and more. But how do you manage all these tasks at once? All of this can be hectic since as a dealership you will have to focus on multiple things at once. To run a car dealership smoothly, you need tools that can make things easier and faster without doing everything by hand. MaxDigital provides the best automotive dealership management solutions that provide you with efficiency.
What is MAX Digital?
MAX Digital provides solutions to help car dealers handle their cars for sale and make the process of selling them smoother. They are here to ensure customers have the best experience when buying a car, and they believe this is the best way for car dealers to stay successful in the long run. Their tools can help automotive dealerships make smart decisions based on data and manage their products and how they present them effectively.
You can get the right car at the right price with the max digital inventory with the addition of reduced risks. You can get a complete analytical view of how you, as a dealership, sell pre-owned cars, from the beginning to the end.

Services Offered by MAX Digital
Max Digital gives you services that can improve your car dealership merchandising and inventory management. Here are some of the services they offer:
1. Max inventory management
2. Max Digital showroom
Both services can help you attract more customers to trade in their items with you during the appraisal and trade-in process, plus allow you to put your products on the internet fast and easily with a simplified procedure.
Advantages of MAX Digital
There are major advantages that Max Digital can provide to dealerships. From empowering the sales team to an overall improvement in time to market, lt can do it all.
Here are some of the advantages:
1. Make it easy for you to use top-notch, search-friendly descriptions for your OEM factory equipment.
2. Knowledgeable purchasing helps dealers find and buy vehicles in a marketplace.
3. Allows your sales team to access all inventory info from their phone, tablet, or computer, making them experts on every product, including off-brand cars.
4. Available on various digital devices with ease.
Disadvantages of MAX Digital
There are always two sides to a coin, Therefore, With many advantages, itl comes with some disadvantages.
Here are some cons that you must know about:
1. Less control: Advertisers are letting Google's algorithms control their bids and who sees their ads. Advertisers can't pick specific keywords, audiences, or places for their ads.
2. Lack of transparency: Google doesn't show how DMS decides on bids, so advertisers can't easily figure out why bids were made and what they do for their campaigns.
3. Reporting limitations: Google only gives overall campaign data for MAX Digital campaigns. It's hard to tell which groups of assets are doing well and which ones might not be doing as great.
4. Learning curve: It is a brand-new and complicated platform. Advertisers need time to figure out how to use it well and get great outcomes.
What is MAX Inventory by MAX Digital
MAX Inventory is a trusted tool for used car dealers. It uses special algorithms and looks at how fast things are selling and your past sales to pick the best cars to add to your collection. You can also easily move cars between your dealerships and buy from auctions right from your dashboard. Also, the DMS has a really big database to figure out how much a car is worth. They look at what people are willing to pay for similar cars in terms of year, make, model, condition, and more. This way, it can tell you exactly how much your car is worth based on what people want.
How MAX Digital Helps in Digital Inventory Management
It can help auto dealerships in managing their digital inventory. Here are some of the key takeaways:
1. It provides dealerships with a variety of tools to merchandise their inventory more effectively, including Vehicle descriptions that are optimized for search engines and customers, high-quality photos and videos, virtual showroom tools, social media integration, and reporting and analytics.
2. Gives real-time relevant vehicle valuation and ten pricing proof points, including third-party resources like KBB, NADA, and Edmunds. This helps dealerships to validate their pricing and appraisals, making it easy to avoid unnecessary discounting.
3. Data and insights help dealerships make informed decisions about their inventory, reducing the risk of overstocking or understocking. It also provides tools to track and manage inventory costs and profitability.
How Spyne Integrates with MAXdigital
The seamless integration between Spyne, an AI-powered vehicle imaging platform, and Max Digital, a leading automotive inventory management solution, empowers dealerships to streamline their vehicle imaging and marketing processes, ultimately enhancing their overall efficiency and effectiveness.
Step 1: Initiating the integration
The process starts when Spyne asks permission from the car dealership and Max Digital. After they say yes, the car management system (DMS) lets us use its database. This allows us to get specific information and pictures of vehicles.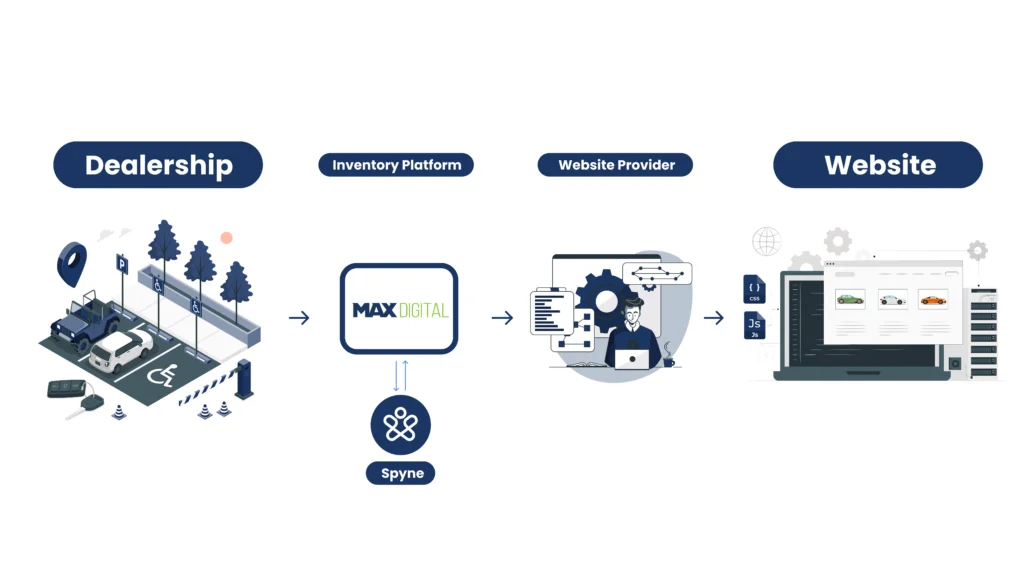 Step 2: Processing traditionally shot images
We use advanced image processing to turn regular photos into top-quality studio-like pictures. This automated method saves much time and work compared to editing images by hand. It also ensures that all the pictures in the dealership's inventory look the same and have good quality.
Step 3: Image transfer via FTP
After completion of image processing, we securely transfer the enhanced images to Max Digital via FTP, a robust file transfer protocol. This ensures seamless data exchange between the two platforms.
Step 4: Distribution to website and marketing channels
Max Digital inventory seamlessly integrates the enhanced images into its platform, enabling them to be effortlessly published across the dealership's website, social media channels, and advertising campaigns. This unified approach ensures that customers have access to high-quality vehicle imagery regardless of the platform they are using.
Step 5: Direct imaging through Spyne App
In cases where dealerships choose to capture images directly through our app, the images are automatically processed and transferred to the DMS platform, eliminating the need for manual image upload. Then DMS forwards these to the website provider, and the website provider will publish them across the platform.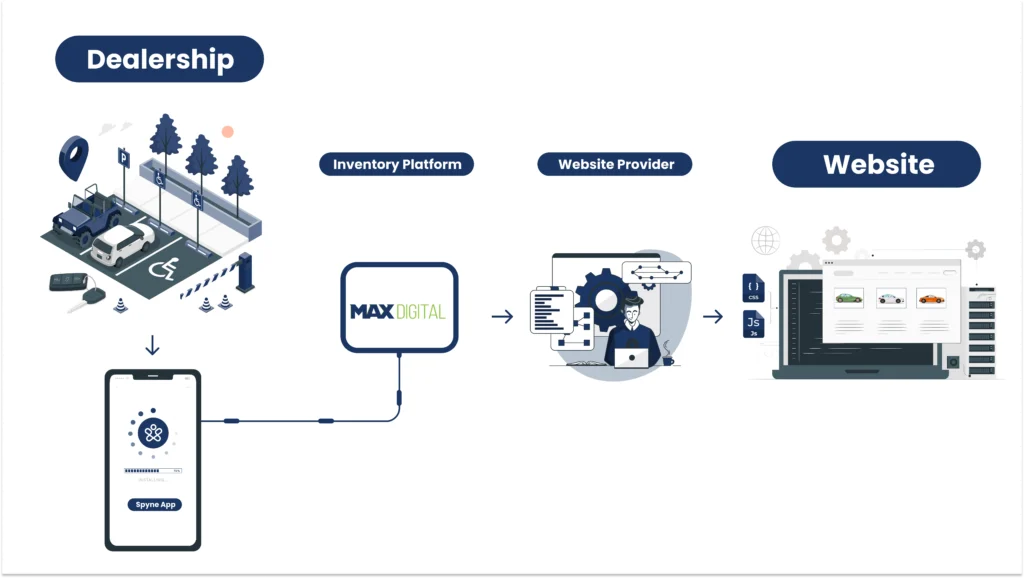 Step 6: Continuous updates
The integration ensures that any changes made to vehicle information or images are automatically reflected across the dealership's website, social media, and ads, ensuring that customers always have access to the most up-to-date information.
Benefits of Spyne and MAXdigital Integration
There are many benefits a dealership can gain from integration:
1. Automated vehicle listing creation: When a new vehicle is added to MAXdigital, We automatically create a listing for the vehicle, complete with photos, videos, and a vehicle description. This saves dealerships time and effort and ensures their listings are always up-to-date.
2. Improved inventory visibility: We can publish MAX inventory to third-party websites, such as AutoTrader and Cars.com. This helps dealerships to reach a wider audience and sell their vehicles faster.
3. Streamlined inventory management: The integration streamlines the inventory management process, making it easier for dealerships to manage their inventory and track their sales.
4. Cost and time-efficient: Integrating us with your DMS platform will save you an ample amount of time, and dealerships using our app for clicking car images will help them save money by not investing in studios and camera equipment.
Conclusion
In conclusion, MAX Digital offers essential tools for car dealers to manage their inventory effectively and enhance the sales process. It provides various services, including inventory management and a digital showroom. By integrating Spyne, dealerships can benefit from automated listing creation, enhanced inventory visibility on third-party websites, and streamlined inventory. So, why not give this DMS a try and let your dealership deals skyrocket?