Auto dealerships have always been an integral part of the automotive industry. They offer a range of services, including selling new and used cars, car financing, maintenance and repair services, etc. In recent years, the automotive dealership industry has seen significant growth due to technological advancements and consumer behavior changes.
Carmalls today are faced with a unique set of challenges and opportunities. As technology evolves, auto dealerships must adapt to stay relevant and competitive. This includes implementing new tools and systems to streamline operations, improve customer experiences, and drive revenue growth.
In this blog, we will explore the world of auto dealerships. We will examine how they operate, how you can start your own dealership, and what offerings can attract customers. Let's begin.
What is an Automotive Dealership?
An automotive dealership is a business entity or person that purchases new vehicles for selling or leasing to customers. The business can sell both new and used vehicles in retail. The dealership is generally in contract with an automaker or a sales subsidiary. Many automobile dealerships also sell auto parts and provide automotive maintenance services.
How do Automotive Dealerships Work?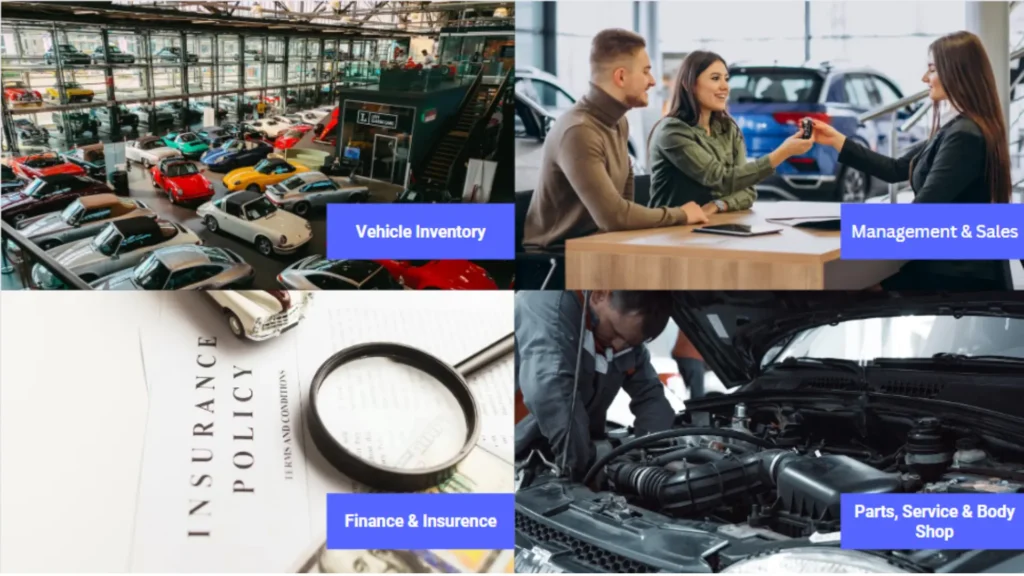 Specific companies often franchise an auto dealership to sell and service their vehicles. They have physical showrooms that house the used and new vehicles to be sold, areas for offering mechanical services, and repair facilities. The State Law prohibits US car dealerships from buying from the manufacturer directly. Here we discuss the working of various departments of a car dealership.
1. Vehicle Inventory
Used cars are bought through trade-ins or direct purchases. Dealerships use floor plan financing to buy inventory and pay interest on the amount for the time period that a car stays in their lot. This means the quicker the car sells, the better. Discounts are used to sell cars that are sitting on the lot for a long period of time because the primary concern then shifts from making a profit to getting rid of the old inventory.
2. Pricing and Incentives
Some prices can be negotiated, while on other vehicles, the dealership is required to follow strict pricing guidelines. An automotive dealership can get 'hold-back' money from the manufacturer, along with other incentives and rebates on new cars. In the case of used cars, the selling price is decided based on what is paid to buy the vehicle and recondition it.
3. Management and Sales
The owner acts as a dealer principal if he owns a single dealership, and appoints managers if he owns more than one dealership. The manager looks after the day-to-day operations dispensing on their agreement with the principal. The manager often needs to buy in as a minority partner and is given bonuses for achieving targets or unusually high profits.
4. Finance and Insurance
F&I, or the finance and insurance department, takes care of the financing for customers. This department makes money by selling the car for a loan using the dealership reserve, earning a profit from the interest charged. Selling of insurance and warranties and the paperwork associated with a vehicle purchase are all taken care of by the F&I department. This department is often called the front end of a dealership.
5. Parts, Service and Body Shop
Where F&I is the front end, the service, parts, and body shop department are the backend of a car dealership. They take care of servicing the vehicle after it has been sold to a customer. They help increase customer interactions and dealership revenue, but not all dealerships have these departments. Nowadays, car dealership DMS software is available for this function.
How to Start an Automotive Dealership?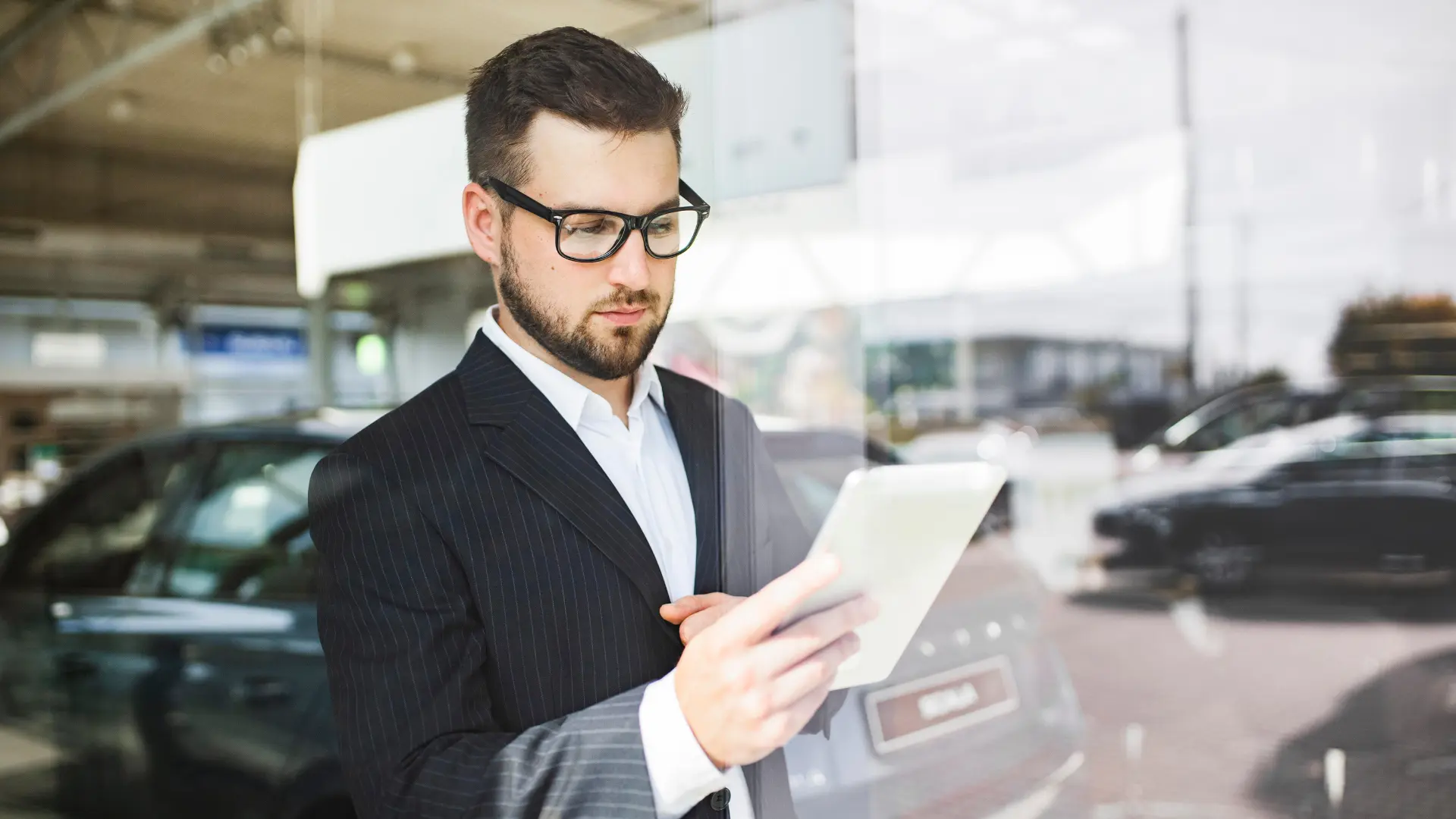 There are more steps involved in starting a business than simply registering with the state. Here are 10 steps to follow if you are looking to start your own automall business.
Step 1: Planning your business
Map out a plan that includes the specifics of your business. You should consider some important questions:
The cost of starting and running your dealership.
What audience to target
How much you will charge customers to maintain a profit margin.
What will be the name of your business?
Step 2: Forming a legal entity
LLC or Limited Liability Corporation, partnership, and proprietorship are among the most common business structures. If you establish your business as an LLC or corporation, you will not be personally liable in case the dealership is sued.
Step 3: Registering for taxes
Apply for an EIN and then register your business for the applicable state and federal taxes.
Step 4: Opening a business bank account & credit card
For personal asset protection, it is good to use a dedicated business banking and credit card account. Mixing personal and business accounts can bring your personal assets at risk if your business is sued.
Step 5: Setting up business accounting
In order to understand the financial performance of your business, you must record various expenses and sources of income. Keep detailed and accurate accounts to simplify filing for tax annually.
Step 6: Obtaining necessary permits and licenses
If you don't have the required permits and licenses, you can incur large fines, or even have your business shut down.
Step 7: Getting business insurance
Insurance is needed to operate a business safely. Business Insurance protects the financial well-being of your company in case of a covered loss. Different types of policies are available based on the risk to be covered and the type of business. General Liability Insurance is a safe bet if you're unsure of the types of risk your business might face.
Step 8: Defining your brand
Your brand is what your company stands for, and dictates how the public perceives your business. This can be defined through the company name or logo. A strong brand presence will help you stand apart from your competitors.
Step 9: Creating your business website
Since most buying and selling happens online, that is where you need to be. The next step is creating a car dealership website. It is easy to set up and will help you target a wider audience. Make use of car dealer CRM for better customer service. Use high-quality images and videos to list your vehicles, to ensure that you grab the maximum attention from shoppers.

Step 10: Setting up a business phone system
Setting up a phone system can ensure that your personal and business life is separate. It will also aid in making your business more automated, bring legitimacy to your dealership, and make it easy for buyers to find and contact you. Use car dealer chatbots, so customer service is available 24×7.
Nature of the Automobile Dealers Industry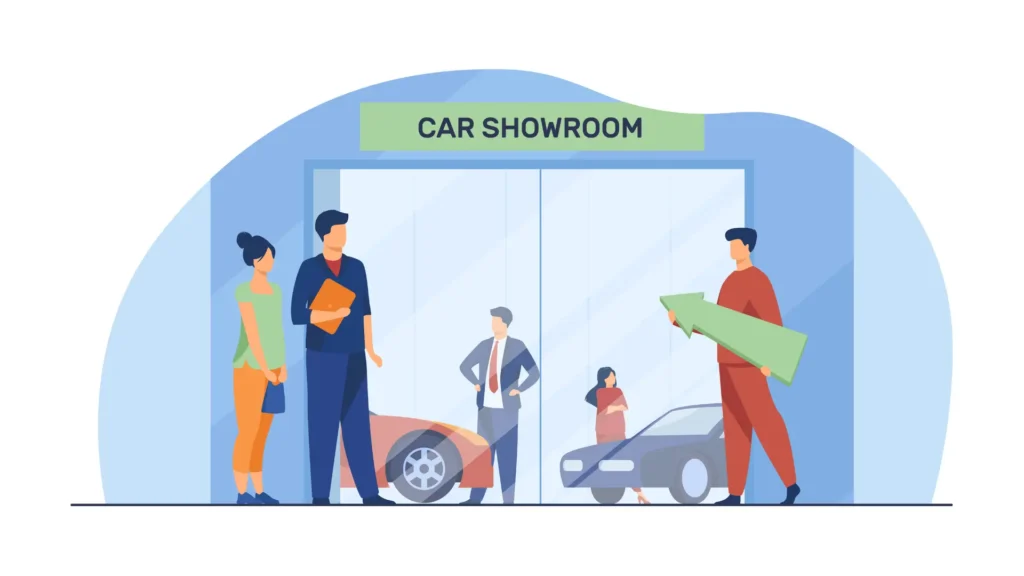 Auto dealerships link car manufacturers and consumers. They provide a wide range of vehicles at different prices to customers. Here we try to understand a car dealership business model by looking at its nature and work environment.
Goods and services: A car dealership sells most of the automobiles, vans, and light trucks that can be seen on the road. The sale of a vehicle can vary depending on consumer taste. Dealerships also offer auto-related services through aftermarket sales departments, including repairs, refinishing, and painting. Apart from generating revenue, this also improves customer satisfaction. Incentives, financing deals, and rebates are offered to customers during slow periods to maintain sales and reduce inventory.
Industry organization: New car dealers that sell new cars, SUVs, passenger and cargo vans, and used car dealers that sell previously owned or rented and leased vehicles make up the two segments of the automotive dealership industry. According to NADA, more than half of total sales revenue is due to new vehicle sales. Used car dealerships are also expanding to open stores across the country.
Recent developments: Used car sales are earning huge profits while margins of new car sales are shrinking. Automalls now offer certified pre-owned vehicles for customers who want a warranty on their used vehicles. Aftermarket services like vehicle maintenance, repair, and financing are increasing efficiency and flexibility. Apart from sales, car rentals, and leasing, where customers make monthly payments, and eventually return the vehicle, are also being incorporated by dealerships to increase profits and attract a broader customer base.
Work Environment for the Automobile Dealers Industry
Hours: The hours may be longer than in other industries. Employees work full-time, sometimes 40 hours per week. Customer service has to be available 24×7, including on weekends.
Work environment: Salespersons and administrative staff work in a shared space. Selling is competitive and stressful; meeting quotas and personal sales goals is required. Technicians and repair staff work indoors in well-lit, well-ventilated areas. Dealership managers take precautions to avoid workplace injuries and hazards.
Employment in the Auto Dealers Industry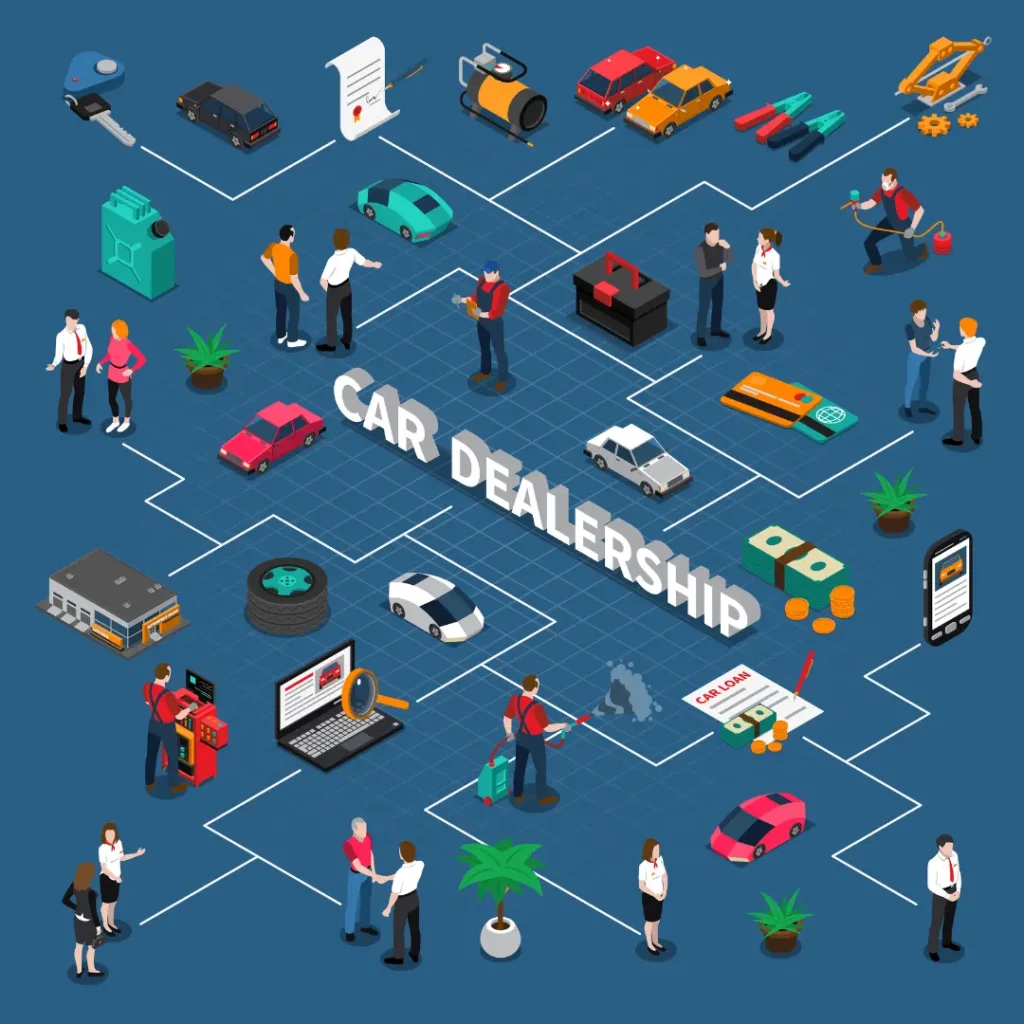 There is a shift in trend from purchasing new cars towards favoring used cars. These used car dealership customers can now be found online, with many purchasing online without visiting a dealership.
Occupations in the Automalls
The number of employees in a dealership will depend on its size, number of vehicle handles, location, and distribution and sales operations.
Sales and related occupations: Salespersons are the first to greet costumes, identify their reason for a dealership visit, and demonstrate the features of vehicles. They also work with sales supervisors and negotiate the final terms of the sale with the customer. They must be tactful, respectful, and well-groomed.
Service and repair department support: They maintain the automotive parts inventory, and promote their sales. They also work closely with garage and repair shops that want to purchase auto parts.
Installation, maintenance, and repair-related occupations: The servicing, diagnosing, adjusting, and repairing of automobiles are taken care of by automotive service technicians. Automotive repairers are responsible for repairing and finishing vehicle bodies, straightening bent parts, dent removal, and replacing parts beyond repair.
Supervisors of installation and maintenance: They train and supervise the technicians, and oversee the service department operations. They are responsible for efficiency and dealership profitability, including troubleshooting, finding service parts and information, and scheduling customer appointments.
Management positions:  Filled by promoting employees, management staff look after market analysis, estimating volume potential of various vehicle models, developing sales campaigns, determining customer needs, etc.
Other occupations: This includes administrative and office support staff, involved in accounting, bookkeeping, coordinating operations, car dealership marketing and supervising. They mostly perform managerial duties.
Training and Advancement in the Automobile Dealers Industry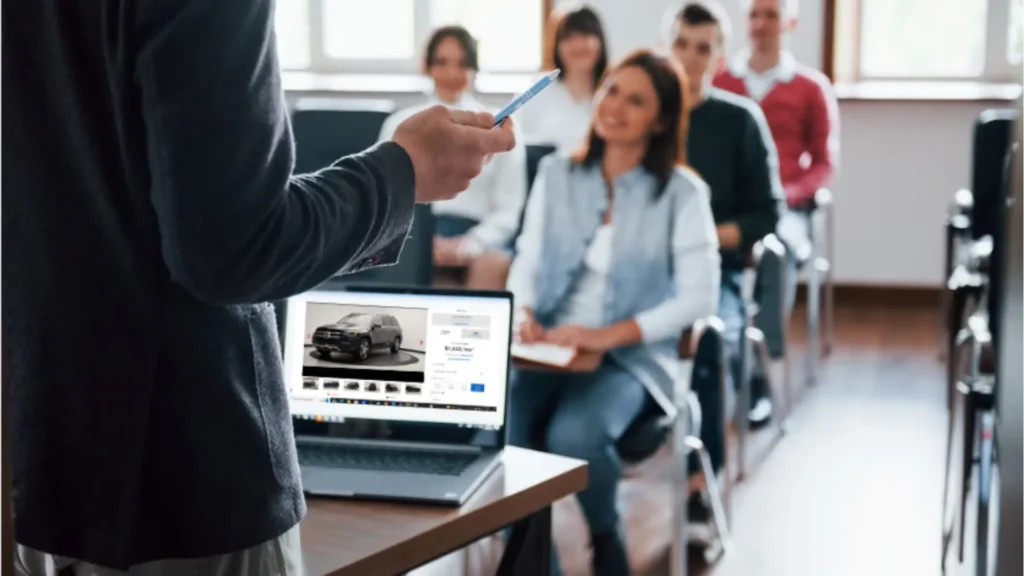 Since the automobile industry is constantly evolving, employees need to be constantly trained in automotive software usage advertising, communication, repairs, etc. If you are still wondering about employee training, here are 5 ways employee training can lead to the advancement of your dealership.
1. Better Product Knowledge
Salespersons should be trained and given information about the various makes and models of cars. This can be done by distributing information packets or helping them check out the cars in person. Individual training can also be given to identify problem areas for each employee and focus on that aspect. Group training should help them stay informed and build team rapport.
2. Staying in Touch with Customers
Employees should be trained to communicate with customers using social media platforms. This can be through posts, comments, or face-to-face interactions. These can be used to understand the budget and preferences of your customers. The employees must use the information on contact and about pages of company websites for uniform messaging. Emails and other forums can be used to raise and discuss customer queries, provided employees have been trained to answer questions and provide solutions.
3. Understanding of Car Dealership Progress
Training sales staff can also help identify problem areas in the working of the automall, by understanding the progress of each employee. Staff members can train each other; they can communicate better since they are from the same team. Once everyone is on the same page, meeting sales goals will become easier.
4. Helping Salespeople Stand Out
This means identifying and using the strengths of the salespeople. Those with better face-to-face interaction skills should be trained to enhance them. This also means identifying what is missing in their pitch to the customers. Some staff members can be trained to work on social media marketing and the dealership website to give attention to online customers.
5. Appealing to Different Demographics
Different demographics of customers have different needs, so your employees must be able to identify and approach them accordingly. Online promotions and automotive solutions should also be focused on, and phone call training should also be highlighted. Social media posts should target different age groups, and promotional content can be customized based on customer needs.
Benefits Car Dealerships Offer to Consumers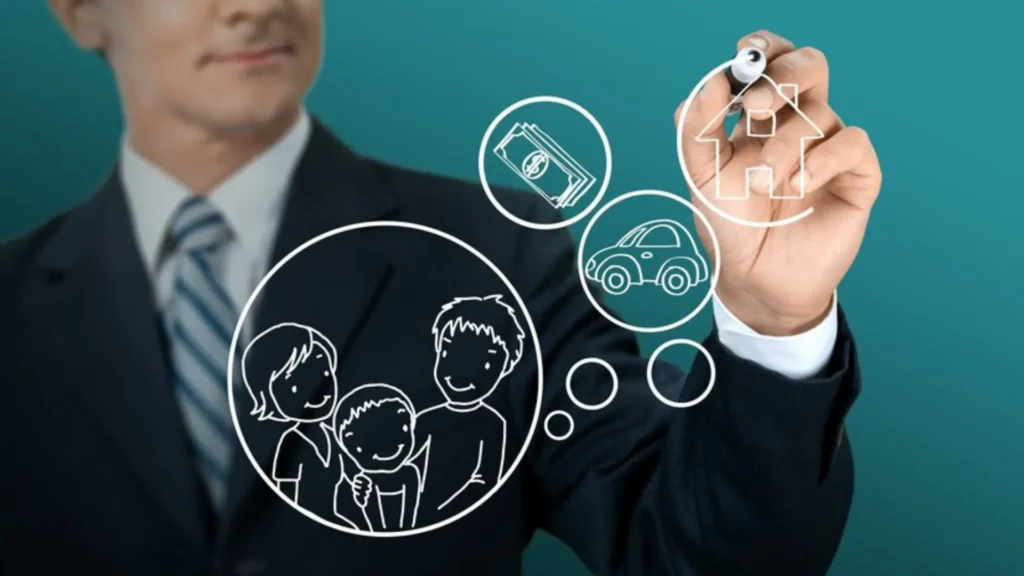 Here are some benefits that automotive dealerships offer buyers for increased customer satisfaction and loyalty.
Price competition
Dealerships are in fierce competition over prices, leading to lower costs and better customer service. There is transparency in pricing and negotiation. In the case of direct sales, the factory fixes the price, so there is no room for negotiation. The cost of showrooms, lots, staff, inventory holding, etc., is also involved in retail.
Consumer safety
Dealerships ensure that warranty and safety issues are addressed efficiently. Incentives are given to dealers to respond quickly to the safety concerns of customers; automakers pay them to perform recall and warranty checks.
Local economic benefits
Dealerships provide jobs to the community and opportunities for professional development to their employees. Dealership profits also benefit the community; local auto malls hire local people.
Added value
The complex process of buying a car is simplified by dealerships. They also offer a wide range of financing options to make cars more affordable. Many auto dealerships also offer assistance with title, registration, and regulatory paperwork.
Conclusion
Automotive dealerships are an integral part of the automotive industry. Various departments take care of the operations, from inventory management to F&I services. Employees of these departments contribute to the dealership's efficient working, and training them can drive up sales.
Customer trends are shifting towards used cars and favoring online purchases rather than dealership visits. Showcasing your lot on your online dealership website can be done through high-quality visuals, images, and videos. Since manually clicking and editing can take a lot of time, effort, and investment, Spyne helps you automate the process, to obtain high-quality visuals quickly, with easy scalability.