The process by which individuals buy automobiles has evolved, and this transformation is likely to last. Customers are increasingly opting online to narrow their selections rather than spending hours driving from one car showroom to another to find the perfect vehicle for them. Despite this, only a few dealerships have developed a viable strategy for selling cars online. If you want the best way to sell a car, you must find an effective way to reach your customers. There are no shortcuts here; you must invest in building your dealer brand and improving customer service, among other things.
This blog covers how to sell a car online with or without a website. If you are selling cars through your website, we also discuss how to improve car sales online. Let's begin.
Challenges Faced While Selling Cars
1. Finding a "clean" car to sell
The biggest challenge for any retail business is maintaining the inventory. This is much more difficult for used car dealers, as stocking up on pre-owned vehicles takes a lot of time and effort. You'll have to inspect each car thoroughly and understand what repairs are needed. Vehicles not worth fixing should not make it to your lot; otherwise, you might end up losing money!
Also, not every owner is honest about their car's condition before selling it to your dealership, so you cannot simply trust their word.
2. Drawing buyers to your dealership
For a successful business, you need lots of customers! Attracting buyers to your pre-owned Auto Dealership is quite a task in this digital age; thanks to the internet, people have a lot of options at their fingertips. You'll need a strong marketing strategy (online and offline).
3. Appealing to people online
Your buyers are online, so you should be too! Your business needs to invest in a good online presence to be successful in today's world. Social media strategy for platforms like Instagram, Twitter, and Facebook is also necessary to increase brand recall for your business.

4. Car Finance
When selling a used car, or even a new car, you may have to offer attractive finance options (like quick loans, flexible installments, etc.) to attract customers looking for the best deals online. These must be carefully planned to balance your profit and customer discount.
5. Customer experience
To offer an outstanding client experience, you'll need a great sales team. Your representative should be courteous and patient; they should be able to establish an emotional bond with customers, understand their needs, and even give suggestions. For a good online customer experience, you must look for a good chatbot for your website. Also, having detailed VDPs (Vehicle Display Pages) means shooting high-quality images, which brings with it the hefty costs of photography studios and hiring professionals.
Best Way to Sell a Car Offline
Display your cars attractively on the showroom floor
When customers walk into a showroom, they first notice how the cars look in real life. You need to make an excellent first impression for the maximum impact.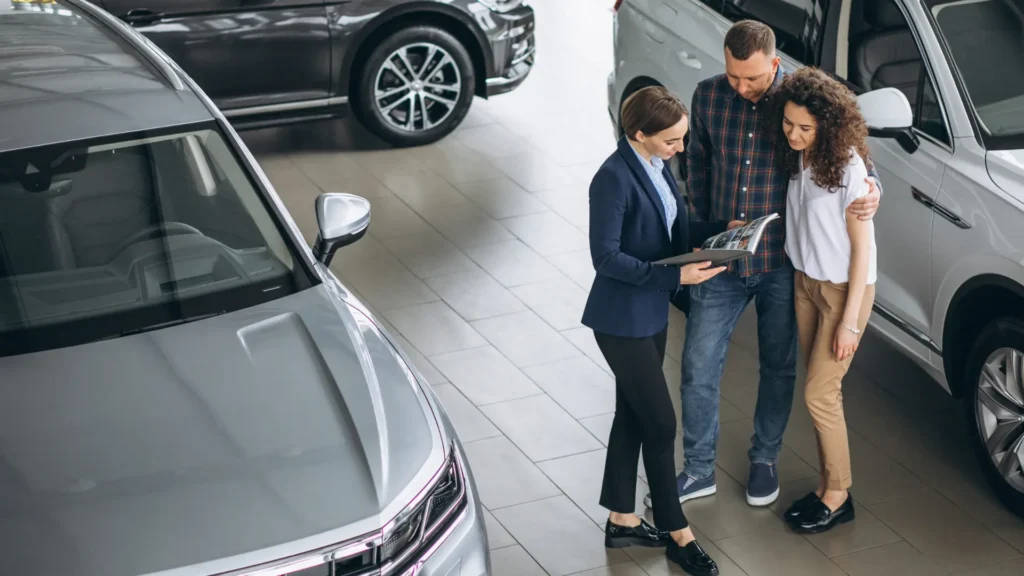 Make sure your cars are clean and well-lit with good lighting in their interior. Of course, they should all be in good condition. Also, ensure they are within reach of customers so they can quickly inspect the car of their choice without having to wrestle their way through your showroom or wait for attention from sales staff members.
You can mount cars in a peculiar manner, like hanging them tail-up outside your dealership! You'll need prop cars or other showpieces for that, as customers won't be able to climb in them for a closer look. However, you'll surely grab a lot more eyeballs this way!
Hire a great sales team
The most important thing to improve your dealership's auto sales is to hire the right people. You need salespeople that are passionate about cars, have good work ethics, brilliant communication skills, and a great sense of humor.
Most importantly, your sales team should be able to connect with customers personally. A deep, intimate connection will help you build consumer trust and better understand their needs. You'll not only increase your chances of car sales, you'll also improve the customer satisfaction index of your business.
Advertise your cars and dealerships
Advertising your cars and dealerships is one of the most crucial parts of selling a car. Online advertising is more effective because it costs less and reaches a much wider audience than offline ad platforms like print or billboards. Your target audience is on the internet, so you should be too!
Social media is a great place to advertise, as you can find many potential customers there. You can also use Google ads to increase your audience reach and should also invest in offline modes of advertisement – newspaper classifieds, magazine ads, and TV adverts. You can even set up billboards to create awareness about your business among local audiences.
Organize events at your dealer lot
Hosting events at your dealership is a brilliant strategy for building your brand and advertising your business. You can attract people who would have yet to visit your lot. If there's something special about this event that makes it different from others, people will want to be part of it! This can include having food trucks, game stalls, lottery, etc.
Attract Customers
Here are a few brilliant tips for attracting customers to your dealership:
Smart advertising: Good advertising is necessary for every business. Google ads, Facebook ads, etc., are great ways to reach relevant audiences. You should also look into offline advertising methods, like newspaper classifieds, TV adverts, billboards, etc.
A great website: A well-designed website will help you reach potential buyers online before they even get to your showroom or office. It's also vital that the site is easy to navigate and provides all the necessary information to make a purchase decision.
Providing discounts and deals: Buyers love discounts! You can offer seasonal discounts on your vehicles or free maintenance services such as oil changes. Good deals make customers more enthusiastic about a purchase, increasing their chances of buying a car from your dealership.
Best Way to Sell a Car Online Without a Website
If you don't have a website, the easiest way to sell a car is through Facebook Marketplace. Here is a step-by-step guide to help you start selling on Facebook. If you already have a Facebook account, then you're almost there. All you have to do is start listing your products online.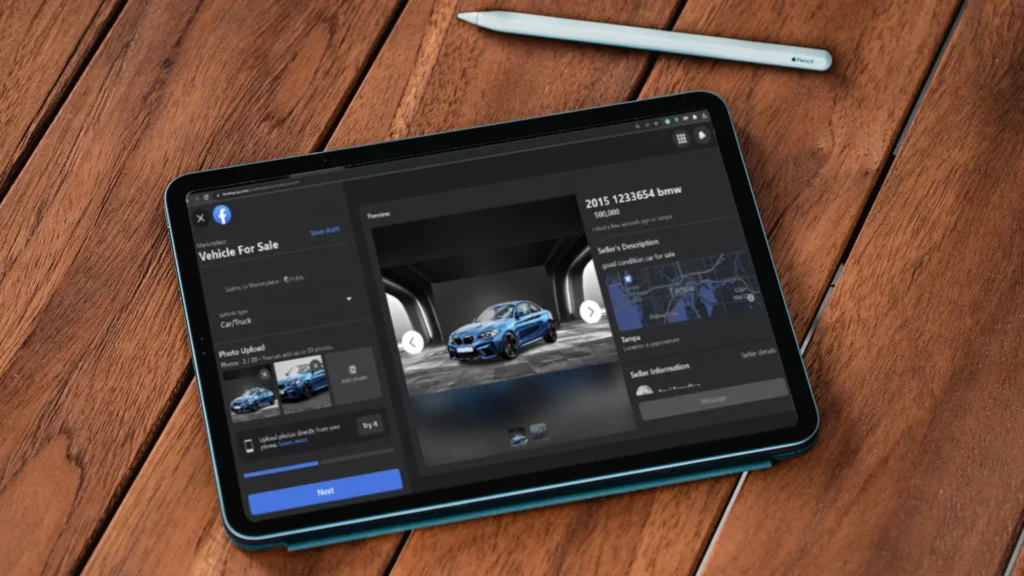 Selling on the Facebook Marketplace using a desktop
Log in to your Facebook account (no need to create a new/business account)
Click on Marketplace from the left side of your screen.
If you don't see Marketplace, click the see more option to expand the sidebar. Scroll down to select Marketplace.
Click on create a new listing to create your first listing.
From choose listing type, select the product/service you want to sell
The new window will allow you to upload images of the item you want to sell. Click on additional photos to upload images. You'll also need to write a title and description of the product you want to list and the item's price. Click next to proceed.
You can see from the preview window how your listing will look to a seller. Use only good images that best represent your product/item.
Choose the delivery method to move forward.
Hit publish to make your item live for sale on the Facebook marketplace.
Selling on Facebook Marketplace using your Smartphone
Log in to your Facebook app
Tap on the marketplace Icon from the top menu
Select sell to move forward.
Choose the listing type from the pop-up below to create a new listing.
Add photos of the item you want to sell and information about your products. Hit next
Choose the delivery method and click on publish to make the listing live on Facebook Marketplace.
Starting a Website to Sell Cars Online
Step 1: Choose the right platform
Conduct thorough market research and find out where buyers mostly go for their online car buying. It is how you can sell your cars quickly. Choosing the correct platform(s) is crucial to shaping your online car retail business. Ask the following questions while choosing a platform for your site:
Does it allow you to optimize and maintain large catalogs?
Will it promote your eCommerce venture in a wide geography?
Does it offer easy, hassle-free payment options?
Is the platform secure? Is it strong enough to repel hacks and data threats?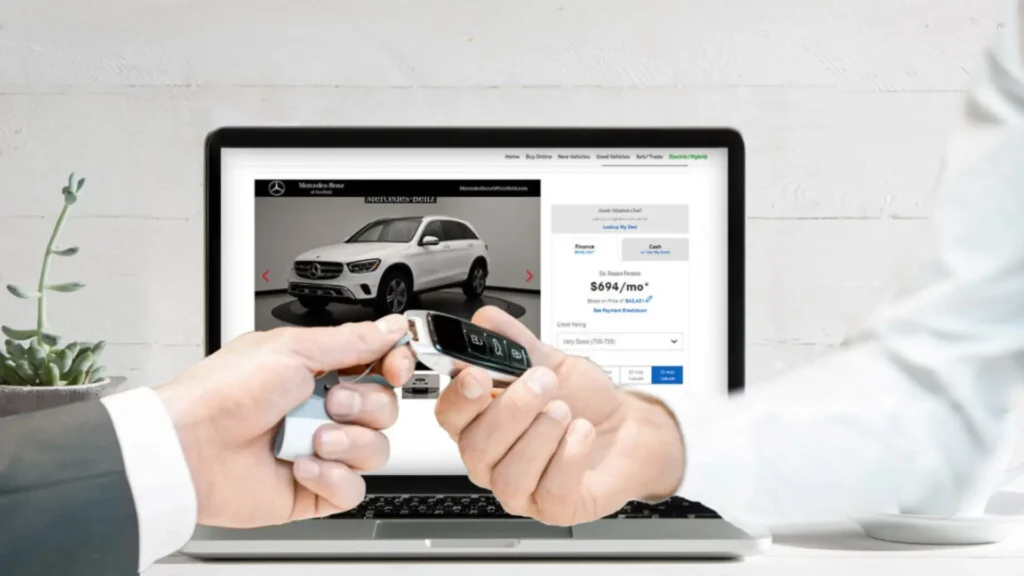 Step 2: Searchandizing
Searchandizing stands for search merchandising, which refers to ways in which businesses can organize their search results to boost conversions, drive sales, increase brand value, etc. This is a critical aspect of selling cars online. With a seamless search experience, you can convince buyers to stay long on your site. Include multiple sorting and filtering features, on your website, and don't just use one-way synonyms for search queries.
Step 3: Offer device-agnostic user experience
UX designing is another critical element of your online car-buying website. Ensure that your site works speedily on all devices and that users can browse and purchase cars without friction. Check the page-loading speed, check if all the pictures or videos display properly, etc. Remember, users' purchase decisions here will be based on what they see on the product page.
Step 4: Focus on content marketing
In the online space, content drives everything. Grow your website with strong SEO practices and interact with your target audience on social media platforms. Also, target your potential online car-buying audience with advertisements across different digital platforms.
Newsletters and promotional text messages are also great ways to reach out to your leads. Let them know of any offers or deals that you have running. Updating new arrivals in your car inventory could also attract more buyers.
Step 5: Create attractive vehicle catalogs for your inventory
Making attractive vehicle catalogs is not a choice for car dealers; it's a quintessential part of selling cars online. Blurred or improperly clicked images will only upset buyers. We recommend your vehicle catalogs should have:
Professionally shot, high-quality car images clicked from multiple angles (with proper framing, correct brightness, contrast, etc.)
360-degree car videos, preferably with notable highlights (listing dents and damages on used cars, accessories, add-ons on new cars, etc.)
Clear brand logos (of your dealership/retail website) on images and videos
There are two ways to create car catalogs for your online auto dealership. The first is the traditional (manual) method, wherein you'd need to rent/build a studio and hire professional Car Photographers.
The second method is automated, like with Spyne's AI-powered photoshoot and image editing software. Our smartphone app (iOS and Android) guides you through the photo and video shoot process while the AI system automatically edits them. This method is quicker and significantly more affordable as well.
If your pictures have cluttered, unappealing backgrounds, no worries! Spyne can replace the car background in your images, including custom car backgrounds.

Step 6: Focus on consumer satisfaction
Your entire empire will come crashing down if you don't follow this one step. Consumer satisfaction cannot take a back seat. It's everything. Be sure that you:
Quickly respond to consumer queries
Highlight positive customer feedback on your website and resolve negative comments as soon as possible.
Don't spring hidden charges on your buyers suddenly. Be transparent when you show your pricing. Communicate shipping charges or registration fees clearly if included.
Have a website that is device-agnostic and loads quickly. Poor website performance can also drive buyers away.
Best Way to Sell a Car Online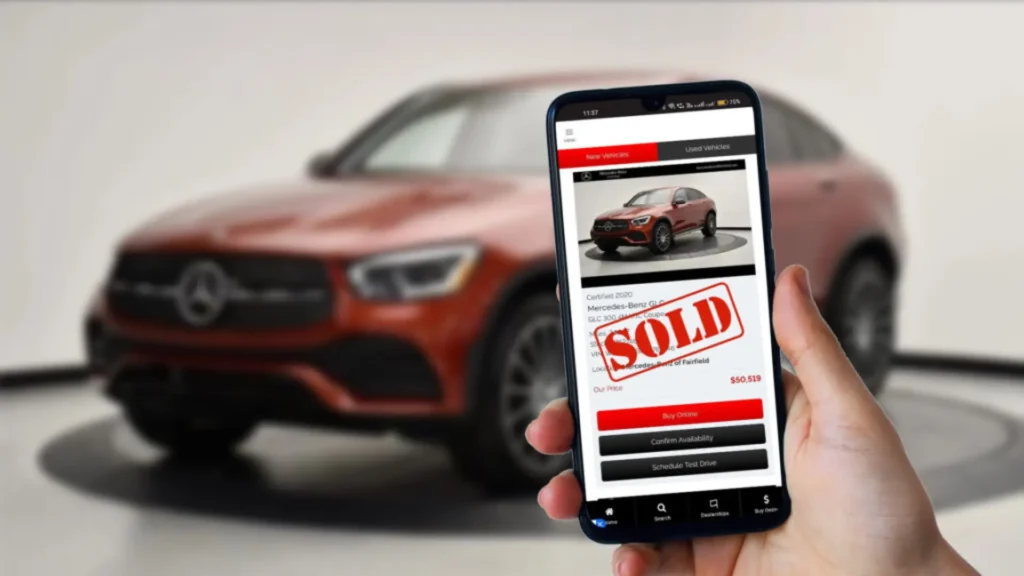 1. Treat every lead like a walk-in
This is the most important step because leads don't pay the bills. For dealers to make more money (while spending less on labor and advertising), they, as an industry, need to change the way they think about leads in a big way.
2. Clear the path to purchase
If you don't clear the way for the customer journey on your website, the new tool you're paying for can get lost in the weeds of too many other CTAs. This wastes a lot of chances with shoppers who give up trying to find the answers and experience they're looking for.
3. Connect your marketing
Now that you've given customers a great online and offline experience, you need to let them know about it. Go full throttle with dealerships' marketing strategies, especially digital and social media marketing techniques.
4. Plug in your showroom
After setting up the perfect online car-buying experience, you must ensure it doesn't break when a customer enters your dealership. Like with follow-ups, you must ensure that your dealership and team treat these walk-in customers as if they have worked with you.
5. Grow your reputation
Changing how you talk about online car buying in your marketing will make a big difference, but that message isn't as unique as it was a few months ago. Your claims must be backed up by experience and, most importantly, happy customers. Customer reviews are more important than you think.
6. Test drives at home
Various dealerships are now using off-site test drives. It is standard practice to meet a shopper at their home or in an empty parking lot to do a physical test drive that does not need the participant to visit the dealer. However, it is only sometimes necessary, particularly for people purchasing their first automobile.
7. Configurator online
Dealers may use web configurators that the manufacturer powers to help customers locate the exact model and trim level they want. Because of this, it is simple to put the buyer in touch with the appropriate automobile.
8. Vehicle walkaround videos
Adding value for the customer and instilling trust in them may be accomplished by giving them a virtual tour of the specific model that piques their interest. A comprehensive vehicle inspection method may also help remove obstacles to the acquisition that the buyer cannot notice in detail and may aid in doing so.
9. Secure document signing
Due to the sheer number of providers and the solutions connected to CRMs, customers do not even need to visit the shop to complete the necessary paperwork. These technologies are essential to making online shopping possible. Nevertheless, dealerships are more responsible for making buying a car online more comfortable for customers.
Conclusion
The key to successfully selling cars is understanding your customer's needs and offering them what they want. Also, you must pay attention to your online presence to improve your car sales, as most people first conduct online research before even considering buying a vehicle. After checking out all their options, customers might want to visit your dealership to check the car they want physically. This is where you need to pay special attention to offline sales skills to close the deal. Keep this up, and you will make good profits in no time!
Spyne has developed a one-of-a-kind artificial intelligence editor that eliminates the need for a physical shoot to assist dealerships and sellers in producing high-quality vehicle images and 360-degree videos for websites. The only thing required of you is to use your smartphone to snap pictures. The artificial intelligence editor in Spyne quickly creates shots and videos that have a professional finish.