Running an automotive catalog is not easy, but handling and growing your business through auto parts cataloging takes things to a different level. The auto ecommerce businesses are seeing significant growth. Many changes are now implemented, from technological innovation to customer experience. However, one can easily stay ahead if they have a complete understanding of the car parts catalog. If you are new to this term and want to know how you can benefit from an automotive parts catalog, then don't worry; this blog will guide you through and help you elevate your auto parts cataloging game.
What is Auto Parts Catalog?
An auto parts cataloging is an essential partof any car parts-selling website. An auto parts catalog database consists of an inventory list of all the parts that are available for selling and includes all the information regarding parts and their compatibility with vehicles. It can also be a printable guide that give vehicle owners info regarding spare parts and accessories obtainable for their car. When it comes to marketing auto parts on the internet, having details is important to help potential customers determine the compatibility of a specific part or accessory with their vehicle. It is essential now to build a catalog in the era of ecommerce catalogs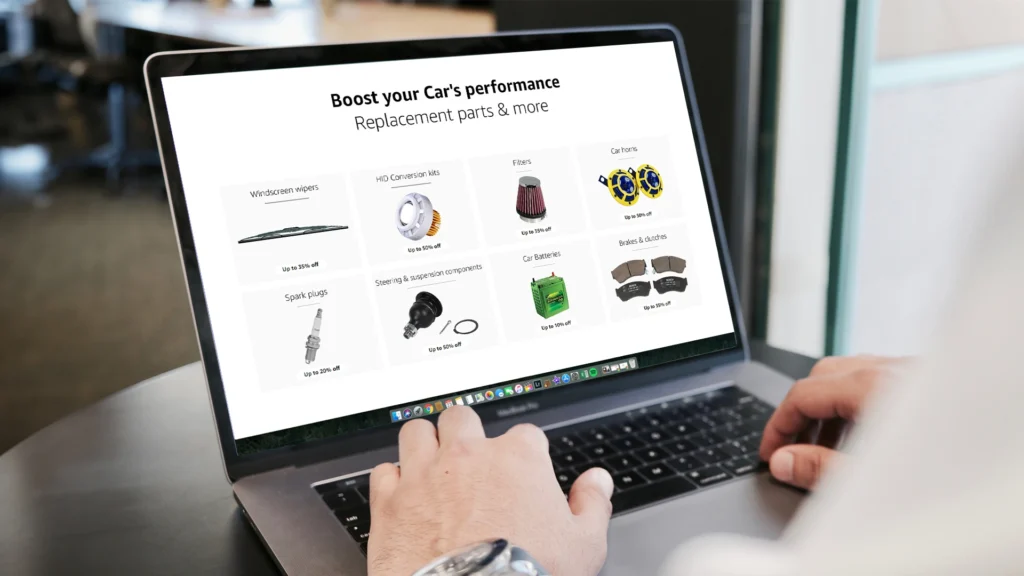 When you have a wide array of vehicles, it becomes essential for the accompanying data to be both precise and accurate. This precision from the auto accessories catalog ensures that customers can confidently pinpoint all the parts they require.

Why Do You Need Auto Parts Catalog?
If you are involved in selling car parts and deeply involved with car catalogs, then you must have an idea of how crucial it is to have a precise car parts catalog. Auto parts cataloging not only helps customers find the right parts but also plays an important role in elevating sales. It also help retailers find parts that they require for repair and maintenance.  It includes product narratives, images, pricing details, and other essential data that can assist patrons in identifying the appropriate automotive element for their requirements.
Creating online car parts catalog can seem to be difficult. However, it is of extreme importance to possess one, as it allows consumers to access the information necessary for making informed buying decisions. Major eCommerce platforms such as Amazon and eBay also utilize it to evaluate potential sellers within their marketplaces.
How to Build an Auto Parts Catalog
Now you have some understanding of what auto parts cataloging is, but now you must be wondering how can you make your own car parts catalog. Numerous options exist, including platforms like WordPress, to assist you in building a car parts catalog. Alternatively, you can employ specialized car parts software solutions such as Auto Parts Warehouse for catalog development. If your aim is to craft a car parts catalog from the ground up, the initial step involves establishing a comprehensive database of all available car parts and accessories for sale.
There are some element that you need to include in a car part catalog
1. A full list of car parts and accessories available for buying, product descriptions, and images are also included.
2. Comprehensive pricing information specific car parts
3. Manufacturers and distributors should be provided with contact information.
4. A numbering system for car parts should be provided to help customers find the right of their car.
5. Full list of all various types of car parts
6. Unique instructions for installation
7. Name of supplier and manufacturer
Auto parts catalog database should include as many variety of catalog data as possible. Try to have a goal of what kind of catalog you want to showcase. If your target is antique cars, then create an antique car part catalog or an old car parts catalog. If you are involved in commercial vehicles, then you can create a commercial auto parts catalog. Next, deciding on the preferred format for your car parts catalog is essential. Are you inclined towards an online version, or would you prefer a printable one?
Gather all important details for each car component. This entails recording the manufacturer's or supplier's name, the part number, a functional description of the part, and any specific installation or maintenance instructions.
Who needs an online parts catalog?
Aftermarket automobile ecommerce businesses are usually the ones to sell aftermarket parts online. Online car parts catalog also helps those who are trying to establish their online presence with tools to build their websites and store items that will elevate their brand recognition as compared to competitors.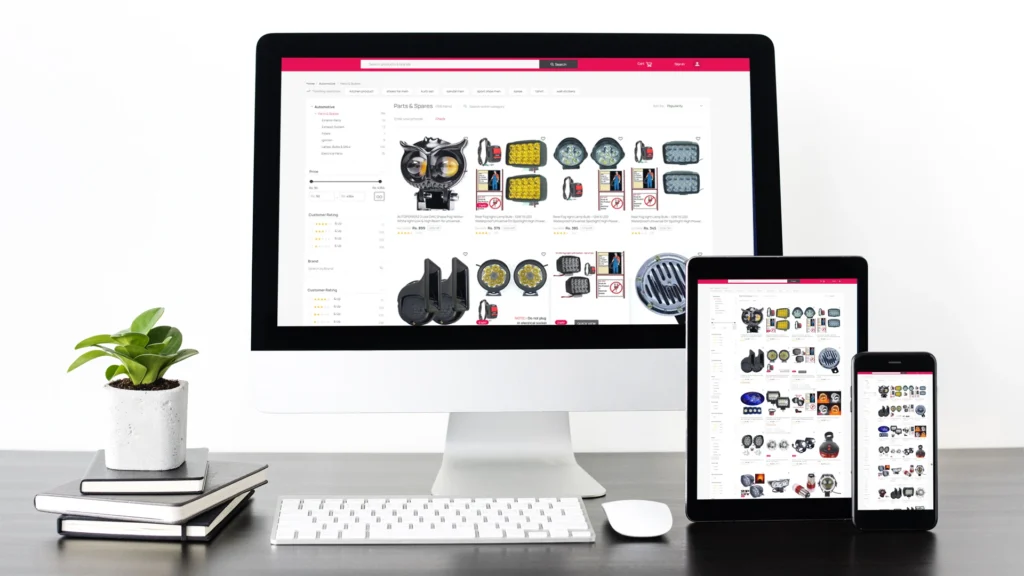 In essence, any enterprise engaged in online parts sales or the distribution of components to other businesses. This includes a wide range of entities, including manufacturers, distributors, resellers, dealers, retailers, dismantlers, salvage yards, remanufacturers, and a host of other related entities.
Advantages of using a car part catalog
Auto parts cataloging has various advantages that one can benefit from. It is one of the automotive solutions that every dealership must opt for. Here are some of the benefits of having a car parts catalog
1. An automotive part catalog can organize inventories of car parts effectively which eases the work for car part owners. It also helps automobile owners find the components they need to maintain or repair their cars.
2. Ease in tracking sales volume and make changes in stock if needed.
3. By accurately identifying and ordering the right parts the first time, you can save time and money on returns, exchanges, and additional shipping costs.
4. Car parts catalog often list multiple brands or suppliers for the same part. Therefore, this allows you to compare prices, quality, and warranty information.
5. Many online car parts catalogs make it easy to browse and order parts from the comfort of your home or shop.
6. Catalogs may include cross-referencing information, allowing you to find alternative parts that are compatible with your vehicle.
Features Needed For an Auto Parts Catalog
While creating your auto parts catalog, you must add some of these features that we going to discuss. Some of these solutions are compatible with catalogs from various systems, irrespective of the platform employed by the company.  The following are examples of attributes that could improve the efficiency of your catalog:
1. My garage feature
This can be an essential tool for any car owners since this feature will allow them to keep track of the car parts that are sold or purchased. Users should have the capability to include multiple vehicles in their digital garages. This functionality enables customers and consumers to easily switch between their favorite automobiles, offering a more efficient alternative to repeatedly performing the same task.
2. Wish list feature
Through this feature interested customer can easily add auto parts to their wish list, which will allow them to save it for later. This functionality will additionally allow you to monitor car parts that have caught customers' interest but have not yet been acquired.
3. A rating and review feature
Customers have the chance to share their reviews and provide ratings for the car parts they've acquired from your catalog. This serves as an excellent opportunity to gather valuable feedback regarding the quality of the car parts you provide. Furthermore, it enables you to discern which car parts resonate well with customers and those that may need improvement.
4. Comparison feature
This feature allows customers to conduct side-by-side comparisons of car parts, helping them in making informed and optimal purchasing choices. It proves particularly valuable when considering car parts with similar functionalities but varying price points. You can also add or create sections that can be for different types of car parts and manage your information alphabetically by supplier or manufacturer. You can also make numbering system for your auto parts catalog
5. A Parts Diagram
Incorporating a parts diagram into your car parts catalog would prove highly beneficial. This visual aid enables customers to grasp how the car part seamlessly integrates into the broader system of their vehicle. Typically, this functionality is presented as an interactive image showcasing various automotive components. When users click on a specific part number, they are redirected to the corresponding webpage, offering detailed information. Considering that even automotive experts sometimes grapple with identifying precise names for specific car parts and gadgets, the inclusion of part diagrams is invaluable.
6. Payment Tool
Implementing a payment feature within your auto parts cataloging would streamline the purchasing process for customers, enabling them to make direct payments for car parts. This payment system should easily integrate with the year/make/model search function, ensuring swift and accurate component selection for consumers. Additionally, it should support a range of payment methods, including credit cards, debit cards, and PayPal, to accommodate diverse customer preferences.
7. Multiple Shipment Options
Offering customers a range of shipping choices is essential to ensure prompt delivery of their car parts. Depending on their preferences, they may opt for home or workplace delivery or prefer to collect the parts from a nearby store. Therefore, these shipping options should seamlessly integrate with the year/make/model search tool, allowing customers to efficiently pinpoint the correct component for their vehicle.
How To Manage and Maintain Your Auto Parts Catalog
One thing about managing auto parts catalog is keeping it updated regularly so that it remains accurate as needed. You must check for new auto parts and renew your catalog as required. Additionally, look for car part prices and ensure that your catalog showcases those changes.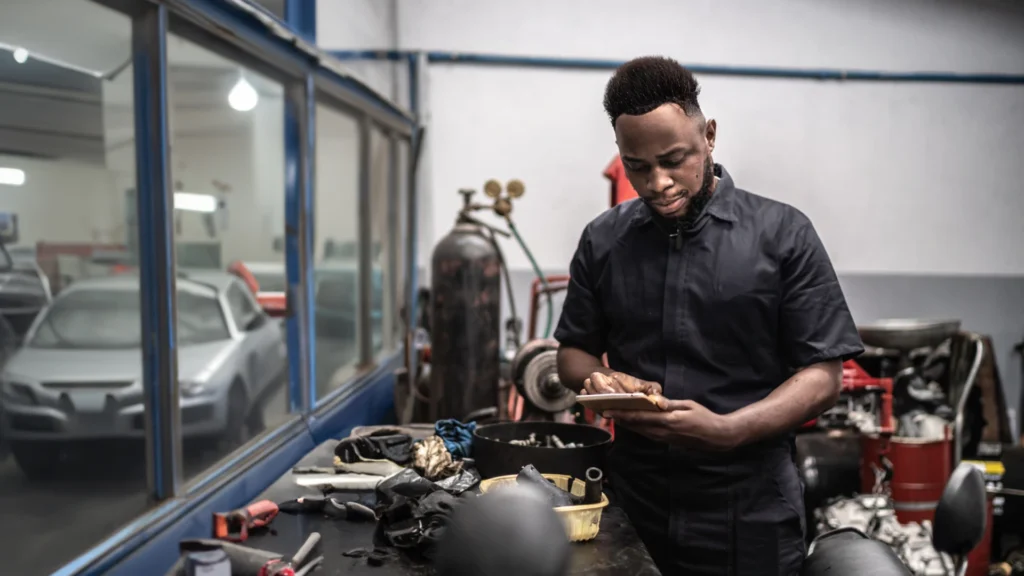 Also, here are additional tips for managing your catalog
1. Execute barcode system
Improving inventory management for ease, efficiency, and organization can be achieved through the implementation of a barcode system. Barcoding and scanning increase organization and accuracy by digitally tracking your inventory through multiple means. So, automotive parts barcoding systems are typically integrated with inventory management software, ensuring that all essential inventory data is readily available in the easily accessible cloud.
2. Use ABC analysis method
While every component of a car holds significance, certain parts are absolutely critical to maintain within your inventory figures. It's crucial to pinpoint and effectively manage your most vital assets. One highly effective approach for achieving this is by employing the ABC analysis method.
3. Keep track of pricing
In order to maintain an organized management system, it's essential to consistently monitor pricing. This practice ensures that you never overspend on any particular part. If the price offered by your vendor doesn't align with the average price for the part, then you need to ask for clarification.
4. Work together with vendors
Collaborating with vendors is a valuable strategy to control costs, and applying this approach from the outset is advisable. You can compare the prevailing rates for your parts with your vendor's offerings. This approach ensures that your automotive part prices remain competitive and consistent for both you and your customers.
How To Increase Sales With An Accurate Auto Parts Catalog
To increase sales, one must have a right strategy. Here few tips that will help you elevate your sales
1. Increase manufacturer auto parts sales
It's important to recognize that not all parts are created equal. While a repair shop might initially consider opting for non-manufacturer parts due to their lower cost, the long-term value may not align with this perception.
While the aftermarket offers a wide range of parts compared to manufacturer options, this extensive selection comes with its own challenges. Evaluating pricing, brands, quality, and compatibility for a wide array of aftermarket parts can be time-consuming for both you and the repair shop. Your parts department could otherwise utilize this extra time spent on parts discussion to enhance sales and customer service for other clients.
2. Allow shops to order manufacturer parts online
When a vehicle takes up space in the shop, it not only incurs costs for the parts installer but also poses a potential revenue setback. The aftermarket has been effective in providing online accessibility for auto parts procurement, ensuring that repair shops can make quick and convenient purchases. However, to remain competitive with aftermarket online parts ordering technology and encourage repair shops to increase their purchases from your inventory, consider offering an online catalog of manufacturer replacement parts.
3. Utilize technology to work smarter not harder
The key to profitability versus merely breaking even lies in efficient order processing. Therefore, selecting dependable software can streamline the process of ordering manufacturer parts, facilitating faster and error-free communication between dealers and repair shops.
What Are The Main eCommerce Platforms For Automotive Parts?
Selecting an auto parts eCommerce platform is closely similar to purchasing a new car. It requires a thorough examination of what's beneath the surface to determine its ability to handle all the features and deliver the necessary functionality.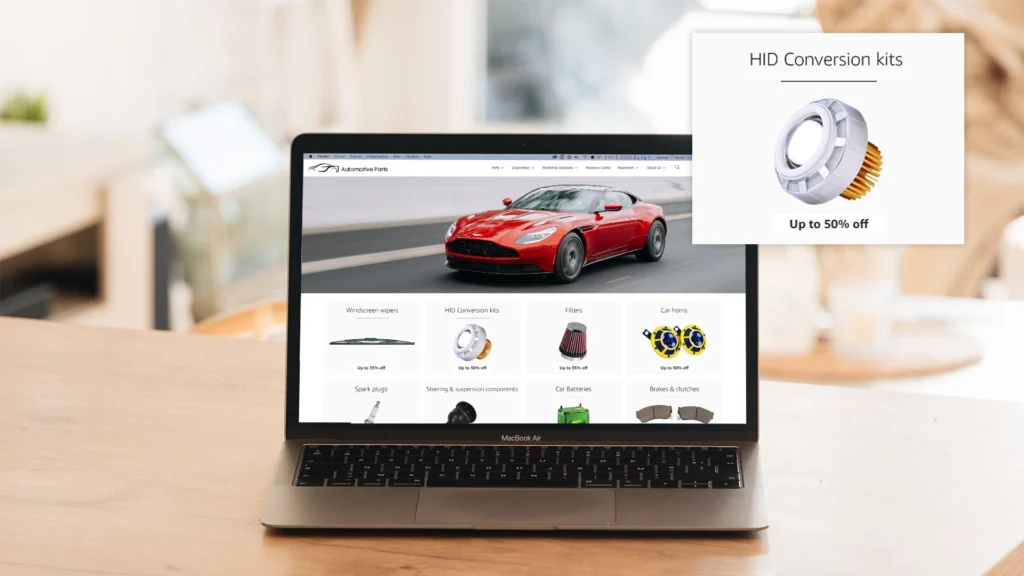 Here are some ecommerce platforms that can help you in building your own auto parts cataloging journey
1. X- Cart
X-Cart Automotive represents an open-source, API-driven eCommerce solution built specifically for the creation of auto parts websites. X-Cart offers built-in, complex search capabilities and automotive filtering options, unlike many platforms that rely on third-party plugins for automotive features. This means you can break free from functional limitations, the need for frequent updates, and the expenses associated with maintenance.
2. Shopify Plus
Shopify Plus stands out as a widely-used eCommerce solution that can be effectively employed for creating auto parts online stores. This versatile platform boasts seamless integrations with shipping services, a marketing and SEO tools suite, and the capacity to design mobile-responsive websites.
3. BigCommerce
BigCommerce offers a 'hosted' eCommerce platform that allows you to create visually appealing and responsive online stores, filled with essential features like inventory management, customizable pricing, and product filtering. So, with a user-friendly drag-and-drop page builder, you can easily select content blocks, columns, and images, arranging them on your pages as per your preferences. Thus, bigCommerce easily integrates with well-known marketing tools to support your web store promotion efforts.
4. Adobe Commerce
Magento is a highly scalable eCommerce platform known for its extensive integrations, customization capabilities, and extreme features. One notable example is the multi-store functionality, which empowers merchants to seamlessly link warehouses and physical stores while efficiently managing inventories and warehouses, regardless of customer location, sales channel, or product category.
5. Web Shop Manager
Web Shop Manager represents a SaaS platform built for the needs of auto parts online businesses. Therefore, it is similar to X-Cart, it offers built-in automotive features that seamlessly complement various industry-specific plugins.
6. NopCommerce
NopCommerce has set of features that make it a dependable eCommerce platform, integrations with payment and shipping services, warehouse management, and a suite of marketing tools. It excels in providing seamless performance for small and mid-sized businesses. However, for larger enterprises handling thousands or millions of customers and products, NopCommerce might encounter performance challenges, potentially impacting the overall customer experience.
7. SureDone
SureDone is an eCommerce storefront that easily integrates with various eCommerce platforms, including eBay, Amazon, Walmart, BigCommerce, Shopify, Magento, and various social media sales channels. Therefore, it is a versatile multichannel connector, offering wide product management, listing capabilities, inventory synchronization, and automated order fulfillment. Additionally, the software provides a dedicated solution built to fulfill the needs of automotive businesses.
How Automotive Spare Part Catalog Software is helping OEMs?
Every automobile is built of a delicate assembly of various small components and spare parts, and manufacturers must contend with a multitude of these vehicles. Therefore, the manual tracking of numerous small parts proves to be a challenge, demanding significant labor. Manufacturers are tasked with the burden of maintaining or creating manual catalogs, a process filled with numerous other challenges.
Auto part catalog software can help in a great way with auto parts cataloging since it has proved to be efficient and effective. Some of the advantages
1. Intellinet's automotive parts catalog software allows dealers to initiate orders directly within the module. Therefore, parts can be located by utilizing their respective part numbers, and orders can be seamlessly placed with the guidance provided on-screen.
2. When new and enhanced parts are introduced, updates can be effortlessly applied through the online module with just a few clicks, and this information is instantly visible to dealers in real time.
3. This catalog software assists in part identification using part numbers or visual figure searches.
Challenges solved by a car part catalog
We have gone through some of the benefits automotive parts catalog can provide. However, the implementation of your catalog addresses several challenges, which we have detailed below:
1. Manual searching
An automotive parts store typically carries a huge inventory of thousands of car parts. The sheer volume of these components can make it challenging for customers to locate the specific parts they require, especially considering that compatibility issues can arise.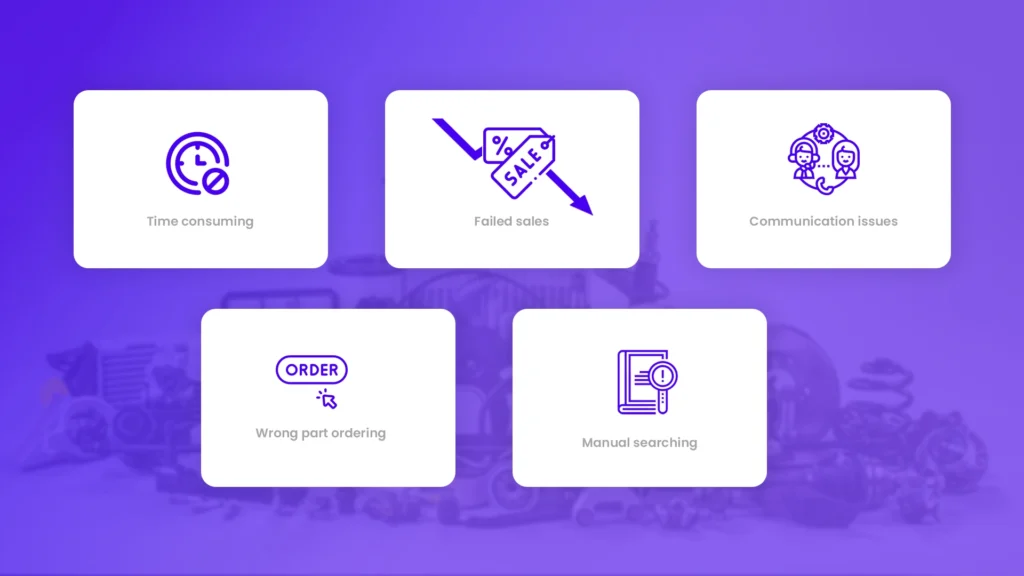 By utilizing a car parts catalog, customers can save valuable time, as they no longer need to engage in manual research to identify compatible parts.
2. Wrong part ordering
Humans are capable of making errors due to the requirement for data cross-checking repeatedly. A car part catalog can eliminate this issue and solve it by automatically matching part numbers with the correct cross reference.
3. Communication issues
Effective communication with manufacturers can prove challenging without a car parts catalog that includes essential details like part numbers. For instance, when there's a change in the specifications of a particular car part, addressing such issues can be a time-consuming process for car part sellers. Therefore, it's advisable to prevent such errors from occurring in the first place. Using API driven automotive part catalog will enable you to communicate with the partners.
4. Failed sales
A centralized parts catalog is important in helping car part sellers effectively manage their inventories. In fact, neglecting to utilize one can have a detrimental effect on the store's sales performance. Customers are eager to locate the necessary parts swiftly, and the absence of an integrated central catalog can lead to time-consuming searches for the right component. Therefore, without a proper search function and a functional car part catalog, your customers' experience may become cluttered, hindering their ability to enjoy the high-quality service they have come to anticipate in today's e-commerce environment.
5. Time-consuming ordering process
Manual labor is both time-consuming and prone to errors. Without the assistance of a car part catalog, the ordering process becomes needlessly complex. Customers rarely have the luxury of time to sift through the entire available parts within a store, further delaying the ordering process.
The integration of a car part catalog significantly streamlines part management. It provides a clear overview of stock availability, making it easier to identify out-of-stock items and promptly update their status within the system.
Conclusion
In conclusion, running an automotive parts catalog is essential for businesses in the auto industry. The growth of auto eCommerce businesses is evident, and staying ahead requires a complete understanding of the benefits of auto parts cataloging. Therefore, this catalog serves as a crucial reference for customers, helping them identify compatible parts and make informed buying decisions.