A perfect image is not just a result of excellent photography. Minor retouching and editing make the image perfect and appealing to the eyes. Professional images are a crucial part of e-commerce, contributing to increased sales and enhanced reach. It is necessary to assess and analyze the images you click and upload, as they represent the product and your brand. That's why you need top-grade product photo editing.
However perfect you feel the idea is, there is always a scope of outperforming oneself and getting those perfectly perfect images. Sometimes that can be achieved with little editing, and sometimes, lots of editing is required. But the end product will always be stunning, eye-capturing images that will turn the leads into customers.
A professional image with high-quality and sophisticated photo editing services gives you an upper hand in the industry. It makes your products and your brand stand tall in the industry. This article will introduce you to professional product image editing and its importance.
What is a Professional Product Photo Editing Service?
A professional product photo editing service involves reducing or removing any visible flaw or inadequacy from the product image to make the image look more professional, attractive, and worth converting the leads into customers. Professional product photography services are the complete package that involves various editing aspects like retouching, background removal, correct lighting, shadow addition, product placement in the frame, etc. These make the image more natural, appealing, and premium, helping you attract lots of buyers.
Product photo editing is done to make the images look more professional, enhance the brand's image, and cast the brand's products and name in high light. A good and appealing photo can attract online and offline customers to your store. Hence, it is essential to showcase the best of the best images, to bring a large number of customers to the brand.
How Does Product Image Editing Work?
Product image editing refers to the process of enhancing and manipulating images to make them more visually appealing and suitable for product marketing.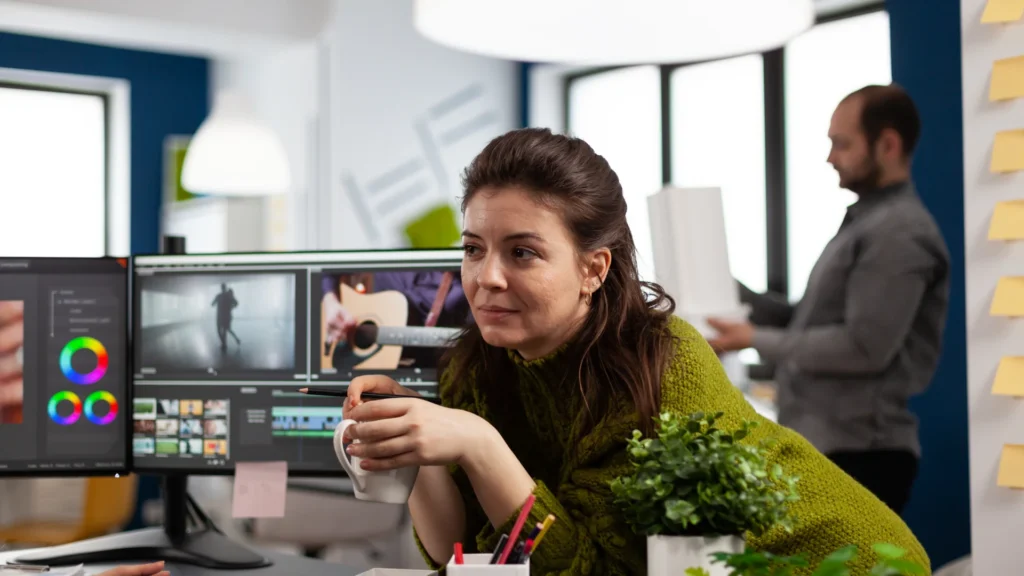 Product image editing gives life to the images by changing or enhancing various aspects and bringing the customers' attention toward the product in the picture. It is also essential to be cautious while editing the photos. Overdoing can reduce or damage the quality of the image. Whereas underdoing can fail to bring the best out of the picture. It involves various techniques and software tools to modify and optimize product images for different purposes, such as e-commerce websites, catalogs, advertisements, and promotional materials. Here is an overview of how product image editing typically works:
Image Retouching
Background Removal
Image Composition
Color Correction
Image Resizing and Cropping
Adding Shadows and Reflections
Image Compression and Optimization
File Formatting and Delivery
It's important to note that product image editing can be a complex and specialized task, often requiring professional graphic designers or photo editors skilled in using software like Adobe Photoshop, Adobe Lightroom, or other dedicated image editing tools.
Comprehensive eCommerce Product Photo Editing Services
Comprehensive Product photo editing services are a complete process of performing various basic or advanced editing or retouching services on the images. The result is focused, sharp, professional, natural, and eye-appealing pictures that are perfect to represent the brand, develop trust in the customers, and boost sales by a large number.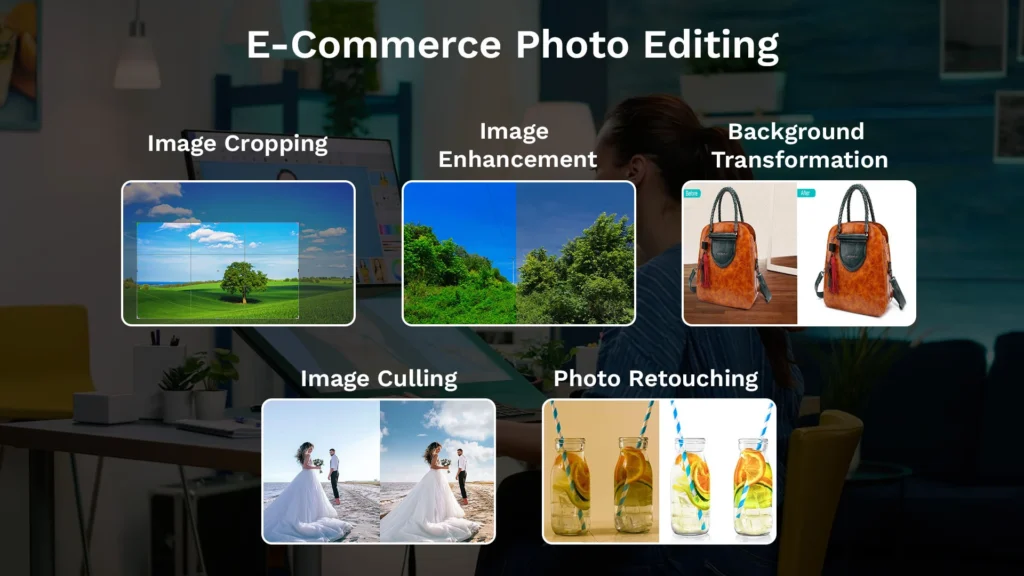 Product photo editing services are different for every industry. For instance, the eCommerce industry demands editing other from the food industry. Hence, it is important to consider every aspect and detail before editing the image for better results. There are plenty of services that make your catalog images suitable for representing your brand.
Product photo editing services for eCommerce include-
Image Cropping
Even after that perfect shot, some additional or unwanted corners, edges, or areas will appear. That is enough to ruin the ambiance of the image. Cropping and removing those unwanted areas can enhance the look of the image.
Image Enhancement
Enhancing the quality of the image by adding the correct brightness, saturation level, hue, and contrast in the image can bring and highlight the product in the image in the best possible way. It is also useful for attracting the attention of customers toward the product.
Background Transformation
A sophisticated product photography background is a crucial aspect of eCommerce images. For images to look professional, you may need to change, replace, or remove the original background and add a beautiful backdrop. After all, the background can ruin the picture or make it look desirable.
Image Culling
The process of product photo retouching also requires the editor or retailer to choose the best images for further editing and reject the others. The selected images are then made brand-worthy and delivered to retailers or uploaded directly to the sales channels.
Photo Retouching
Minor retouching can bring unmissable positive effects in the images and provide the much-needed focus and sharpness to the product in the image, making your products irresistible to customers. Product photo retouching is generally done on live model images to provide that extra edge by removing blemishes, tone correcting, eye bags, etc.
Quality Ecommerce Photo Retouching Service
Photo retouching services for eCommerce provide high-quality results with an assured guarantee. It is necessary to invest in quality eCommerce image editing services like Spyne.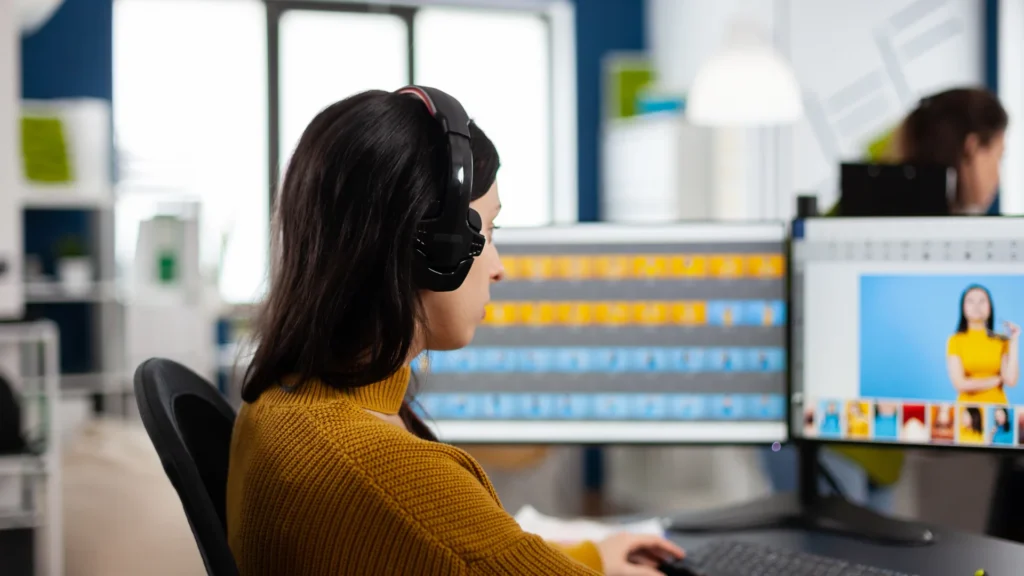 Some advantages are listed below:
Improve Your Online Marketing and Grow Your Business
High-quality images of the products improve your market presence and grow your business by enhancing your reach and improving the conversion rate. High-quality images assure that the product is also of quality and develop trust for the brand and its product in customers. It increases the ratings and improves the reviews of the brand online, which helps in developing a positive image of the brand, which is highly important to survive in the digital era.
A positive image of the brand and review directly influence the growth of the business and helps to expand the business further.
Redefining eCommerce With Product Photo Editing
According to a survey, 75% of the customers who buy products online rely on the images of the product. Also, another survey states that 46% of customers who rely on online shopping trust brands which use high-quality images to represent their products. That means high-quality images are a necessity of eCommerce.
These high data and expectations have completely changed and redefined the product photo editing of eCommerce. E-commerce photo editing is on the next level, which demands accuracy, preciseness, and an eye for small details to produce the perfect images. It is essential to focus on every small or big flaw and improve them accordingly for efficient results and brand image.
High-quality images will improve customers' experience, develop trust in the brand, and build the brand's name in a positive light. All this can be achieved using efficient Product Photo Editing services from various companies like Spyne for eCommerce and more.
The Product Photo Editing Services You Need
A product photo image can be edited in various ways, and various tools and services are available regarding product photo editing services. The best way in which you can edit your product photos that makes the image look professional and real is-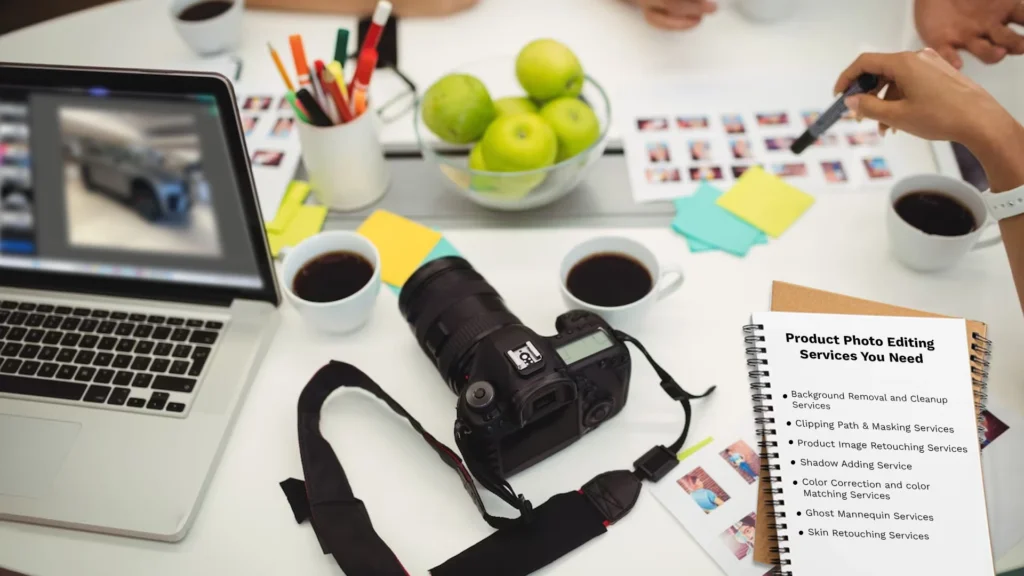 Background Removal and Cleanup Services
Product Background Removal and cleanup services are one of the most in-demand and valuable service options as it makes the image more profound and best represent the product in the image, which is done best with the Spyne app. A background can bring consistency to your products' images and your brand's name. Changing or removing the inappropriate or unwanted background from the image and replacing it with a more soft or white color background can give an extra needed edge to the photos, which is perfect for illuminating the image.
Making the images clean and seamless and removing any possible flaw from the image is also necessary. This is because flawed images can dull the product's look in the photos.
Clipping Path & Masking Services
The clipping path technique gives a perfect look to the product images by removing the background and presenting the product only in the foreground. It gives the image a perfect look and helps to better point out the details of the product. Image masking services help hide the unwanted parts of images like the image and show only the servant parts. Clipping path and masking services are both used together to bring the focus on the product in the foreground and eliminate the background.
Product Image Retouching Services
Product image retouching services are useful for tackling those minor flaws which can either be overlooked or not. These include a crease in the clothing product, dust on the product, any possible stain, and other things. If overlooked, these flaws don't create a difference, but if noticed, they can be a big issue for both product and the brand. Hence, product image retouching services are necessary and handy when dealing with minor problems. It also helps to make the image flawless and natural.
Shadow Adding Service
A shadow can bring that perfect natural and eye-appealing look to the images that are best for eCommerce websites. Maintaining the light and depth of a shadow and giving it an ideal height and naturalness can do wonders for a photo. It will not only make the image natural but will also provide that easy, engaging look that represents the worth of the product.
Color Correction and Color Matching Services
You need to correct the colors of the product in the image, matching them accurately with the real product. This gives the images an authentic and natural look while avoiding any possible misunderstanding. Using original and correct colors and accurately matching the color is important for making your product look original. Any discrepancy can directly affect the customer's trust in the brand and downgrade the name of the brand.
Ghost Mannequin Services
E-commerce products are generally shot on mannequins. Ghost mannequin services allow you to remove the dummy from the image and leave the product intact to give it a more realistic look. It also helps in better representing the product with more accuracy and clarity. Ghost Mannequin Services is generally done by cutting the parts of the mannequins without touching the product. It is a highly effective photo editing option used by various eCommerce dealers and retailers to make images more real.
Skin Retouching Services
Skin retouching services are for images that involve products with real models. With the help of skin retouching services, one can remove blemishes, eye bags, and inconsistency in the skin, improve the texture and color of the skin, adjust the jawline, correct hair, etc.
Product Image Editing Using Automation
AI is dominating every field, and product image editing is no exception. Automation helps to edit images in a concisely precise manner with high accuracy and clearness. Using automation as an e-commerce product photo editing service makes it easy to proceed without any restrictions.
Get the photos in the desired format as quickly as possible with Spyne's automation. Keeping track of the progress and delivery becomes easy.
Get Your Product Images Edited with Spyne
Spyne is a technology-driven photography company that provides various services related to eCommerce photography and image editing. They offer product photo editing services that can help you improve the quality of your product images to make them more appealing to potential customers.
Our product image editing services include background removal, color correction, image editing, image retouching, and more. We also offer advanced services like automatic image validation, which can help you scale up your business easily and efficiently.
To use Spyne to edit your product images, you can visit our website and choose the service that suits your needs.
You can also contact us to discuss your needs in detail and receive a personalized quote.
Your Search for Product Photo Editing Services Ends at Spyne
The following are the essential things you should consider while choosing a product photo editing service:
Quality: Spyne is known for its high-quality image editing services. Our seasoned experts will handle the task and use advanced software and tools to enhance your product image.
Customization: We provide personalized business solutions to meet your specific needs. Our approach involves working closely with you to comprehend your requirements and deliver the expected results.
Services: Spyne offers a range of product photography and image editing services. We provide all the services needed to create professional-looking product images, from background removal to automatic image validation.
Fast turnaround: We understand the importance of time in the e-commerce industry. Our AI-powered systems are way quicker than traditional (manual) photography and editing solutions. We also work round-the-clock to ensure quick, top-quality services.
Affordable: Our pricing is very competitive and reasonable. With our AI-powered services, you get the same quality at a fraction of the cost compared to traditional methods. You don't have to worry about setting up or renting a product photography studio, purchasing expensive equipment, or hiring experts. Our solution saves you money while delivering excellent results.
Overall, Spyne is a reliable and professional photo editing service provider. We offer high-quality, personalized photography and editing services to suit your business needs.