Ecommerce platform has a wide range of products and options for customers. One of the highest purchased products that customers bring is shoes. The reason for this is how the shoes are presented on different websites. To get a top-class presentation, you need high-quality photography. For shoes, there is a kind of photography that specifically focuses on shoes photoshoot, which is called shoe photography. Big brands in the shoe industry are known for how they market their products and how well they do their photography.
Shoe in the ecommerce platform has a large market and competition. To attract customers' attention, you need to know how to present your shoe brand and how you can get the best out of photography. Therefore, if you lack in any of the elements, you can fall behind the competition. However, if you have the expertise and knowledge in shoe product photography, you can capture the best elements of your shoe brand through shoe photography.
So, if you are curious to know more about shoes photoshoot and how photography of shoes can bring you the benefits that you are looking for, then you are at the right place.
What is Shoe Photography?
Shoe photography, also known as shoe photoshoot, is one of the types of photography with the main emphasis and focus on shoes. It can be done in various ways and from different angles, but the main subject is always the shoe. In creative shoe photography, the goal is always to capture the best elements and qualities of the shoe in such a manner that will complement the surrounding background too. It involves photoshoots of footwear like sneakers, high heel boots, sandals, and many more.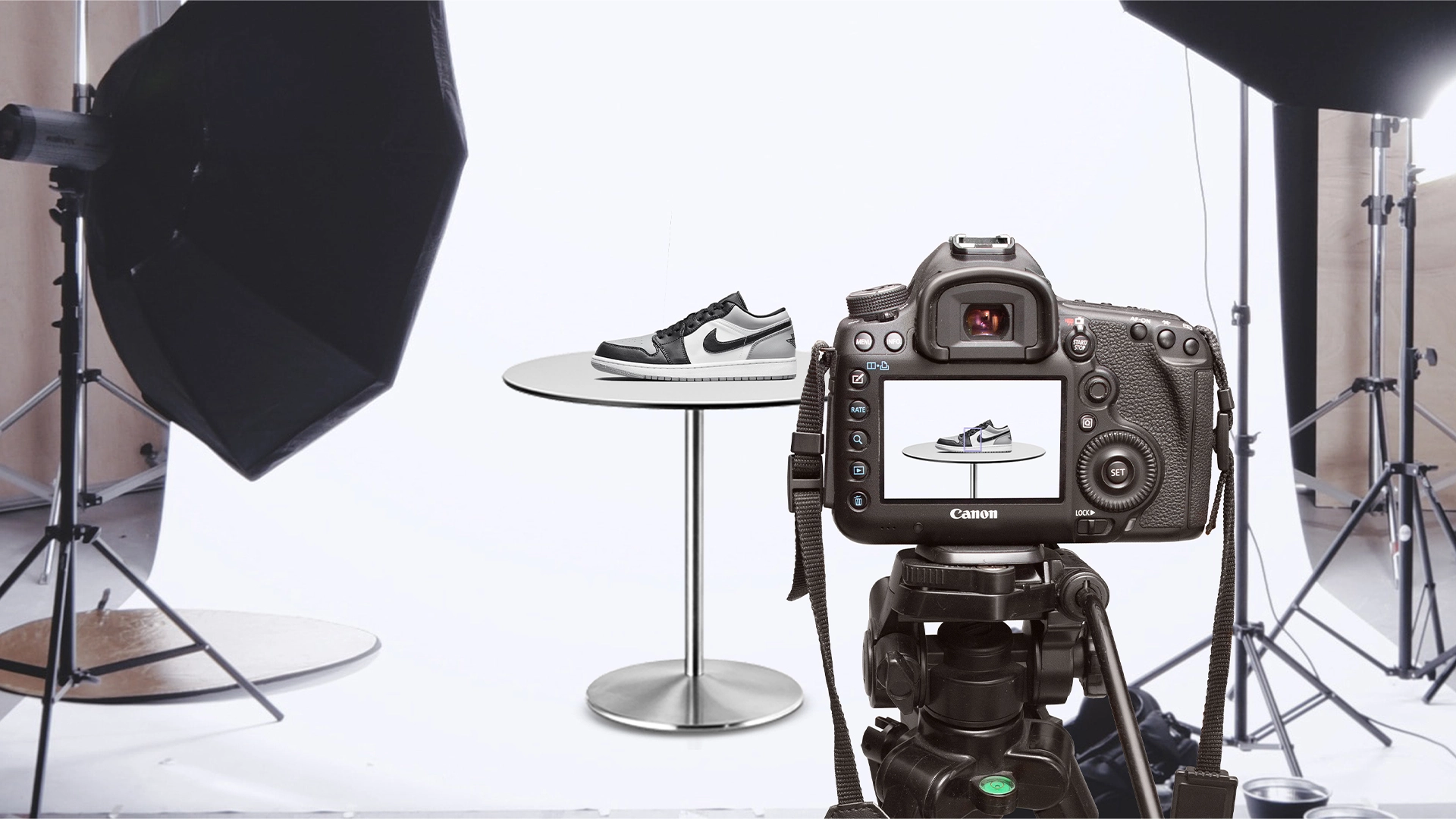 Some people follow shoe photography with passion and hobby, but some do it to capture the audience for their footwear product. Shoes also come under the same category as footwear photoshoots. Thus shoe product photography can bring many audiences if done correctly since it creates a visual appeal and engaging photographs of different footwear.
How Photoshoot of Shoes Benefits Your Business
In every business, showcasing the products and attracting an audience is one of the essential aspects of marketing. On an ecommerce website, it is really important to have visually appealing images in the catalogs since customers don't have high viewing retention. Even if you are promoting through billboards or doing shoe photography with model, having high-quality images will be the make-or-break element for you. Therefore, footwear photography can enhance your products and give you an edge over other brands. Footwear product photography can make different footwear appealing to customers and enhance its brand image. Some of the other benefits of shoe or footwear photoshoot are
1. Increased Sales
Shoe photography, if done the right way, can significantly impact sales. When customers are able to see the details and craftsmanship of your shoes clearly, they are more likely to be persuaded to make a purchase. Professional and attractive images can bring conversions and boost your overall sales.
2. Presence Online
High-quality shoe photographs are essential for your online presence in today's digital era. Captivating visuals can make your products stand out and attract potential customers, whether you have an e-commerce website, social media profiles, or online marketplaces. This helps in increased website traffic, engagement, and overall conversions.
3. Better Customer Experience
Shoe photography gives customers a better understanding of your products before purchasing. Detailed and accurate images can help them assess the shoes' elements, features, and overall appeal, reducing the chances of returns or dissatisfaction. Customers feel more assured and informed when visually examining the shoes from various angles.
4. Competitive Advantage
In a competitive market, having professional shoe photography sets you apart from competitors. High-quality images showcase your commitment and passion for presenting your products in the best possible way, which indicates higher professionalism and quality. This can help you gain a competitive advantage over your rivals and help gain more customers.
5. Social Media Engagement
Engaging visuals captured through shoe photography are highly shareable on social media platforms. Beautifully captured images are more likely to go viral, reach a wider audience, and increase brand exposure. This will result in increased engagement, followers, and potential customers.
Challenges in Shoe Photoshoot
There are many shoe photography ideas, but with that comes many obstacles and challenges that make life difficult for photographers.
Some of the common challenges that photographers face while capturing images of shoes are
1. Reflections and lighting
Many shoes have reflective surfaces, making achieving the right lighting setup challenging. Therefore having the right shoe photography setup and proper lighting is important to showcase the texture, color, and details of the shoes without creating unwanted reflections or shadows.
2. Composition and Styling
Creating visually compelling compositions and attractively arranging the shoes can be challenging. It requires great attention to detail and a sense of aesthetics to position the shoes correctly.
3. Perspective and angles
Finding the best angles and perspectives to capture the shoes can take time and effort. It's essential to showcase the shoe's key features and unique design elements while keeping a visually pleasing quality. Therefore, experimenting with different angles and perspectives is necessary to find the most appealing shots.
4. Post Processing
In footwear photo editing, shoe photographs demand a lot of time and effort. Adjustments may be needed to enhance colors, remove imperfections, and improve the overall appearance of the shoes. If you are shooting multiple brands, then consistency in post-processing is essential.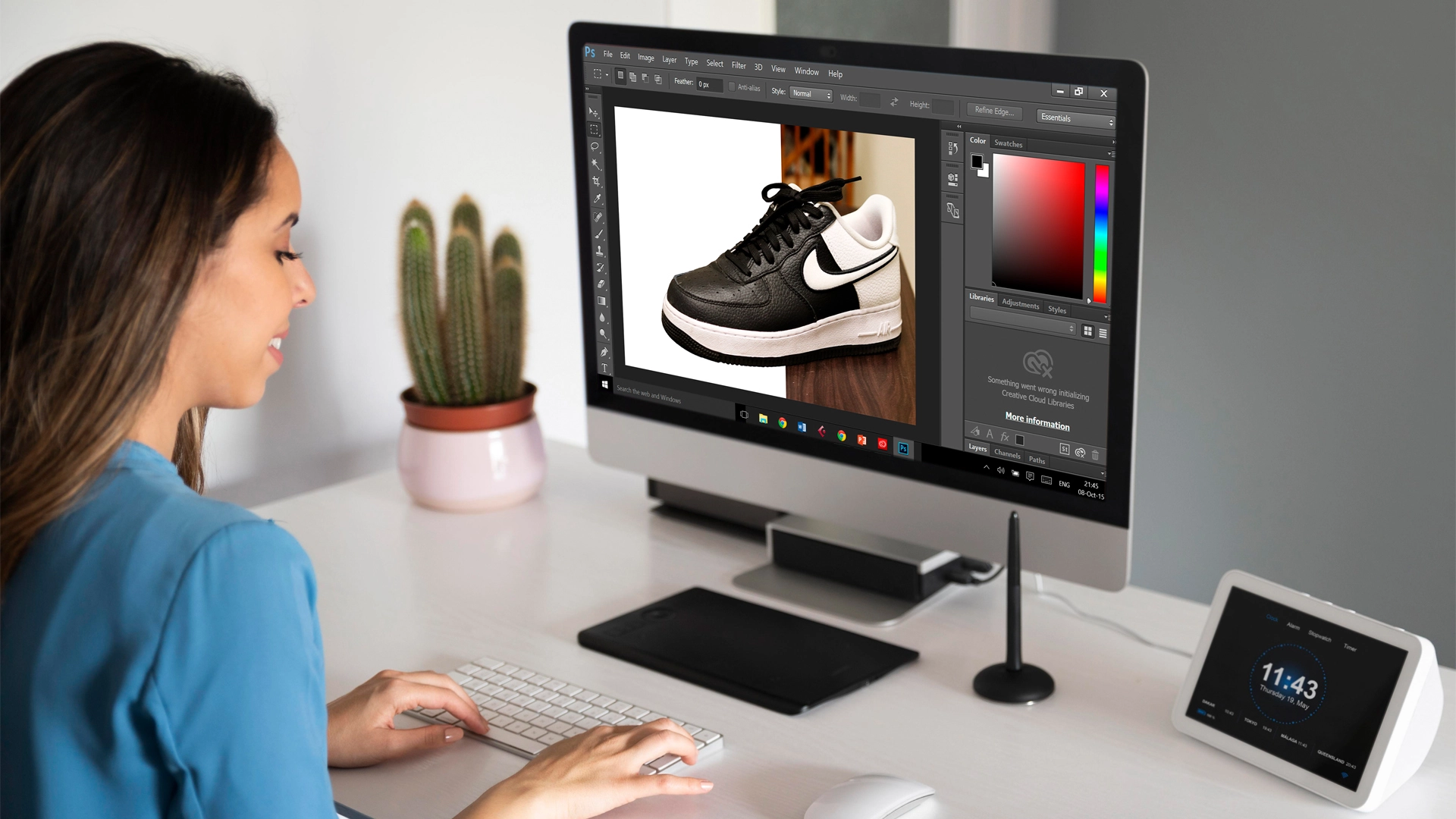 5. Capturing details
Shoes often have unique details, such as stitching, patterns, or textures. Capturing these details can become a challenge. Close-up shots or macro photography techniques are required to showcase the finer aspects of the shoes.
6. Maintain Brand Identity
If you photograph shoes for a specific brand, ensuring that the images align with the brand's identity and style guidelines can be challenging. Consistency in lighting, composition, and overall visual aesthetic is crucial to maintaining brand recognition.
Shoe Photography Tips
Having the knowledge of how to click a picture can be worth selling. Professionals have to keep in mind a lot of factors before capturing the perfect click. A well-presented and visually detailed photo can catch the attention of customers. Remember, if you want to capture every detail of the footwear, keep the aperture close to F/11.
Here are some tips that will enhance your shoe photography:
Stylize your footwear for shoe product photography
Make sure your shoes have their shape and stand tall. Avoid allowing your footwear to sag, as it requires it to be appealing and inform customers. Rather than attempting unconventional arrangements, focus on enabling shoppers to imagine themselves wearing your shoes. This concept resembles the use of a ghost mannequin in clothing photography.
To make the presentation optimal, you need present that footwear in a way that shows it is being worn. This shows how the shoe looks and enables customers to visualize themselves wearing it. To enhance the shoe's shape, you can stuff it with crumpled paper to give it a fuller look.
Select the right background for your shoe photography
If you have seen other photographs, then you must have noticed that a cluttered or messy background does not do well with a main subject. The photograph needs to showcase the main subject. The same thing comes to shoe photography background, you need to keep the background plain and simple to showcase your footwear. It is best to photograph each footwear product alone one by one. You can select a background that is stark white and clean. Therefore try to maintain a proper shoe photography backdrop.

But remember not every time you have to go with a plain background. Having a background that's unique and sleek can enhance your image of a footwear product.
Adjust Your Frames
In some photographs, having blurry and soft focus can give you a better visual presentation. But in the case of a photoshoot for shoes, it can become a nuisance. If the image is out of focus, the customer will have difficulty seeing your product.
Make sure your aperture is at the correct height. It will be much better for you if you can get a tripod. It will minimize the chances of the camera shaking, giving you maximum crispiness.
You will need to have proper focus on the footwear product, this will allow customers to zoom in and get better details of the product.
Emphasis on Shadows
Instead of removing shadows in post-production, try to get the right amount of shadow during your photoshoot. Footwear images get great benefits and a visual look if they get the right amount of shadow naturally. This also saves time and resources in post-production editing.
But if required, you can add shadows in post-production since it is not always possible to capture shoe images with perfect shadows.
Capture through right angles
The biggest image one can do while a photoshoot of shoes is not capturing enough angles of the product. Customers want to see every detail and every angle possible so that they can make the final decision to purchase.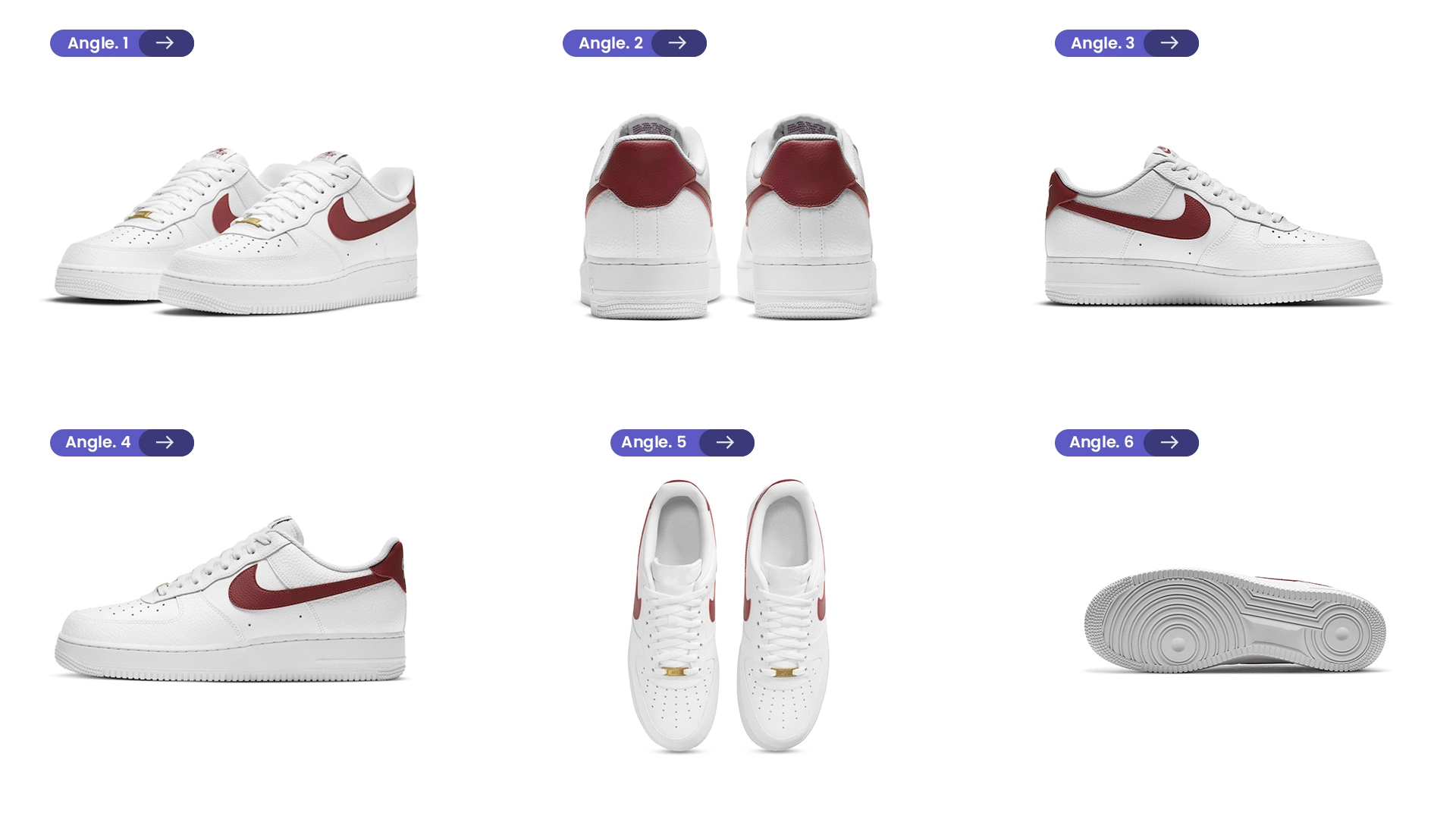 Therefore capture as many angles as possible. If you have to take straight, side, or back shots, then don't hesitate. Don't miss any opportunity to capture the features of your product. But remember, each angle you are capturing should be visually appealing.
Cropping your footwear photography
Avoid any inconsistent cropping in shoe photography, as it is the most common mistake photographers make. Inconsistent image presentation on your website can be visually distracting. Customers will easily notice any difference in zoom levels between footwear images and height differences among products placed in the frame. They will also detect differences in lighting, focus, and more. These inconsistencies divert attention away from the product itself.
To avoid this mistake, create a cropping template, and follow strict guidelines to keep your image consistent. Following the template will speed up the shooting and post-production process and will enhance the overall website.
Different Equipments For Shoe Photography
To improve your overall shoe product photography, you need to have the proper equipment to capture all the elements and features of your product. The right kit for photography will get the job done.
Here are some common equipment you need to have while doing photography of shoes
Right Camera and Lens
The right camera for taking shots of shoes and footwear in a studio can vary according to your own preference. But some of the cameras that can give you the results are
Canon 5D IV
Sony A6100
Nikon D3500
Canon Rebel SL3
Canon EOS M50 Mark II
For lenses, a lens with a low aperture, like 30mm, will provide you with great results. But we will give extra options so that you can select the best lens according to your preference.
Canon EF 85mm/ 1.8mm
Canon EF 50mm/ 1.4mm
Nikon AF- S FX 50mm f/1.8 Prime lens
Sony FE 90mm f/2.8-22 SSM ED
Right Studio
A studio made specifically for shoe product photoshoots always has shoe photography props that can be a great addition to your photographs if used correctly. If you can find yourself the right product photography studio, then you don't have to worry about the background for your product since studios have in-built backgrounds made specifically for photoshoots. But you will have to invest time, money, and resources to find the studio that fulfills your requirements.
Things to Avoid Taking Photographs of Shoes
There are do's and don'ts that you must remember. If you follow these simple principles and avoid these common mistakes, then you can improve the quality of your product photography
footwear laid flat
You need to create an illusion of wearing. This will help communicate the shape and size of the shoe. If you lay your footwear flat, then the shoe will appear lifeless, and its visual appeal will decrease.
Cluttered frame
For ecommerce product photography, a cluttered frame will distract your customers from the main subject. If you are showcasing a product like a shoe, then at all costs, you need to avoid cluttered frames.
Usage of harsh lighting
Even if other things in your photography go wrong, you must avoid harsh lighting. Harsh direct lighting can cast deep shadows, which is considered worse in product photography. Incorrect lighting will showcase all the imperfections and may warp colors. Therefore, Lighting is the one thing that will make or break your overall image quality.
Provide few angles
One of the biggest mistakes a footwear photographer can make is capturing very few angles of the product. You must think from a customer's perspective while clicking product pictures. So, remember to capture every angle of the shoe possible.
Not capturing enough details
In footwear photography, the utmost importance must be given to the details and feature elements of the shoe. You need to capture every inch of detail, showcase what fabric is used in the shoe, what is the color of the laces, and capture everything that is possible.
Not adding context where possible
Shoes or footwear are considered a fashion statement. Similar to fashion photography, shoes as a subject in footwear photoshoots can gain immense benefit if proper context shots are used. Context can help in communicating a story to the customers and give an essence regarding what that particular shoe product is about.
Shoe Photography Ideas You Must Try
Photoshoots of shoes can be fun if done in a creative way. A photographer needs to think outside of the box to capture the attention of the audience. Here are some shoes photography ideas that will help you go above and beyond:
Storytelling
In photography, if you can capture images that can communicate a story, then you can draw more attention to your product. It can instantly connect the viewer with the image. So, try capturing shoe images in a way that will showcase some kind of story.
Color contrast
Try to Experiment with different contrasting backgrounds to make the shoes pop. Select backgrounds that go well with the shoe color to create visual interest and make the footwear stand out.
Capture Adventure
One of the shoe picture ideas involves showcasing footwear in action and showing what it is capable of can add an extra punch to your photography. This will also add dynamism and give the image an adventurous look.
Take Advantage of the World-class Image Retouching Companies
There are a number of companies that are now entering the field of editing and image retouching. AI has now simplified the whole editing process, which took hours or even days in the past. One company that beats the rest in Image editing services is Spyne.
With Spyne's expertise in AI and automation, you can now easily make changes to your photographs with just a few clicks. The built-in AI will help you build high-quality Ecommerce catalog with ease. If you have a shoe or footwear photograph and need some retouching, then Spyne's AI will do the work for you. All you have to do is upload an image on the Spyne app, or you can click the picture of the product through Spyne's ecommerce app, then AI will notify you of the changes that are required in the clicked photo. The validation model will notify you whether the image is cropped or not. It will also tell if the image has proper lighting or not. Then you can use AI's transformation model to add some retouches. With a few clicks, you can add shadows that will give your product a more realistic look, and you can change or remove the background, improve color contrast and exposure, and much more.
Spyne has a bundle of tools in its inventory, all powered by AI. All you have to do is give it a try and see the wonders AI can do.
Conclusion
shoe photography plays an essential role in presenting footwear products on ecommerce platforms. The attention to detail and the ability to capture the best elements of shoes can greatly impact sales and give your brand a competitive advantage. High-quality photography enhances the overall customer experience, increases online presence, and improves social media engagement. However, photographers also face challenges such as reflections, composition, angles, post-processing, capturing details, and maintaining brand identity. By following essential tips, using some shoe photo ideas, and utilizing the right equipment, photographers can elevate their shoe photoshoot and create visually appealing images that resonate with customers. Additionally, taking advantage of advanced image retouching services offered by companies like Spyne can simplify editing and elevate the quality of your shoe photographs.