In this digital age, where visuals attract customers, presenting your footwear in the best possible light is essential. According to a recent IRCE study, more than 75% of online consumers believe that product photographs are a significant feature. Footwear photo editing is the art of enhancing and retouching shoe images to make them visually appealing, accurate, and enticing. Whether you're an e-commerce platform, a fashion brand, or a footwear enthusiast, this blog will provide valuable insights into shoe image editing services or any footwear product photo editing techniques.
From Product background removal and color correction to retouching and image composition, it explores the art of sneaker photo editing. It provides insights and the best footwear photo editing techniques to transform ordinary sneakers photos or any footwear into visually captivating works of art, the strategies and tips that can transform ordinary shoe images. Join us and explore the exciting realm of footwear product photo editing and learn how it can elevate your footwear business to new heights.
What Is Footwear Photo Editing?
Footwear photo editing involves enhancing and retouching images of shoe photo editing or other types of footwear using various image editing techniques. It can transform a simple-looking footwear image into an irresistible one that compels your customer to buy it. shoe photo editing is performed for different purposes, such as e-commerce websites, online marketplaces, catalogs, advertisements, or other promotional materials.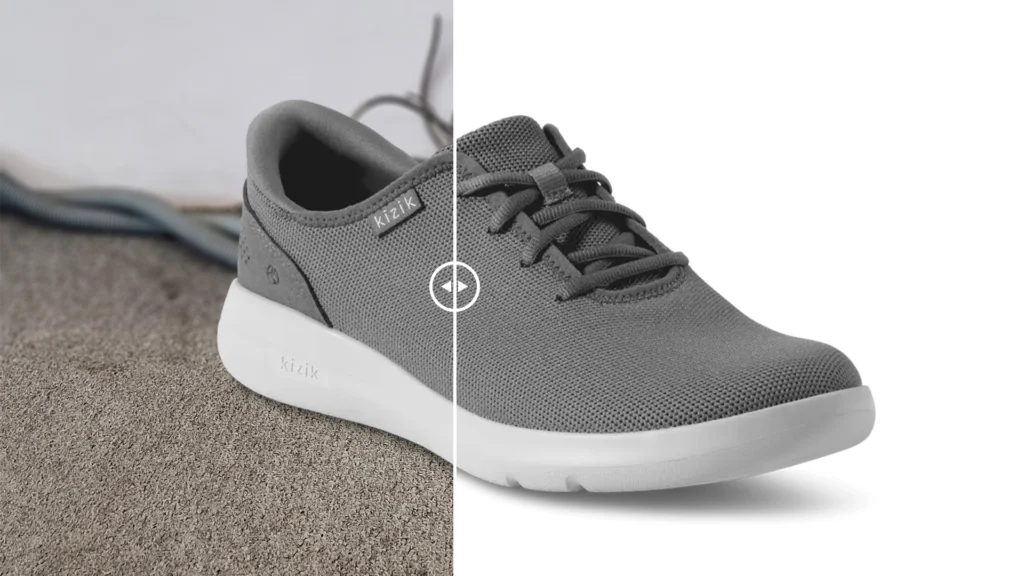 Sneaker photo editing professionals employ a range of techniques to achieve optimal results. They start by utilizing background removal to eliminate distractions. Additionally, they apply color correction techniques to ensure accurate representation and consistency. Furthermore, they perform retouching to enhance the shoes' appearance and meticulously remove imperfections. Additionally, they add shadows and reflections to create a three-dimensional effect. Moreover, they resize and crop the images to fit specific requirements, combine multiple angles to create composite images and format the edited images for web or print use.
Benefits Of Footwear Image Editing
Businesses can improve the appearance of their products, showcase their unique features, and create more visually appealing images by utilizing shoe photo editing. Footwear image editing helps increase sales, improve brand recognition, and provide a more positive customer experience. Here are some specific benefits of shoe photo editing:
1) Enhanced visuals: By leveraging professional editing techniques, businesses can enhance the appeal and attractiveness of their footwear images.
2) Accurate representation: Show true colors, textures, and details of shoes.
3) Consistent branding: Maintain a cohesive look across platforms.
4) Increased sales: Engage customers and drive conversions.
5) Competitive edge: Stand out in crowded marketplaces.
6) Customization flexibility: Tailor images to specific requirements.
7) Time/cost efficiency: Save time and expenses through outsourcing or software use.
Footwear photo editing boosts visuals, ensures accuracy, maintains branding consistency, increases sales, creates a competitive edge, enables customization flexibility, and saves time and costs. Businesses leverage professional editing techniques to create stunning footwear images that captivate customers, drive conversions, and establish a strong brand presence.
Who Needs Editing For Footwear Photos?
Footwear product photo editing brings benefits to various businesses and individuals. For example, footwear manufacturers actively use photo editing techniques to make their products look better and attract more potential buyers. Online retailers rely on appealing product images, so they edit shoes online to make them visually attractive and increase sales.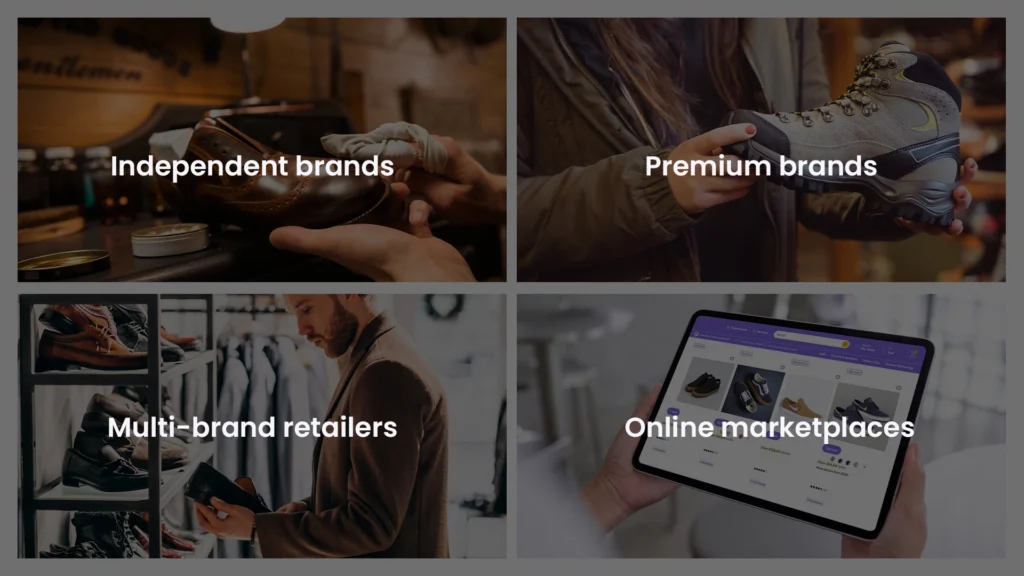 Fashion brands take an active approach by editing footwear photos to create eye-catching campaigns and advertisements. This helps them showcase the unique features of their shoes and connect with their target audience effectively. Marketing and advertising agencies actively use footwear image editing to produce captivating visuals that communicate the brand's message and engage viewers.
Top 10 Shoe Editor Apps to Create Better Product Images
Enhance your product images with the top 10 shoe editor apps, software, and tools. From AI-powered solutions like Spyne.AI and Pixelz to user-friendly options like Pixlr and Canva, these apps offer customization features and create stunning shoe visuals. Showcase your products in the best light!
1) Spyne.AI: The best footwear photo editing software offers an unparalleled AI-powered shoe editor, leveraging cutting-edge algorithms to deliver remarkable enhancements, seamless customization, and stunning transformations to shoe images with unrivaled precision, efficiency, and ease of use.
2) Pixc: Pixc optimizes product images for e-commerce. It retouches, removes backgrounds, and enhances shoe photos.
3) Pixelz: It efficiently edits and enhances shoe images by removing backgrounds, retouching, and color-correcting, resulting in visually captivating products.
4) GIMP: GIMP is a versatile shoe editor software. It empowers users to retouch, manipulate, and enhance shoe images using various editing tools
5) Pixlr: Pixlr is a user-friendly shoe editor that enables one to edit shoes online effortlessly. It offers a range of tools to enhance and modify shoe photos.
6) Photoshop Express: Photoshop Express is a mobile shoe editor app. It offers quick and easy editing tools, filters, and effects to enhance shoe images on the go.
7) Canva: Canva is a versatile editor platform. It empowers users to design and create visually appealing shoe graphics.
8) Instasize: Instasize is a mobile shoe editor app. It offers resizing, cropping, filters, and effects to enhance shoe images.
9) Adobe Photoshop: Adobe Photoshop is a powerful shoe editor professionals use. It enables precise retouching, manipulation, and customization of shoe images.
10) Adobe Lightroom: Adobe Lightroom enhances shoe images. It optimizes colors, adjusts lighting, and applies presets for efficient editing.
Try out these shoes photo editor app downloads for Android and iOS to enhance and customize your shoe images efficiently.
Advantages of Choosing Our Footwear Photo Editing Service
It's an AI-powered photo editing service that provides diverse features and benefits. It offers many editing capabilities to enhance images effectively. You can actively transform and improve your photos, achieving professional-grade results. The service enables you to enhance colors, adjust lighting, remove imperfections, and add creative effects, all in an easy-to-use interface. Anyone can actively leverage Spyne's AI-powered technology to save time and effort while achieving high-quality, visually appealing images.
1) High-quality editing: By utilizing advanced AI technology, this service ensures that your photos are edited to the highest quality standards. Consequently, your photos will exhibit a professional and polished appearance. Moreover, the service maintains 100% image consistency regardless of the quantity requiring editing.
2) Fast turnaround times: Recognizing the significance of timely delivery, the service is designed to be quick and efficient. It understands the importance of delivering edited images promptly and ensures efficient processing of your requests.
3) Cost Saving: The service makes it available to organizations and people of all sizes by providing affordable product photo editing services. Moreover, it provides significant cost savings, allowing you to save approximately 75% on your editing expenses.
4) Secure and easy-to-use platform: It has a secure online platform that makes uploading and managing your photos easy.
5) Flexible services: It offers various ecommerce photo editing services, from basic color correction to advanced retouching and manipulation. This means you can find the perfect service for your specific needs, increasing your click-through rates by 40%.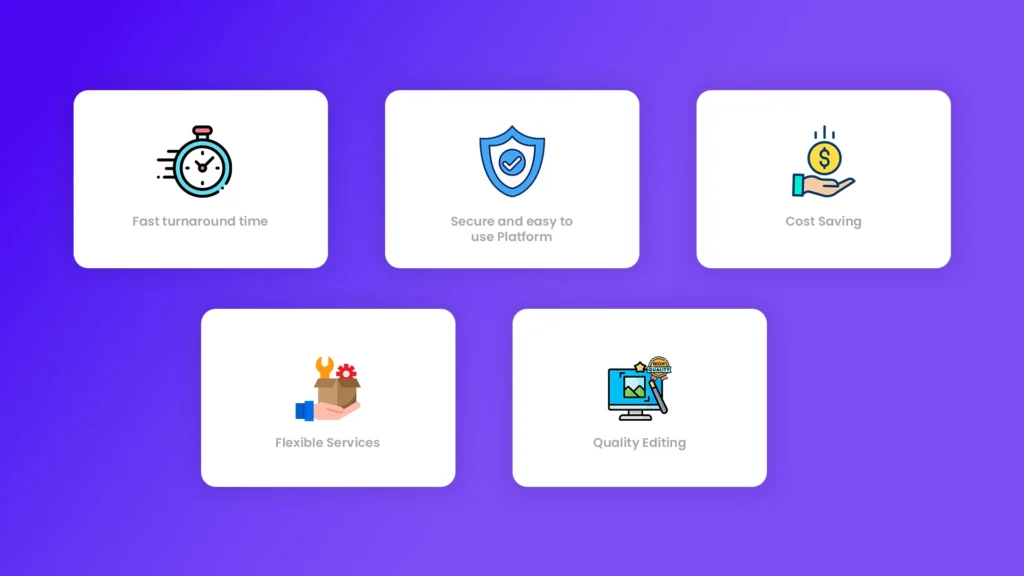 Additional features of Spyne footwear photo editing
Spyne's cutting-edge AI technology helps e-commerce marketplaces and businesses worldwide with high-quality Product Photo Editing. If you have footwear images, you can automate your footwear product photo editing with 100% AI tech that helps you edit shoe images 3X faster, saving you about 70% of your average post-production time.
The tech tool helps businesses edit all kinds of product images and give a makeover to the product catalogs at a 50% lower cost. Since it puts AI to do the work for you, minimizing manual labor makes it highly affordable.
Are you selling your products on Amazon or any other marketplace, or do you sell images on your online e-commerce store? You can create marketplace-ready images in a few minutes while incurring fewer costs. Our AI tech is any marketplace complaint, which means with one input you can create a ready-to-publish image for one or multiple marketplaces you chose. This helps sellers create various images from one product image, enabling them to publish images across the sales channels.
Multiple Backgrounds
Now since you're selling your products on multiple marketplaces, you'd need to redefine your visual content accordingly. For instance, if you're selling on Amazon, you'd need your product images with white background only, unless it is a lifestyle image, right? Similarly, if you're using another marketplace that accepts images in gray backgrounds only, you'd need to comply with the guidelines to list and sell your products. Spyne's AI-based photo editing technology helps you create ready-to-publish multi-background images at once.
Margins & scaling
This is another part of creating your product images, and you can always leave it to the AI to auto-scale your product images according to your requirements or marketplace guidelines. No matter where you sell, our AI keeps the ratios in its intelligence so that you don't have to worry about the sizing of the images.
Realistic shadows
Now you might imagine, how would the images look realistic if they were edited with AI. Our AI ensures that every criterion is met to make the images look real and perfectly edited. The difference won't be measurable. It helps you with 99% accuracy across your SKUs. The AI tech identifies the coordinates of the dark spots and creates realistic shadows around the product, elevating the look and feel of the product considerably.
Automate your post-production
Best footwear photo editing software can be used in multiple formats based on the number of images you need to process or the requirements. Suppose you want to process under 5000 images per week. In that case, you can use our Web tool to get the footwear images in seconds. Alternatively, you can use our API key to automate your post-production process and reduce your average photo editing time by almost 70%, helping you make your products live faster. As the AI technology's best footwear photo editing tool is 100% automatic, the editing process is 3X faster, which means getting images in faster TATs at a 50% lower cost.
SpyneAI application
Do you need to hire footwear photography? Does it cost you a lot, and you can't afford it, or do you want to cut your photography costs? If yes, you can use the SpyneAI application to shoot your footwear images with your cell phone from anywhere and get them edited within minutes of the app only. Furthermore, the application is an AI-based product that utilizes AI to handle the editing work for you efficiently. If it takes 10 minutes to edit one picture, you can save time by quickly clicking and editing multiple images within minutes.
Conclusion
Footwear image editing is crucial in presenting footwear in the best possible light in today's digital age. By harnessing professional editing techniques and leveraging cutting-edge tools such as Spyne, both businesses, and individuals have the opportunity to elevate the visual appeal, accuracy, and overall attractiveness of their footwear images. Shoe image editing services, on the other hand, offer a wide array of benefits. These encompass improved visuals, accurate representation, consistent branding, increased sales, a competitive edge, customization flexibility, and time/cost efficiency.
Opt for our reliable footwear image editing service for high-quality edits, fast turnaround, affordability, a secure platform, and flexible options. Footwear photo editing helps businesses showcase products, engage customers, and establish a strong brand presence, in the competitive footwear market.