Technological advancement and digitalization have led to tremendous changes in the automotive industry, the most significant being the creation and popularity of car marketplaces on the internet. Online vehicle sales, especially used vehicles, are already virtual in large proportion, and in the coming years, the sales will be entirely digital.
The shift in preferences of consumers is the primary reason behind the rising popularity of digital car sales. To stay ahead in the market, retailers must go digital. The article will help you understand what a vehicle marketplace is and how to gain the maximum benefit from it as a retailer. So, let's get started!
What is an Online Car Marketplace?
An online automobile marketplace is a place to sell and buy vehicles, including both used and new cars. It allows retailers to list used vehicles digitally for consumers to view and purchase. Auto marketplaces help buyers find a model with the desired features and easily compare their options. At the same time, sellers – including Car Dealerships and independent retailers – can use these platforms to reach a broad audience with the least amount of hassle.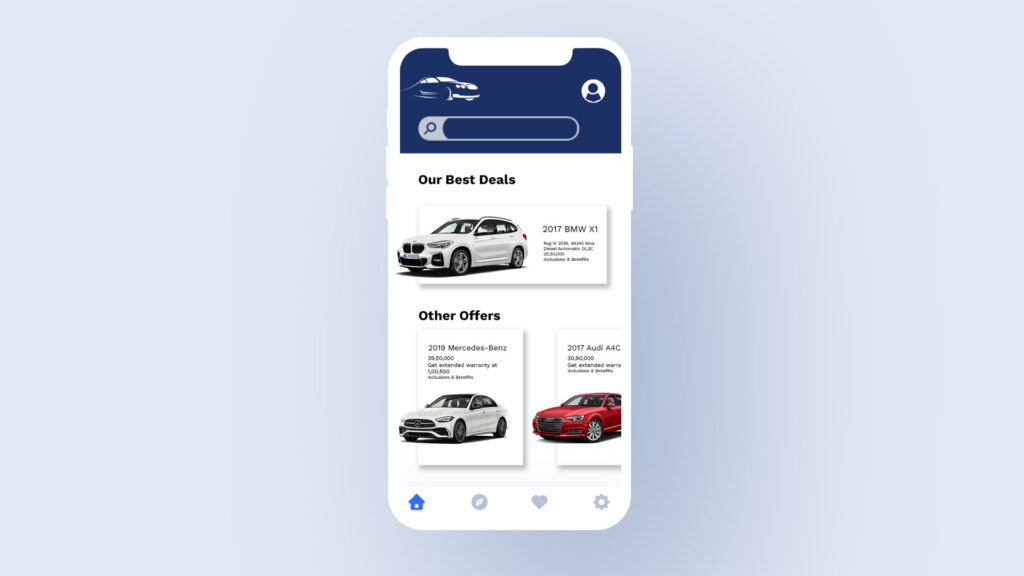 Why do you Need a Used Car Marketplace?
The demand for used cars is increasing, and this trend is expected to stay strong until the global semiconductor chip shortage is entirely resolved. And online marketplaces are what consumers want now, as it makes the entire automobile buying journey easy and gives them plenty more options for consideration. To provide consumers with a satisfactory experience and stay strong in the market, you must set up shop in a used car marketplace or create your own.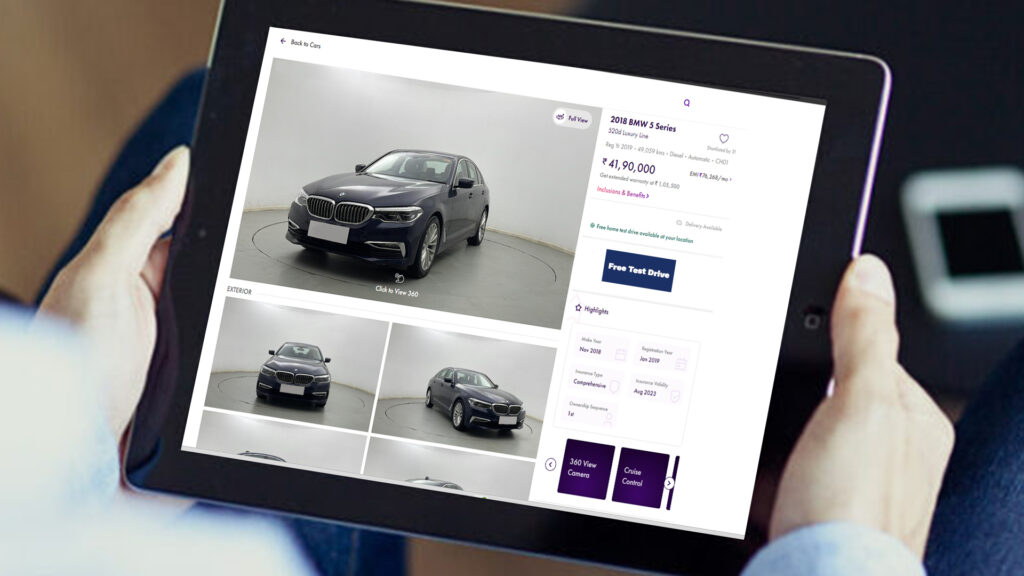 An online used automobile marketplace acts like a network of dealers for buying and selling used vehicles at affordable prices. Consumers can directly contact dealers and sell their cars at a desired price to potential customers or dealers. Facebook car marketplace is one of the leading examples of such platforms, followed by examples like Carvana and cars.com.
One advantage of a used car marketplace over a dealership website is that it allows private and independent sellers to list their vehicles as well. Buying from private retailers is more affordable, as they aren't usually looking to make a profit selling cars. It is also easier to negotiate with them, as most sellers don't have the patience to wait indefinitely for a sale. Buyers don't have to face pressure from salespeople to go ahead with a purchase, making the purchase journey easier and less tense overall.
Useful Tips for Selling Used Cars Online
For maximum Car Dealership Profitability from selling used cars online, consider the below-mentioned tips: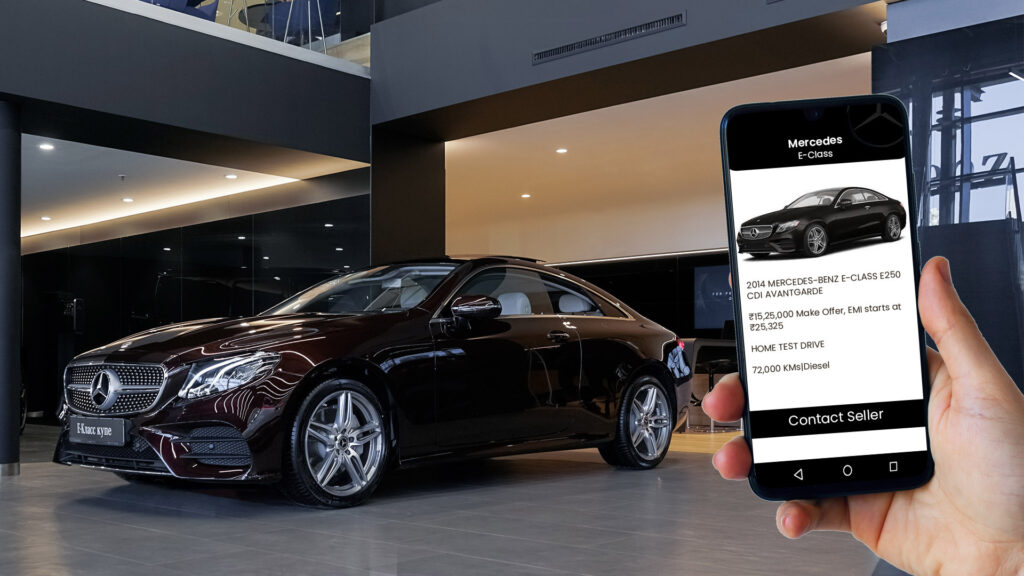 Make the vehicle ready for sale
Fix up all the dents and scratches. A good clean-up is essential, along with a good maintenance service. Also, remove all personal accessories that can bring the car's value down. Once it is in good shape and condition, it will be ready to be brought to the market.
Evaluate the worth of the car
Once the car is in good shape, evaluate and identify its market value. Do not rely on assumptions and opinions regarding the price. Instead, visit an authentic website or car price calculator to get an appropriate number. The worth of a pre-owned vehicle depends on factors like its condition, the odometer reading, the location of sale, the model, etc. Once you know the used car's market price, it will be easy to negotiate with potential buyers.
Photoshoot
The images used while advertising the car are a significant factor in finalizing the deal. The pictures will do most of the talking – attracting people to your listings and convincing them to buy. Make sure to click high-quality professional pictures of both interiors and exteriors from various angles to help potential customers understand the car. You can use Spyne to get high-quality professional images, which will help you attract more buyers online and sell vehicles faster.
Advertise the car/contact the dealers
You can advertise the car on different mediums with the necessary information and your contact details for potential buyers. You may have to negotiate with the buyers a lot, though!
Another way you can use it is by reaching out to dealers and selling your car to them. It minimizes the effort from your side, but your profit margin will also be lower.
Keep the documents ready
Once your car is in the market and ready to be sold off, ensure that the necessary documents are prepared and up-to-date. It will save you from all the last-minute hassle and help in a smooth sale. If you're a private seller, contact your nearest DMV to know the documents needed when selling your car.
Mode of payment
Mode of payment is another essential aspect of selling used cars online. Make sure to clarify how you want to receive the payment initially.
Start your own Used Car Marketplace
If you have a large inventory or have partnerships with several dealerships, you should consider starting your own marketplace for used cars today. It will not only help you to stay ahead in the market and get potential customers, but it will also increase your profit multiple times.
Studying the market and identifying the factors that affect it will help you better understand current trends and how to get on top of them. Once this is determined and understood, running a marketplace for used cars will become the most profitable decision.
How to Create a Used Car Marketplace?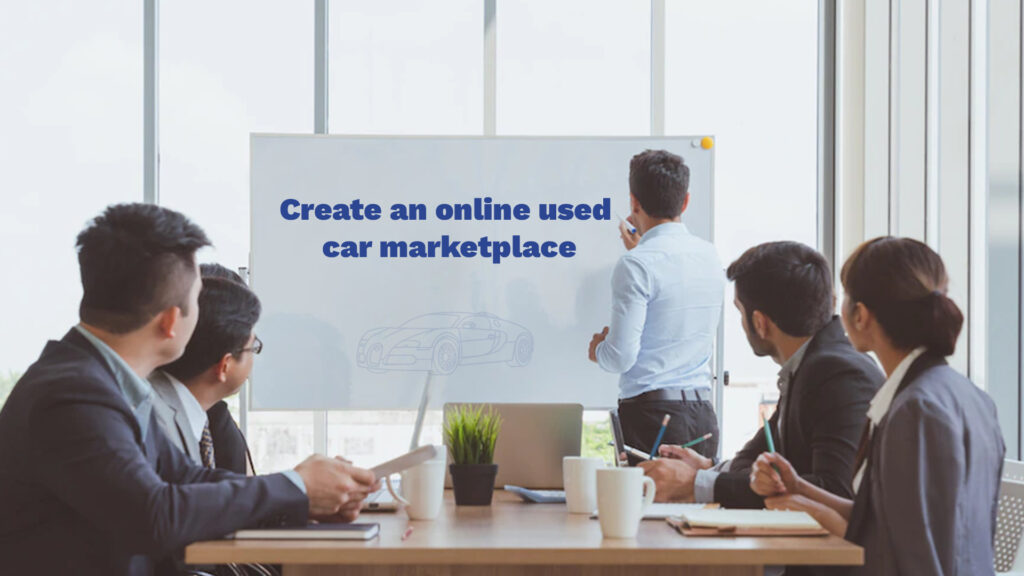 Creating a Pre-owned car marketplace requires concentration, dedication, and hard work. Below, we've listed all the steps to follow while creating a second-hand car marketplace:
Business name and logo
Prepare the identity of your business first. The name of the marketplace and the logo will define you; make it attractive yet simple and memorable. While choosing a name for your marketplace, make sure that it is unique and will help you to stand out in the industry.
Prepare your strategies
Do not blindly jump into the industry with big hopes and dreams. Instead, stay on the ground and think practically about the marketplace, target audience, goals, etc. Formulate a well-defined and well-revised business plan with thorough strategies while entering the marketplace. Analyze and understand the industry statistics and competitors' positions for long-term benefits.
Go Legal
Once you are ready with the identity and personality of the business, register it with legal ownership or proprietorship for approval and authentication. It will help you get the proper license for the recognition of your business and will help you to connect with government programs for smooth running.
Physical store/virtual store
Once you are legal and approved, confirm whether you will have a physical space for a used car marketplace or if you want to operate virtually. Considering the physical store, you will need ample space for the showroom. It should also be at an appropriate location to attract a large number of customers. You might need multiple showrooms, depending on the size of your operation.
Going with the virtual option, you will need a well-structured and user-friendly car marketplace website to showcase the vehicles and execute the entire business. Everything must be digital, from viewing a car to paying for it. You'll also need a doorstep delivery mechanism.
Bank account
It is a significant step that is often taken lightly. Creating a bank account with the business name will help you track all business-related transactions and keep them in one place. It will also make business transactions secure.
Business Permit
Specific permits and licenses are required to Sell The Car in the marketplace, like a seller's or dealer's license. Without these, you cannot sell vehicles even if your business is registered. Hence, identify the list of all potential licenses and permits required and grab them for smooth business execution.
Car inventory
Preparing a car inventory is another important aspect of creating a Used Car Selling Website. You need a system for acquiring cars. Otherwise, you'll end up with just an empty lot. Also, once you have vehicles in your inventory, you need tools for managing them. Invest in a good DMS to help you with that.
Once you have all the permits and licenses with a unique business name and well-researched inventory, your online used car marketplace will be ready for business!
How to Develop a Car Marketplace Application?
With people preferring to shop for cars online, dealers and retailers are quickly shifting to the digital realm. However, simply building a website isn't enough. You need to take things a step further and develop a smartphone application as well.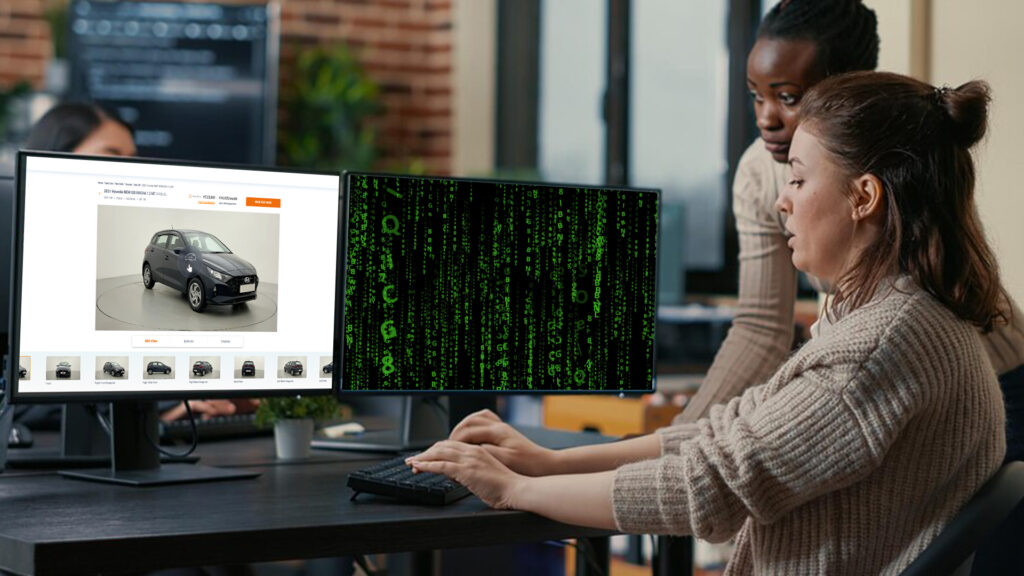 To provide consumers with a smooth and user-friendly car marketplace experience through the app, follow the given steps:
User-Friendly UI/UX
No one loves hassle, and complex application interfaces are a real hassle. Building a user-friendly interface with fast loading time is vital for keeping customers happy. You can look at other marketplace examples for ideas, and improve upon them.
Welcome tour
An introductory yet informative tour of the app to help the buyers understand its usage, features, etc. It will help the app's smooth navigation, resulting in a better experience.
Search Filters
Filters make finding a car model with the desired features and function very easy. Also, filters help to find cars within the shopper's budget, thus improving the user experience.
Easy navigation
Navigation speed and ease are crucial aspects of a good business application. It's essential to design the app to smooth navigation so users can easily find the desired features. It increases the chance of users buying the vehicle.
Data Security
Pay attention to data security. It will help develop customers' trust in the application and assure them of the safety of their personal details. Preventing data leaks and maintaining confidentiality should be at the top of your priority list. The transaction should also be completely secure; otherwise, people won't buy from your marketplace.
Basic Modules for Enhancing the Marketplace Experience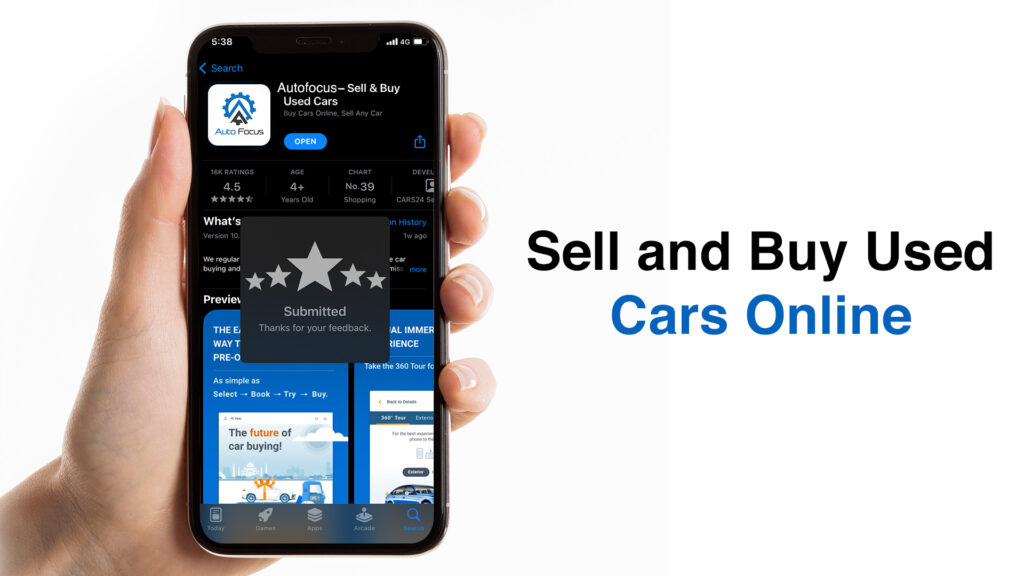 A good auto marketplace experience benefits customers as well as retailers. Here's how you can make sure that customers can trust and enjoy your marketplace, and how you can improve the experience and boost your business.
Transparency
Stay transparent with the customers throughout the process. It will generate trust in the customer, and the chances of sales will also enhance.
Customized experience
Providing the customers with a customized experience will smoothly resolve their queries and generate long-term relationships with the company. You can also send personalized ads and deals to people based on their history on your marketplace website.
Value the opinions of customers
Listen to what your customers are saying and work on reviews and feedback. Responding to reviews and feedback makes the customers feel heard and strengthens their trust in the company.
Post-purchase experience
Remember the customers once the deal is done. Take their post-sale review or feedback; it will generate value and trust for the company. You should also offer aftermarket support – maintenance, repairs, towing services, etc. – to your customers. You can partner up with other businesses for these additional services.
The Future of Online Car Marketplace
The recent Automotive Industry Trends and insights have clearly shown that the online car market is growing tremendously, and in the coming years, it will be completely virtual. People will rely on digital sources to buy or sell used cars as it is straightforward and convenient. In the future, experts have predicted that online car sales will increase multifold compared to now, with retailers even listing cars using Virtual Reality and Augmented Reality tech!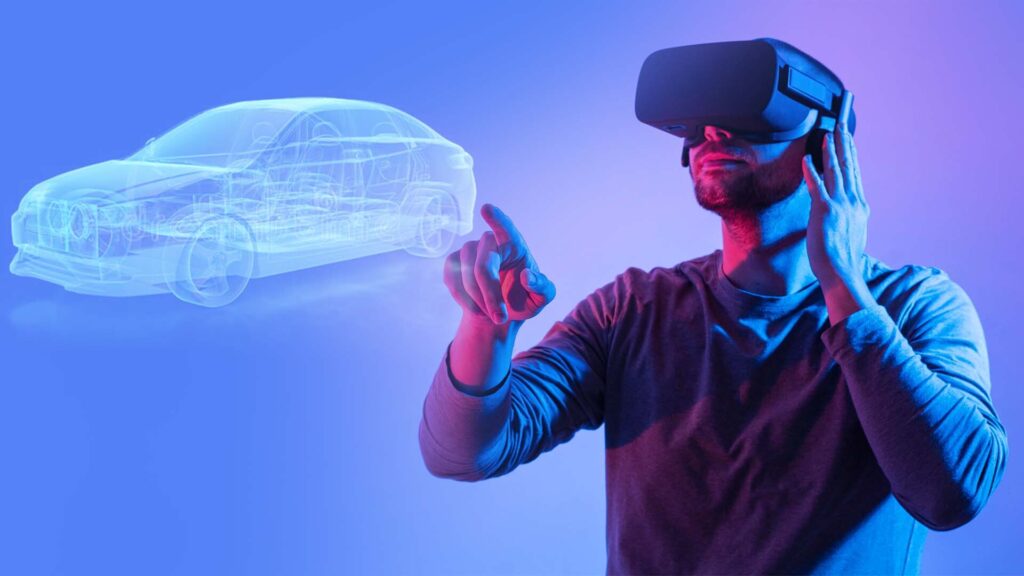 Online vehicle sales are expected to grow exponentially, and buyers will find plenty of marketplace cars for sale by owners as well, not just dealerships. Even shoppers who purchase in person at a dealership will complete most of their car buying journey online, including searching for finance. As such, virtual channels will become even more important for automobile retailers in the coming years.
Final words
The Future of the Automotive Industry is digital. To compete with rivals and boost your profits, it is essential to understand the industry and embrace car marketplaces. You can set up your shop on an existing marketplace or invest in creating one yourself – the choice is yours!