Digital car selling platforms have revolutionized the auto buying landscape for the past couple of years. In fact, research says the global online automotive market will reach $515.6 billion by 2027. Additionally, 95 percent of car buyers start their car search journey online, with 65 percent taking over three weeks to research online.
Amid so many digital platforms dealing in used and new cars, online car sellers may have difficulty deciding where to reach buyers and how to shortlist marketplaces and start their online selling journey. You would need a proper analysis of marketplaces, how car buyers view those channels, and what type of responses they get: all these factors would affect your ultimate online car-selling decisions.
This blog will run you through everything you need to know about digital car sales websites and marketplaces. So, let's dive in!
What is an Online Car Selling Platform?
An online car selling platform is a website where you can purchase and sell automobiles. It is essentially a digital marketplace where buyers can browse different vehicles, check them out virtually, compare their prices and features, etc. Automobile retailers – including both independent sellers and dealerships – can list their vehicles on these platforms to reach a much wider audience compared to traditional brick-and-mortar stores.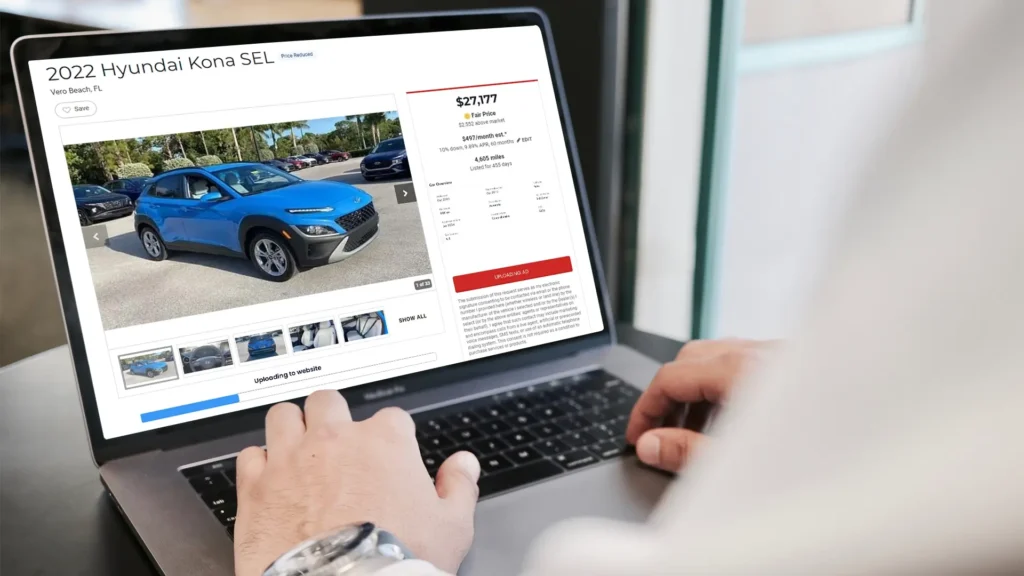 Such platforms offer a lot of convenience to both buyers and sellers. For the former, the car buying journey is simplified significantly; the entire research part can be done online from the comfort of one's couch! Also, plenty of online car sales platforms provide easy finance options, so people don't have to jump to other websites to search for those. Apart from that, some even have the option for customers to trade in their older vehicles for additional discounts on their purchases, similar to traditional dealerships.
As for sellers, the most significant advantage of online retail is better reach; businesses can find a larger relevant audience on the web compared to traditional (offline) retailing. Also, digital car listings are more straightforward and more cost-effective, because you don't need to maintain your inventory to showcase at all times physically. All you need are high-quality images and videos, and you're set!
A Deep Dive into Digital Car Selling Platforms
If you are new to the automotive industry or a first-time online car seller, always remember that there's no one-size-fits-all platform. On some websites, classic and vintage cars get more buyers and user engagement. And on some channels, people are lurking around the VDPs to know the make and model and other vehicle information to make a purchase decision.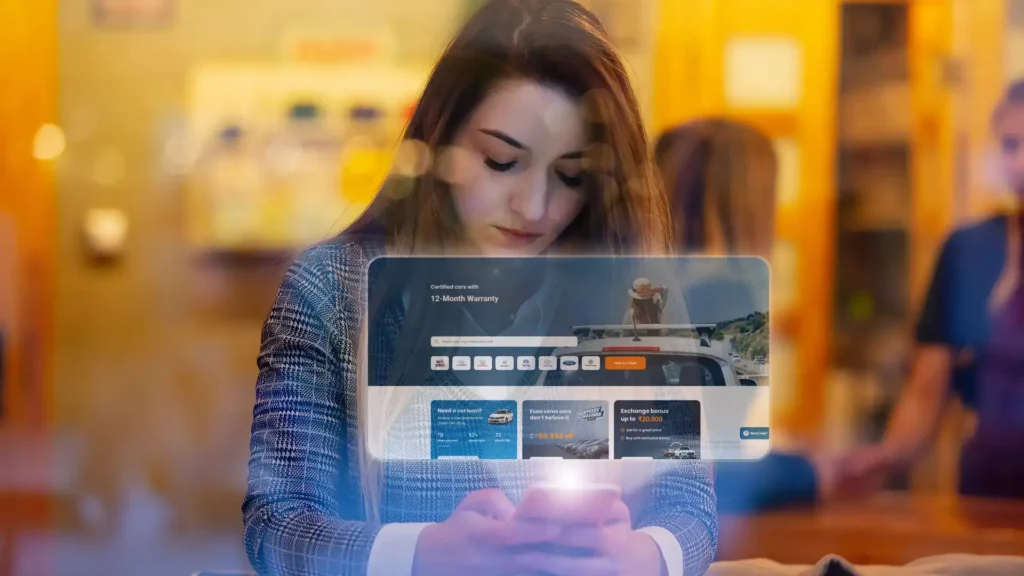 Similarly, some platforms provide an excellent source to compare the offered prices of trending used and new vehicles. Apart from this, you would also need to know which marketplace has access to a broader geography.
Suppose you want to sell a two-year-old jeep. You may want to sell it to someone who lives on rough terrain since jeeps will give better utility there. But if your chosen marketplace doesn't deliver in those hinterlands, spending precious resources, time, and energy would do nothing but go in vain.
In addition, you also need to find out what buyers search for when browsing through different online car marketplaces and automotive eCommerce websites.
A study by Autotrader suggests:
71 percent of car shoppers research online to discover prices
68 percent of buyers search for cars that are actually listed for sale
64 percent search to compare makes and models of vehicles
63 percent try to find out if a trending/current car is worth purchasing
46 percent of car buyers search online to locate a specific dealer or obtain dealer information
You have to consider all these facts and figures before diving headlong into selling your car online. Virtual car studios can dynamically improve the vehicle's appeal on online platforms.
Find the Market Value of Your Car – Things to Consider Before Selling
Before you jump onto the online car-selling bandwagon, here are a few things you need to figure out so you can add maximum value to your vehicles. The list starts from analyzing the age and mileage of a car to putting out the correct vehicle history on the table. These factors will drive the price you quote on digital platforms.
Let's have a quick look at them:
1. Age
Like any other item on the planet, price and age are inversely proportional. Usually, the older a vehicle is, the lower the price it will fetch. However, there's an exception to this rule. If you are into selling vintage cars or cars with highly demanded and rarely-found automotive parts, prices for those will increase with time.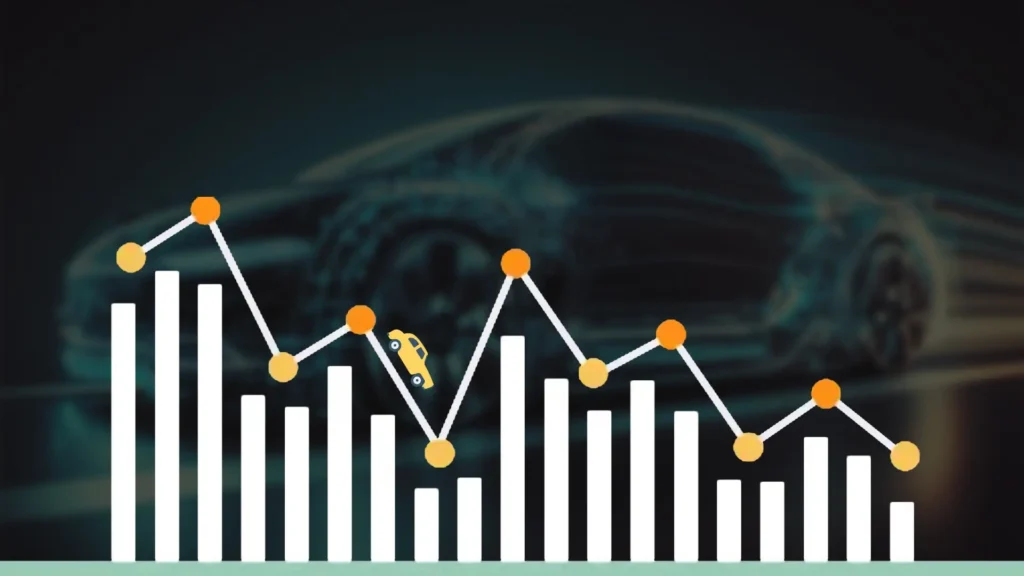 2. Mileage
Your car will undergo increased wear and tear as it travels more miles and thus will have a decreased value. Conversely, if your automobile has fewer miles, you might sell it for more money.
3. Brand of the car
Some auto brands will resell more quickly than others, as certain brands depreciate faster than others. The top luxury car brands for resale value include Lexus, Porsche, Audi, and Benz.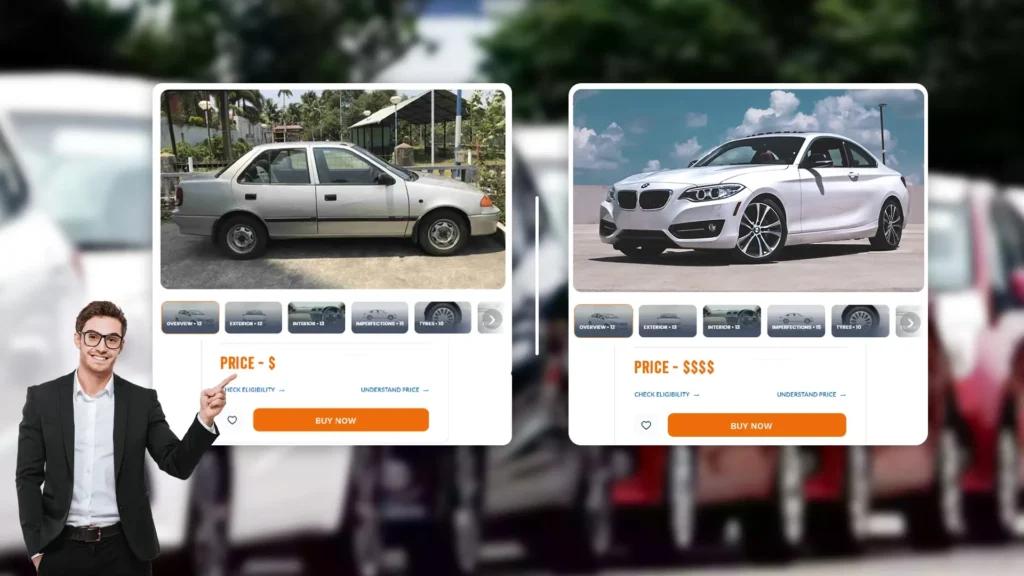 4. Body type and a class of vehicles
The class and body type of vehicles is one of the vital determinants of pricing. For instance, used race cars have a higher demand in the remote outer lands with less population, so you can charge more for them in those areas. Similarly, if you are selling EVs and sedans, they will find a better place in urban areas since they will help deal with higher traffic and fuel prices.
5. Vehicle History
Any other detail affecting a buyer's decision must be present on the VDP. This may include facts like if the car has suffered any collision injuries, if there's any impact of past damage on the mileage, and so on. Buyers are often willing to pay more if the vehicle contains cleaner yore.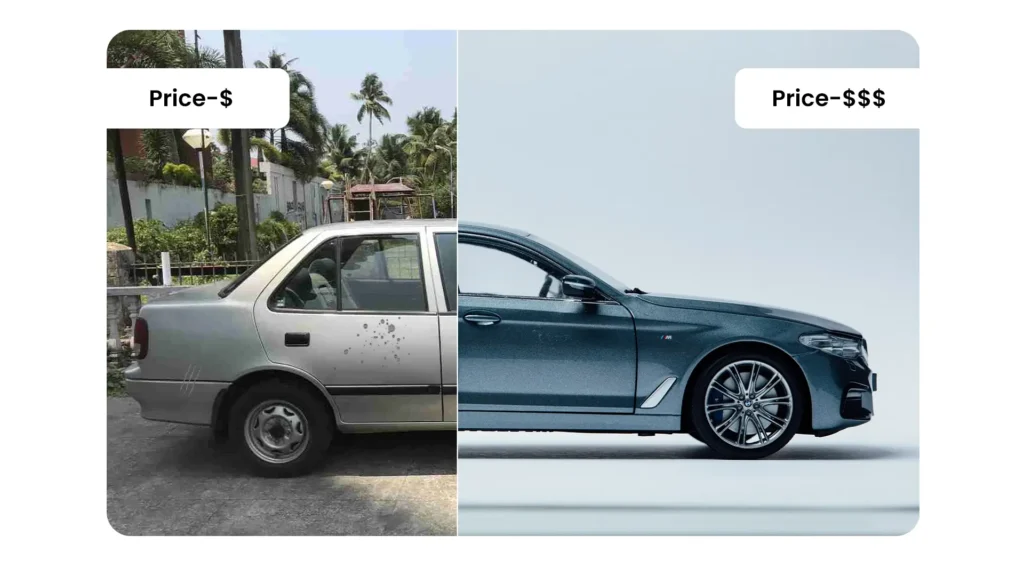 6. Exterior and interior conditions
Car buyers often get disappointed by defects like dents, torn-off seat edges, broken panes, corrosion, cracks, upholstery, etc. These can have a significant impact on your car sales online. Get your vehicles decked up with deep cleaning interiors and polishing the exteriors for a better impression.
Bonus tip:
Speaking of disclosing exterior and interior conditions, the best way to do it is to eliminate any surprise elements for car buyers and give them an accurate idea of the vehicle's conditions. This is best done with car interior photography with a professional touch.
In other words, give online buyers the best car visuals by capturing every feature of a car in detail. You can watch rotating car videos and shoot cars with panning effects, including engines, stitching of car seats, the emblem on the wheels and deck, and so on.
The icing on the cake, you don't need any fancy turntable studio to create high-impact car visuals. With the help of state-of-the-art AI, you can shoot and capture cars from the correct angles, with the right color and shadow effects, and apply turntable effects. Sounds interesting? Try for free using Spyne Darkroom to see these features in effect.
What is the Best Platform to Sell Cars?
Whether you are dealing with a new car, a used car, or rare and classic cars, this list has covered everything.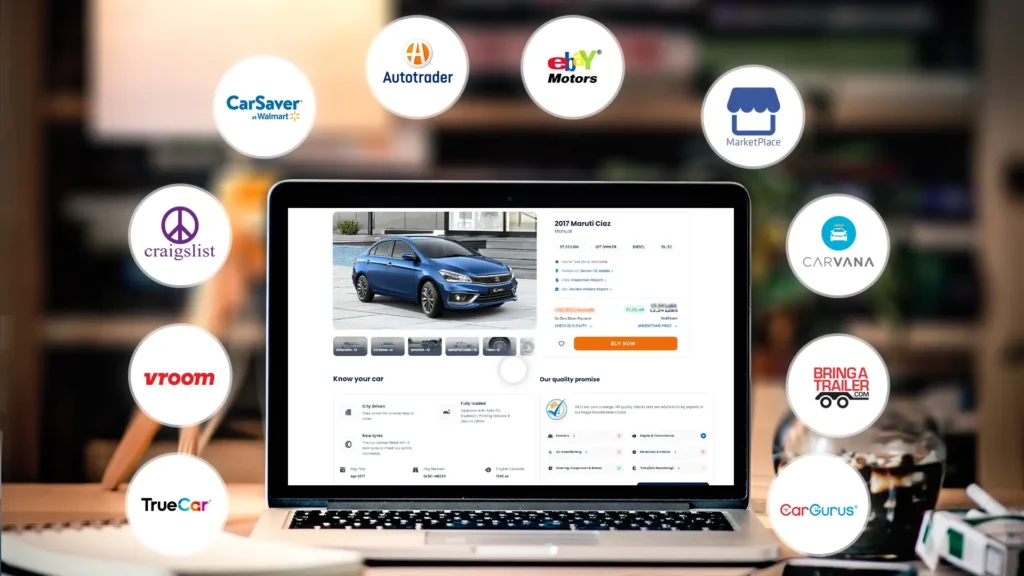 Here are some of the best platforms to sell cars online in 2023:
eBay Motors
AutoTrader
Craigslist
Carvana
Bring-A-Trailer
Walmart CarSaver
TrueCar
Car Gurus
Vroom
Facebook Marketplace
Time to dig into them one by one.
1. eBay Motors: If you want to understand car buyers
eBay is the best platform to start your car selling online research. The listings on eBay help you conduct an in-depth search and analyze completed listings, seeing what gets sold and what doesn't.
Moreover, if you are trying to sell your car locally, this can be a reasonable option. Local listings on eBay are free, while the national ones charge between $60 and $125.
However, one of the prominent disadvantages of eBay is that the bids are not binding, meaning a car buyer can exit the process anytime for any reason, even after bidding for your car.
2. AutoTrader: Plan B platform for all times
AutoTrader is one of the most popular online car sales platforms for buyers and online car sellers. Although you won't get any free listing options here, it allows you to reach numerous car buyers across geographies.
Somewhat offsets the troubles of a little higher expenditures, isn't it?
The cherry on top is that this online marketplace's frictionless and best-in-class user experience makes it a reliable source for many buyers.
Another benefit of AutoTrader is that it allows you to sell your car to automotive dealership while enjoying instant cash offers.
This is your channel if you are among those online car sellers wanting to sell their cars as fast as possible while pooling in maximum profit.
3. Craigslist: For free inventory listing
In case you are not willing to scale up for paid listings, Craigslist can be the perfect solution for you. You might have heard some haunting stories about transactions on Craigslist, but it is still a potential tool for selling cars online.
The most significant benefit of Craigslist is that you can include as many visuals as you want on the VDPs without any cost, paving the way for increased sales. It is also an excellent platform for selling cars locally and online.
Conversely, it is also one of the disadvantages since it is not a very efficient source to sell nationally and makes the car sales online process slower.
4. Carvana: To experience next-gen automotive selling
Carvana is one of the best platforms if you want to quickly and conveniently sell heavy vehicles like hatchbacks and trucks. You don't have to deal with any logistics costs. Carvana makes sure that your car is delivered to the buyer's doorstep.
On the other hand, buyers also get the advantage of the seven-day test-driving feature.
Another intriguing thing about Carvana is the car vending machines at their physical locations. You can walk up to their store, purchase and insert a token, and have your vehicle move out of the shelves at the gates.
Like any other vending machine throwing out a bag of wafers and candies! Interesting, isn't it?
5. Bring-A-Trailer: To sell classic and vintage cars
This is the best platform to sell your car online if you are dealing with rare, classic, or vintage vehicles.
The platform thoroughly examines the car before listing it on its site, which is pretty much why it's the favorite channel for all auto enthusiasts and leads to high-quality site traffic.
Bring-a-trailer clientele makes the platform one of the most sorted and clean online car-selling marketplaces, translating into higher dollars for online car sellers.
The listing would cost you around $99, but audiences here are often willing to pay more to acquire those souped-up and antique cars.
6. Walmart CarSaver: To provide a seamless omnichannel experience
Walmart CarSaver is an excellent platform if you want to go for quick car sales online while ensuring a seamless omnichannel experience without scaling up.
The framework and policies of the platform allow car buyers to contact online car sellers directly and ask for a test drive. They can visit any Walmart CarSaver physical store and assess the car.
Collaborating with Walmart also gives you numerous add-ons like allowing buyers to insure their vehicles, lease them, other financing options like Buy Now Pay Later (BNPL), lifetime access to servicing, etc.
You might find it hard to offer such incentives to buyers on an individual level otherwise. It is undoubtedly the seller-first platform.
7. TrueCar: To learn more about online car buying trends
TrueCar is buyers' favorite platform to research cars and vehicles. Online car buyers use it increasingly to search for market values of trending cars, recent transactions, differences between the offerings and MSRP (Manufacturer Suggested Retail Price), etc.
This makes TrueCar an excellent platform to delve deeper into buyers' preferences and trends and get discovered. By tracking buyers' searches, clicks, and reviews, you can find the shortcomings in your listing info and discover yourself in buyers' comparison charts.
TrueCar is also a great platform to validate your existence. Buyers come to TrueCar to engage only with certified online car sellers. Listing here will not only help you secure buyers' trust without hassles but also stay in the community.
Besides the buyers' advantage, TrueCar offers the True Cash Offer feature to help sellers get instant payment on selling vehicles.
8. CarGurus: To tap into more online car buyers at once
CarGurus is one of the most popular automotive marketplaces in the US. Over the years, the platform has equipped and evolved into one of the most prominent auto players in the market. The channel boasts of over 5 million listings of new, used, and certified pre-owned cars, making it one of the biggest online dealerships in the US.
However, the trick to selling on CarGurus lies in pricing. This platform is popular mainly because it gives car buyers a clear picture of pricing. The category pages and VDPs show in big and bold if your car is accurate or over-priced. Also, it ranks ads and listings as per the seller's reputation (apart from the listing price), thus helping you find the best dealer.
Naturally, the tag for overpriced will drive away buyers, which can be frustrating for online car sellers.
9. Vroom: To enjoy a seamless online car-selling experience
If selling cars in the fastest and most convenient way is your priority, Vroom could be the best platform if you are not keen to sell on Carvana. All manufacturers, online car dealers, and solo retailers love Vroom's digital infrastructure. It does all the hard work on behalf of sellers while ensuring the fastest delivery, within 48 hours of booking, to the car buyers.
You can enter info about your vehicles or upload an inventory listing here and get an offer as fast as half/one hour. If you accept the trade-in offer, Vroom will collect your vehicle right from your doorstep and transfer the amount to your account in no time.
10. Facebook Marketplace: To engage your buyers strategically
If you want to reach your buyers independently and escape the extra cost of listings, the Facebook Marketplace is the right platform for you. It is, in fact, a one-stop solution for all online car sellers and dealers.
With Facebook, you can create your inventory listings for free, engage buyers by posting about cars daily, boost your listings and land qualified leads, stay active in the car buying communities, and know buyers personally.
Everything under one umbrella!
So here's the complete analysis of some of the top car selling platforms on the internet. To give more edge to your online car-selling decision-making, here are two additional quick tips for you to consider while assessing the pros and cons of these channels.
Additional Tips to Consider When Selling Your Car Online
All these platforms listed above are great ways to initiate online selling for used cars. However, you must narrow down your purpose and objectives for selling cars online.
For instance, if you want a national or international audience for your used car, Craigslist might not prove to be efficient enough. Similarly, you cannot just sell any car with numerous hidden defects on platforms like Bring A Trailer, where ultimate automotive enthusiasts dwell. Let alone, the channel itself won't allow you to list such a car.
Again, if you want to squeeze happy customers into your portfolio, then Walmart and Vroom are the two most eligible participants on your list.
Long story short, note down the principles of each platform and then map it with your requirements. Use this page as a reference or maybe a checklist when you sit down for a SWOT analysis to find the best option for you.
The methodology for selling your car safely
The question of the safest car selling becomes critical when you go for a one-on-one transaction. It's vital to do in-depth buyer research and limit your transaction loss and risk as much as possible.
One of the smartest ways is to conduct the entire business with online car buyers at their banks. It will help you ensure that buyers have funds with them, escaping all the waiting for payments.
In addition, never give up the title of the car till you receive the complete payment. While processing a sale through Paypal, wait for the funds to get transferred to your account and then transfer the title deeds.
Final word
Hope this blog helps you find the best car selling platform. If you still find it hard to choose, try to figure out your selling objective. Do you want to get rid of your car as fast as possible? Is it an old car you want to sell? Or do you want to get the best deal from your sale? This will help you figure out an answer.
Another thing you need to remember – pricing and user experience are just some of the components of a car-buying journey. High-impact car images are equally important. In fact, most of these marketplaces come with numerous prerequisites for uploading vehicle images on their VDPs.
Well, guess what? You can stand out in these marketplaces without any of the struggles of hiring a professional car photographer or image editor.
Spyne's next-gen AI photography solutions offer marketplace-ready backgrounds and visual effects for channels like Walmart and eBay. You can apply custom backgrounds, process bulk images, and publish them online at lightning speed.
Want to know more? Reach out to us today!