Used cars have a charm of their own and are slowly becoming the preferred way to own a mobility vehicle. However, choosing and finding the right car can be a task. There are multiple best-used car websites, but before diving into that, let's look at some tips to buy from used car websites.
What is a Used Car Website?
A used car website connects used car sellers with buyers in the market for a used car. The buyers can check out cars from the comfort of their homes. The buyer can either complete the entire buying process online or browse the inventory and inspect the vehicle in the dealership before buying. There are many used car websites, the top among them being Autotraders, Cars.com, Hemmings, Carvana, and CarsDirect.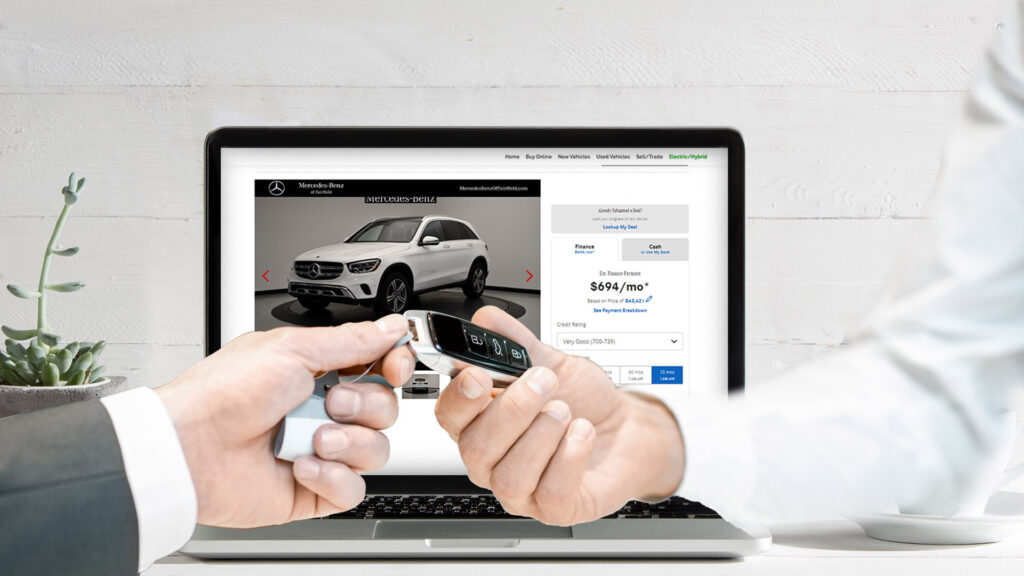 How to Buy From a Used Car Website?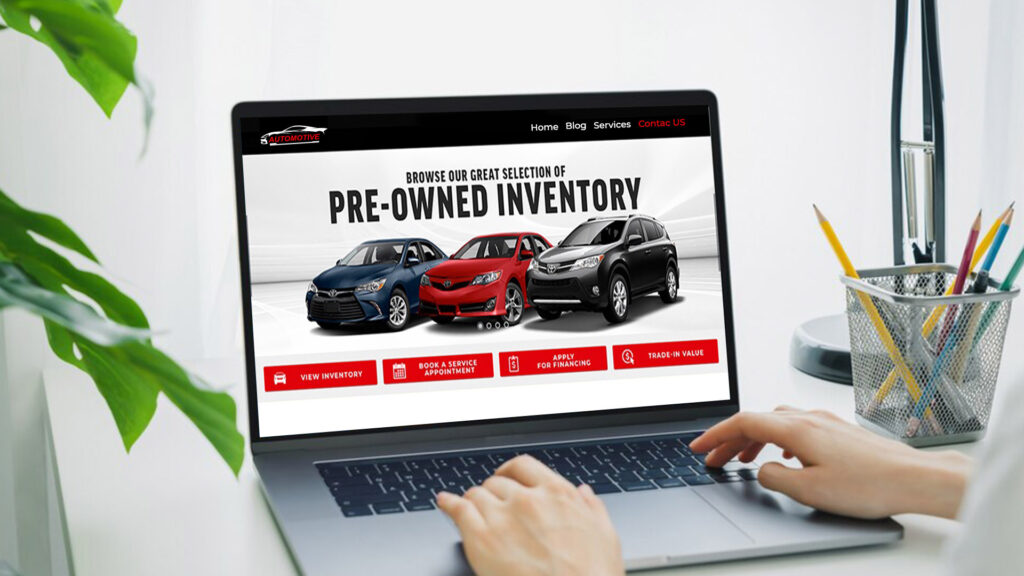 Here are the steps you can follow when buying from Used Car Dealership sites:
1. Choosing the right car
Before you start car shopping, knowing your personal and family preferences is useful. You will also need to check the features, specs, and type of car. Budgeting before you buy a car is necessary to avoid overspending.
2. Choose the best used car site.
There are many best sites to buy used cars that are more organized than private dealers. You can see cars and compare them more conveniently online. Generally, the vehicles have undergone a rigorous evaluation process before being sold online. They are checked extensively and transparently, thereby assuring you of trust. 
You are also assured of warranties and guarantees for any problems, such as a money-back guarantee and a sales warranty. As a buyer, you should also receive vehicle history, repair, and maintenance details. Additionally, there is a range of available cars on different used car sites.
3. Price factor
Price and budgeting are essential. Sometimes, you will need to look at the price and what the vehicle offers. If it exceeds expectations, check the history, make, and car type. If it meets your standards, it is okay to choose it because the extra savings may help with maintenance, insurance, or fuel expenses.
4. Take a test drive and check the car's condition.
As odd as it may sound, you will have to go for a test drive. If the car has unusual sounds or any mechanical issues, you will find out about them through a test drive. Check the car's air conditioner, lights, windows, and brakes. It is also beneficial if you take a mechanic with you for the inspection before making any commitments and buying it. A test drive will offer you much more insight than what you can see. Compare online on a website, check the prices and documents, and go for a test drive.
Certified vs. Non-Certified Used Cars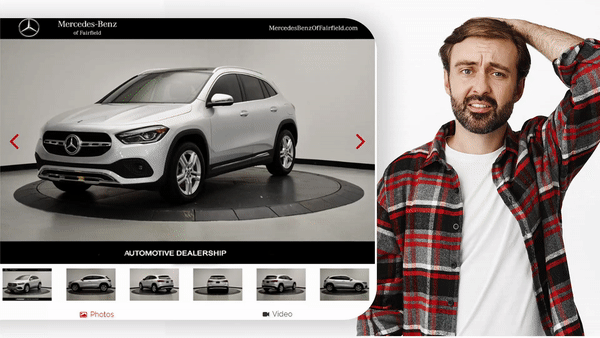 After you choose a car to buy from a used car website, you might wonder whether to buy a certified used car or a non-certified used car. Both have their advantages as well as disadvantages. A certified used car will cost more because it typically has a warranty and other information with it. A non-certified used car will cost less, but you won't get similar perks, such as a confirmation of good working condition or a warranty. Let's investigate.
What Is a Certified Used Car?
A certified pre-used car is gently used, collision-free, and only a few years old with low mileage. You can get a CPO on the car model. What are the advantages of buying a pre-owned certified car? They are also available with warranty coverage from the manufacturer. Generally, for a used car to get certified, the automaker will have its own set of requirements and specific criteria to follow. 
For example, they have to be below a certain age and have a certain mileage. They also have well-maintained records and can pass through rigorous testing. They may not have the latest technology of a new car, but they will be relatively new and easy to use. Also, they are backed with warranties, either from the automaker or the retailer.
Some Car Dealerships also offer additional benefits on top of the warranty. This is not possible with a non-certified vehicle. They may provide roadside assistance, replacement, and no-cost maintenance in the case of a repair. Some even allow the owner to return their certified vehicle after a few days. You may need to discuss these details with the car dealer to determine whether you will receive these benefits.
What Is A Non-Certified Used Car?
These cars are not backed by the carmaker and are only inspected enough to make a sale. They also are not provided with warranty coverage, which means any repairs or mechanical issues are the owner's responsibility. It is also the same for private-party used cars. Once the vehicle has been sold, and the paperwork is done, it is the owner's responsibility. This is why, if you are planning to buy a non-certified used car, have your mechanic inspect it before the purchase.
However, a non-certified used car will give you certain benefits in the buying process. Firstly, they are priced lower, saving you a lot of money. If you are tight on expenses, this might be the right fit. It gives you more control over the buying process if you want to do your inspection and not rely heavily on the dealer. A non-certified car is easier to shop for, and you don't have to visit a franchised dealer. 
How Much Does It Cost To Buy From Used Car Websites?
Since a certified used car has warranties and has gone through an inspection, it will cost more than a non-certified used car. This price will include the cost to the car dealership. Newer and more in-demand models will cost more than the older ones. However, a certified model will offer more assurance than a non-certified vehicle.
Savings can vary by car type and size, typically by thousands of dollars, such as the price difference between compact and luxury cars. You can find and compare costs easily on the best online car-buying sites.
Advantages of Buying from a Used Car Website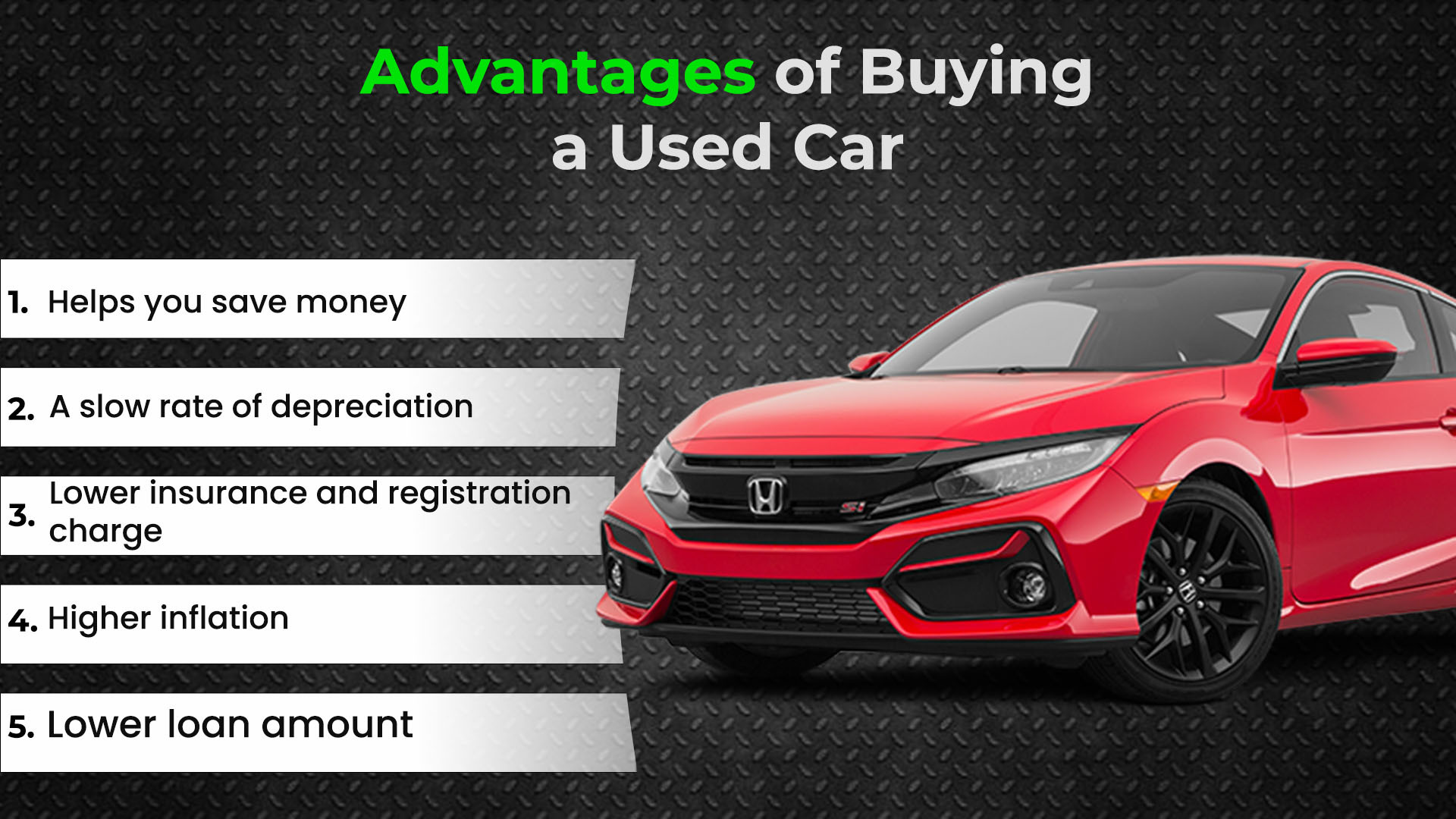 Let's look at some of the benefits of buying from best used car sites
1. Helps you save money
You can talk about purchasing a new car, but buying from the best used car websites is an excellent option if you want to save and still get the benefits of owning a good car. You can also compare different models from car dealerships online and select based on your requirements, all for a low price from your home.
2. A slow rate of depreciation
One huge disadvantage of buying a new car is the depreciation value, which drops the moment you buy the car. The market value decreases very quickly. To prevent this, owning a used vehicle is the solution. 
3. Lower insurance and registration charge
Insurance for used cars is generally cheaper, although it depends on the car's age. Apart from that, registration costs are also lower. The cost is based on the car's transaction price, so if the car price is low, the registration fee will also be.
4. Higher inflation
Inflation is rising, and it is challenging to purchase a new car that depreciates in market value the moment you buy it. A used car has significantly lesser depreciation, saving precious costs.
5. Lower loan amount
Once you decide to buy a used car, the loan amount automatically gets lowered. You can easily pay off the loan without any financial concerns.
Disadvantages of Buying a Used Car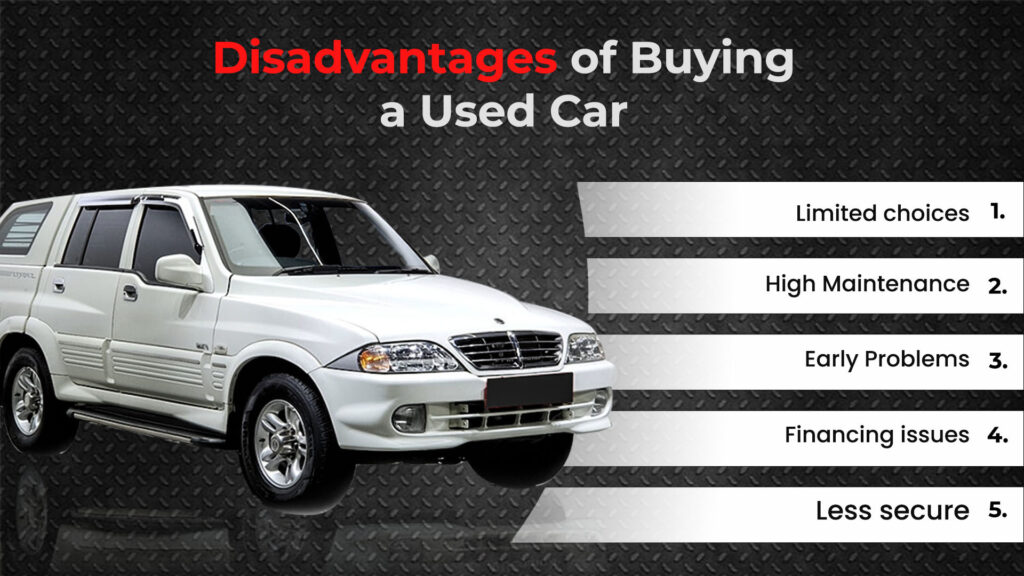 Now let's see some disadvantages buyers face when using sites to buy used cars:
1. Limited choices
When you are purchasing a new car, you have the choice to customize it. You can choose a color, features, and the addition of a sunroof. You don't have a choice with a used car; take what you can get. Also, you will have to deal with the repairs that come with it. There is sometimes an issue with the warranty, some dealers provide it, and some don't.
2. High Maintenance
New cars come with free basic maintenance. Used cars typically do not have this benefit. You must check up on the car and deal with any issues or repairs.
3. Early Problems
Since the previous owners are unknown, you have yet to determine if you will be dealing with hidden issues. There is little to no guarantee that your car will break down immediately or a few years later.
4. Financing issues
It is difficult to find reliable financing for a used vehicle because of the high-interest rate due to untrustworthy companies.
5. Less secure
A used car might not be up to date with safety requirements or technology, making it less safe to drive. Although, some car dealerships offer warranties and guarantees.
Tips for Buying from the Best Used Car Websites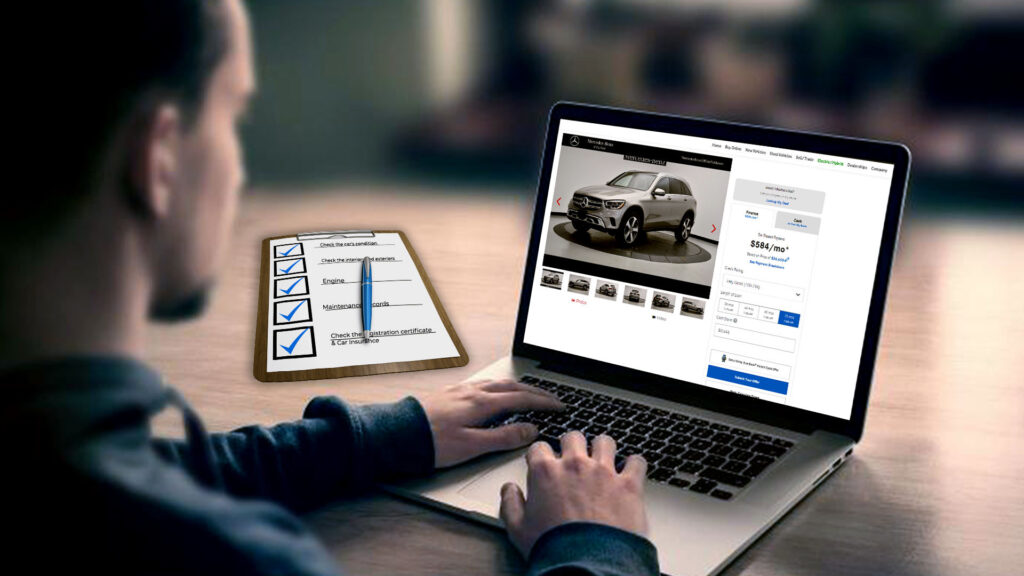 Here is a list of what to look for when buying used cars online:
1. Check the car's condition.
Once your choice has been made, it is vital to check the details. You can consider the help of a professional mechanic or examine it yourself if you have technical knowledge.
2. Check the interiors and exteriors
Check the seats and the fabric for any stains or tears. Also, check if the tech is functioning correctly, such as the music system and monitor. Inspect the exteriors too, and look for any damages. It is also wise to check the tires' condition and alignment.
3. Engine
Inspect it thoroughly for any leaks, broken tubes, or corrosion. Check the oil and transmission fluid.
4. Maintenance Records
Ensure that receipts and dates are kept in the records. Ask your car dealer about the car's history and physically check the documents. Also, ensure that the loan is straightforward and check for any errors.
5. Check the registration certificate
Verify the car's details: the engine number, owner's name, and registration. The certificate should be original. Verify the authenticity of the vehicle's registration certificate. It will have the owner's name and the car's details (engine number, chassis number, etc.). The certificate should be original. The NOC is also crucial; even the color change of the vehicle should be mentioned in the registration certificate.
6. Car Insurance
The owner of the old car insurance needs to transfer it to the new owner's name. If the transfer is not completed and you are involved in an accident, you may face legal consequences. Check for insurance coverage. If you require additional benefits, you can add on.
Best Used Car Websites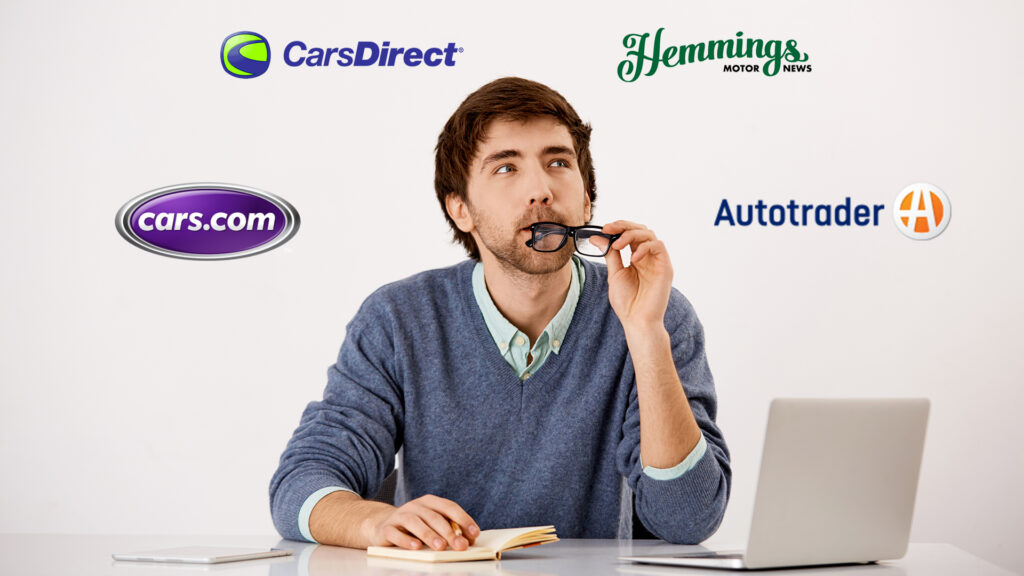 We will now look at the best websites to buy used cars.
1. Autotrader
Autotrader is a popular marketplace for used cars. They have millions of car listings for sale and have advanced search tools. The site allows you to search based on a new, used, certified, model, make, style, and color of the cars. It lets shoppers get good car values, and sellers advertise their vehicles.
2.Cars.com
Cars.com offers cars for sale that are from a local, certified dealer. It is also one of the largest online Car Marketplaces, making it an excellent option for used cars. Another great feature of this site is the articles and reviews from car experts, so you know if you have made the right choice. It's a win-win for all.
3. Hemmings
What's unique about Hemmings is its marketplace for classic cars and parts. They inform you through local auctions and clubs and have their newsletter and blogs so that you can stay informed. If vintage cars are your dream, then this is the right place.
4. CarsDirect
CarsDirect offers a convenient way to compare cars from local dealerships. The website is user-friendly and has a simple search engine, which makes it great for basic information and one of the best-used car sites.
Conclusion
The decision to buy a used car ultimately depends on your choice, your requirements, and your needs. You must first review all of the requirements. Buying from the best used car websites can save you a lot of time and money, although checking for a trustworthy dealer is still a good idea. If the process is reliable and transparent, it is good to go. Keep in mind that used cars go through a lot of inspections before being sold to the owner. Some also provide certified used cars with warranties and offer a buy-back option, so it's good to check that too. The best car-buying sites offer you everything, but you must do simple research. That's it!