In the world of automotive world, dealerships are looking for solutions that can streamline their process and save them time. One of the few known DMS that has helped many dealerships elevate their game is Yogacars. Wanna know more about this inventory platform for your auto dealership, then this blog is just the right thing for you.
What is YogaCars?
YogaCars is a software company in Boston, Massachusetts. They make custom software for modern car dealerships, like digital retailing, trade, spy, in-store, recon, CRM, and more. Their main product is a special in-store retailing platform. It links the dealership's website with DR widgets to make modern retailing better. They're planning to launch this platform at the NADA 2023 convention, which is the National Automobile Dealers Association's yearly event.

Services Offered by YogaCars
YogaCars provides many services in the form of:
1. In-store retailing platform: Its flagship product is an integrated in-store retailing platform that connects the dealership's website with DR widgets for optimal modern retailing.
2. Custom software development: It can develop custom software solutions to meet the specific needs of dealerships. This includes developing software for lead management, Inventory management and customer relationship management (CRM).
3. Website design and development: It can design and develop custom websites for dealerships. This includes creating a unique and visually appealing website design.
4. Digital marketing: Yoga Cars offers various digital marketing services to help dealerships reach their target audience and generate leads.
5. CRM implementation and consulting: Helps implement automotive CRM and configure a CRM system to meet their specific needs.
Advantage of Yogacars
YogaCars offers many advantages for dealerships, including customizable solutions, an integrated platform, user-friendly software, comprehensive services, and an experienced team.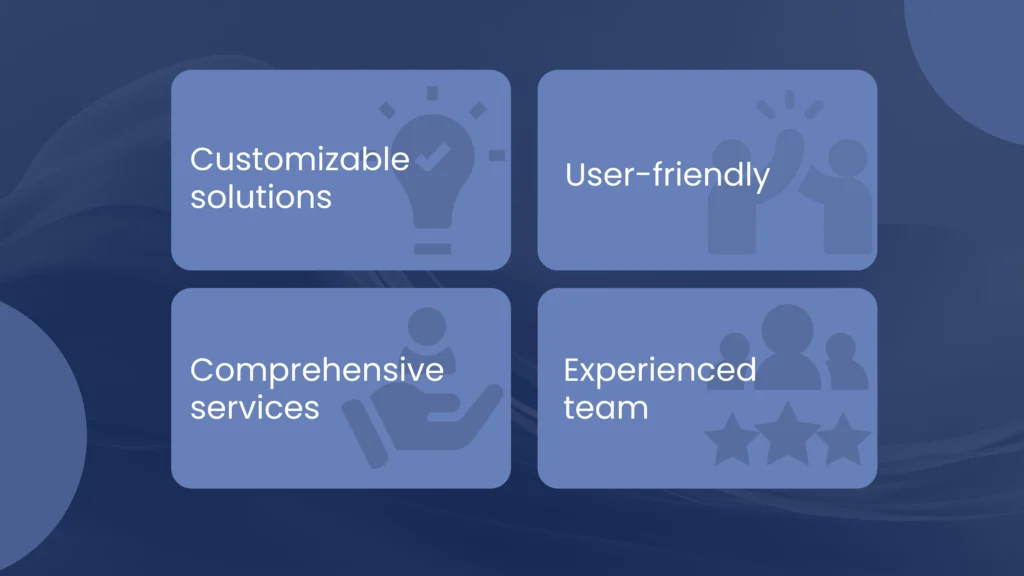 Here are some of the advantages:
1. Customizable solutions: It offers customizable software solutions and services to meet the specific needs of dealerships. This ensures that dealerships get the exact solutions they need to succeed.
2. User-friendly: The software provided by Yoga Cars is designed in such a way that consumers and dealerships will find it easy to use. This can help dealerships improve their customer service and increase sales.
3. Comprehensive services: It offers various services, which include custom software development, digital marketing, website design and development, consulting, and CRM implementation. This one-stop shop can save dealerships time and money, as they don't have to work with multiple different vendors.
4. Experienced team: The team is made up of experienced professionals who are passionate about helping dealerships succeed. This expertise can help dealerships make the most of their investment in services.
Disadvantages of Yogacars
Yoga cars can be a beneficial DMS for dealerships, but pros there are always some cons that one needs to be aware of. In simple terms, It is a new company that is still working on its software and services. Because of this, there might be some downsides or issues when using their services.
Here are some of the disadvantages:
1. Cost: Services can be expensive, especially for small dealerships.
2. Glitches: A few car dealerships have mentioned having problems with the software.
3. Lack of flexibility: Some dealerships have reported that the software is not as flexible as they would like.
What is Yoga Cars BTO – Build To Order tool?
BTO tool, also known as build-to-order tool, helps visitors to build desired car with extensive detail on the dealer website. There is full dependency on options, colors, and trims. The BTO tool is made to make buying a car better for both customers and dealerships. For customers, it makes it easier and clearer to find and buy the car they really want. For dealerships, it can boost sales and make customers happier.
How do Yoga Cars Inventory Spy tool work?
The Inventory Spy tool is a special computer program that helps car dealerships watch what their competitors do with their car inventory in real-time. It does this by collecting information from the competitors' websites, like what cars they have, how much they're selling them for, and any special deals they offer.
Once it gets this information, the Inventory Spy tool studies it to give the dealerships some important details about their competitors' inventory, such as:
1. What kinds of cars are the competitors selling?
2. How much are they charging for them?
3. What special deals are they giving?
4. How much car stock do they have?
5. How quickly are they selling their cars?
This info helps the dealerships make smart choices about their own car inventory, like what kinds of cars they should keep in stock or How much they should charge for them. The Inventory Spy tool can also help dealerships see chances to get more customers from their competitors. For example, if a dealership notices a competitor is running low on a certain type of car, they can get more of that type of car and offer good prices and deals to get people interested.
All in all, the YogaCars Inventory Spy tool is a helpful tool for dealerships that want to do better than their competitors and sell more cars.
How Spyne Integrates with YogaCars?
Spyne is a next-level AI software that can easily process car images. It works really well with Yoga Cars, a top-notch system for managing car inventory; it helps car dealerships make their car picture-taking and marketing work smoothly. This makes them do their work better and faster, making the whole process more efficient and effective.
Step 1: Initializing the Integration
The integration process commences with seeking explicit authorization from both the dealership and YogaCars.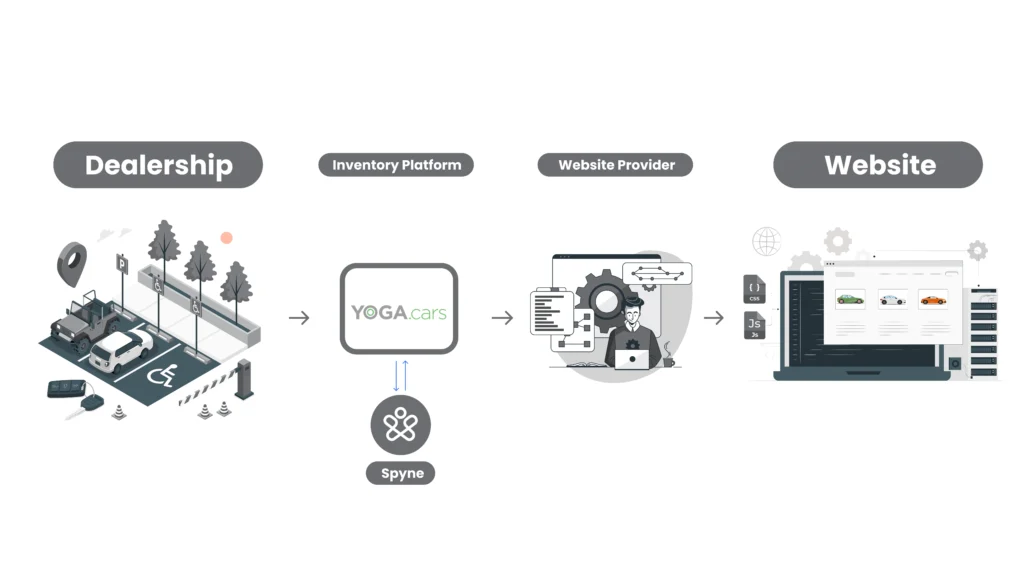 Once consent is granted, the DMS platform provides us with access to its database, enabling the retrieval of vehicle-specific information and images.
Step 2: Image Received via FTP
When the dealership shoots the images itself Yoga Cars transfers the unprocessed images to us then we receive the image and transform it into a processed image.
In cases where dealerships choose to capture images directly through the Spyne app, the images are automatically processed and transferred to DMS platform, eliminating the need for manual image upload.
Step 3: Processing Images
For traditionally captured images, We leverage its advanced image processing capabilities to transform them into high-quality, studio-grade photographs. This automated process significantly reduces the time and effort required for manual image editing and ensures consistent image quality across the dealership's inventory.
Step 4: Image Transfer via FTP
Post completion of image processing received from YogaCars, Our software securely transfers the enhanced images to DMS via FTP, a robust file transfer protocol. This ensures seamless data exchange between the two platforms.
If you're using our app, then the images are automatically transferred to DMS via FTP, a robust file transfer and they are forwarded to the website provider.
Step 5: Distribution to Website and Marketing Channels
API seamlessly integrates the enhanced images into its platform, enabling them to be effortlessly published across the dealership's website, social media channels, and advertising campaigns.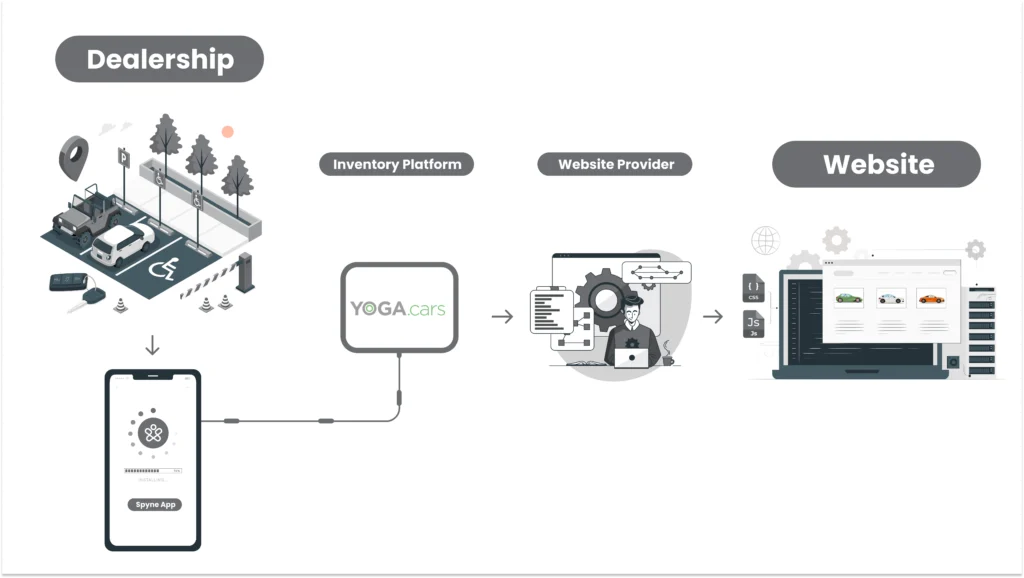 This unified approach ensures that customers have access to high-quality vehicle imagery regardless of the platform they are using.
Step 6: Continuous Updates
The integration ensures that any changes made to vehicle information or images are automatically reflected across the dealership's website, social media, and ads, ensuring that customers always have access to the most up-to-date information.
Benefits of Spyne and YogaCars Integration
The integration between Spyne and Yoga Cars can bring a number of benefits. They are:
1. This can save dealerships time and improve the accuracy of their inventory listings.
2. The integration can help dealerships to streamline their inventory management process.
3. When a new vehicle is added to Yoga Cars We automatically create a listing for the vehicle, complete with photos, videos, and a vehicle description. This saves dealerships time and effort and ensures their listings are always up-to-date.
Conclusion
DMS like YogaCars can bring a whole new level of efficiency and management solutions for automotive dealerships. in a nutshell, whether you're a dealer or an individual selling cars, you face the challenge of rapidly expanding your reach, attracting more customers, and increasing conversions while also managing customer experience, post-sale service, inventory, accounting, and various other aspects. An effective automotive dealership software can streamline your business operations.