Ever since the concept of an AI photo editor has come into existence, we've all heard about how futuristic and unique they are. However, an AI editors help your car dealership boost customer engagement?
According to a study by PetaPixel, photo editors spend 74% of their time doing manual and repetitive tasks. This is precisely why AI-powered editing software is a big hit in the market. With their cutting-edge technology, these intelligent editors eliminate the need to revisit tedious work repeatedly.
Here, we introduce you to the world of photo editing AI systems in depth and detail.
What is an AI Photo Editor?
AI photo editor refers to a tool or software using artificial intelligence (AI) technology to automate and enhance various aspects of the photo editing process. AI-powered photo editors utilize advanced algorithms and machine learning techniques to analyze and understand the content of an image, allowing them to perform a wide range of automated editing tasks. AI stands for artificial intelligence and is intended to replicate human intelligence. AI learns the pattern of Big Data, independent decision-making, and forecasting the input.
The more this technology is fed with data, the more human-like it gets. AI photo editing technology automates manual photo editing tasks. It uses AI and deep learning algorithms to alter the look of the images. AI picture editors go beyond the traditional editing software and help undertake manually intensive tasks in less time and cost. Complex edits are made easy with the automatic AI image editor.  This means more time to experiment with your car photos for superior outcomes.
One of the significant reasons for fascination with this technology is that AI makes ordinary photography extraordinary. When edited via auto edit photo AI editor technology, a photograph speaks more than 1000 words. It can invoke emotions of positivity in the audience.
For example, when you shoot a car image through your smartphone, you cannot do much with basic editing. The background, shadow, angle, exposure, placement, and more must be right to produce a professional-looking output. AI can be lightning-fast and can do hours of work for you in seconds.
How do AI Photo Editors Work?
AI based photo editors can detect the subject in your image, enhance it, remove and replace the backgroundaround it, apply corrective effects wherever required, color correct, and much more. Everything with the single click of a button!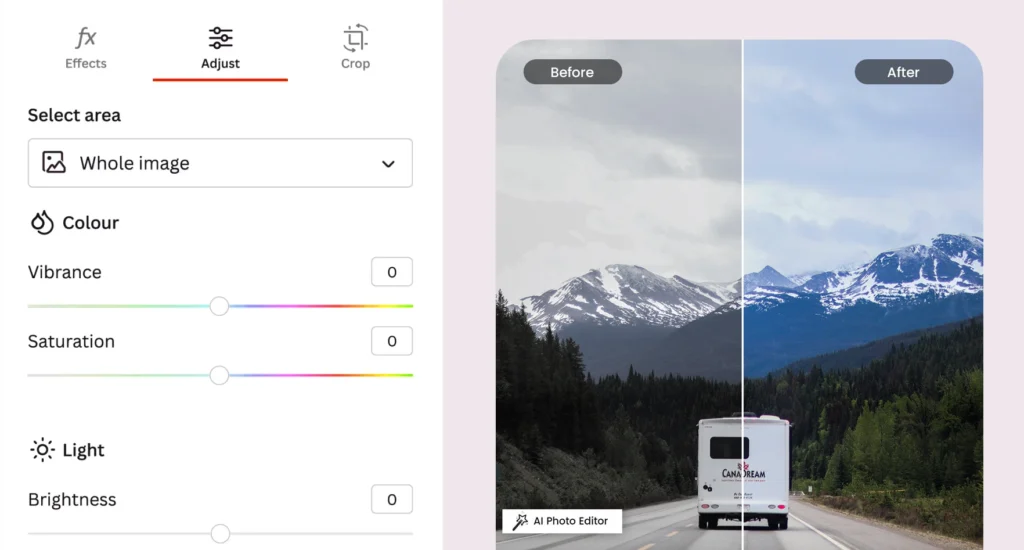 AI editing software does the hard work of photo editing without the manual hassle, saving time, cost, and effort.
Automated editors are the best extensive AI toolset for correcting mistakes and removing unwanted elements from a picture. A Google Research and the University of California Berkeley study shows that AI can remove unwanted shadows from photographs.
While this is just the beginning, AI-led picture editing solutions have become increasingly helpful with removing, replacing, and editing backgrounds while considering small details, like natural-looking lighting, filling missing parts, and bokeh – a blur background effect.
Now that we know the whats and the hows let's see the benefits of using advanced AI photo enhancing and editing solutions:
They give your dealership a competitive edge
Photo editing on AI software will make your object stand out
They are cost effective
Give you a shot at faster product and inventory cataloging for businesses
AI-powered image editing in car photos makes making excellent catalogs and VDPs effortless for car dealershipsand resellers. It helps them turn ordinary-looking car photos into high-definition, professional-looking images in a few minutes.
How to Edit Photo with AI Image Editor
To edit photos with the AI photo editor follow these easy steps:
1) To get started, access the AI photo editor on your browser
2) Now, Click the 'Upload Image' button and select the image you want to edit you can easily drag and drop the image.
3) Now you can add a background, reflections, logo placements, and shadows the AI can do all this in just one place.
4) Post selecting the edits, click on the process button on the top and wait for the image to be processed.
5) Now you can preview it and once you are satisfied with the results you can download the image in any available format JPEG, PNG, and WEBP.
Is AI Image Editor Right for You
Evaluating your editing needs, goals, and comfort level with automation is essential to determine if an AI editor aligns with your requirements.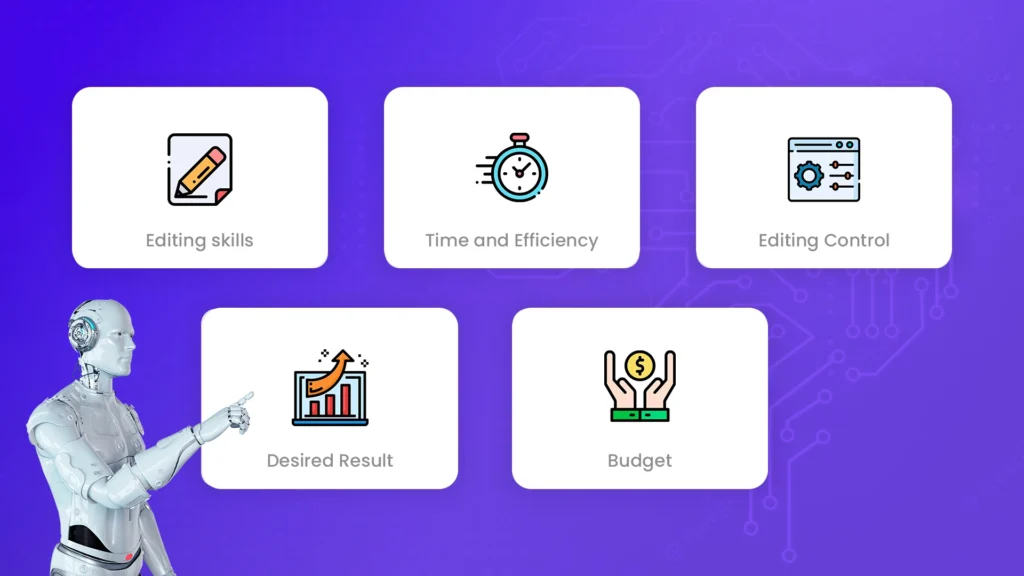 Here are some factors to consider when deciding:
Editing Skills
If you have limited or no experience in photo editing and want to achieve professional-looking results quickly and easily, an AI photo editor can be a great solution. AI-powered tools automate many editing tasks, eliminating the need for complex manual adjustments.
Time and Efficiency
AI pic editors can save time by automating repetitive editing tasks. If you have many photos to edit and need to streamline your workflow, AI editing can significantly speed up the process. Fashion Photography is notorious for being time-consuming, so it is used to save a lot of time.
Editing Control
AI photograph editor online offers automation but may provide a different level of control than manual editing. If you prefer to have complete control over each editing decision and enjoy the creative process of manual editing, AI editing may not be the best fit for you.
Desired Results
Consider the specific editing results you want to achieve. A free AI picture editor online excels at automatic adjustments, object removal, and enhancement but may need more support in more complex or artistic editing techniques. Assess whether the AI editor can fulfill your editing requirements.
Budget
An AI image editor online can range from free online tools to premium software with advanced features. Consider your budget and the value you place on the editing capabilities provided by the AI tool.
Top Tips for Stunning AI Edits
AI image editing is a powerful tool, but balancing automation and manual control is essential to achieve stunning and personalized results.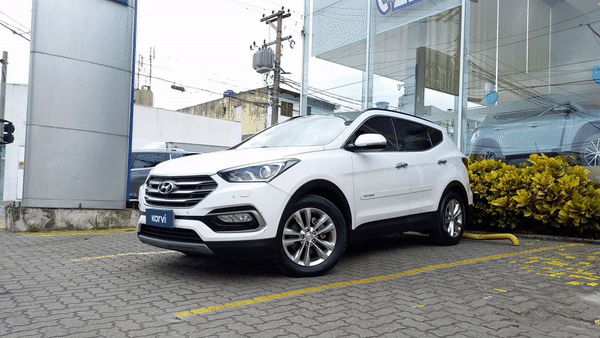 Here are some top tips for creating stunning edits when using it:
Choose the Right Tool
Research and select a reputable AI image editing tool that suits your needs. Look for features like automatic adjustments, object removal, retouching capabilities, and artistic filters. Free AI photograph editors can be tempting but might only sometimes provide the best services. There are the right tools for different types of photography, such as product photographyand others.
Understand the AI Editing Options
Familiarize yourself with the different editing options in the AI tool. Experiment with the automatic adjustments and presets to understand how they enhance your images.
Fine-Tune the Settings
While the AI image editor online free provides automated adjustments, you can often fine-tune the settings to achieve the desired outcome. Adjust parameters such as exposure, contrast, saturation, and sharpness to achieve the desired look.
Use AI-Based Enhancements
Take advantage of AI-powered enhancements like portrait retouching, background removal, and noise reduction. These features can significantly improve the overall quality and aesthetics of your images.
Experiment with Artistic Filters
Many AI photo edit ai offer a range of artistic filters and effects. Explore these options to add unique styles and moods to your images. However, use them sparingly and ensure they complement the subject and context of the photo.
Compare and Adjust
Compare the edited image with the original to evaluate the changes made by the AI editor. Make additional adjustments if necessary to achieve the desired result.
Retain Originals
Always keep a copy of the original image before applying AI edits. This allows you to revert to the original if needed or to make further edits without losing the starting point.
Practice and Refine
Like any skill, practice is key to mastering photo editor AI. Experiment with different images, and explore the capabilities of the AI online photo editors and tools to refine your editing techniques over time.
What are the benefits of using an AI photo editor?
AI photo editor speeds up your photo editing workflow by handling repetitive tasks. This time-saving advantage enables you to dedicate more time to photo shoots, reducing the time spent on repetitive tasks. Additionally, it provides extra advantages. Let's explore each of them in more detail:
Time-saving: AI software helps you edit photos faster, reducing the hours spent on manual adjustments.
Professional results: Achieve high-quality results that might be difficult to achieve with traditional editing methods.
Easy to use: AI editors are user-friendly, making it simpler for both beginners and professionals to get great-looking photos without extensive editing skills.
Cost-effective: AI saves you money by streamlining your workflow, reducing the need for hiring editing assistants, and minimizing post-processing costs.
Consistency: Maintain a consistent editing style across all your photos, giving your work a unique and recognizable look.
More freedom: With AI handling repetitive tasks, you have more time for creative pursuits, family, friends, and other income-generating opportunities in your photography business.
The Best AI Editors at a Glance
We have compiled a list of the most renowned AI editors.
| | | |
| --- | --- | --- |
| Editor | About | Pricing |
| Spyne | Spyne uses AI to edit your images to make them more appealing. | Less than $0.15 per image (Custom plans available for large inventory) |
| Adobe Photoshop | Photoshop is suitable for full-featured photo editing and design | Starting from $19.99/Month |
| Luminar Neo | Neo has deep integration of image editor AI across the app | Starting from $9.95/month |
| Canva | Canva is a powerful design platform with AI extras | Free limited access |
| Pixlr | Pixlr is an easy-to-use image-editing platform with separate AI apps | Free for limited access |
| Lensa | It is a mobile photo editing platform that is excellent for portraits and selfies | A few features are free |
These editors will help you get the images you need. You can choose the best suits you based on your work, industry, and budget.
Why You Need AI Photo Editor for Photo Editing
Photo editing AI is a free AI photo editor tool that can ease the workflow of editing. However, many people worry that these AI software tools replace all the skills required in editing and will make photographers and editors obsolete. But photo editor AI is essential software that can be beneficial in many ways.
1. AI photo editing in creative media industry
An image editor AI is beneficial to creative media. Many industries in graphic design or photography are involved in editing large numbers of images, and each image has to meet its editing requirements. A photo editing AI help editors remove or add a background, Improve or enhance the image quality and even remove blur from images. It can also provide other tools like cropping and resizing or tuning pictures.
2. AI Photo editor can edit images online
AI photo editor online free automatic tools can easily edit images; all you need is internet connectivity. Now AI editing tools can provide you with an online workshop that allows you to use the full capability of AI-powered tools.
3. Sharpen your photo clarity with AI
AI tool for photo editing provides many tools that you can utilize to enhance your images. Image enhancer can easily and quickly improve the clarity and quality for a sharper finish.
Improve clarity automatically quickly and easily with our AI platform within seconds with an enhanced visual appeal by an AI image upscaler tool and get the best final output and upscale the quality of your digital cataloging.
4. Transforming text into imaginative visuals with AI
AI for photo editing has provided a creative field for editors. You can create your design by providing a detailed description of the image you want to create. Now beginners and professionals can easily push their creative boundaries with AI pic editor.
5. Produce amazing background with AI
You need a captivating background to help you set yourself apart from the rest. Whether your are casual editing for fun or improving your professional art. AI background generator can easily generate stunning backgrounds all you have to do is give the details.
6. Elevate your creation by adding final touches
AI effects can instantly enhance your image by adding bold filters and effects. It doesn't matter what your skill level is, AI now can easily bring your imagination to fruition in a few clicks.
7. Create your own avatar with AI
If you want to grow your personal social brand in a fresh manner, then AI is the answer for you. Many social media platforms allow users to create their own avatars. All you have to do is upload your selfie, and  AI will generate your aesthetic art.
8. Add a twist to your creative design
Photo AI editor has the ability to simply transform the design of certain selected. All you have to is select the area in the image you want to change and then provide a text description explaining what changes do you want. This photo editing AI tool will easily and quickly give the results.
AI Photo Editor Vs Traditional Photo Editing Software
There is a huge difference between an AI photo editor and traditional photo editing software, Let's understand the difference in detail:
| | | |
| --- | --- | --- |
| Difference | AI Photo Editor | Traditional Photo Editing |
| Time-Saving Capabilities | AI Photo editors have time-saving capabilities. It can handle repetitive, time-consuming tasks quickly. This efficiency is particularly beneficial for e-commerce brands dealing with a high volume of images during product launches. | Traditional Photography consumes more time because of manual edits. |
| Cost Savings | AI editors are more cost-efficient including several factors such as time-saving, batch processing, and no expertise required | It is a bit expensive as you need to hire a professional photographer, rent a space for a studio, and professional equipment to take and edit your photos. |
| Accuracy | AI-powered photo editing is accurate because of its advanced algorithm. | Manually edited photos are less accurate due to complexities in quality. |
| Usability | AI photo editors are generally more user-friendly than traditional photo editing software. They often have a simpler interface and offer more automated features. | Manual photo editing software is complex and usually inconvenient. |
| Quality Output | AI Photo Editor excels at providing great quality enhanced final output | Traditional Photo editing needs to improve in terms of quality. |
| Versatility | AI photo editors are generally more versatile than traditional photo editing software. They offer a wider range of features and can be used to create a wider variety of effects. | Traditional photo editing software offers a wider range of adjustment tools, but it does not offer as many automated features or creative effects. |
Use Cases of AI Photo Editor
AI Photo Editor has diverse use cases in various industries, Let's explore a few :
1) Personal Photography: The AI Photo Editor application can be used to remove unwanted objects or people from your photos without having to use complex editing tools.
2) Creative and Design Agency: AI Photo Editors can be used to create visually appealing and engaging marketing materials, such as social media graphics, website banners, and print ads.
3) Real – Estate: AI Photo Editors can be used to create virtual tours and attractive property listings for real estate websites, which can help potential buyers get a better understanding of the property before they visit it in person.
4) E-commerce: AI Photo Editors can be used to create visually appealing and engaging product photos for e-commerce websites. They can be used to edit and retouch product photos to remove imperfections, create product mockups and lifestyle images, and enhance and improve photos to increase sales.
5) Photography: It can be used in photography to create stunning images, for background, logos, and watermark removal from your visuals.
Why Choose Spyne AI Picture Editor
To answer this question, let's get into the numbers. Spyne helps you achieve 80% faster time-to-market through guided photoshoots and automated image editing. This also means that the entire cataloging process is sped up significantly.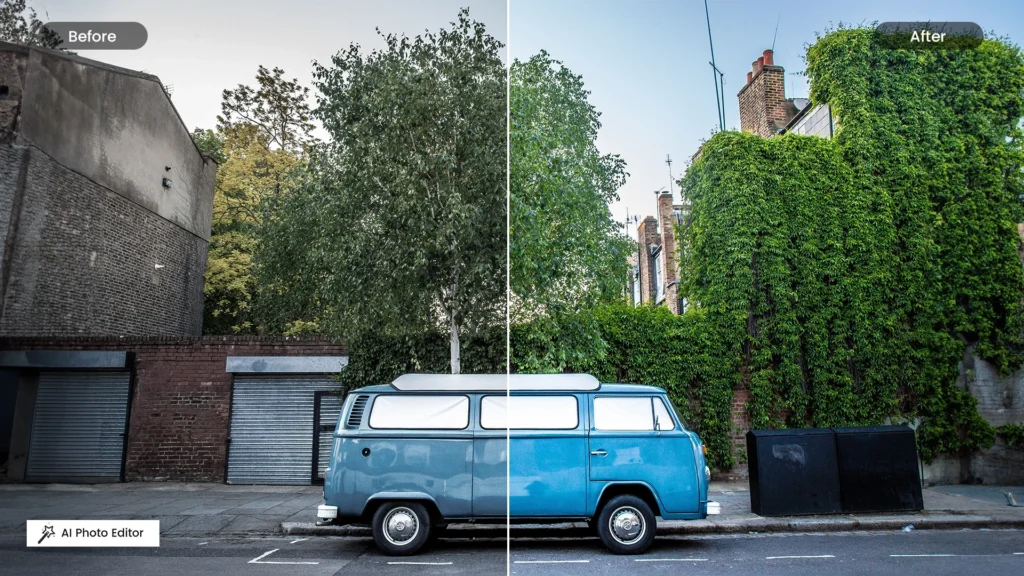 With the help of Spyne, you will see a 75% reduction in costs. You don't need expensive studios or professional Car Photographers! A simple smartphone with a good camera would do the trick, making Spyne's AI cataloging services significantly more affordable than traditional means.
The most significant benefit of using high-quality images for your car listings is that it helps build consumer trust in your brand, increasing your sales potential. So, our clients have noted better conversion rates – around 40% on average – after using Spyne-edited images on their VDPs.
Spyne is the best AI photo editing software and gives consistent output every time, no matter how many photographs you process. The system can edit hundreds of images in an hour and still adhere to the highest quality standards. This starkly contrasts with manual editing, where an increased workload can decrease the quality of the output.
Spyne also has API and SDK solutions tailored to your car merchandising strategy.
360 Car Photography
The traditional photoshoot method mentioned above is effective but increases your dependency on external factors (e.g., on the camera crew). You'll also need to drive your vehicles to the studio. All of this costs a lot of money and time.
However, with Spyne's AI-powered car 360 view creation, you can effectively shoot high-quality images without professional assistance. The clicked images are then automatically edited by advanced AI systems, and your 360 spin car visuals are ready quickly!
Virtual Studio
With this online AI photograph editor, you can transform car images taken with a smartphone camera into studio-quality catalog images that make your car listing more enticing and elevates customer experience in your digital showroom.
Multiple backgrounds are available for you to choose from that can be customized as per your brand language.
Popular Features of Spyne AI Image Editor
Spyne offers a lot of features that are currently trending in the market. AI edit photos can be found trending on almost all social media platforms.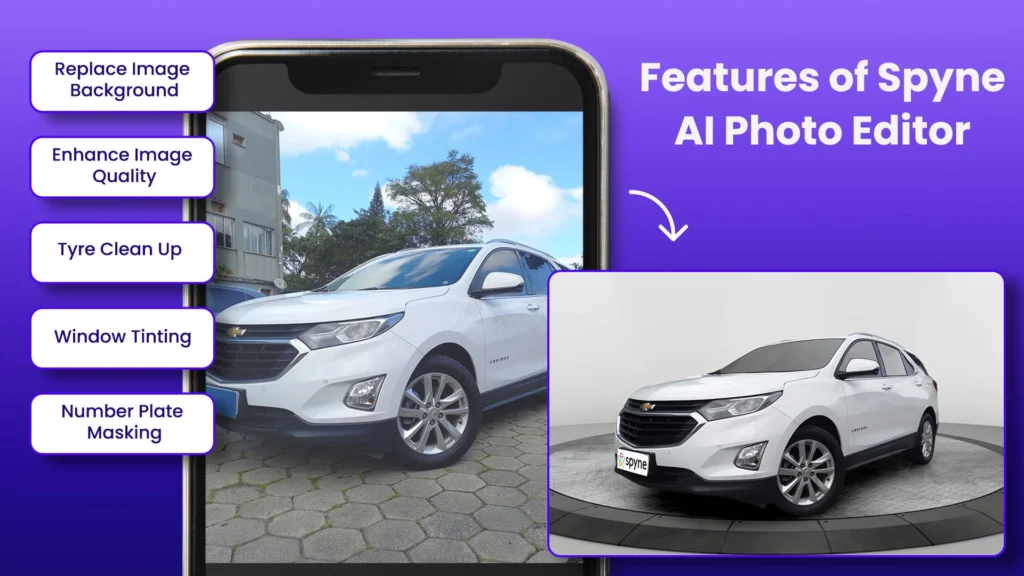 Let's look at some of the features that Spyne offers to make your car listing catalogs immersive and attractive without hassle.
1. Remove background from images using AI
Spyne used AI to auto-detect the object's edges in your image and then remove the background. The background can be replaced with any of the backgrounds offered in the selection. They help you achieve consistency in your catalog.
2. Enhance image quality
The quality of your image is enhanced automatically wherever needed. Therefore, this means you are using your time and resources wisely editing and re-shooting photos for your catalog.
3. Remove unwanted objects from photos with Spyne AI
Removing unwanted objects from your image ensures that your car is in the highlight, as it should be. This ensures that the image captures the audience's attention, compelling them to purchase.
4. Window Tinting
The reflections on a car window can be tricky to get rid of, and leaving them unedited will reduce the quality of your catalog. The solution is to add tint to your car windows in the image, which can be done in just a click with Spyne.
5. Number Plate Blurring
Blurring or masking the number plate is vital to protect privacy and avoid risks of identity theft. Editing for number plate hiding for each image can be time-consuming, whereas it is done automatically in Spyne. You can also use this blur as an opportunity for branding by placing your logo on the number plate in Spyne Virtual Studio.
6. AI colorize and restore
With just one click, you can quickly restore, and remove scratches, and damaged old photos. Our photo restoration through AI upscaler can easily give new life to your old photos. It will enhance your old images all by itself. All you have to do is upload the image that you want to restore, and that's it. The AI will automatically upscale and restore the image.
7. Watermark Remover
Watermarks can be a hassle and can limit an editor's creativity. It can also hinder a person's viewing experience. With our image watermark removal you can easily remove watermarks without affecting the original quality of the image.
8. Resize images
Capturing and preserving every detail and quality of the image while resizing it can be a headache. Traditional methods of resizing can often result in a loss of quality. But with our image enlarger you won't have to worry about loss of quality. With just one click, our AI tool will give you the results that you are looking for.
Try Spyne AI Tools
If you are looking for ways to access the above-mentioned features of Spyne, here are tools that you can use to do just that:
Console
With Spyne Console, you can access our virtual studio that transforms your images into excellent studio-quality catalog photographs for an improved car listing. So, it is an AI photo editor online for free for you to try out.
Spyne Console can be accessed through your browser without downloading or installing software.
Smartphone App (iOS and Android)
The Spyne AI photo editing app gives you access to the virtual studio and the 360 spin view generating feature to make your car listings more engaging and drive sales. It uses an AI for photo editing trained in millions of images.
Conclusion
Spyne.ai has built an AI proprietary tool. It converts the average-looking background of your car photos into a professional studio-like experience. Spyne provides custom backgrounds and tools that create rotating floors beneath the car.
With Spyne's AI photo editor, you won't have to spend money on setting up a studio or instead invest time and money driving your cars to a studio for photoshoots. With traditional methods, the aftermath of sending the photos to post-production is even more frustrating, time-consuming, and definitely not cost-efficient. Spyne, on the other hand, makes online vehicle merchandising quick, easy, and affordable.
Explore Our Other Top-Rated AI Tools