When customers look for clothes on online ecommerce domains, they have a lot of things on their minds. Some of these things include
1. Fitting of the clothes,
2. Aesthetics from different angles,
3. Available colors,
4. Available sizes,
Among others. This is useful knowledge for an online retailer who will now pay attention to these details. Including these details in the image will be convenient in order to attract the eyeballs of potential customers. This is why fashion photography is so important. But, let's not get ahead of ourselves. Let us discuss this fascinating topic in detail in this fashion photography blog.
What is Fashion Photography?
Fashion photography is a kind of photography devoted to apparel and accessories to make them appealing in the image. This includes a fashion photographer taking images of a clothed model or a clothed mannequin in a photography studio. It is conducted for advertisements of the apparel through advertisements and fashion magazines such as Vogue, Vanity Fair, Elle, etc. It is an important way through which photographers and fashion designers can display their aesthetic styles to the world.
How to begin with fashion photography?
If you want to become a fashion photographer, then you have come to the right place. Let's look at what you need to know to begin fashion photography.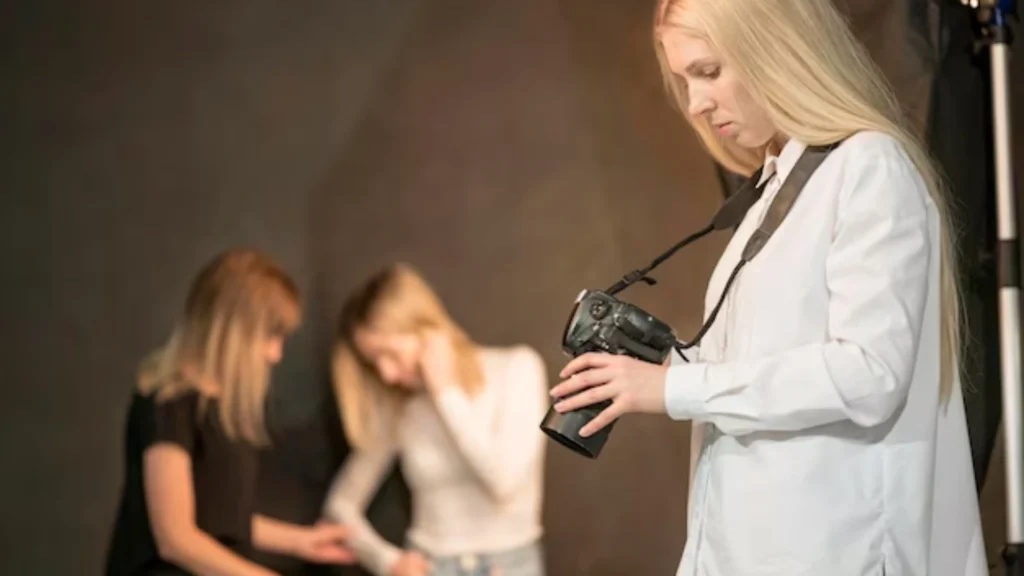 Basic Skills
Taking up fashion photography courses will help you in your endeavors. Courses on fashion photography can give you practice with cameras, setting up studios, interacting with models, etc. This experience will help you in your standing in the market.
Practice with Models
There are many websites that have models who are ready to provide their services. You can hire them and then practice with them. If you get images that you are proud of, you can post those images online and put them in front of potential customers as evidence of your skills. You can also use mannequins if you do not have enough resources to hire models.
Read Fashion Magazines
You can learn great and new ways from famous fashion magazines to conduct your photoshoots. This can help you to keep track of new ideas and news in the fashion industry. You can also submit your images to these magazines, and they might publish them. Contact details of the magazines are generally written on the back of the magazines.
Develop Networks
Creating networks in the industry where you work is really important, no matter which industry it is, and professional fashion photography is no exception. Social media is a great way to reach out to magazines, hair stylists, fashion photographers, fashion designers, etc. All these need fashion photographers in order to showcase their skills correctly, and fashion photographers may need assistants which can give you new avenues to learn and grow.
Try to get a unique style
It is easy just to copy other photographers when you start with product photography. However, you must not fall into this trap and must evolve yourself to develop unique styles which can become your trademark. If you have a unique style that consumers like, they will offer you more money to avail of your services.
Fashion Photography is the intersection of several genres
Fashion Photography is a skill as well as an art. Artists keep evolving their art and keep changing it in order to get the essence of the subject in their art. In a similar way, fashion photographers have to maintain their photographs with the subject of the image. This involves various dynamic skills which can only be conceived with time and effort. Different genres also intersect with fashion photoshoot, such as photography, designing, editing, hair styling, etc.
Types of Fashion Photography
Fashion photography is extensive, and the industry it operates in, i.e., the fashion industry, includes various aspects of production and design. Hence, photography is split into different types, based on the service which is needed. These types can also be divided based on target client, skills, and budget.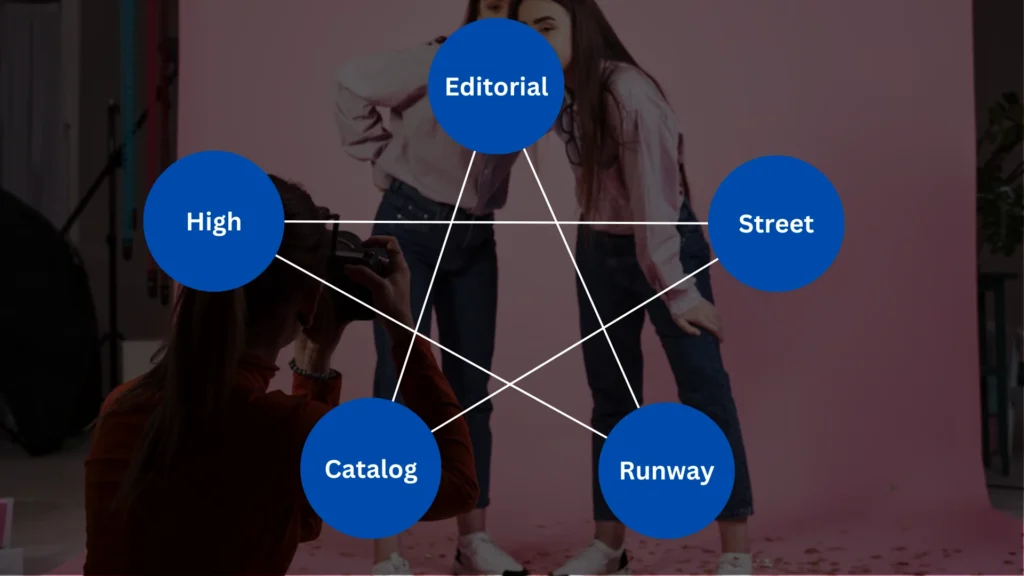 1. Editorial Fashion Photography
This is a kind of fashion photography that you need to click on for either magazines or newspapers. So, these images are similar to lifestyle photography, where you click the images of apparel that the public might not wear, but it is intriguing nonetheless.
2. High Fashion Photography
In this kind of photography, the aim is not just to sell or exhibit the garment but also the showcasing the creative vision of the business. Along with that, the skills of fashion designers, hairstylists, and cosmetics are also displayed.
3. Street Fashion Photography
This photography is also called street-style photography, and it is chiefly for clothes that are styled for you to wear every day.
4. Catalog Fashion Photography
This is the kind of fashion photography that is done in order to make the apparel appealing to increase its commercial value in the market.
5. Runway Fashion Photography
This kind of photography is done to showcase the latest collections of fashion designers working for an apparel business. This can also be considered fashion portrait photography.
Fashion Photography Tips for Stunning Images
There are two major tips for fashion photography; let's look at each one of them in detail.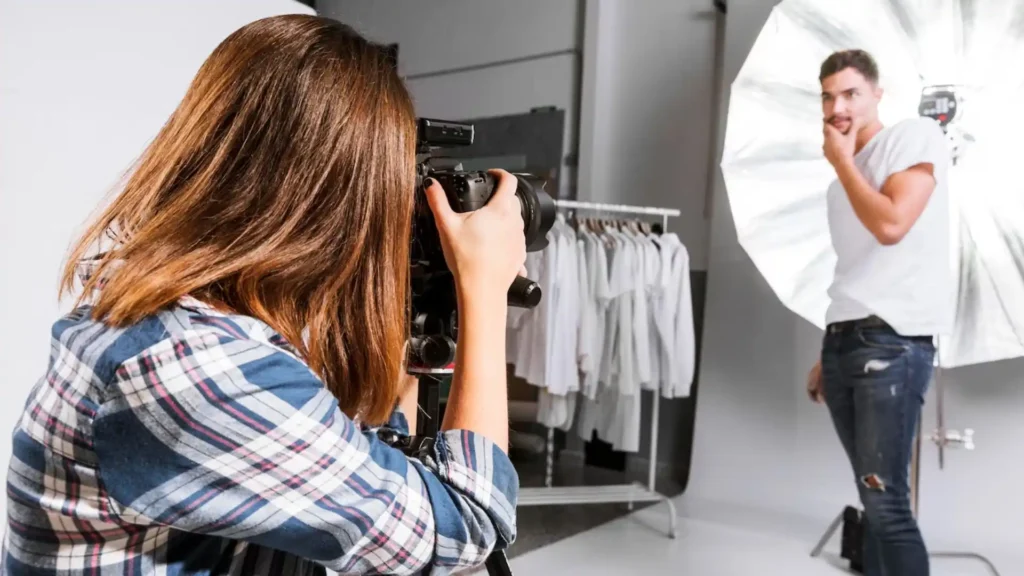 Camera Equipment and Settings for Fashion Photography
Good equipment for photography will automatically translate into better images. Similarly, the settings of the camera can vary depending on the location and angle of the camera. This can only be understood when you have a lot of practice through effort and time. But now, let's look at some equipment you will need,
1. DSLR Camera
These cameras are comfortable to use, can click good images in low-light intensity, the images clicked are quick to edit, and images are produced faster.
2. Lenses
You, as a photographer, will need a wide range of lenses which can be as low as 30mm and 300mm. More powerful lenses will have greater weight and will have to be handled with great care.
3. Lighting Equipment
These types of equipment, such as photo floodlights, tungsten-halogen lamps, and incandescent lighting, are important if you are shooting in a studio. Lighting is very important for photographers, and shooting in a studio can help in manipulating the lights on the apparel.
Research Fashion Photography before you pick up the Camera
A spectacular fashion image takes a lot of research to identify the correct photographing techniques as well as the correct model. This alone makes fashion and glamour photography a much more challenging job, but other things must be researched as well, such as building a portfolio and advertisement.
You will also need to research how to perfect your skills in fashion photoshoot, and this will help you in innovating your own styles and techniques, and all this can will help in increasing the value of your services in the market. Lastly, research on post-production just cannot be ignored. Hence, build your computer and photoshop skills through practice and putting in the time.
Additional Tips
Here are some additional tips for fashion photography,
1. Build a Network through Communication
Building a network is very important in the industry as many members in the industry might be in need of your services, and having connections to them will make sure that they will let you know of the same.
2. Identify the best-suited models for you
Make sure that the apparel that you are trying to sell actually looks good on the model. This will make sure that apparel will be presented in its best form.
3. Start with uncomplicated apparel
If you are just starting out, then it is a good idea to click images of simple clothes. This will spare you from arranging complicated backgrounds and lighting for complex clothes.
4. Try to align the pose of the model with the apparel
The model you choose should also have an understanding of the apparel and should know ways to make the apparel glow with her/his pose.
5. Display a story through your images
Try to tell a story of or about the apparel through the image. You can seek help from the designer of the apparel as well.
6. The basics of the composition should be kept in mind
Props in the image should perfectly accompany and describe the essence of the apparel.
7. Start with simple equipment
If you are starting your professional carrier in this field, simple equipment can give you experience and a foothold over more complex equipment.
8. The Angles of the camera should be matched with the pose of the model
The angle of the camera while you click the image is important as the quality of the image, the pose of the model, the visibility of patterns on the apparel, etc, will be affected.
All these tips are necessary to keep in mind as a professional fashion photographer and also for fashion designers and models so that complete justice to the apparel can be made.
Videos on Fashion Photography
If you are starting out in this field, then we have a great video recommendation for you. This video can explain you fundamentals of fashion photography and answer some questions you might have. You should also keep track of fashion photography trends through these types of videos.
You can also check out more amazing videos on the same channel as well as others if you decide to browse. This channel is a community of fashion photographers, videographers, and other creative professionals and hence are exceptional people to learn from.
Tips for Fashion Photography in Spyne
As we saw, fashion photo editing is a big part of Fashion Photography and is critical for making the apparel in the image appealing. But it is a lengthy process and also very time-consuming which can take up a lot of time and effort, which would be needed in practicing photography. Or you might be an ecommerce company that sells apparel, and you might need to moderate the ads on your website. Spyne can solve all these issues thanks to our AI, which is trained in more than twenty-five million images. Our API script provides the following services
Moderation/Validation of images
Images are automatically processed to high quality
Time to market the clothes gets considerably down
Spyne is cost-effective
Images with lighting and angle issues are taken care of
Removes any watermark there is on the image
Images are checked for any vulgar content
Color correction is done on the image
Apparel gets in the center of the image
While clicking the image, the interface can tell what is wrong with the current lighting or angle
Replacement of background
Addition of margins
Final Thought
If you are aiming to make it big as a fashion photographer, you must start out by furnishing your photography skills. Work with other photographers which will help you get exposure, and build contacts. Also, if you have customers, make sure you provide them with the best so that they don't think twice before referring you and your work to someone else. The majority of a photographer's work comes from references, so make sure you go hard on that.