Welcome to our fashion photography blog, where we delve into the captivating world of fashion through the lens of a camera. Whether you're an aspiring fashion photographer, a fashion enthusiast, or simply someone intrigued by the intersection of fashion and photography, this blog is your gateway to discovering the magic behind the scenes. When customers look for clothes on online e-commerce domains, they have a lot of things on their minds. Some of these things include:
1. Fitting of the clothes
2. Aesthetics from different angles
3. Available colors
4. Available sizes
Among others. This is valuable knowledge for an online retailer who will now pay attention to these details. Including these details in the image will be convenient to attract the eyeballs of potential customers. This is why this kind of photography is so important. But let's not get ahead of ourselves. Let us discuss this fascinating topic in detail in this blog.
What is Fashion Photography?
Fashion photography refers to photography devoted to apparel and accessories to make them appealing in the image. This includes a photographer taking images of a clothed model or mannequin in a fashion photography studio. It is conducted for apparel advertisements through advertisements and fashion magazines such as Vogue, Vanity Fair, etc. It is an essential way photographers and fashion designers can display their aesthetic styles to the world. In this photography, lighting, posing, and your location can also tell stories.
Numerous famous photographers, such as Nick Knight and Helmut Newton, are innovating and transforming this genre to a new level. Now that we know what fashion photography is let us explore this in more detail.
Why is Fashion Photography Important?
Fashion photoshoot is essential because it captures the essence of style, beauty, and self-expression. It showcases the latest trends, influences fashion choices, and defines the visual narrative of brands and designers. Through creative composition, lighting, and styling, fashion photography inspires and shapes how we perceive and engage with fashion, making it a powerful medium for storytelling and visual communication.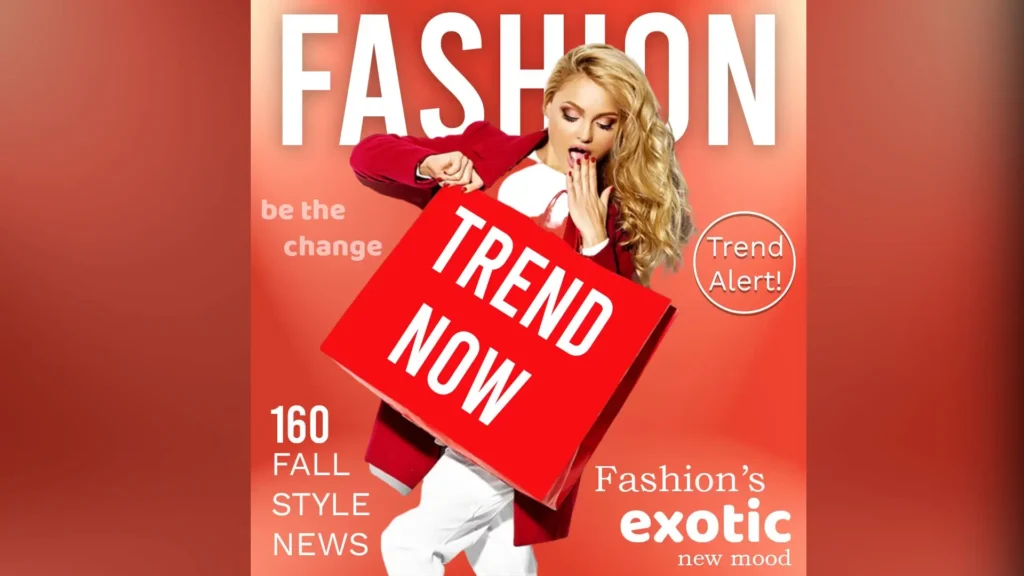 Fashion photoshoot or photography plays a significant role in the fashion industry and serves several important purposes:
Showcasing Fashion and Style
A fashion photoshoot is primarily responsible for capturing and presenting fashion designs, clothing, accessories, and overall style aesthetics. It brings life to fashion by creating visually stunning images that showcase the latest trends, designs, and collections. It allows fashion brands, designers, and retailers to display their creations compelling and aspirationally.
Conveying Brand Identity
Fashion photography helps establish and reinforce a brand's identity. Photographers can create a consistent and recognizable visual language for a fashion brand using specific styling, composition, and graphic elements. The images convey the brand's unique personality, values, and target audience, allowing customers to connect with the brand on an emotional level.
Creating Desire and Aspiration
Fashion photography can evoke desire and aspiration in viewers, customers, and investors. Presenting fashion in an attractive and alluring manner stirs a desire to own and wear the showcased clothing and accessories. It creates a sense of aspiration, inspiring individuals to emulate the style and image presented in the images.
Setting Trends and Influencing Fashion Culture
Fashion photography can shape and influence fashion trends and culture. Iconic fashion photographs have the potential to become benchmarks for style and inspire designers, stylists, and consumers alike. Fashion photographers often collaborate with fashion magazines, designers, and influencers to create images that shape the industry and set new directions for fashion.
Enhancing Marketing and Advertising Efforts
A fashion photoshoot is crucial for marketing and advertising fashion products. It enables brands to create visually appealing campaigns that grab attention, engage viewers, and convey key messages. Print advertisements, online promotions, social media campaigns, and other marketing channels use high-quality fashion photographs to attract customers, drive sales, and build brand awareness.
Creating Visual Stories and Narratives
This photography goes beyond merely showcasing clothing. It can tell stories, create narratives, and evoke emotions. Through creative compositions, styling, and art direction, fashion photographers bring fashion to life and evoke a mood or concept. The images can communicate themes, cultural references, and social commentary, making fashion a form of visual storytelling.
In summary, high-quality photography is essential for the fashion industry as it visually communicates the essence of fashion, showcases designs and styles, creates desire and aspiration, establishes brand identities, influences trends, and enhances marketing efforts. It is a powerful medium that captures the spirit of fashion and contributes to the dynamic and ever-evolving fashion culture.
How to Begin with Fashion Photography?
If you want to become a fashion photographer, you have come to the right place. Let's look at what you need to know to begin photography.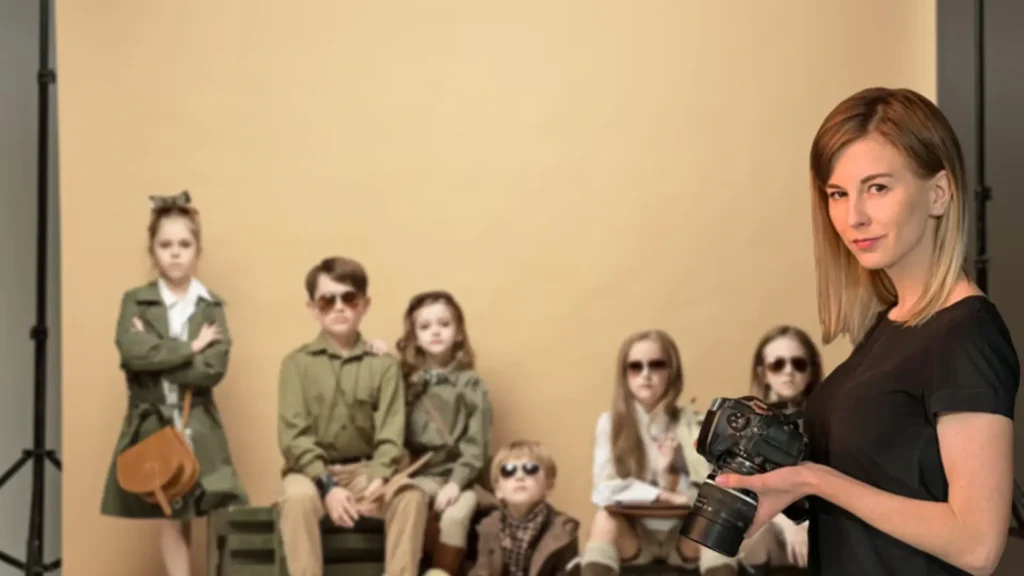 They are necessary for excelling in all different types of fashion photography.
1. Basic skills
Taking up fashion photography courses will help you in your endeavors. Courses on photography can give you practice with cameras, setting up studios, interacting with models, etc. This experience will help you in your standing in the market.
2. Practice with models
Many websites have models who are ready to provide their services. You can hire them and then practice with them. If you get images, you are proud of. You can post them online and put them in front of potential customers as evidence of your skills. You can also use mannequins if you need more resources to hire models for model photoshoots.
3. Read fashion magazines
You can learn wonderful new ways from famous fashion magazines to conduct your photoshoots. This can help you to keep track of new ideas and news in the fashion industry. You can also submit your images to these magazines, and they might publish them. You can find the contact details of magazines on their back.
4. Develop networks
Creating networks in the industry where you work is really important, no matter which industry it is, and professional fashion photography is no exception. Social media is a great way to reach magazines, hair stylists, fashion photographers, fashion designers, etc. All these need fashion photographers to showcase their skills correctly, and fashion photographers may need assistants who can give you new avenues to learn and grow.
5. Try to get a unique style
It is easy to copy other photographers when you start with product photography. However, you must avoid this trap and evolve to develop unique styles that can become your trademark. If you have a unique style that consumers like, they will offer you more money to avail of your services.
6. Gear is not that important
Many new photographers make a rookie mistake, i.e., they think that good equipment will automatically result in good images. Stay aware of this trap, and remember that your skills and experience matter the most.
7. Keep practicing in your spare time
The experience and skills of the photographer are what gives them their value in the market. This comes with time and practice, so practice as much as possible.
8. Hire an agent
You will need someone to manage your work and reach out to different influential people in the industry. An agent would greatly help you with these objectives and connect with new people.
9. Several different genres make up fashion photography
Fashion Photography is not only a skill but also an art. Artists keep evolving their art and changing it to get the essence of the subject in their art. Similarly, fashion photographers must maintain their photographs with the image's subject. This involves various dynamic skills which can only be conceived with time and effort. Different genres also intersect with fashion photoshoots, such as photography, designing, editing, hair styling, etc.
What Are the Types of Fashion Photography?
This kind of photoshoot is extensive, and its industry, i.e., the fashion industry, includes various aspects of production and design. Hence, professional fashion photography is split into different types based on the needed service.
These types can also be divided based on target client, skills, and budget.
1. Editorial fashion photography
You need photography for either magazines or newspapers. So, these images are similar to lifestyle photography, where you click the images of apparel that the public might not wear, but it is intriguing nonetheless.
2. High fashion photography
In this kind of photography, the aim is not just to sell or exhibit the garment but also the showcasing the creative vision of the business. Along with that, the skills of fashion designers, hairstylists, and cosmetics are also displayed.
3. Street fashion photography
This photography is also called street-style photography, chiefly for clothes styled for you to wear daily.
4. Catalog fashion photography
This kind of photography makes the apparel appealing and increases its commercial value in the market.
5. Runway fashion photography
This kind of photography showcases the latest collections of fashion designers working for an apparel business. This can also be considered fashion portrait photography.
These kinds of photography determine fashion trends, so these points must always be considered. These trends are crucial for the fashion industry to thrive, and those who are innovative in these trends tend to be the leaders in the industry.
Fashion Photography Tips for Stunning Images
There are two essential tips for photography; let's look at each one of them in detail.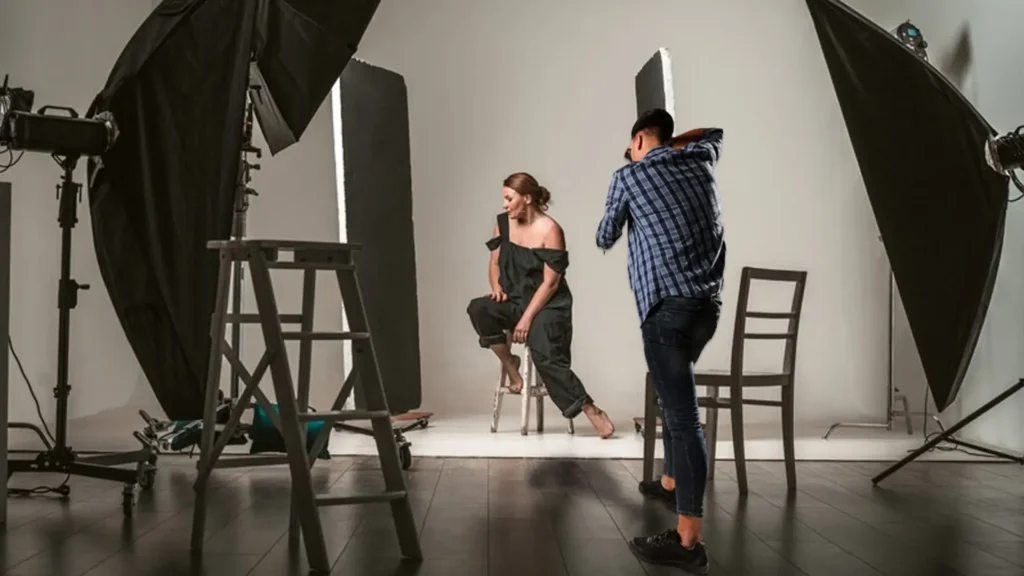 Camera equipment and settings for fashion photography
Good photography equipment will automatically translate into better images. Similarly, the camera's settings can vary depending on the location and angle of the camera. However, settings that can be considered essential are aperture, ISO sensitivity, and shutter speed. It is highly recommended that you shoot at high f/stop, that is, from f/8 and f/11.
This can only be understood when you have a lot of practice through effort and time. But now, let's look at some equipment you will need,
1. DSLR camera
These cameras are comfortable to use, can click good images in low-light intensity, the pictures clicked are quick to edit, and prints are produced faster. This is especially important for high fashion photography as the image of the exhibited garment must be high quality.
2. Lenses
As a photographer, you will need a wide range of lenses that can be as low as 30mm and 300mm. More powerful lenses will have greater weight and must be handled carefully. You must use it in street fashion photography as lenses greatly help in the natural background.
3. Lighting equipment
This equipment, such as photo floodlights, tungsten-halogen lamps, and incandescent lighting, is vital if you shoot in a studio. Lighting is essential for photographers, and shooting in a studio can help manipulate the lights on the apparel.
4. Other accessories
Other necessary assets are crucial for clicking images related to the glamorous field of fashion. For example, cloth for backdrops, scenes, soundstages, etc. But one essential gear is a power source that is a constant source of power in a studio.
5. Laptop
After clicking the image, the same images are edited to make the fashion apparel more appealing. However, they have to keep the clothing as authentic as possible while conducting clothing photography. This is necessary for editorial fashion photoshoots, as image retouching is essential to display your image in magazines.
Research Fashion Photography Before you Pick up the Camera
A spectacular fashion image takes a lot of research to identify the correct photographing techniques and models. This makes fashion and glamour photography much more challenging, but other things must be researched, such as building a portfolio and advertising.
You will also need to research how to perfect your skills in fashion photoshoot, and this will help you innovate your own styles and techniques, and all this can help increase the value of your services in the market. Lastly, research on post-production just cannot be ignored. Hence, build your computer and Photoshop skills through practice and putting in the time. We should also understand the difference between fashion and glamour photography. Glamour Photography is a type of photography that highlights the beauty of the model instead of the apparel model is wearing. A model's facial and physical appearance is much more important here.
Additional tips
Here are some other tips for fashion photography,
1. Build a network through communication
Building a network is very important in the industry as many members might need your services, and having connections will ensure that they will let you know of the same.
2. Identify the best-suited models for you
Make sure that the apparel that you are trying to sell actually looks good on the model. Therefore, this will make sure that clothing will be presented in its best form. Fashion portrait photography is the field where models must be given careful consideration.
3. Start with uncomplicated apparel
If you are just starting out, then click images of simple clothes. This will spare you from arranging complicated fashion photography backgrounds and lighting for complex garments.
4. Try to align the pose of the model with the apparel
The model you choose should also understand the apparel and know ways to make the clothing glow with her/his posture.
5. Display a story through your images
Try to tell a story of or about the apparel through the image. You can seek help from the designer of the clothing as well.
6. Basics of the composition should be kept in mind
Props in the image should perfectly accompany and describe the essence of the apparel. This can give a solid base to your fashion photography ideas.
7. Start with simple equipment
If you are starting your professional carrier in this field, simple equipment can give you experience and a foothold over more complex equipment.
8. The pose of the model matches the angle of the camera
While you click the image, the camera angle is vital as the image's quality, the model's pose, the visibility of patterns on the apparel, etc., will be affected.
9. Here are some more fashion photography ideas
Try "Street Fashion"
Experience Editorial Fashion
High Fashion is always an option
Try ideas and experience in Product Photography
Apparel gets complete justice when all these necessary tips are kept in mind by fashion photographers, designers and models.
Videos on Fashion Photography
We have an excellent video recommendation if you are starting out in this field. This video can explain the fundamentals of photography and answer some questions. You should also keep track of fashion photography trends through these types of videos.
So, if you browse, you can also check out more amazing videos on the same channel. This channel is a community of fashion photographers, videographers, and other creative professionals and hence are exceptional people to learn from.
Tips for Fashion Photography in Spyne
As we saw in this fashion photography blog, image editing is a big part of photography and is critical for making the apparel in the image appealing. But it is a lengthy and very time-consuming process that can take up much time and effort, which you can use to practice photography. Or you might be an ecommerce company that sells apparel, and you might need to moderate the ads on your website. Spyne can solve all these issues thanks to our AI, trained in more than twenty-five million images. Our API script provides the following services
1. Moderation/Validation of images
2. Automatically processes images to high quality
3. Time to market the clothes gets considerably down
4. Spyne is cost-effective
5. Takes care of images with lighting and angle issues
6. Removes any watermark there is on the image
7. Checking images for any vulgar content
8. Images go through color correction
9. Apparel gets in the center of the image
10. While clicking the image, the interface can tell what is wrong with the current lighting or angle
11. Replacement of background
12. Addition of margins
You can also try the darkroom right now. Therefore, Spyne can spare the time of budding photographers from fashion photo editing so that they can focus on their photography skills.
Final Thought
If you aim to make it big as a fashion photographer, you must start by furnishing your photography skills. Work with other photographers to help you get exposure and build contacts. Also, if you have customers, ensure you provide them with the best so they don't think twice before referring you and your work to someone else. Most of a photographer's work comes from references, so focus on that.