From the sleek chassis lines to the engine's power, cars represent freedom, power, and style. And what better way to capture that essence than through photography? Automotive photography needs to capture the ergonomics of the vehicle through a camera. It is a unique genre of photography that helps showcase the beauty and personality of cars. As such, creative photography that highlights its various features is essential for every car retailer.
But, achieving high-impact vehicle visuals won't be possible without setting up a proper auto photoshoot. Unfortunately, hiring seasoned car photographers and using a photography studio costs a fortune. Well, there's an alternative to that: AI-powered photography solutions.
Sounds complicated? Well, allow us to simplify it! No matter your skill level, if you want to learn to click car photographs like a professional, you are in the right place. Let's dive into this guide.
What is Car Photography?
Car photography is an art form that captures car images from various angles. It is done to catch the eye of the viewer and allow them to imagine themselves owning that car. The main trick is to get the right combination of automobiles' essence, beauty, and power so that they can make an impression that can last forever. It involves expertly capturing images that showcase the unique design, sleek lines, and exquisite details of cars.
Every photographer has to capture the best features of the car they work with to create the best images that appeal to the viewers. This can be done for the brand's publicity, to make a sale, and even to post in the room of an admirer.

Types of Photography of Cars
Automotive photography is capturing multiple car photographs highlighting the vehicle's various features. There are many photography styles you can experiment with.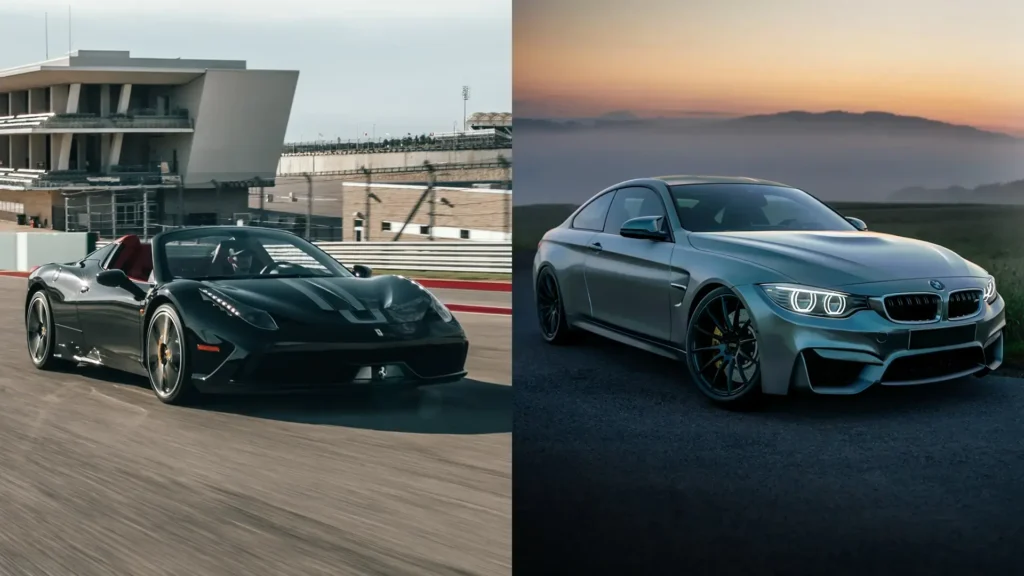 Here are the types of photography for cars:
Commercial photography
This type of photography is formulaic, focusing on details instead of aesthetics. So, the main emphasis is to promote a car in a way that will influence the buying decision of car lovers. If a photograph of the vehicle is taken non-professionally, it will reduce the chance of the car being sold. Thus you need to have perfect knowledge of photography angles to provide every car detail. Also, automotive photography pricing can be high if used commercially. Therefore you need to remember how much money or resources you can spend.
Car Event Photography
Expositions and auto-shows are significant events to encounter aesthetic-looking cars. It can be held indoors or outdoors, but there are specific challenges while doing event photography. These events are usually crowded, so you need immense patience and wait for the right moment. Analyze every angle and decide beforehand which car photography pose will suit your idea of capturing images. Take your shot when the opportunity knocks and the crowd gets less dense.
Photography of race track cars
Like sports photography, taking photos of cars, racing on the tracks can be difficult. But with some practice, one can get the hang of it. The main emphasis that should be given in while photographing cars racing at high speed is to capture the dynamism of the race. The important is the gear and camera settings. The race can be on asphalt or dirt; you will require different angles, kits, and locations. In the case of dirt, you will require a fast shutter speed to capture freeze images of the cars. For asphalt, you will need a fast shutter speed which can be somewhere between 1/60s and 1/250s.
Glamour photo shoots
On the other hand, they focus only on showing a car most appealingly. This includes capturing the body curves, modifications (if any), beauty in motion through moving shots, etc., all designed to make automotive enthusiasts drool all over their screens. E.g. for photographing cars on race tracks, focus on motion shots over anything else.
Used automobile shoots for dealerships
This type of photography involves taking car pictures that can be used on social media posts and Vehicle Display Pages to promote car sales. These include photographing cars on turntables from all angles such that car features are in focus. Dealerships also want to produce 360-car view videos for customer engagement and increased sales. You can hire a photography crew, build a studio, or use AI-based solutions.
Photography of Vintage Cars
For photographing vintage cars, attention should be given to the location, lighting, camera settings, car details, and angles. A common problem faced by classic auto photoshoots is finding such vehicles. You can research about and go to auto shows near you. Once you find a vintage or classic car, use motion and blur to photograph them and add dimension to your images.
The key to great photography is to capture the viewer's attention and talk to their emotions. It is necessary to understand the purpose of your photoshoot- is it commercial photography? Is it stock photography? Is your target consumer a car buyer, or are you producing cinematic shots for wallpapers or ad campaigns?
Once you know the purpose, the process can be streamlined. Let's look at how you can produce the perfect car photographs.
BestGears for Photoshoots of Cars
You need gear for the best photography to get the best result. Take out your camera and start clicking pictures of cars, but you won't be able to find the real quality until or unless you get the proper equipment or gear. Have some knowledge about automobile photography camera settings and gears that are used in making creative auto photography.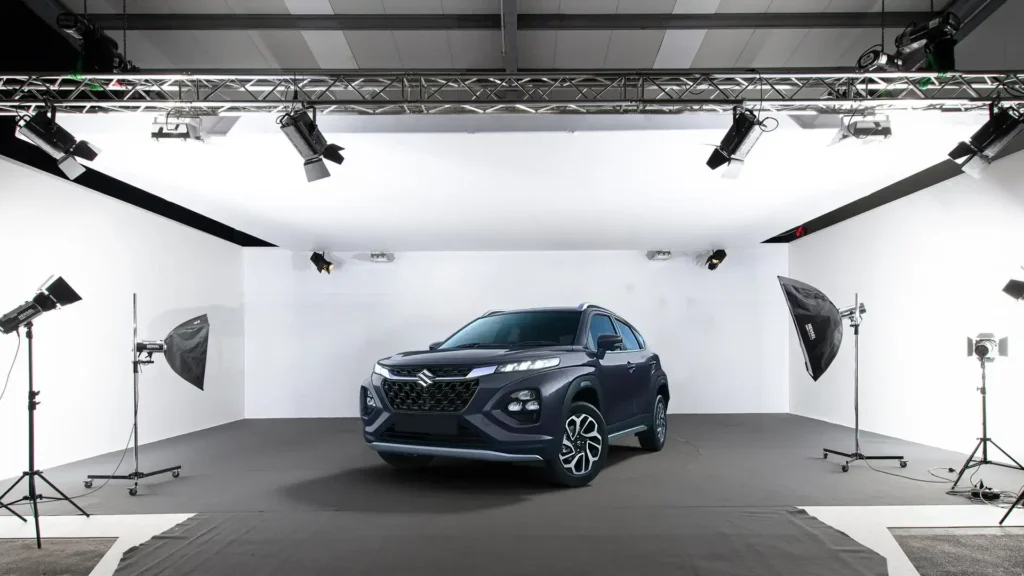 Assembly of the gear will include a telephoto lens with an excellent wide angle for long shoots. For example, 24-70mm focal length and 35-50mm for regular shots. The photography prices are so high not just because it involves aesthetic-looking cars but also because of the high-end equipment used while creating this art. Knowing and knowing about photography equipment can save you money and give you high-quality results.
What Kind of Camera Is the Best for Photography of Automobiles?
Taking shots of a car can be challenging. You must take care of strange angles, dodgy reflections, and lighting. It gets more challenging once the vehicle starts moving. Having the best camera at the right time can make this much more manageable. Therefore, here are some of the best cameras for car photography you can find in the market.
1. Fujifilm X-T4
If you are interested in panning photography, this camera will be the right tool. It gives a fantastic inbuilt stabilization which provides extreme focus to your snaps. You can capture every car maneuver quickly while offering a blur effect to the background. In addition to this, X-T4 gives high-resolution capturing. If you have car portrait photography in your mind, this camera is the best option for you. It is also lightweight and easy to carry.
2. Sony A7R IV
This camera from Sony will be the best for photography, even if you are focused on something other than photography. But the in-built image stabilization will give you great performance while recording or clicking a moving car. The high-resolution sensor will provide a significant advantage in low-lighting situations, which means this camera is ideal for car night photography.
3. Canon EOS Rebel-T6
If you are a beginner looking for a camera that can provide quality results, this camera is the right choice. You can quickly achieve creative vehicle photography with its optical viewfinder that allows you to get the frame in a high-quality manner, which means it will capture the same scene without any degradation in quality.
4. Nikon Z7 II
This mirrorless camera launched by Nikon is a valid spec for photography. A high-resolution full sensor will show every car's details and allow you to crop the image if required. The only issue with this camera is the slow frame rate, making it challenging to capture a moving vehicle. But for static cars, this camera will get you the clicks.
What Kind of Lens Is the Best for Taking Perfect Car Photos?
While the general photography tips remain the same, the techniques will vary depending on the car type and the photographer's skill level. The ideal photography lens will also depend on the type of car being photographed. Therefore there is no best lens for Car photography.
Listed below are three popular lenses used for the photography of cars:
35mm f/1.4 – This lens is suitable for still photography. It gives a wide angle so the entire vehicle can be captured in a single shot along with the background without standing far away. The bokeh effect can also be achieved in the background with this lens by using the wide aperture and low f-stops.
70-200mm f/2.8 – This is ideal for shooting cars from far, like at a race track. This lens can zoom in on the action while you stay at a safe distance. For reduced motion blur, use a fast shutter speed with this lens.
24-70mm f/2.8 – This is an all-around lens for photography. It can be used for comprehensive and close-up shots. It is ideal for shooting cars in motion since it is a zoom lens and quickly adjusts.
Those who are starting as a beginner can go for a 50mm lens which is famously used by those who are at the beginner's level but also by seasoned professionals. 50mm automobile photoshoot is underrated but can allow a photographer to think outside the box and capture moments uniquely. It is also famously known in the photography industry as fifty-nifty.
Additional Photography Equipment You Need
Photography can't be done through just lenses and cameras. You need more than that. Some photographers require a proper automotive studio to get the perfect click, but you won't even require a studio if you have the right equipment and know how to use them.
1. Tripod
After getting the camera and lens for the photo shoot, Tripod is the next necessary piece of equipment to get the job done. Having a tripod can unlock different photography angles. This will take your photography to new heights. If you purchase a tripod, consider its size, weight, and stability.
2. Filters
The next big thing that can help you take your photography to the next level is filters. This will help you control the light conditions easily, improving the overall quality of the images you will capture. Two types of filters can give you results. One is polarizing filters, and another is ND filters. Polarizing filters will eliminate any unnecessary glares and reflections from the image. ND filters will reduce the amount of light entering the camera. This will improve the overall exposure.
3. L-Bracket
It is an L- shaped mount that easily fits into a tripod. This quickly changes the camera's orientation without causing any changes to the tripod.
4. Memory Cards
There are two types of cards, one is an SD card, and the other one is CFexpress. SD cards by San Disk will be the best option as they are the fastest in the market.
5. Extra Batteries
If you have a camera, you need a battery, and keeping an extra one in your pocket is significantly better. Some cameras, especially mirrorless ones, consume many more batteries than normal ones.

20 Best Car Photography Tips
You need to learn the tricks to it. Car picture-taking can be intimidating. We have gathered essential automotive photography tips and tricks for professional photography to help you get stunning images.
1. Shooting at the right time of day
Amateurs begin worrying about lighting and reflections immediately, but professionals know that the first step is to select the right time of the day. One of the simplest pieces of advice you will get for car photography that immediately improves your photo quality is to avoid shooting at noon. The harsh light can give too bright and dark spots, making the image look good and appealing.
The best time you can choose is just after sunset or before sunrise. The light is soft since there is no direct sunlight, helping you capture beautiful shots with exquisite visuals. A tripod can help you use a remote release to get a soft-light paint effect. A reflector can be used when taking close-up pictures.
2. Getting the right gear
The right equipment in your inventory is essential to capture stunning car images. Your camera and its lenses are the only reliable companion in a photo shoot. For different photography styles, you will require different gear. But you will either require a mirrorless camera or DSLR; with that, you will need lenses. Consider cameras with full-frame or APS-C sensors for excellent image quality, as they offer high ISO performance. This ensures you can capture detailed shots of car interiors without worrying about excessive noise compromising the image.
3. Matching Camera Settings with Scenario
Photography settings are essential to convey something about cars through images. The situation, setting, and desired effect are essential for high-quality captures. Therefore, be prepared with your best camera setting for photography, but settings can vary with situations for example, the night photography camera setting will differ from the camera setting used while capturing a car image in daylight.
4. Be on the lookout for new cars
You won't find cars coming to you and telling you to click their photos. You need to seek out and be on the lookout for vehicles and their owners. Usually, owners are interested in getting their cars clicked. All they need is someone to click those perfect photos. Therefore, you need to go around your locality and capture images of cars that have the potential to give your great aesthetic results.
5. Color of the car
In the car industry, different types of colors are painted on vehicles. Each color reflects differently. So, experiment with different colors and lighting. Then review the shots after you have finalized them.
6. Best-looking cars get the best results
In any kind of photography, the subject's condition matters the most. The subject needs to look at its best. The same goes for photography; the car must look its best. Ensure no scratches, dirt, or dents since nobody wants to look at those defects.
7. Get the wide and the close-up look
Don't overthink whether you should get a close-up or a broad look. Try to get both while capturing the car image. This will give you vividness in your pictures.
8. Enhance your image with post-processing
Editing is one of the most important aspects of photography. Through editing, you can bring the full potential of your image. You can start with basic, like adding white balance and texture. Then, later on, you can make color adjustments.
9. Keep the dynamism
Keeping dynamism in automotive photography doesn't mean the car needs to keep moving. Even if the vehicle remains still, you can get the best dynamic shots of the car. All you have to do is approach the vehicle from different angles. Experiment with angles and see which angle gives the best picture.
10. Use nature to your advantage
Don't let the car be parked around in the parking lot. It won't give any impactful result. Let the vehicle interact with nature. This will provide you with stunning visual images that attract more views.
11. Capture different angles
You need to approach photography with different perspectives. In car imaging, you need to close the car from different angles. This will allow you to go beyond the limit and discover the world of possibilities.
12. Being on the lookout for reflections
In photography of a car, you need to put a lot of emphasis on details. Be in control of what is reflected in the car. It is vital to capture the car's design lines, and reflections can hinder that. The tree or buildings in the surrounding area will be reflected on the car surface and captured in your photos.
You can shoot in an open space or a car photography studio. If the busy surroundings cannot be helped, try taking the shot from a lower angle. Be mindful of your reflection on the car as well. Use a tripod and set a self-timer to avoid capturing your review in the image.
13. Choosing your background
Here is another tip for capturing car photos in a way that speaks to the viewer. The background in your picture affects how professional your vehicle photography looks. And while one might have a lot of likes and dislikes when it comes to car background, there are still some rules to follow. Your car is the hero of the photoshoot. Make sure you don't choose a bright location that takes away the attention from the subject. It might be tempting to shoot a car before an artistic background like graffiti, but it is advised against for the same reason.
If you want detailed car pictures, the backdrop becomes even more critical. Avoid cluttered backgrounds. Too much noise in the background makes the car look second-hand. If you are thinking of doing a car photoshoot outside your garage or on a busy street, think again.
14. Getting exterior shots of the car
While shooting the exterior of a car, there are multiple types of shots that you must take. Following are some exterior shots that you must not miss out on during auto photography:
Full body shots
Close-up shots
Wheels
Trunk
Engine
Vehicle window sticker
Note: Model photography of cars is excellent for practicing vehicle exterior photoshoots. You have much more control over the placement of the car and the way the environment interacts with it.
15. Getting interior shots of the car
Just like the exterior shots, the car interior photography matters too. Focus on exciting patterns and unique features. However, inside photography has one tricky part. If you park the car at the right place, a patchy mix of shadow and light can save your auto photography.
Therefore, begin with parking somewhere in the shade and bring compact lighting equipment along. You should:
Avoid direct light, whether natural or artificial.
Take individual shots of all the features and equipment in a car
Take detailed photographs of the steering wheel, central console, seats, shifters/cup holders, and unique interior features.
16. Shooting nighttime car portraits
There are many kinds of night photography, but it is easy if you know some tricks. Professionals know that nocturnal car shots should be captured in the absolute dark; even moonlight or street lamp light can become tricky to handle. Once you have found the right spot, put your camera on a tripod, set your car photography settings, set the shutter speed to 30 seconds, ISO to 100, and aperture to f/9.
When the shutter opens, you must walk around the car with a vital light source, such as a flashlight. This will paint the car in the light, letting you capture stunning night shots of the vehicle.
17. Take driving shots
A car is designed for motion, performance, and speed. Moving photography is an art form that takes time and practice. Capture the machine in action by taking dynamic shots where the vehicle is in motion. Controlling shutter speed can help display movement in a picture. You can play around with shutter speed if you want panning car photography. The slower the shutter speed, the more blurry effect will form, but the sharpness of the image can be affected in the process. You can try from 1/30 sec to get more blur or increase to 1/125 to decrease the blur. So, change the shutter speed according to your comfort and preference.
18. Being mindful of road rules
This part of vehicle photography is often missed in the excitement of getting work done. You must follow the road rules if the shoot is outdoors.
If you are shooting on the road, park your car on the right side. Do not park it in a no-parking region. Also, avoid any depiction that may invite legal trouble during and after the photography.
If this happens, you won't be able to use the shots that you take despite putting in immense hard work.
19. Keep ISO low as possible
Keeping a low ISO setting is essential to reduce your photos' graininess. By doing this, you can easily prevent the unwanted presence of noise. This can be accomplished through long exposures, particularly if you have a tripod. Taking these measures will significantly improve the quality of your photographs.
20. Get high or low-angle images
Rather than capturing your car from a normal eye-level perspective, opting for a high or low-level shot is much better. Using a tripod or even a stool can help you in achieving this. The goal is to showcase the car from an angle that adds a sense of dynamism and intrigue. Do consider shooting from a low angle by positioning yourself on your knees.
How to prepare for an automotive photography shoot
After you have collected all the necessary connections of car owners, you have the perfect schedule. Collect all the info on the car, its model, and what modifications it is using. This will give you an idea of what must be captured from that car. Then get yourself a location that will go hand in hand with the vehicle. It could be any terrain or a road that can give the car a different look. Also, keep in mind the timing of clicking these photos. The best timings are hours before or after sunset.
So, try these photography tips to elevate your photography game.
Best Tips for Night Shoots for Cars
There are moments when you want to click photos of a fantastic car, but the sun has already gone down, and you must do your best with whatever you are left with.
Some of these tips will help you out in night photography.
If you try to photograph at night, find a natural light source to show the car's details properly. Set the camera's aperture around f/5 to f/11 based on the light basis. When conducting a photo shoot at night, having the technique of slow shutter speed is essential. Try to keep the range between 5 to 10 seconds.
Have the best camera with the best sensor that will allow you to take night photos with low lighting.
Have a proper subject with a great background that will complement each other well.
You can use different filters and effects on the overall image, giving the image an aesthetic neon vibe pleasing to the eye.
Use the car headlights to give the image a new look. Sometimes headlights turned on while capturing car images at night give it an aggressive look, which many car lovers prefer.
Remember to put the camera in manual mode, allowing you to experiment with different lighting and exposure at night.
You can use a long shutter speed, a shutter speed between 30 to 60 will do enough for car night photography.
Role of Lighting in Professional Automobile Photography
The lighting used will decide how the car design, lines, and character of the car are perceived in the image. Using good photography and lighting gear, along with good preparation based on the location of the photo shoot, can help you capture beautiful shots. The lighting quality can affect more than just the brightness or darkness of a subject. It can also shape the photograph's tone, mood, and atmosphere. Therefore, controlling and manipulating the lighting is essential to capture the vehicles' best texture, color vibrancy, and luminosity.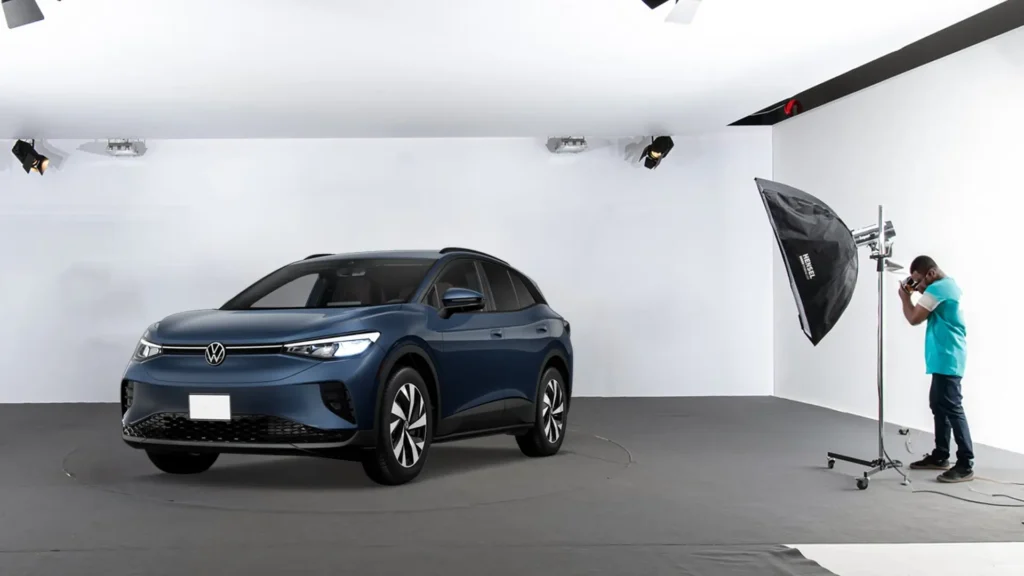 Regarding commercial photography, overhead lights (in a studio) are the best option for shooting. It makes sure that the entire car receives even lighting throughout. If you are planning an outdoor shoot, choose the right time of the day. The best time of the day is noon when the sun is overhead. At night, you can try out long-exposure photography to capture pretty effects.
However, it should be noted that shooting in unique lighting conditions is a big no for commercial photography. However, it is excellent for aesthetic shoots! If you're looking for photography ideas, consider capturing dynamic motion shots, experimenting with unique angles, and utilizing natural light to highlight the sleek lines and details of the vehicles.
How to Get Photography Clients
Car photographers may be hesitant to reach out to dealerships and car owners. But arriving at car shows and meetups with a camera in your hand is bound to attract car manufacturers and owners who want automotive photography services.
Car owners are proud of their vehicles, and you can bond with them using your vehicle knowledge. If you can showcase their vehicle through beautiful shots, you are bound toke a connection with them. So go to car shows, talk to owners, be friendly, outgoing, and professional, and build your network.
Use Spyne AI for Stunning Car Images
Spyne is a state-of-the-art AI photo editing software. It employs Artificial Intelligence to automatically edit your car images so that you always get reliable results. It supports bulk editing of car images – over a hundred images in seconds – all while maintaining the highest quality standards.
We also provide API and SDK solutions that can be customized to fit your car dealership photography and merchandising strategy.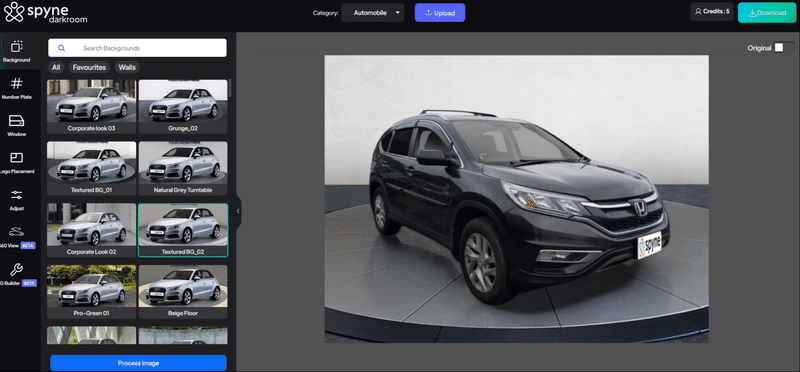 Here's a brief description of our AI's Merchandising products:
Virtual Studio
This online AI photo editor can turn car pictures taken with a smartphone into professional catalog images. It makes your car listing more attractive and improves the customer's experience in your digital showroom. You can select from various backgrounds customized to match your brand style.
360 Car Spin
The traditional way of shooting 360 videos relies on a camera crew and requires bringing your vehicles to the studio. The studio must also have a car turntable installed. This can be expensive and time-consuming.
However, with our AI's-powered car 360 view creation, you can easily take high-quality images without professional help. The AI system automatically edits the images you take, and you quickly get ready-to-use 360 car spin video!
Features of AI Automobile Photography
Let's explore some of the features provided by our virtual car studio to make your car listing catalogs more engaging and appealing without any difficulties.
Background Removal using AI
We use AI technology to automatically detect the edges of the car in your images and remove the background. You can then choose from various stages or customize your own to replace the original one, ensuring consistency throughout your catalog.
Image Quality Enhancement
The software automatically enhances the quality of your images where needed. This saves you time and resources, as you won't have to spend extra effort editing or reshooting photos for your catalog.
Unwanted Object Removal
Removing unwanted objects and reflections from your photos ensures the focus remains on the car. This captures your audience's attention and encourages them to purchase.
Window Tinting
Dealing with window reflections can be challenging, as they can reduce the overall quality of your catalog. We offer a solution by allowing you to add a tint to the car windows automatically with just a click, improving the overall appearance of the images.
Number Plate Blurring
Blurring or masking the number plate is vital to protect privacy and prevent identity theft risks. Our AI automates this process, saving you time and effort. Additionally, you can use this blurring as an opportunity for branding by placing your logo on the number plate using Darkroom.
Spyne AI Car Images and Editing Tools
If you want to use the features mentioned above, here are the tools you can use to do so:
Console
You can access the Virtual Studio directly from your web browser through Spyne Console without downloading or installing additional software.
Smartphone App (iOS and Android)
The AI photo editing app is available for iOS and Android devices. It allows you to access the virtual studio and the 360 spin view feature, which can help make your car listings more engaging and increase your sales.
Conclusion
Car photography is a tricky job. It takes creativity, hard work, and much time and preparation. Therefore, the fat cheques that car photographers charge are worth every penny. However, it does not mean that car sellers online should let go of an opportunity to find a more innovative and inexpensive alternative.
If you want to run creative campaigns and cinematic ads to promote your car business online, you must opt for professional photographers. However, cataloging is a perennial process. It needs a solution that is scalable, feasible, and generates high-quality output. Spyne is a blessing if you are looking for answers like these.