The best way to grow your car dealership is to make it attractive to potential customers and supply them with the latest information on new cars, sales, and special offers in the area. With this goal in mind, the very first thing you need in the digital space is best-in-class automotive photography.
Have you seen a studio getting all set up before shooting? It is when we set up the right environment for your shoot. Similarly, when it comes to automotive photography, you need a perfect setup for an outstanding outcome.
Whether you're trying to sell an automobile or promote your dealership, high-quality and attractive car images can be a deal-breaker. If you are selling a used vehicle, you might have to make specific enhancements, like imperfections on the paint, missing windshield wipers, or scratches on the bumper. However, don't spend more than the vehicle's worth on these upgrades.
Be it any reason, it's crucial to think about how you will organize the shoot instead of just taking a snap and hoping for the best. You want to ensure that the vehicle looks as appealing as poss. 
Automotive photography can make all the difference between the success or failure of a car's purchase. You must display cars with stunning images that attract customers.
However, car photography requires a very special skill set. If you want to be successful at it, then you have to have a solid understanding of both photography and motor vehicles.
To help you with the best solutions for this powerful market, we'll guide you on how to become an expert on cataloging with the help of AI. 
1.  Prepare your car for the shoot
If you're going to stand out amongst your competitors, you will have to advertise it in the best possible way. When purchasing any car online, potential buyers are looking for these three things: car images, descriptions, and reviews. 
Make sure you have prepared your car for the sale as if you would be buying it yourself. Why? Because first impression counts and if the car is dirty or messy it will dramatically reduce your potential customer's interest in your car.
You should make sure that your car looks stunning in the pictures that you click. Take photos of your car in great detail so that you can create a 360-degree view, different angles, and a dent map. 
Now, the more angles, or features you would want to add to your visual displays, the more time taking process becomes. Hence, the chances of you losing customers to the market go higher. 
To help dealerships reduce the long and exhaustive photoshoot and editing process, AI has come to the rescue. The Visual AI technology-driven AI-powered photoshoots and AI-powered editing can reduce the shooting & editing duration to a day-long process. 
2.  Put your smartphone to use
Phone cameras are getting better and better to the point where now you can get professional-looking photographs from a smartphone. By clicking from the right angles and focusing on the subject, we can easily click picturesque images for automobiles.
The whole procedure mentioned above is as simple as taking out your smartphone, opening the Spyne AI app, and clicking pictures.
The AI will guide you and help you identify the car angles at which you should be clicking pictures. Also, Spyne's AI has the power to showcase a detailed 360-degree view of your car. 
Are you worried about your car's background? The AI goes beyond just guiding the shoot at right angles. Once you click the images, the AI will help you edit the images in seconds giving you studio-like images with a number of backgrounds that you can choose from. 
3. Conduct the shoot in a proper light
Shiny paint, chrome bits, and glass can create glare points that make it hard for the eye to see other features of the car. Shoot your car against something interesting that isn't too distracting from your ride.
In a traditional shoot, you need to worry about the perfect lighting, have the best of backgrounds, work with the best photographers, and so on. But, with AI-powered shoots, you don't worry about the golden hour or reflecting surfaces. You have the freedom to conduct the shoot at any time of the day and hour and get decent shots of your car.
4. Edit to get stunning images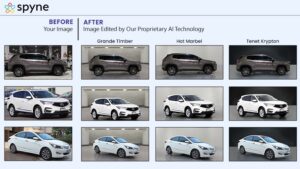 Automobile manufacturers and car dealers have traditionally relied on high-cost and labor-intensive photo processing for their vehicle catalogs. This process is very tiresome and takes a substantial amount of time to produce professional pictures.
AI-powered image editing in car photography is much easier, making life easy for car dealerships, resellers, and others by assisting them in transforming mediocre pictures into gorgeous images with high-selling backgrounds. 
Users can utilize Spyne's AI image editor to replace the background and floor of car photographs with a quality backdrop. It only takes a few seconds and looks a lot more professional.
Photo editing challenges solved by AI
After you upload multiple car images on the Spyne AI app, the following will be taken care of:
The background and floor

Masking of the number plate

Adjusting the window tint

AI-enabled processing to generate the perfect output for your business.
Conclusion
Photography and videography can be two very powerful tools when it comes to selling your car. It helps people who are unable to visit a showroom or dealership to view a vehicle without having to deal with inconveniently driving around looking for one.
The automotive industry has been a profitable market for decades. This status quo is not going to change in the future. So if you are planning on making a sale, remember to put some effort into visual marketing.
Ace your next car photo shoot and you can expect not just good sales but great sales. For this to be possible, all you have to do is get the right smartphone and upload the pictures on Spyne AI.