Vauto is a leading software company in the automotive industry, specializing in providing inventory management and pricing solutions to car dealerships. As a trusted brand under Cox Automotive, It equips dealerships of all sizes with the tools to effectively manage their inventory of new and used vehicles. It offers real-time market data, analytics, and a range of services, from appraisal and pricing to car merchandising and deal finding. This comprehensive suite of services empowers dealers to make informed decisions, maximize profitability, and navigate the automotive market.
What is Vauto?
vAuto is a software company that specializes in providing inventory management and pricing solutions to automotive dealerships. This is a Cox automotive brand, which is one of the world's largest automotive solutions providers. the software helps dealerships manage their inventory of new and used vehicles more effectively. It provides dealers with real-time market data and analytics to help them price their vehicles competitively and turn their inventory more quickly. This helps dealerships to get their used vehicles ready for sale more quickly and efficiently.
This is used by dealerships of all sizes, from small family-owned dealerships to large dealership groups. It is one of the most popular inventory management and pricing solutions in the automotive industry.

What are the Services Offered by Vauto?
This DMS offers a multitude of services that are designed to optimize every aspect of the car sales process and ultimately boost profitability. From valuation and pricing to merchandising and deal finding, It equips dealers with the tools they need to thrive in a competitive market. Let's explore these services in detail:
1) Appraisal Services
Their appraisal services include Used vehicle valuation, Market-based positioning data, vSquare functionality, Multi-out technology, Powerful integration, Group-level insights, and Manheim Express integration. With these, you can discover the best prices to sell your cars, maximizing your profits.
2) Provisioning Services
The Provisioning services include what to buy, what to pay, where to find it, Know the cars. This tool identifies the best vehicles for your live market and how to add them to inventory.
3) Pricing Services
The pricing services include AutoMatch™ Technology, Market-based pricing, Competitive sets, Performance evaluation, and vRank. The pricing module helps franchise-used car dealers optimize pricing for competitive rates and maximum profit.
4) Merchandising Services
The merchandising services include Virtual View, listing analysis, Intelligent Promotion, AutoWriter® Technology, Photo management, and SnapLot 360 Upgrade this Merchandising tool is to create attractive and accurate used vehicle listings that drive more traffic.
5) Deal Finding Services
It Includes services like Inventory Finder, Lender criteria, Subprime green light, and Customer-to-car matching to assist your dealership in locating inventory that all of your customers can afford so that you can promptly pair them with the right choice
6) Wholesale Hub
This wholesale service includes finding your wholesale holding inventory, Send vehicles to auction in bulk, and tracking vehicles at the auction hub these can streamline your wholesaling process by making it simpler to locate, deliver, and track your wholesale inventory
7) Enterprise
Your Provision capabilities are enhanced from the store level to the dealership group level with Provision Enterprise services like the status of every appraisal, appraising with all stores, monitoring KPIs, and reallocating inventory.
These are the various services offered by vAuto software and help you boost profitability.
What are the Advantages and Disadvantages of Vauto?
In the fast-paced world of automotive sales, the vAuto app is a great tool that provides various services and tools that you can benefit from but it comes with a few disadvantages too. Let's discuss them in detail:
Advantages
User-Friendly Interface: Users appreciate vAuto Provision for its user-friendly and easily navigable platform, which enhances efficiency in daily tasks.
Valuable Appraisal Tool: The software's appraisal tool is a significant asset. It allows for quick and precise vAuto pricing adjustments, ultimately saving time and driving profits.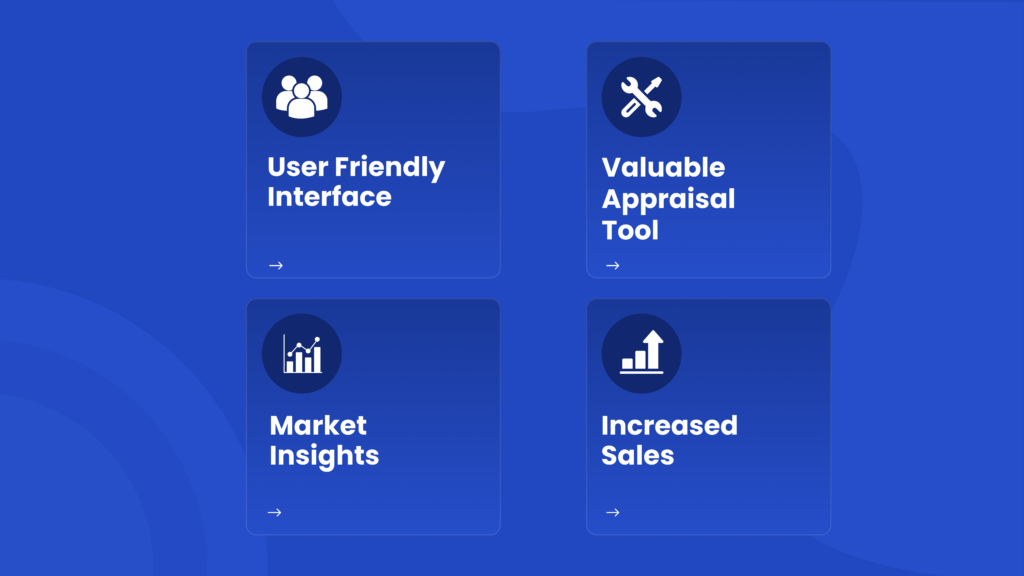 Market Insights: Benefit from valuable market information the software provides. It offers insights into vehicle rankings, market comparisons, and pricing optimization, reducing guesswork and maximizing profit potential.
Increased Sales: Many dealerships experience increased sales thanks to vAuto provision's features and market insights. It help them grow their businesses.
Disadvantages
Costly and Frequent Updates: Some users find the expense and frequency of updates for vAuto Provision to be a drawback, especially for those aiming to control costs.
Some of the icons are confusing and not easy to understand at first glance.
How Vauto Software is Helping with New and Used Car Inventory Trends?
It contributes to addressing the ever-changing landscape of new and used car inventory through various means:
For New Car Inventory
Conquest: It equips dealers with real-time insights into competing dealerships' new car inventory and pricing. This empowers dealers to price their new vehicles competitively, attracting a larger customer base.
Merchandising and Promotion: vAuto software aids dealers in making well-informed decisions regarding how to merchandise and promote their vehicles. It identifies in-demand vehicles and those with slower sales, enabling targeted marketing strategies and promotions.
For Used Car Inventory
ProfitTime GPS: The ProfitTime GPS tool provides dealers with up-to-the-minute data on used car inventory and pricing at other dealerships. This assists dealers in pricing their used vehicles competitively and securing favorable trade-in values.
Reconditioning Process: The software includes tools for efficiently managing the reconditioning process of trade-in vehicles. This streamlines the preparation of used vehicles for sale.
In sum, this software offers valuable support to dealerships in navigating the fluctuations of new and used car inventory in a volatile market.
Why Vauto is Important in the Automotive Industry?
To gain a better understanding of how much to offer, how long it will take them to sell it, and whether your specific car would be in demand. This DMS is crucial in the automotive industry for several key reasons. Firstly, it provides a comprehensive and highly specific analysis of vehicles, going beyond basic attributes like year, make, model, and trim level. This in-depth level of evaluation enables dealerships to gain an unparalleled understanding of their inventory.
One standout feature is its real-time and accurate market days supply data. This information is invaluable for dealers as it offers accurate insights into how quickly a vehicle will sell and how much it can be offered. This level of specificity is a distinct advantage that it provides, allowing dealers to maximize both their turn rates and profits.
Additionally, It helps dealers assess the demand for individual vehicles, giving them a competitive edge in the market. With these insights, dealers can make informed decisions about pricing, marketing, and inventory management. Finally enhancing their overall performance in a rapidly changing automotive landscape.
How Spyne Integrate with Vauto?
The seamless integration between our AI-powered vehicle imaging platform, and vAuto empowers dealerships. It will streamline their vehicle imaging and marketing processes, ultimately enhancing their overall efficiency and effectiveness.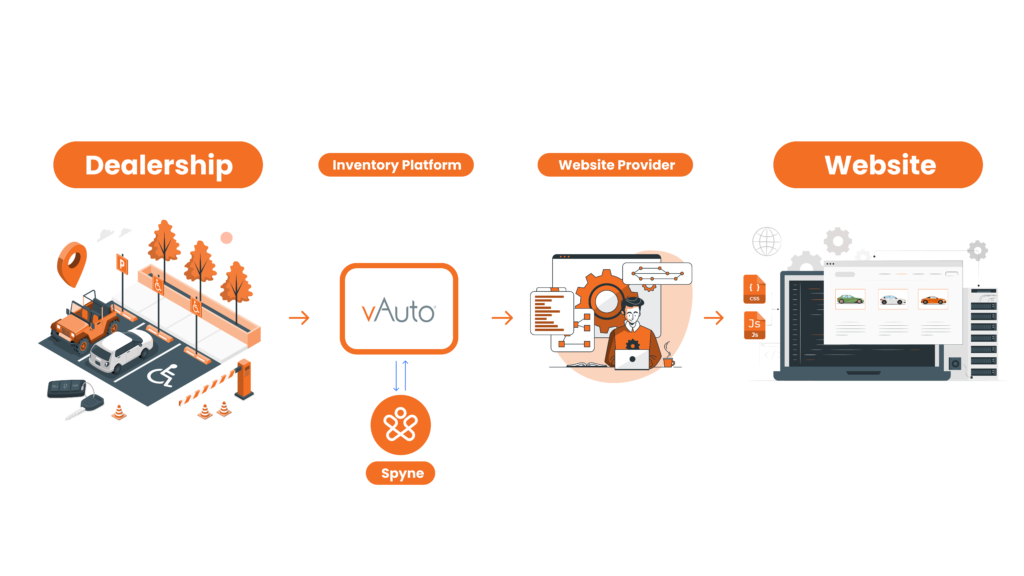 Step 1: Initiating the Integration
The integration process commences with seeking explicit authorization from both the dealership and DMS. Once consent is granted, the DMS provides us with access to its database, enabling the retrieval of vehicle-specific information and images.
Step 2: Image Received via FTP
When the dealership shoots the images itself, DMS transfers the unprocessed images to us then we receive the image and transform it into a processed image.
In cases where dealerships choose to capture images directly through our app, the images are automatically processed and transferred to the DMS, eliminating the need for manual image upload.
Step 3: Processing Images
For traditionally captured images, Our AI leverages its advanced image processing capabilities to transform them into high-quality, studio-grade photographs. This automated process significantly reduces the time and effort required for manual image editing and ensures consistent image quality across the dealership's inventory.
Step 4: Image Transfer via FTP
Post completion of image processing received from the DMS, Our software securely transfers the enhanced images back to vauto via FTP, a robust file transfer protocol. This ensures seamless data exchange between the two platforms.
If you're using our app, then the images are automatically transferred to the DMS via FTP, a robust file transfer and they are forwarded to the website provider.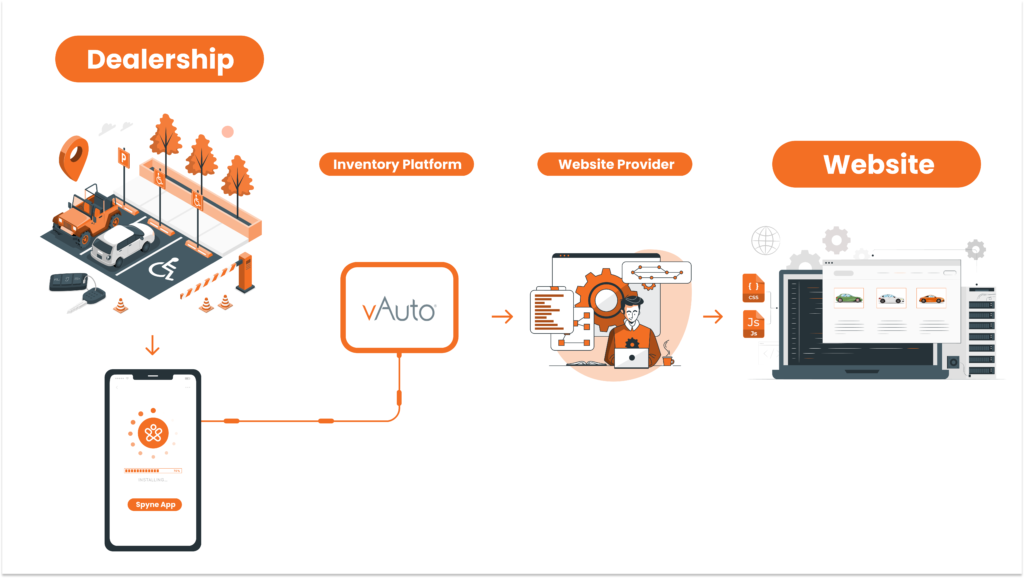 Step 5: Distribution to Website and Marketing Channels
vAuto API seamlessly integrates the enhanced images into its platform, enabling them to be effortlessly published across the dealership's website, social media channels, and advertising campaigns. This unified approach ensures that vAuto customers have access to high-quality vehicle imagery regardless of the platform they are using.
Step 6: Continuous Updates
Our app integration automatically updates vehicle information and images across all dealership platforms. ensuring that customers always have access to the most up-to-date information. Ensures that customers always have access to the most up-to-date information.
Top Benefits of Spyne and Vauto Integration
The integration of these platforms is highly beneficial to those who are in the car dealership industry. It can help them have a better workflow and a more organized system. Here is the list of the top benefits:
1) Streamlined Workflow: The integration automates and simplifies the vehicle imaging and marketing process, saving time and effort.
2) Enhanced Image Quality: Our AI-powered image processing transforms traditionally shot images into studio-grade photos. Enhances the visual appeal of vehicle listings.
3) Increased Visibility: The integration ensures that high-quality vehicle images are consistently available across the dealership's different platforms. It increases vehicle visibility and attracts more potential buyers.
4) Improved Customer Experience: High-quality vehicle imagery provides vAuto CRM customers with a more engaging and informative shopping experience. It leads to increased customer satisfaction and loyalty.
5) Data-Driven Insights: Its image analytics capabilities provide dealerships with valuable insights into their inventory. It helps them make informed decisions about pricing, marketing, and merchandising.
Conclusion
The integration of Spyne and vAuto offers numerous advantages to the automotive industry, particularly to dealerships. It streamlines the vehicle imaging and marketing process, enhances image quality, increases visibility, and improves the overall customer experience.  This integration boosts dealership efficiency, customer attraction, and profitability through data-driven insights and streamlined image management.