For every automotive retailer – dealerships, marketplaces, and even independent sellers – car merchandising is crucial. Most of your car buyers are online, and you should be too. And while a multitude of factors is responsible for generating car sales online, how you project your inventory on the internet is the primary essential.
In this digital era, your merchandising solutions need to be digital as well. Most buyers spend their time online, researching options, and even buying on the web! The competition is already quite tough, which is why you need effective digital merchandising solutions right now!
This article will run you through everything related to digital automobile merchandising.  Let's get started.
What is Car Merchandising?
Automobile merchandising is the process of displaying your inventory in an appealing way to catch potential buyers' attention. It comprises strategies to expand your audience, increase footfall in your dealerships, build your brand, offer a transparent experience to consumers, etc.  For effective vehicle merchandising, you need complete transparency in the way you display your vehicle inventory, i.e., offer all necessary information – price, features, colors, design, mileage, previous owner history, available finance options, etc. – upfront to the buyers.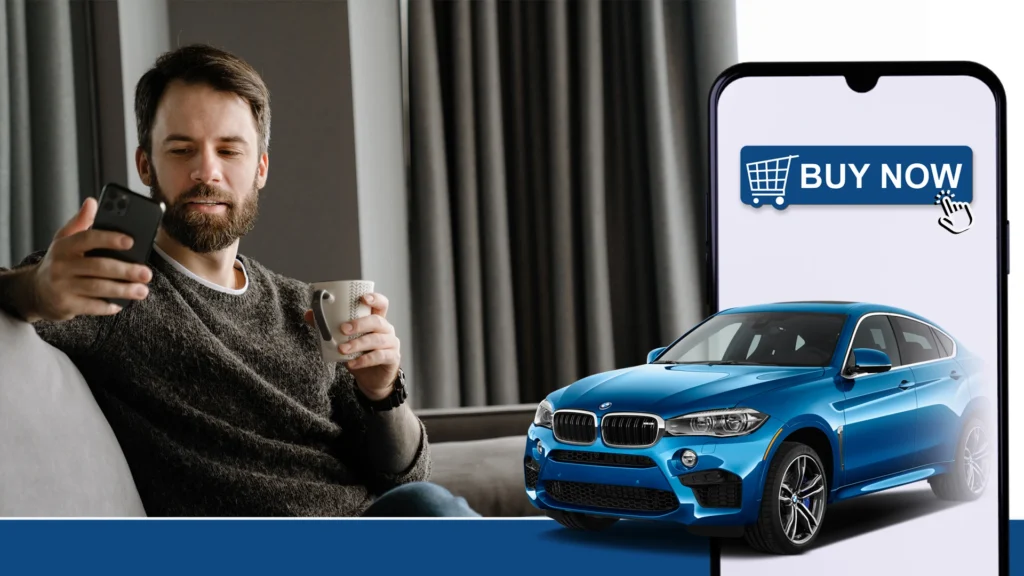 Until a few years ago, businesses used to focus on offline and physical merchandising. But, with the advent of the internet and almost every retailer now selling cars online, digital merchandising has become essential for automotive businesses.
Why does it matter, though? Let's understand that…
Importance of Digital Vehicle Merchandising
Around 92% of car buyers research online before deciding to visit a dealership. Not just that, but 61% of the modern car buying process takes place digitally! People browse through different listings on the internet – hundreds if not thousands – for the exact vehicle they want (and a good deal too). At the end of it all, they only select one option.
What compels buyers to select that one option from the sea of cars and sellers? Well, the answer is complicated. Price (including deals and discounts) is the most important factor, followed by the images and videos used for listing a car, etc.
When shopping online, buyers decide from the quality of images and videos, how descriptive they are, and how professional the sellers appear through their catalog. Research states that 90% of car buyers consider photos extremely important when purchasing online. Also, 64% of shoppers say that new-age merchandising formats like 360° videos would convince them to buy a car without even taking a test drive.
That said, you also need Auto Digital Marketing to promote your car retail business (via paid promotions, good SEO, etc.) and get noticed by relevant audiences. Also, your online sales platform needs to be engaging as well as easy to navigate. Otherwise, you risk losing people to your rivals.
Benefits of Optimizing Car Merchandising for the Digital World
The benefits of optimizing auto merchandising for the digital world are numerous. Here are some examples:
1. Increase sales
A lot of car buyers rely on the internet for research before buying a car. They jump from one website to another, comparing vehicles, prices, and physical conditions (if buying used cars) to find the right fit. Proper online merchandising would help you capture online audiences and convert them into buyers.
2. Attract more attention to your car listings
As mentioned above, with proper product catalog optimization and merchandising, more and more people will find value in your vehicle listings (and even online ads). This will increase the number of visitors to your website, ultimately leading to more sales.
3. Increase profit margins and build integrity in the market
Stating all the required information about the vehicle in your inventory adds a touch of authenticity to your website. This, in turn, increases the buyers' trust. Not only that, but proper merchandising also gives your car business an upmarket feel, allowing you to sell your vehicles for better prices.
Features of Effective Digital Automotive Merchandising
At a glance, digital merchandising may look like a straightforward process. You get a car photoshoot and create a catalog informing potential buyers about your inventory. After that, you list your catalogs online for people to check out, either on a proprietary website or a third-party marketplace. However, this is easier said than done, and there's a lot more to it.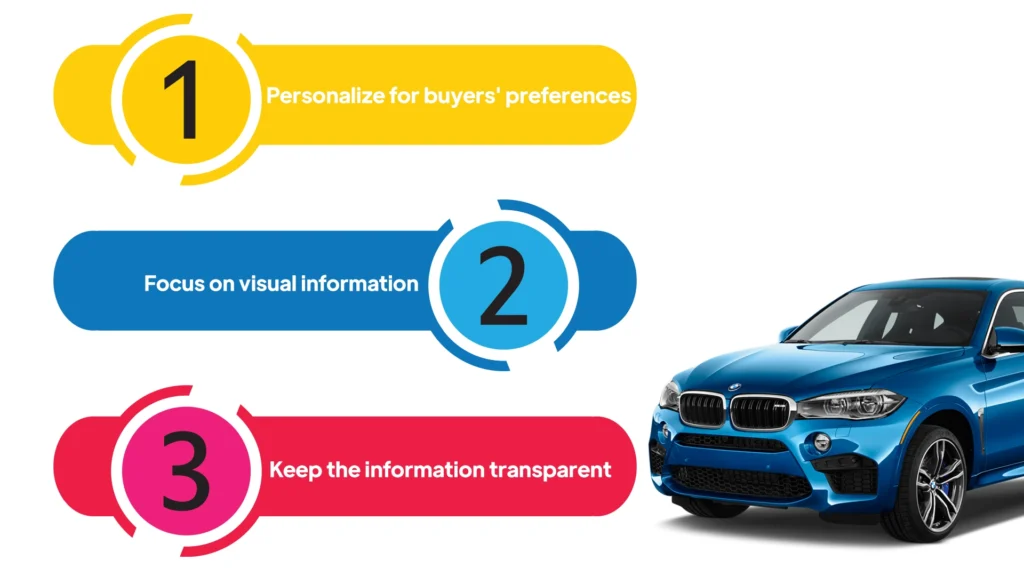 Certain features of online merchandising make your automobile business stand out among thousands of others:
1. Personalize for buyers' preferences
All successful online retail platforms utilize technology that creates a personalized shopping experience based on buyers' browsing patterns. You should leverage such insights and data to cherry-pick listings for shoppers based on their feature preferences, budget, type of car, and more. By implementing this, you can generate high-quality leads.
2. Focus on visual information
If you've just started selling cars online, you would think that long, catchy descriptions and Automotive Marketing are all that are needed to inform buyers. That isn't true, though. The buyers' most preferred information tools are visual – high-quality car images and videos. They not only make the experience more seamless and enjoyable but also help people retain information for a longer period.
3. Keep the information transparent
Transparency is one of the most essential features of both new and used car merchandising, be it online or offline. From prices and available offers to the condition of your cars (showcasing all dents and damages), always be clear about the process and never hide anything from your customers. If there are any extra charges or additional conditions, mention them upfront.
Elements of Successful Online Vehicle Merchandising
You now know what automobile merchandising is, why it is essential and what are the major features of its successful strategies. In this segment, we talk about its critical elements: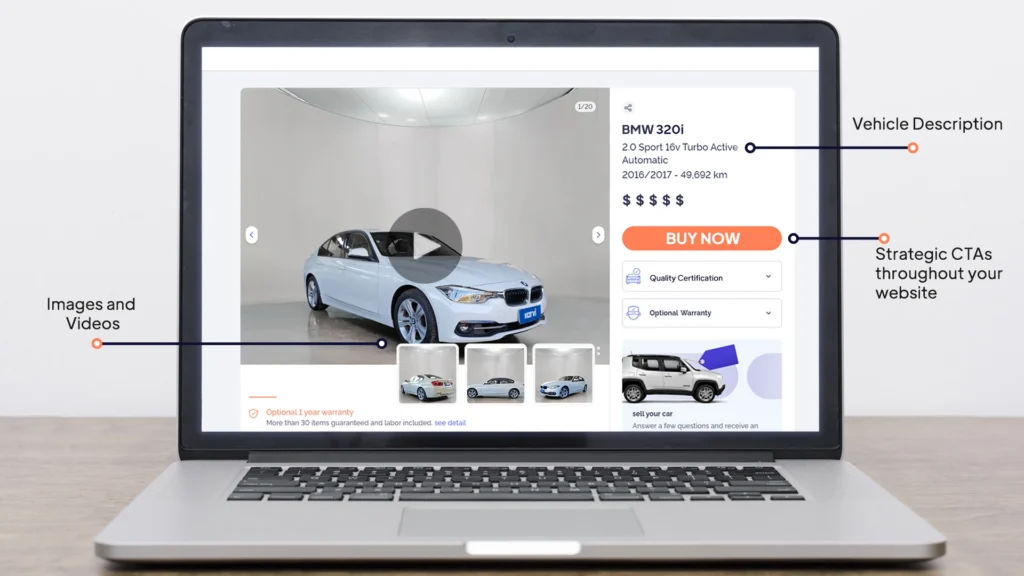 1. Images and videos for vehicle merchandising
Online merchandising is nothing without high-quality images and videos. They help display your inventory in an appealing way and improve the viewer experience on your VDP (Vehicle Display Page), thus increasing lead generation.
Impactful car images and videos are also essential to build trust between the buyer and seller. A good quality visual catalog instantly builds the seller's authority, whereas cluttered, unprofessional images or stock images can make a retailer seem unreliable.
You'll also need images and videos for advertisements and promotions, which is another reason all your visuals need to be of top-notch quality.
2. Vehicle description
Focusing too much on the visual information in the catalog does not mean that there is absolutely no need for a written description. Along with visual information, illustrate the car's condition, features, warranty, ownership background (for used cars), pricing, and all other necessary information in a written format.
Written descriptions are essential to optimize your VDP for search engines. Make a list of relevant keywords and optimize your content with them. Create backlinks, both internal and external, and always use easy-to-read language.
3. Strategic CTAs throughout your website
What are CTAs? Calls to Action are the buttons, pop-ups, or slide-ins that compel a person browsing your website to take action. This can be anything from a "buy" button to a query form to contact the seller; it depends upon the nature of your business.
For car retailers, the purpose of your listings is only complete if the buyer purchases from you. Strategic CTAs are the key to engaging online buyers and pushing them to make a purchase; missing out on them will hurt your business.
The ROI of New & Used Car Digital Merchandising
Merchandising is expensive, and you're probably evaluating whether or not it's worth the investment. For used car dealers, the investment seems even heavier, which can affect profit margins further. Well, there's no easy way to calculate the return on investment (ROI) here. You'll need to set up tracking across the different online platforms that you use in order to do that.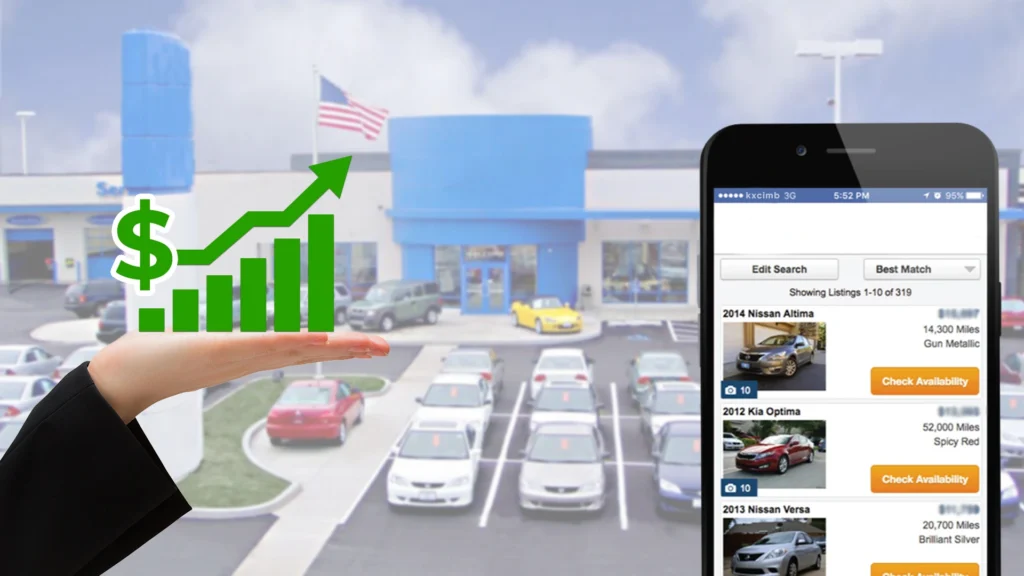 Created an advertisement campaign? Track the cost and performance across different platforms where your ads ran. Hired photographers and rented a studio? Add up the bills. You'll need to keep a log of all the merchandising activities and all the leads/traffic you receive from each channel.
DMS (Dealer Management Systems) like vAuto Provision, Dabadu XRM, DealerCenter, etc., will help you keep track of your inventory, which is also a necessary step in your merchandising efforts. Then, compare your revenue against the amount you've spent across channels, and you'll be able to calculate the most accurate ROI for your car retail business.
Top 10 Online Merchandising Tips for Car Retailers
1. Invest in high-quality inventory photography
No matter how good the website design and vehicle description are, if your inventory images aren't up to the mark, they will spoil the whole broth. Hire a professional Car Photographer who knows how to get the best car images that sell on the internet. You can get a freelancer if your inventory isn't too big, or a full-time photographer if you have a massive lot.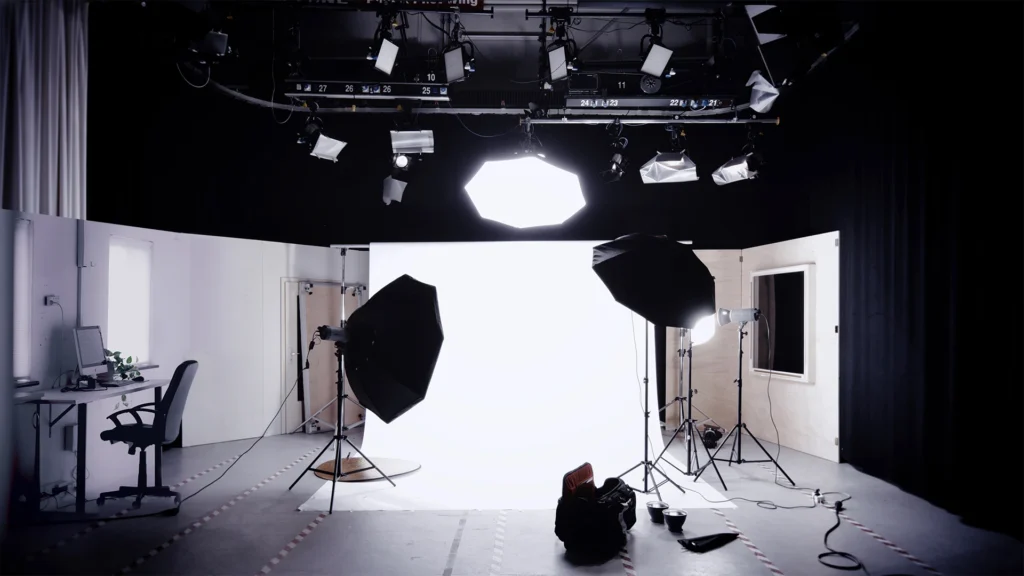 You might want to consider shooting in a studio and with a turntable for a professional finish. However, it can all be expensive, given the high cost of car photography. Don't worry. The last point on this list devises the perfect solution for every car seller.
2. Don't limit yourself to images
Yes, car images are of paramount importance, but there is more. Videos are a must for vehicle merchandising because they provide a vehicle inspection experience similar to that of a physical tour. These videos can be of multiple types: 360-degree spin videos, detailed walkarounds, etc.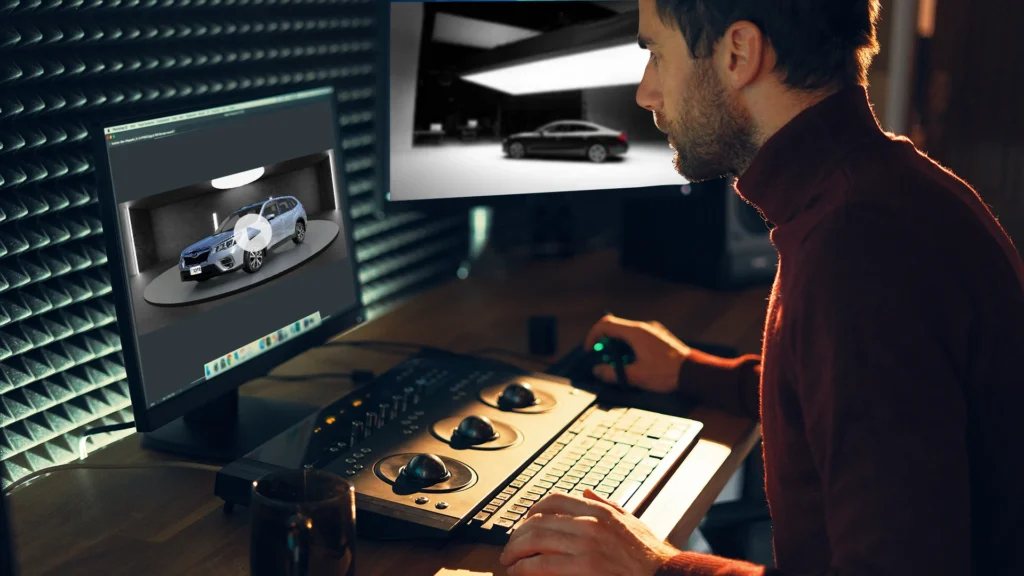 So, what are these videos? 360-degree spin Car Videos are rotating videos of a car mounted on a turntable. It gives a fair idea of how the car looks from various angles. On the other hand, a detailed walkaround video involves showing a car inside out, allowing people to "feel" a vehicle vicariously. This helps your website feel like a digital extension of your dealership – a virtual car showroom.
3. Leverage SEO strategies to rank your VDPs
The content in your VDPs must be optimized for search engines like Google, Bing, Yahoo, etc. A proper Auto SEO strategy will help your car listings appear on relevant searches, increasing your chances of a sale.
4. Behavioral targeting for personalization
The best way to offer a personalized experience on your car dealership website is by deploying behavior-based targeting strategies. Behavior-based targeting means you can go beyond the usual cookie-based techniques and gather data on a web user's online browsing and shopping behaviors.
Here is an example of behavioral targeting- if a buyer repeatedly visits different Car Selling Platforms checking for reviews of SUVs, it clearly indicates that the buyer wants to buy an SUV. Once you have such data in hand, leverage it! Design new content pieces like tailored emails and ads to engage with customers!
From sales and service to marketing and finance, use Automotive Solutions to make sure that customer data is used in every aspect of how you run your dealership.
5. Run campaigns based on trends
Jumping on popular trends is a good way to promote your business. Pay attention to what's trending on Social Media Auto, and plan your advertising/promotional campaigns accordingly. Other than that, you can also offer festive deals on your vehicles to capture the audience's attention.
6. Connect with your audience
It would help if you also established a solid social presence to attract more customers online. Make sure all social media posts are tailored toward each platform—Facebook is great for posting images and videos. Similarly, Twitter is better suited for short messages, and Instagram works best with beautiful photos and reels. A smart social media strategy can help build a strong brand image as well.
7. Optimize your website for mobile devices
Smartphones have become an inseparable part of most of our lives; there are more than 294 million smartphone users in the US. Most people use their mobile phones and tablets to surf the internet and you can't expect them to switch to a desktop or a laptop just to check out your website. For your online car sales business to grow, you need to ensure that your digital dealership is optimized for mobile devices.
8. Keep your online inventory updated
You'll also need to regularly update your online car listings. This is necessary if you wish to maintain transparency. Every time a vehicle is added to your lot rolls out of the lot or undergoes repairs/maintenance, you should update the associated VDP as well.
9. Present vehicle condition reports (for used cars)
Showing the vehicle's current condition effectively communicates that the car has been well-maintained, but that alone is not enough! When purchasing a pre-owned vehicle, buyers want to be sure that their ride won't suddenly require major repairs requiring them to cough up some serious moolah.
An official vehicle condition report is better; it makes it easier for customers to understand a car's condition. A good vehicle report from CARFAX can work wonders to convince buyers to trust you with their next used car purchase.
10. Use cutting-edge AI technology for automobile merchandising
The first two points on this list might have given you the idea that Automotive Merchandising is an expensive process. The truth is, it really is! Car photography and videography can exhaust thousands of dollars. So, what is the solution?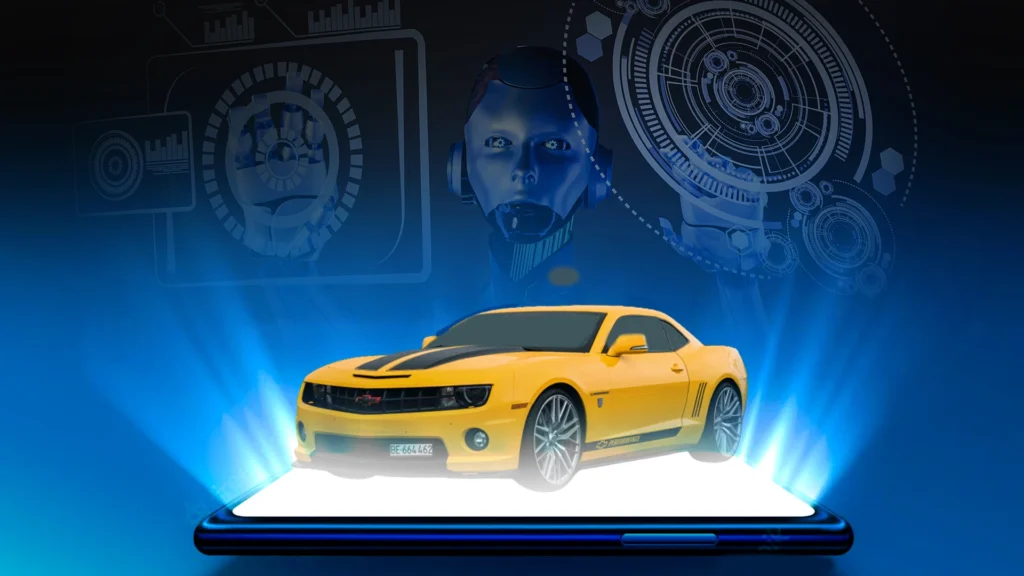 AI-based car photo editors like Spyne empowers car sellers to speed up their merchandising efforts at an affordable price. They eliminate the need for professional car photography and production setup, making the entire cataloging process a cakewalk.
All that you need is just a smartphone with a good camera, and you are set! You get guided photoshoots via Spyne AI smartphone app, wherein you need to match the car to the on-screen overlays. Once the shoot is complete, the system edits the pictures automatically! With Spyne, you can:
Choose from 100+ professional backgrounds for your car – both studio and outdoor backdrops are available, along with the option to upload custom ones
Add shadow effects on the floor and at the backdrop to give a realistic touch to the output
Transform the floor to a studio turntable or a simple, refined floor to eliminate any trash or unwanted elements
Add tint to the windows and windscreen of the car. It eliminates any unwanted shadows or reflections from the glass, thereby giving professional output in seconds
Sounds like a revolutionary merchandising platform, doesn't it? We suggest you try out our AI photo editor yourself!
Automotive Merchandising with Spyne
Spyne is an AI-powered cataloging platform that can help you list your car inventory online quickly and effortlessly. This modern, smart solution can help you shoot high-quality car pictures without any additional assistance, followed by automated image editing.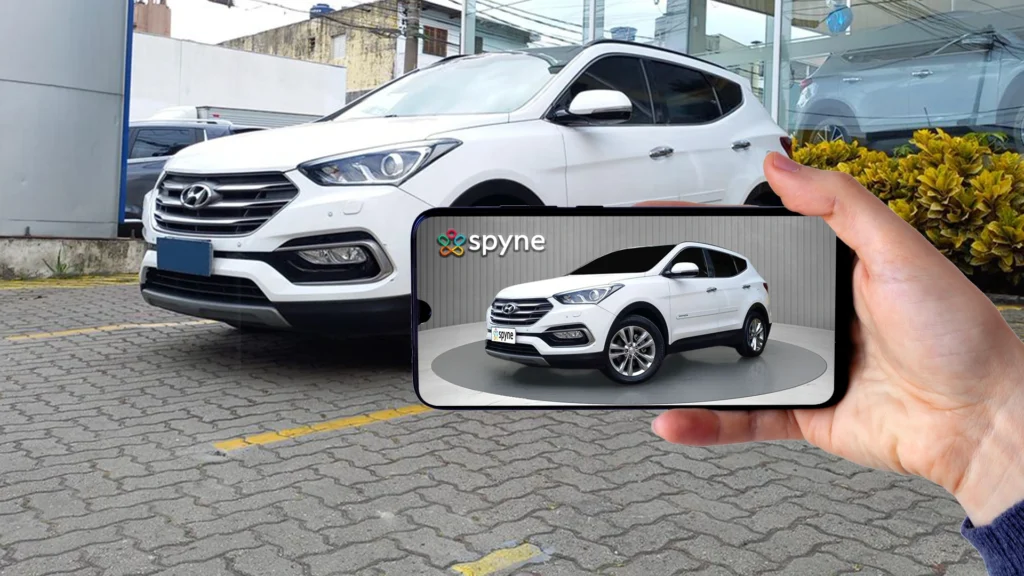 The following are the benefits of using Spyne for creating digital car catalogs:
1. 80% faster time-to-market
Thanks to guided photoshoots and automated image editing, you can speed up the entire cataloging process significantly. Our clients have reported that Spyne has helped them hasten the online car listing process by up to 80%!
2. 75% reduction in costs
You don't need expensive studios or professional photography crews! A simple smartphone with a good camera would do the trick! Spyne's AI cataloging services are significantly more affordable than traditional means – an average of 75% lower costs, as stated by the business we've helped grow!
3. 40% better sales conversion
The biggest benefit of using high-quality images for your car listings – it helps build consumer trust in your brand, which increases your sales potential. Our clients have noted better conversion rates – around 40% on average – after using Spyne-edited images on their VDPs.
4. 100% consistent results
Spyne AI gives consistent output every time, no matter how many photographs you process. The system can edit hundreds of images in an hour and still adhere to the highest quality standards. This is in stark contrast with manual editing, where an increased workload can decrease the quality of the output.
Note: Spyne also has API and SDK solutions that can be tailored to your car merchandising strategy.