Marketing is all about what you see, and these days, people best resonate with 3D images. The appealing 3D presentation of the products is the key tool for attracting people, as 3D images provide better visualization of the products. Visuals dominate the e-commerce industry, and 3D product visualization is the fastest-growing aspect when it comes to trends in e-commerce.
3D product rendering or 3D product visualization is creating a realistic and detailed 3D representation of a product that perfectly represents the products with all the angles and shades highlighted in the right places. It provides the product with a realistic look that looks appealing to the customers.
The article will take you through 3D product rendering, its uses, and how effective it is to use 3D product rendering. So, let's get started!
What is 3D Product Rendering?
3D product rendering or 3D product visualization is creating a digital 3D model of a product and then using specialized software to create high-quality, photorealistic images or animations/non-photorealistic images of that product. The process involves using computer-aided design (CAD) software to create a detailed 3D model of the development, which can then be manipulated and rendered from different angles, with various textures, lighting, and other visual effects added to create a lifelike representation of the product.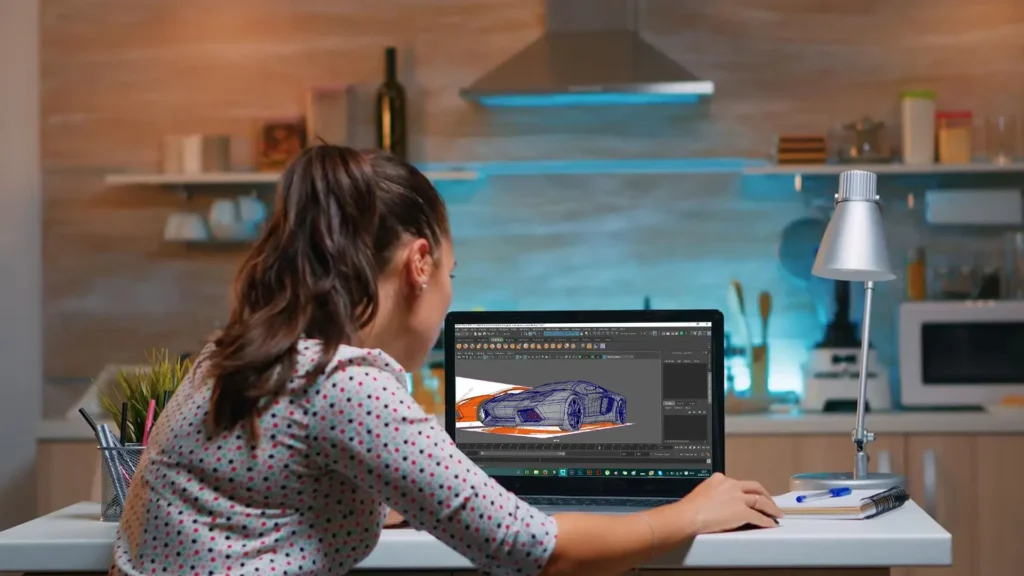 3D product rendering is an advanced and highly fruitful technique that makes the process of developing high-quality images convenient. With 3D rendering, designers and marketers can create virtual product models that can be viewed and manipulated from all angles, enabling them to showcase product details, functionality, and design in ways that traditional photography and video cannot.
3D product rendering services are becoming increasingly popular due to their flexibility, cost-effectiveness, and ability to create hyper-realistic images that can be used for various applications, from print to digital media.
Who Uses 3D Product Rendering?
By creating a 3D product rendering, designers and marketers can show a product's features, design, and functionality without needing physical prototypes, saving time and costs. Additionally, 3D product renderings can be used by various industries, providing a versatile tool for promoting and selling products.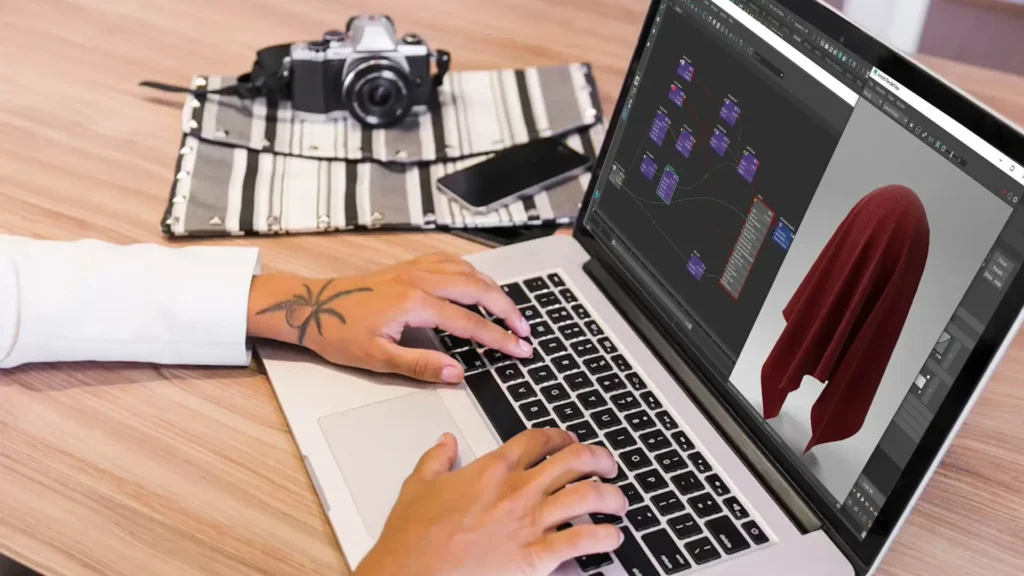 3D product rendering is majorly used by-
Product Designers and Marketers
3D product rendering is a beneficial technique for designers and marketers, allowing them to design their models, assess their functionality, and build/structure before producing the original product. It gives a better idea of the product and any changes if required in the product. The digital product models developed by 3D Product rendering Photoshop are a time saver and cost-effective, providing beneficial results for the industry.
Architecture and Real-Estate Firms
The use of 3D product rendering by architecture and real-estate firms has given the industry a much-needed advantage. 3D product rendering allows the builders to develop the digital 3D model of the buildings or landscapes that clearly and precisely represents the ideas of to-be-developed buildings and landscapes for making the necessary changes or adding the necessary features in the building. The 3D images developed are easy to showcase to the dealers, clients, or investors for smooth closing of the deal.
Advertising Agencies
To create realistic and visually appealing images of the product for marketing or advertising purposes, hiring a 3D product rendering tutorial company is a highly suitable option. It will give the advertisements a natural look that people can relate to and will boost the purpose of the advertisement. 3D product images can also help make the advertisement campaigns appealing and impact-worthy.
E-Commerce
High-quality images are a crucial component of e-commerce, and involving 3D images or visualization in e-commerce is highly beneficial for creating a strong presence and boosting sales. 3D rendering product images allow the customers to view the product from all angles and then make their purchase after complete satisfaction. 3D rendering product photos for e-commerce websites give the product images a natural and realistic look.
Game Developers
To design and develop the virtual environment, characters, and scenarios in video games, 3D rendering photos is the best option. It allows the developers to experiment with different ideas and develop the best possible ideas. Also, it gives realistic and immersive outcomes that provide the game with a natural look.
Film and Television Studios
3D rendering has applications in various industries, and film and television studios are no exception. 3D-rendered images provide the opportunity to be as creative and innovative as possible by developing computer-generated imagery and adding special effects to the scenes. Developing imagery for films and television studios is normally costly, but 3D rendering is cost-effective and time-effective.
Benefits of 3D Rendering Products
3D rendering product has various uses due to their wide application. Some of the benefits of 3D rendering are-
Viewer Engagement
One of the biggest advantages of 3D Product rendering is the high engagement of viewers with the product, which ultimately benefits the company or industry. 3D visualized images are better to assess and interact with. Hence, customers' interaction rate with 3D product images is higher than with other images, resulting in better engagement.
Product Customization
3D product rendering allows you to customize the products as needed and edit them as required. It also allows us to experiment with new ideas and changes to visualize the future product better. 3D rendering allows the development of specific images with needed requirements, according to the consequences for high customer engagement.
Logistics
3D product rendering saves a lot of time, money, and effort by allowing the companies to use only one designer who can develop high-quality 3D images of the product. It is much more effective compared to traditional photoshoots, where different locations, props, and tools are required for product photoshoots. The 3D photo development can now be done with minimum shipping requirements, resulting in effective logistics.
Time Efficiency
Gone are the times when a lot of time must be invested in arranging a high-quality 3D image photoshoot. Now it can be done with the help of 3D product rendering in no time. High-quality 3D visuals of the products can be developed and redeveloped with comfort and ease if necessary. It saves the designer and the company a lot of time and effort. The end products are also much better compared to traditional methods.
Affordability
Another major benefit of 3D product rendering is affordability. 3D product rendering provides
high-quality results at a minimal price and the scope to make various changes and additions at minimal prices. Hence, 3D product rendering is a suitable go-to option for developing 3D visuals that are cost-effective and conversion worthy.
Safety
Developing visuals with 3D product rendering is safer than traditional methods involving dangerous or harmful locations or situations. One doesn't have to put oneself in dangerous situations for a perfect picture physically. Instead, 3D product rendering will do it much more efficiently and precisely. 3D product rendering can be used to represent dangerous features in images like accidents, posing in dangerous locations, etc.
Flexibility
3D product rendering is a highly flexible technology that allows you to navigate the visual development process at your own pace as per the requirements. One can edit, add or remove any feature after the development of visuals also. Editing the detailings, shading, lighting, layouts, and other features is handy with 3D product rendering. It allows for creativity to run free and work with convenience and ease.
Drop-Shipping
Not everything is available all the time at the stores or in stock. This doesn't mean it won't be available or arranged when needed. Drop-shipping presents products or goods on the website that are currently unavailable. 3D product rendering helps us to develop visuals of products that are not physically available. Here, 3D product rendering is instrumental as it helps in a smooth buying-selling loop.
Detailed Presentation
3D product rendering helps to bring the best out of the product. With the help of 3D product rendering, one can highlight the best features of the product that makes the product unique and different from others. It also helps focus on detailed aspects of the development to bring out the product's uniqueness and emphasize its critical parts.
Consistent Quality
With 3D product rendering, one doesn't have to worry about the deteriorated or declining quality of the images. 3D product rendering helps generate consistent, high-quality, and effective images that are appealing to the customers and worthwhile for the company. An effective 3D product rendering also ensures that visuals are high quality.
3D Rendering vs Product Photography- Which to Choose?
Product photography is the traditional method of arranging an extensive photoshoot, looking after every arrangement, dealing with prior and after arrangements of photoshoots, and much more. Further, a lot of time is spent developing the ambiance; second, clicking the images and editing them to make them worth using and appealing to customers.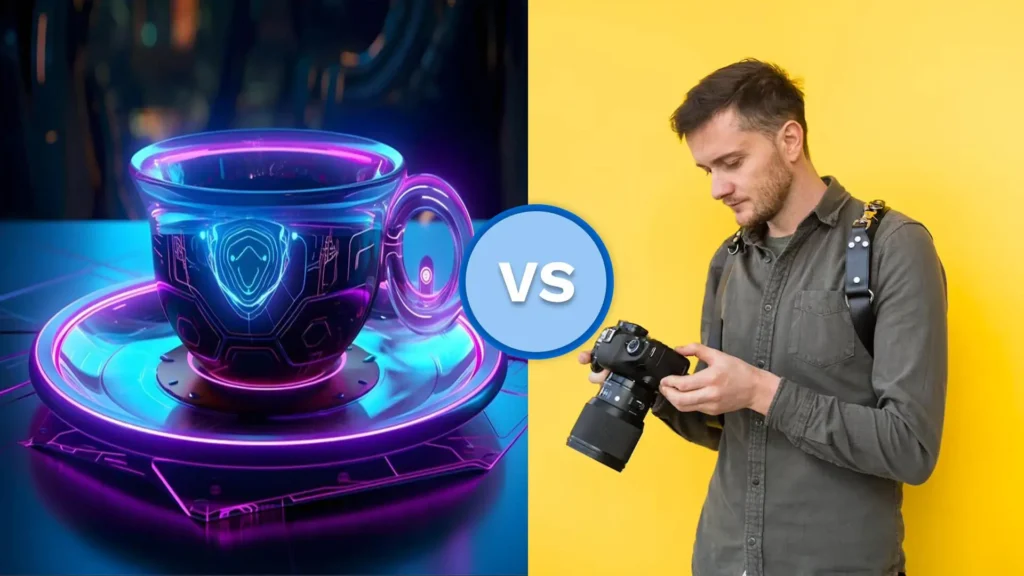 In 3D product rendering, all these actions can be done using artificial intelligence, and high-quality product images can be developed with the help of a few clicks. It is a cost-effective and time-effective opportunity that can be easily executed at one's own pace. 3D product rendering services also provide the scope for better visualization of the products for efficient outcomes.
Some major differences between 3D rendering and product photography, in terms of key aspects, are-
Lighting
Lighting is a crucial requirement of a successful photoshoot. Good light can enhance your photoshoot, whereas poor light can destroy the photoshoot. It is crucial to consider the lighting requirements in product photography carefully. 3D rendering smoothly solves this issue while developing the prototypes. The technology will deal with the lighting issue and provide the opportunity to adjust the lighting in images as needed without any additional effort.
Product Customization
Every product requires a customized set-up to bring the best out of it. No same props or set-up will work for every product. Arranging customized requirements in product photography is challenging and requires time and effort. 3D rendering can do it easily. Apart from customizing the ambiance of every product, 3D rendering also allows for assessing different backgrounds of props and helps to select better, with no additional costs.
Affordability
Product photography is a series of actions that must be arranged and executed properly for a successful photoshoot. It requires a lot of money just to plan a small-scale photoshoot. In contrast, 3D product visualization services are a cost-effective option that allows us to develop visuals at a much lower price than traditional product photography. The quality of visuals is not hampered in both options.
Props
Product photography requires various props for executing a photoshoot. The photographers arrange the products on the props and click images from different angles to bring out the best of the product. But, with the help of 3D rendering, there is no need for props or prototypes, as the 3D technology will develop the 3D images independently.
The Cost of 3D Rendering Products
3D rendering is an advanced and novel technology that is convenient. Various industries can benefit from this technology, and the price of 3D rendering varies according to different industries' products. Some industries require complex photoshoots, so the cost can go high, whereas some visuals are easy to develop. Hence, they need low cost. Overall, the 3D product rendering price can begin as low as $50 and go high depending on requirements and products.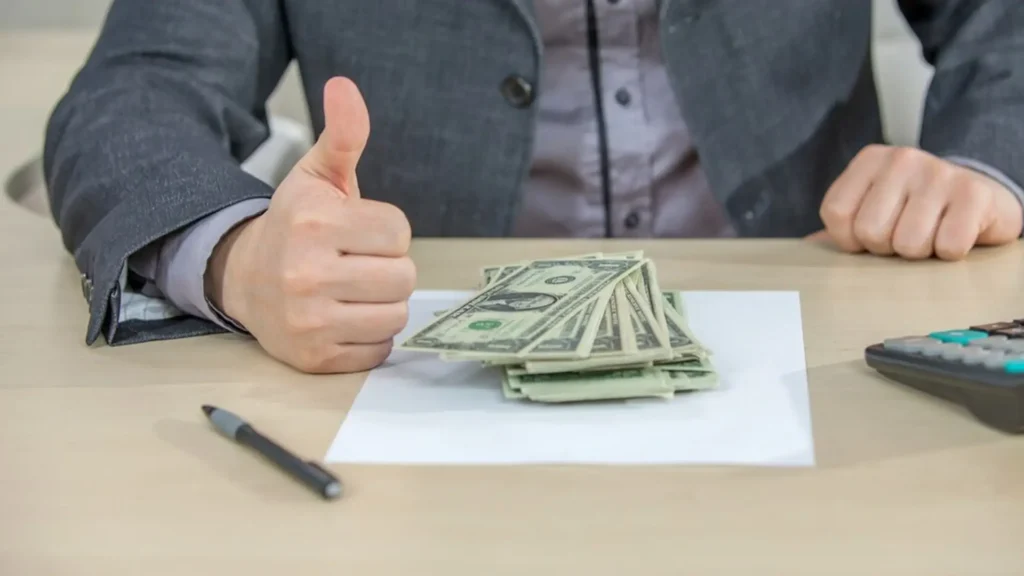 Another aspect that determines the cost of 3D rendering is the services that the project requires. If the visuals need a lot of editing, additions, or changes, the price can vary accordingly.
Use Spyne for 3D Rendering Products Easily and Affordably
You can try Spyne's Product Photography in the darkroom. You can also submit a special request for 3D rendering for your product images. The benefits you can avail yourself of are as follows:
A 3D model with ultra-high rendering to make the product you are offering to stand out in the market.
A perfect background can be provided with the 3D-rendered model so that model becomes more appealing, or the background can better explain and describe the product.
Lights are an essential factor when considering 3D models, just like it is for product photography or even fashion photography. They use it to make it easier to inspect the product.
Environment and composition refer to the surroundings of the model along with the contents of the surroundings. This can help to describe the product through visuals.
Last but not least, there is also an option of creating a 360-degree video or 3D product rendering video, which will play itself for the potential buyer to explain your message.
You can use this model or video on various websites, social media, public listings, catalogs, and advertisements. Hence, companies accept 3D models as valid advertisements and can use them as a great way to offer their product.
Conclusion
3D product rendering is a highly effective and time-saving technique that helps to develop 3D visuals of the products in less time. The development team develops, edits, manipulates, and finalizes the 3D model of the development, and then converts it into a visual. 3D rendering has applications in various industries due to its various benefits and efficient results. 3D rendering is a cost-effective, flexible, and time-effective technique.