As someone who sells cars, whether through a dealership or on your own, you have a lot on your plate. You need to keep track of all your cars, constantly update your online listings and website, talk to people who might want to buy a car, and take care of other important aspects. This balancing act can become overwhelming, particularly with the need for multitasking in dealership settings. To make sure your car business runs smoothly, you need tools that make things easier and faster, so you don't have to do everything manually. Dealer.com has just the right tools made specifically for car dealerships. They help you work better and get more done.
What is Dealer com?
Dealer com is a leading automotive digital marketing solutions provider that helps dealerships and OEMs maximize their online presence and drive sales. Thousands of dealerships and OEMs trust dealer dot com. Their main emphasis is to help dealerships succeed in the automotive retail market. If you own a car dealership or work in the automotive industry and want to do better with online marketing, Then this DMS is the key for you. It's a strong tool that can really boost your business success.

Services Offered by Dealer com
Dealer com has lots of tools to help car sellers and manufacturers get more customers online. They offer different kinds of services that fall into these main categories:
1. Websites and digital retailing: Dealer com websites that showcase dealerships' inventory, promote special offers and provide a seamless online buying experience. They have tools that let people shop for cars, set up appointments, and even buy vehicles on the internet.
2. Marketing Automation and CRM: Their marketing tools and customer management system help dealerships handle customer relationships, keep track of ads, and guide potential buyers through the steps of buying a car. These tools also show how customers act and what they like, so dealerships can make their marketing more personal and satisfy customers.
3. Advertising and Retargeting: At Dealer com, they have different ways to advertise, like showing up on search engines, using banners on websites, and posting on social media. They even have a way to show ads again to people who have already checked their website or knew about their brand, keeping them interested and returning them to the dealership.
4. Content and Creative: It provides dealerships with a team of experienced content creators and designers who produce high-quality marketing materials, including blog posts, social media content, and video ads. These materials help dealerships establish their brand voice, attract new customers, and promote their products and services.
5. SEO and Reputation Management: At Dealer dot com, the SEO experts make sure dealerships' websites show up better on search engines so more people can find them. They also monitor reviews online and make sure the dealership looks good everywhere, so people think positively about it.
6. Analytics and Reporting: At Dealer com, they have tools that show dealerships how well their ads and marketing are doing. They measure things and make charts so dealerships can make smart choices based on the numbers and get the most out of what they spend.
Advantages of Dealer com
There are numerous advantages that one dealership can benefit from.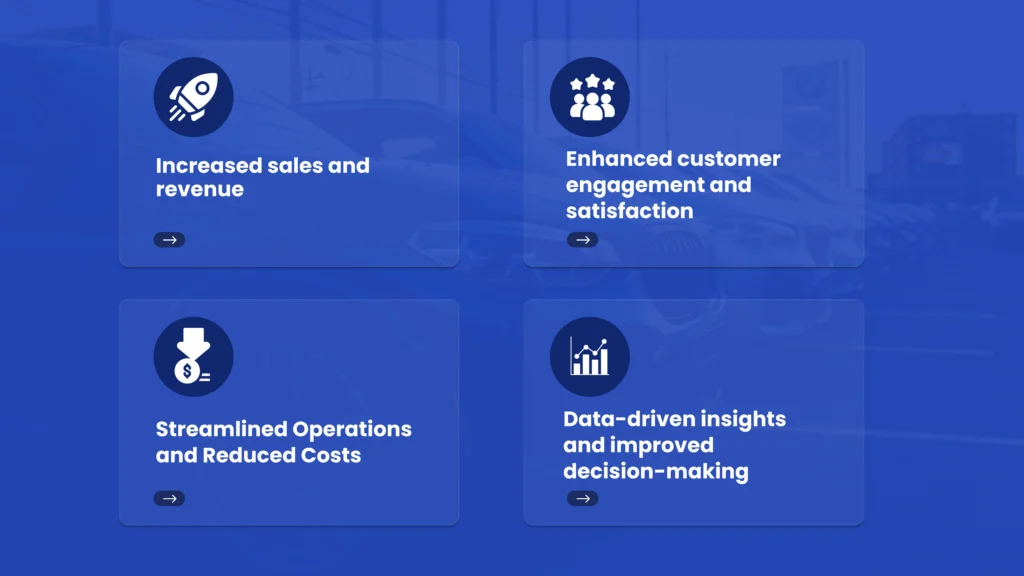 Here are some of the advantages:
1. Increased sales and revenue: Data-driven marketing strategies and personalized customer experiences can significantly boost sales and revenue for dealerships. Their website and advertising solutions attract new customers, nurture leads, and drive conversions, leading to increased profitability.
2. Enhanced customer engagement and satisfaction: Their tools let dealerships make things just right for each person, making it fun and nice to shop there. This can make customers want to come back, tell others about the place, and keep liking it.
3. Streamlined Operations and Reduced Costs: Their all-in-one tools make running the dealership smoother, so they don't need lots of different systems and doing things by hand. This saves time and money, letting dealerships concentrate on important stuff and spend less on running things.
4. Data-driven insights and improved decision-making: Their number charts and reports show how customers act, how ads are doing, and what's popular in the business. This helps dealerships decide things based on facts, make plans better, and get the most out of what they put in.
Disadvantages of Dealer com
There can be numerous advantages but with them comes some drawbacks while using
1. Limited Customization: The pre-made website designs and tools might not let dealerships change things much, making it harder for them to make their website exactly how they want and show their unique style.
2. Potential for lock-in effects: Ending a contract with Dealer com might be expensive and tricky because moving all the information to a different company can be hard. This could make it tough for dealerships to change to another provider if they're unhappy with Dealer dot com.
3. Potential for technical issues: Like any computer stuff, Dealer dot com might sometimes have problems or stop working for a bit. Therefore, this could mess up how the dealership runs and its ads, making them lose sales and upset customers.
How Does Dealer com Help in Analyzing Your Website Metrics
Dealer com gives dealerships a bunch of tools to look at their website numbers and see how they're doing online. These tools help find what could be better, make the website show up more on search engines, and make their online ads and plans even better. Here's how it helps check website metrics:
1. Comprehensive data collection and visualization
2. Segmentation and analysis
3. Attribution modeling
4. A/B testing and experimentation
5. Benchmarking and industry insights
What Different Marketing Services Does Dealer com Provide?
Dealer com has a lot of different ways to help car sellers and manufacturers get more customers online. They cover everything from the basics to really smart ways to market digitally. Here's what Dealer.com does to market cars:
1. Pay-Per-Click (PPC) advertising
2. Reputation management
3. Marketing analytics and reporting
4. Managed marketing services
5. Content creation and marketing
How Spyne Integrates with Dealer com
Spyne has great tools for enhancing car images for sellers. When Spyne and Dealer com team up, magic happens. Let's check out how they work together using this Dealer management system:
Step 1: Starting the integration
To get things going, we need the dealership and DMS to say yes. Once they agree, we jump into the DMS platform's database to get specific info and pictures of the cars.
Step 2: Images received via FTP
If the dealership takes its own pictures, the DMS sends us the real ones, and we make them look better. But if they use the Spyne app, it does everything by itself and sends the better pictures straight to the DMS.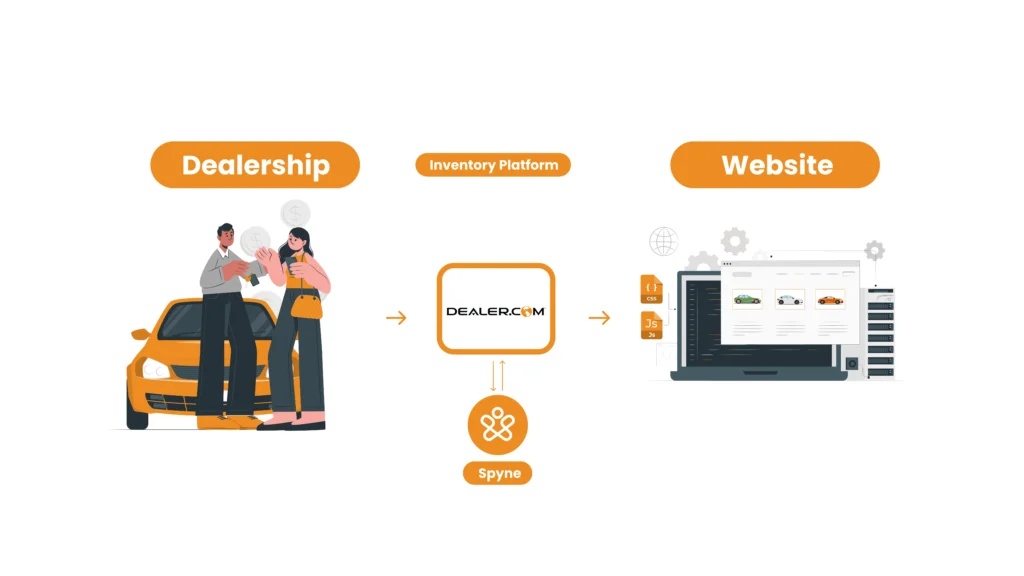 That way, they don't have to do the work of uploading them.
Step 3: Processing images
Our clever photo touch-up makes everyday pictures look really professional, especially the ones taken the normal way. This automatic process saves a lot of time and effort that would otherwise be used to edit photos manually, ensuring all the dealership's inventory pictures look top-notch.
Step 4: Images transferred via FTP
After we've made the Dealer com images better, our software sends these improved pictures back to the DMS using a safe file transfer system called FTP. This makes sure information moves smoothly between both platforms.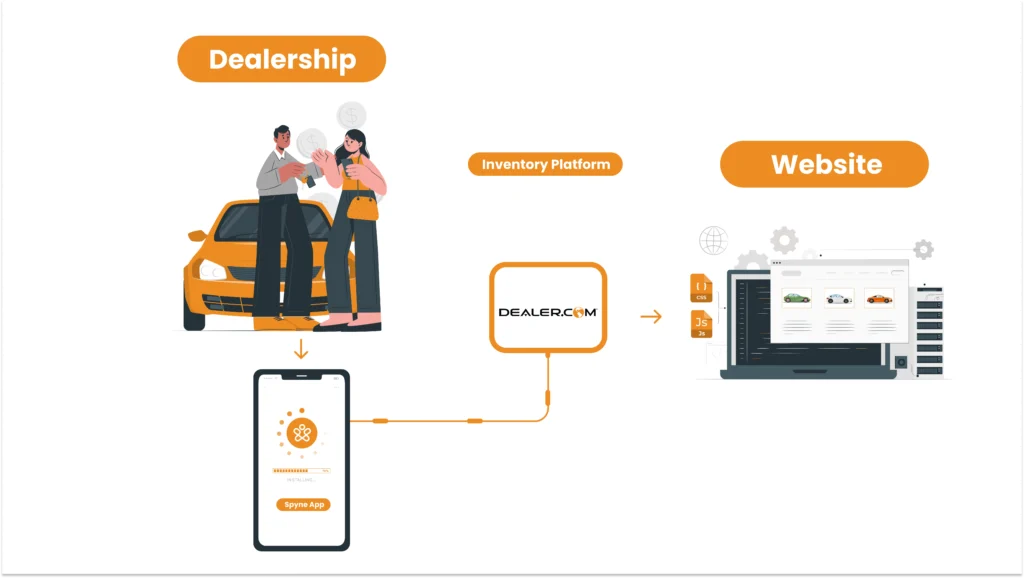 If you're using our app, the pictures also go to the DMS through FTP.
Step 5: Sharing on website
The API smoothly puts the improved images into its system, making it easy to show them on the dealership's website, social media, and ads. This way, customers always get to see great vehicle pictures, no matter where they're looking.
Step 6: Continuos update
This arrangement makes sure that whenever there are changes to vehicle info or pictures, they instantly show up on the dealership's website, social media, and ads. This way, customers always see the newest and most accurate details.
Benefits of Spyne and Dealer com Integration
1. Enhanced Image Quality and Consistency: Our AI-powered image processing capabilities automatically enhance the quality of vehicle images, ensuring that all inventory photos are consistent, professional, and visually appealing. This can significantly improve the online browsing experience for customers and make a positive impression on potential buyers.
2. Streamlined Workflow and Time Savings: The integration gets rid of the work of editing and uploading images by hand, which saves dealerships a lot of time and work. We gather the images from DMS, makes them better with its AI, and then sends the improved ones back to Dealer com for showing on the dealership's website and other places they advertise.
3. Reduced Costs and Increased Efficiency: Automating image work and getting rid of manual jobs can help dealerships spend less on labor and do things more efficiently. This can let dealership folks concentrate on other important stuff in their business, like taking care of customers and making sales.
Conclusion
Dealer com emerges as a crucial partner for car dealerships, offering a wide variety of digital marketing tools and services aimed at optimizing their online presence, sales, and customer satisfaction, with our integration providing an added layer of efficiency and image enhancement capabilities. Therefore, the integration between Spyne and Dealer dot com is highlighted, focusing on enhancing car images for better presentation. Our AI-powered image processing promises enhanced image quality, streamlined workflows, time savings, reduced costs, and increased operational efficiency for dealerships.