As any marketer would tell you, car advertising is no easy job; if you want to sell your car, how you sell it makes a huge difference. The right ad campaigns can increase your business's interest, ROI, and results. In this age of information, where everything is easily accessible, consumers make smart choices. Hence, dealerships will have to make smarter decisions in terms of advertising.
Advertising goes beyond using fancy visuals and words; it is about knowing your audience, their needs, and their pain points. A successful vehicle advertising campaign will reach the right customers, boost sales, generate qualified leads, and retain them. Let's learn more about advertising your car inventory here.
What is Car Advertising?
Car Advertising refers to marketing vehicles to an audience, enticing them to buy from you. Advertising can be done traditionally or digitally; the purpose of developing an auto advertising campaign is to reach the target audience and be present wherever they are searching about purchasing a car. This creates brand visibility, and if you have what customers want, it will generate profits too. The ultimate goal of car ads is to drive sales.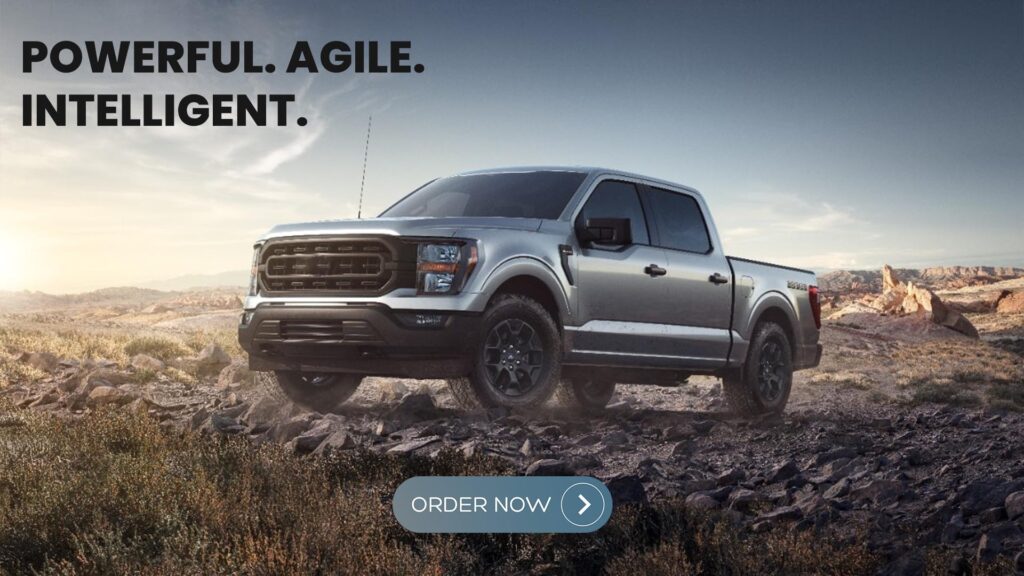 There is a huge demand for vehicles as millions of people use them for personal and office commuting. Now that the world is digital, many prefer to spend time researching the best car deals online. This is better than traditional roaming from shop to shop or dealership to dealership. Customers who spend time online can view, compare, and better understand a dealership. This is the reason why; car advertising online is a great way to attract customers.
Why Retailers Need Effective Car Advertising for Online Market
The traditional method of advertising is only focused on media outlets such as TV, print, and radio. While it can be successful, one cannot reach a wider audience with traditional methods today. In the digital era, people spend most of their time online looking for solutions and answers to their problems. Hence, advertising products online will ensure you reach the right target audience.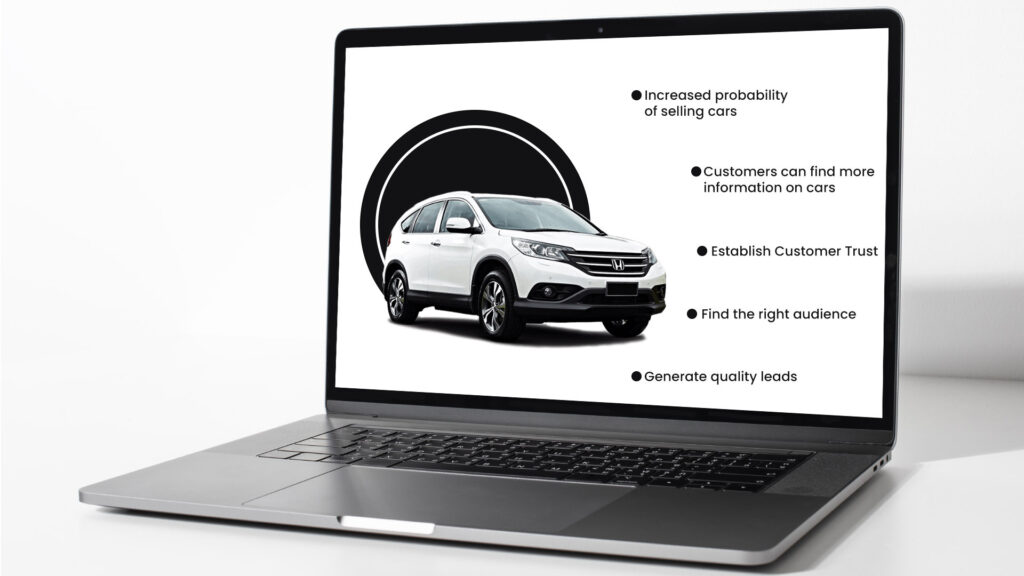 There are multiple benefits of advertising cars for retailers:
Increased probability of selling cars
Customers can find more information on cars
Establish Customer Trust
Find the right audience
Generate quality leads
Online automobile advertising also allows retailers to combine and focus on multiple media outlets. For example, a Car Dealership could advertise discounts during a particular time on social as well as traditional media. Consumers also have information at their fingertips, allowing them to research and communicate with retailers throughout their buyer's journey. Hence, you can reach your desired customers directly on their phones, tablet, or laptop.
Dealership digital advertising also makes it easy to collect data from platforms such as Facebook, Google, and YouTube, making it possible to personalize your car ads. You can leverage artificial intelligence to help you to accelerate the process of advertising and generate high-quality images of a car to attract customers to your website.
How Car Advertisement Works
Online car advertising is an effective way to reach customers. You must first research your customers' demographics, including their age, income, and location. You can then target your ads at higher-income, higher-educated customers. It is also wise to target customers who are offline by classified car ads on print and TV.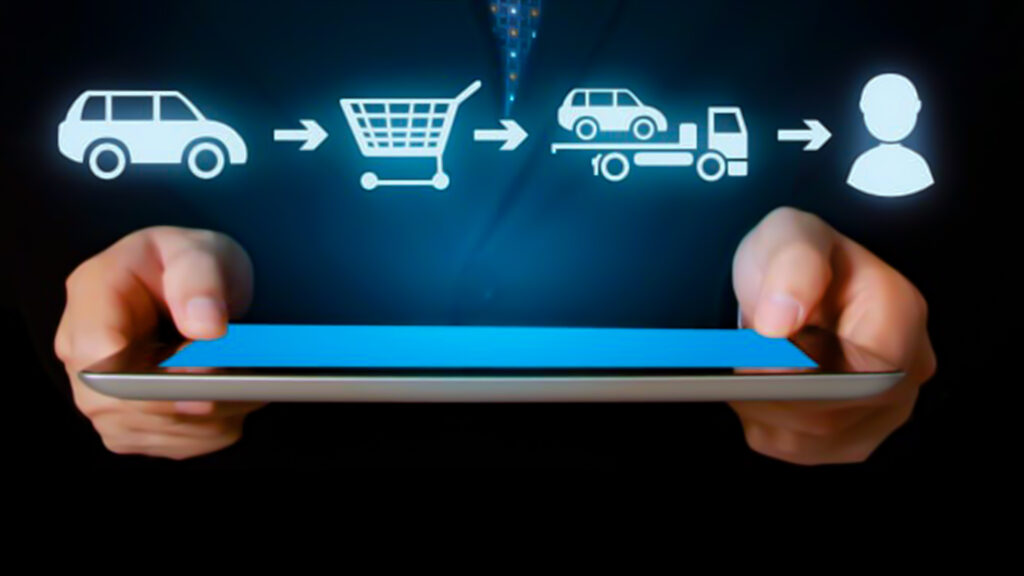 Later, reach out to customers repeatedly (without spamming them) to make your presence known. This strategy works the best because they can quickly turn to your business when purchasing a car. Consumers with whom a brand communicates have a higher recall and brand awareness and make quick purchase decisions.
Showcase your car dealership's USPs and present them to your potential customers every day. Covering it in selected areas is also a great strategy to boost your car dealership's business by targeting the right customers.
Creating a Successful Car Advertising Campaign
Creating a successful Car Marketing campaign requires effort, but your task becomes much easier if you plan to do it digitally. This is because you have all the information you need online about your competitors, their performance, and your desired audience.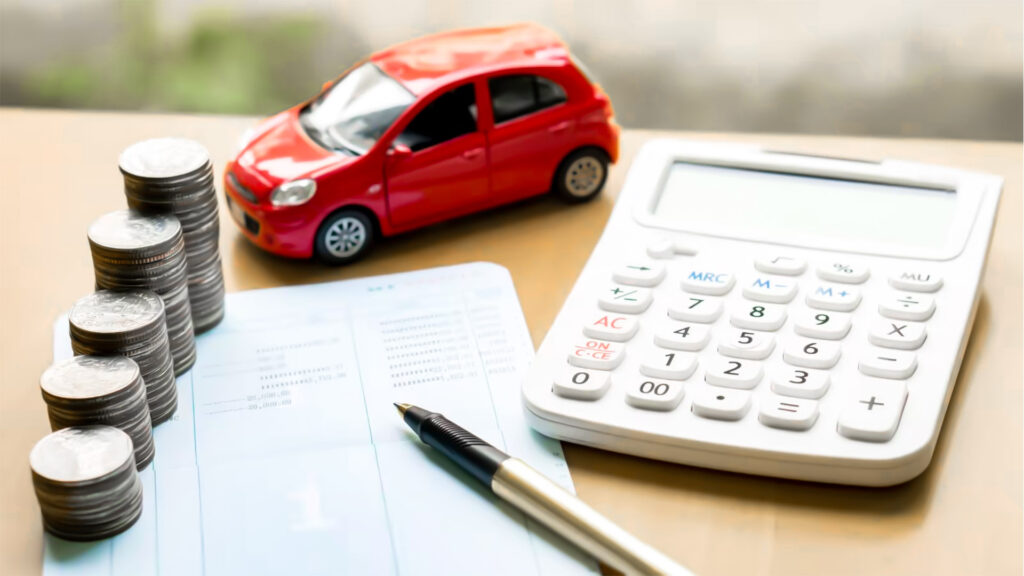 Here we discuss a few tips in more detail.
1. Customer Research
Outstanding customer research is essential to building a successful advertising campaign. Understanding what your customers need and why they need a car makes it possible to connect with them.
You can achieve this by using several methods, such as surveys, interviews, and speaking to sales representatives. Once you have gained insight into the customer's mind, it will be easier to design a campaign. Customers like a personalized experience, so researching them will benefit you.
Learning about how Search Engine Marketing (SEM) works will help improve your brand's presence and ensure you retain potential customers. The digital landscape has evolved enormously, and there is more to learn daily.
2. Know your target audience
You can only advertise if you know who will buy your product. Thus, research and collect data before you start investing resources in creating car ads. Millennials and Generation Z are expected to be the largest group of car owners in the future.
3. Use the right keywords
Keywords are necessary because it tells you what customers are looking for. Since the younger generation spends the most time online and they will be the ones purchasing cars the most, the right keywords can help connect with them. Identify strong keywords that can generate results and use them when creating an ad campaign.
Your ad copy should match the customer's preference. This will mean that your message, titles, and content have to match the search query. Before you do that, make sure you do customer research.
Your website's content, product page, and landing pages should also be relevant to the query. If a customer is looking for a specific product or model, your landing page should contain the exact information they want. If your car-selling ads are relevant, your website will rank higher on the search engine results page. This is why the right keywords and Auto SEO matching the customer intent are essential.
4. Have an online presence
As previously mentioned, people are online and turning to the internet for queries. It is thus good to keep an up-to-date website presence, information, and fresh inventory of cars. This creates customer trust in your company, ensuring that you are legitimate and ethical. Ensure that you post regularly about your business's greatest products. It's a great way to connect and let your customers know what you can offer them.
Digital campaigns should integrate both online and offline efforts to produce the best results. Furthermore, use a tool to calculate your website's performance and how your campaigns are performing online.
5. Have great customer reviews
Reviews are what matter most and draw customers to your website. Low ratings or reviews impact how a potential customer views a car dealership and whether to take a step forward. Moreover, Google is more likely to rank your website at the top if you have good ratings, thereby increasing organic traffic to your website automatically.
Make sure that you follow up if a customer leaves a five-star review on your social media by expressing gratitude. You can also go above and beyond by mentioning your interaction with them during the purchasing process. This will create a positive image for potential customers.
Additionally, respond to negative reviews, if any. It is essential to accept criticism and respond with full responsibility. Do not fail or dismiss the concern; empathize with it and provide necessary solutions to it. Unwillingness to respond to negative criticism is viewed as an unreliable trait by your customers.
6. Understand customer interactions
Understanding the first steps you take when they come for help is crucial. Is it to improve and ease their concerns? Or should you persuade them aggressively to buy a car? This experience will last for a long time, and if they feel it negatively, they might talk negatively about it to others.
Since car dealerships serve customers, adopting only a sales-based approach will only work in the short run. Customers want to feel valued, and their needs and requirements should be treated as gospel. This interaction will help identify your customers' pain points and help you strategize your marketing plans.
The Current State of Car Advertising Campaigns
The current state of the market is constantly changing. What worked previously may not work today. Also, post the pandemic scenario, many are turning online to find their cars online. It has changed the market, and many people have opted for shared mobility.
Car dealerships and automotive display advertising will have to evolve to keep up with the trends and the audience. In this case, building a compelling creative campaign that attracts customers and retains them will be transformative.
The current generation (Gen Z) is expected to own more cars in the future. Hence, dealerships will have to develop new strategies for advertising campaigns to attract Millennials and Gen Z and reach them where they are.
High-Quality Car Visuals for Your Car Ads with Spyne AI
Spyne's vision is to enable dealerships to sell cars faster and more effectively. It uses Artificial Intelligence technology to transform the process of showcasing used car ads. As a car dealership, you can choose a car image you want to display, and our AI systems transform it into a clear, studio-grade image without needing a photography crew, a studio, or complex processes.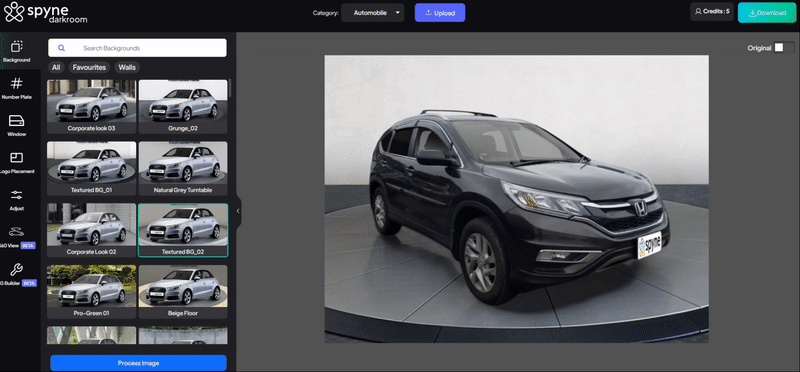 Spyne also helps dealerships and marketplaces create interactive 360° Spin Car Videos and automatically process millions of car images with AI. It consistently follows your brand guidelines and makes the images attractive and marketplace ready. You can even shoot and/or edit incredible images for old car ads that can accelerate your classic car business.
Cost-Effective solutions
Spyne goes beyond just providing high-quality images or videos; our AI-based editing platform edits your car visuals within a fraction of the time compared to a professional photography crew. This reduces time and cost, and it's proven to drive 40% more conversions.
You can even replace the car background of pictures that have already been clicked somewhere else and give them a studio look. You can also mask the number plate automatically, tint windows, remove reflection, enhance the image of interiors, and more.
Conclusion
Car advertising necessitates management, marketing, and digital strategies, but there is no better time than now when the marketplace is going digital. It is, thus, essential to know what works, who your target audience is, and why they need a product. Before that, research is important, and understanding the digital landscape will help your business.
Before creating an advertisement for selling a car, write clear copies, use clear photographs, use the right keywords, and know your customers, and you are all set! If you are still wondering where to get high-quality images at less cost to make your catalogs stunning, book a demo with Spyne now.