What's the key to running a successful business? Innovation! Here's one innovation for online automobile retail businesses – 360 car photography, 360-degree videos are becoming a critical elements for car sellers and dealers. In fact, research by Google says 64 percent of online car buyers say engaging visuals like 360° walkaround videos can convince them to purchase cars without even taking a test drive!
However, it isn't easy to shoot such visuals. Traditionally, you need a car studio with a turntable floor and the necessary camera and lighting equipment. You'll also need a professional crew to handle the photoshoot and the post-production. Well, there's another way to shoot 360 car pictures, which involves a lot less investment and effort. Interested? Keep reading ahead!
This blog will run you through everything you need to know about 360-degree car photography – what it is, why you need it, its benefits, and how to do it. Time to dig in!
What is 360 car photography?
360° car photography involves shooting a complete view of a vehicle from all angles. It gives viewers a comprehensive visual overview of the car, simulating the feeling of physically checking it out. 360 videos and pictures are much better for consumer research when purchasing a vehicle than traditional photographs, as they assist viewers in making a much better assessment. This helps retailers attract more buyers online, thus expanding their audience base and improving their overall sales numbers.
As eCommerce continues to gain popularity in the automotive industry, the importance of 360 automotive photography will increase as well. Retailers will have to embrace this technology to stay relevant or risk losing out on a lot of potential business. Let's understand why that would be.
Why do you need 360 car photography?
The answer is simple. Suppose you are scrolling through an online car marketplace feed and come across two car listings. One consists of regular pictures of a sedan that look like desktop wallpapers. The second one has a 360 view of the same sedan model and covers every detail of the vehicle. Which one is more clickable?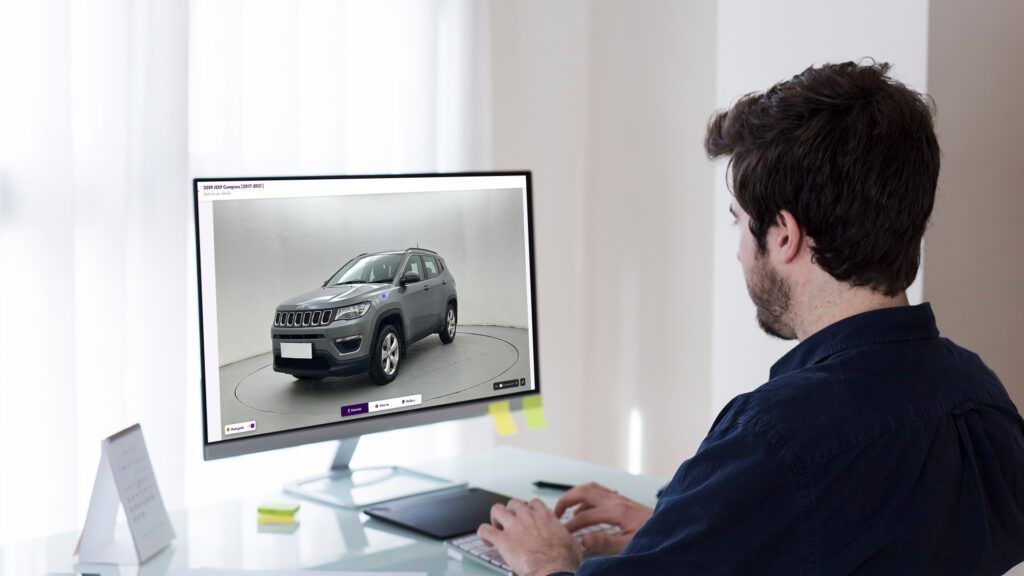 You know the answer, don't you?
360 car view can be a game-changer for your online dealership or car marketplace. You not only skyrocket consumer engagement on your VDPs but also enhance the overall shopping experience. Let's go through all the benefits of using 360-degree vehicle videos and pictures for your listings.
Benefits of 360 car photography for your dealership inventory
Two factors determine the success of your online dealership: pricing and car visuals. Shopping for cars via the internet is very different from looking at a car in a showroom and taking it for a test drive. Buyers must rely on what they are shown on their mobile and desktop screens.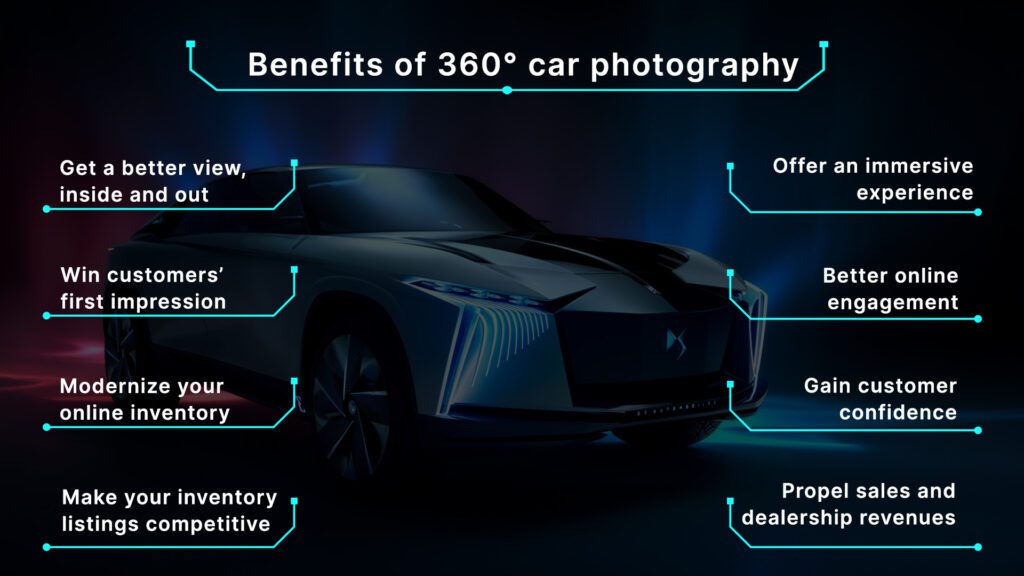 Creating a 360 virtual showroom here can help you go the extra mile and win their attention by giving a comprehensive view of your vehicle. But these visuals have to be precise and perfect. One single glitch and your entire walkaround video will lose its essence. This is why it is critical to pay close attention to the quality of the visuals of your car listings.
Get a better view, inside and out
Due to busy schedules, buyers usually don't have a lot of time on their hands to visit a dealership and check every inch of the car they're considering. When viewing 360 car pictures on their computer screen or smartphone app, customers can get a better idea of the vehicle at their leisure. They can view the car from every angle, including the interior and exterior.
Win customers' first impressions
One of the main benefits of 360 car photography is that online shoppers can meticulously evaluate your cars. You can cast a great first impression on potential buyers and reduce the chances of them jumping over to a rival's website.
Modernize your online inventory
Using 360 car pictures on your VDPs improves your digital sales channel's feel and aesthetic and, thus, your brand image. Clean and high-impact 360-degree photography makes your online inventory feel a lot more modern.
Make your inventory listings competitive
With 360 car views on your automotive retail website, you can make your listings competitive. You can even outperform rivals that haven't yet understood the importance of 360 photography, thus giving you an edge over them!
Offer an immersive experience
360 automotive visuals are the best way to create an immersive car-buying experience. You can show off every minute detail of your vehicles. This will help buyers reach a quick decision and convert your dormant dealership inventory into sold units.
Better online engagement
360 car photography is a great way to showcase your vehicle and its features. This kind of marketing tool is being used by businesses worldwide, to improve customer engagement and positively affect sales numbers. Shoppers might spend hours in your digital showroom and experience the vehicles virtually.
Gain customer confidence
Building confidence and trust among your customers is essential for any business. A great car 360 walkaround video displays the complete design details of the vehicle, which is essential in making decisions. For used cars, you can also highlight any dents and damages, thus increasing transparency in the car-buying process and giving consumers an accurate representation of the vehicle. Building this confidence among customers directly spikes lead generation, and, therefore, sales.
Propel sales and dealership revenues
You can enhance car sales and profitability by using 360 car booths. The equation is pretty simple. More buyers getting attracted means more sales, higher profit margins, and more resources to expand your business.
How to take 360 photos of cars
Now that you know the benefits of 360-degree car photography, let's take a look at how to create such visuals.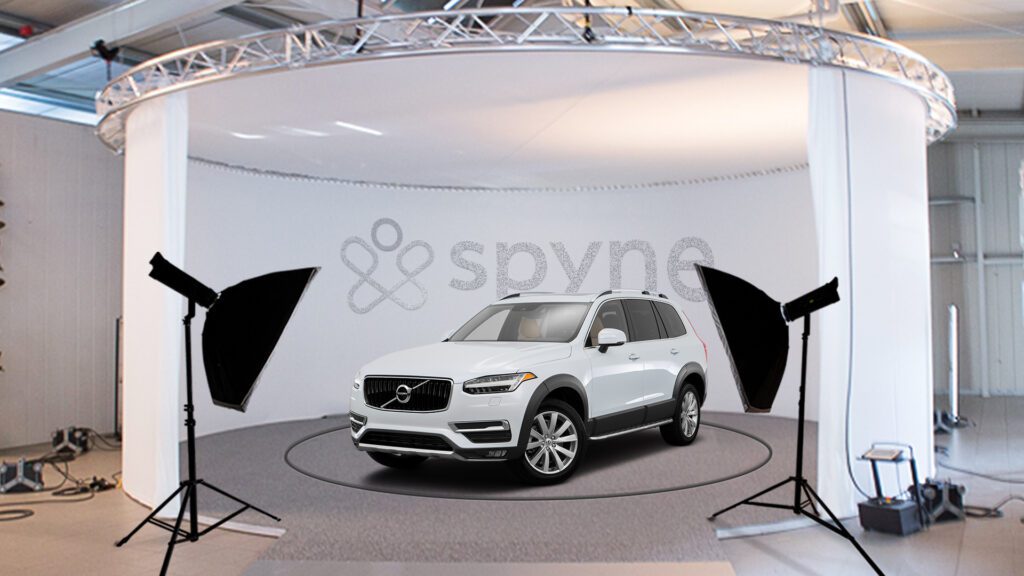 Shoot 360 car exterior visuals using manual photography
This is the manual method to create car 360 videos and pictures. You need to build (or rent) a turn-table studio first, to click vehicle images from different angles. Once the photographs are finalized, they are neatly edited and compiled together to generate a seamless 360-degree view.
Let's take a look at how to set up a car studio for 360-degree photography:
How to set up a car 360° photobooth
Step 1: Identify a place for a studio
Identify good corners and places on your premises to shoot vehicles. It can be a garage, warehouse, backyard of your house or dealership office, or any other indoor space. If you don't have an appropriate place in your lot, then you should choose one that isn't too far. The further the studio is from your lot, the longer you'd have to drive for a photoshoot.
Step 2: Install a turntable
You need a turntable for 360° photography of cars. A turntable helps you click different profiles of your vehicle. You can either get a turntable installed in your photobooth or have one built onto your floor. You can also get an elevated floor with an L- or U-shaped wall, and studio roll doors.
Step 3: Camera and other photography equipment
Of course, you need a great camera to click great pictures. Apart from that, you also need lighting equipment, i.e., lights, diffusers, etc., for a brilliant output.
Step 4: Ensuring accurate background
White is always the preferred color for car studio walls. A loud or colorful background will draw attention away from the vehicle, which isn't ideal. Or, you can choose a specific backdrop for all your images, which adds consistency to your online inventory. For this, you can either use curtains or software to change backdrop colors later while editing.
Step 5: Lighting adjustments
Car surfaces are often dynamic and give a shimmering effect. Too much lighting directed on the car's surface will create unnecessary halo effects and shine, making car visuals blurry and distracting. Therefore, you need the perfect lighting equipment to ensure accurate reflections and shadows. For this, you can use the following:
High-quality softboxes and umbrella lighting

Boards and reflectors

Adjustable auxiliary lighting
Step 6: Stabilizing the camera
The height of the camera plays a primary role in capturing 360-degree walkarounds of vehicles. You must ensure that the camera stays fixed and aligns with the land. This will also help remove all angle imperfections from the visuals. If you cannot manage tripods, then try for other stable bases.
Step 7: Post-production solutions
You need post-production software to edit all car visuals through built-in features like sharpness, contrast, natural shadow, etc. Unless you're familiar with photo editing software like Adobe Photoshop or Lightroom, etc., it's better to hire a professional to do it.
If setting up a studio seems impractical, you can rent one out as per your requirements. Usually, such studios have a photography crew as well, to help you out.
Using a 360° camera to shoot the interior of a car
Since the interiors can't be filmed using a turn table studio, a 360-degree camera captures a vehicle's interiors. Later the images are compiled and edited to get a complete 360 view. This process requires you to have a 360 camera in hand and a professional who knows how to operate and edit the footage to give a seamless 360-degree visual experience.
360 car 
photography 
using AI software
The traditional photoshoot method mentioned above is effective, but it increases your dependency on external factors (e.g., on the camera crew). You'll also need to drive your vehicles to the studio. All of this costs a lot of money and time.
However, with AI-powered solutions, like Spyne's car 360 view creation app, you can effectively shoot high-quality car images without any professional assistance. The clicked images are then automatically edited by advanced AI systems, and your 360 spin car visuals are ready in no time!
360 car view by Spyne AI
Shooting 360-degree pictures or videos is extremely easy with Spyne AI. Here, a smartphone is the only piece of equipment you will need. You need to follow all the instructions in the AI-powered app, and the output will be brilliant.
Here's how you can do it:
Follow the 360 photoshoot guide and ensure that your car image fits into the overlay sketch on the screen. The AI-led solution will verify the visual immediately and notify if it needs to be recaptured.

Once you capture a vehicle from all angles, the in-built AI editing tools will fine-tune or replace backgrounds while removing all the unnecessary elements.

You can choose between multiple background options, ranging from virtual indoor studios to outdoor settings.
A 360 virtual showroom with such innovative spinning vehicle views makes the dealership inventory listing more attractive and captivating to prospective car buyers and pools in more shoppers.
Future car buying trends point to Virtual Reality
Virtual Reality is the future of e-commerce, including online car buying, and its popularity is slowly but steadily growing. Although 360 photography is still in its infancy, it can be used to create a more immersive experience when showing off a car or its features.
Experiencing a car through VR is similar to a virtual tryout, letting buyers feel a vehicle without ever having to leave the comfort of their homes. Users could easily compare the design, features, etc., of different vehicle options.
Final Word
We hope this blog helps you understand 360 car photography  in detail. Whether you're an established dealership chain or a newly established independent retailer, it is crucial for you to have 360-degree visuals for your online inventory for online sales success. Still, have questions? Book a discovery call to learn more about Spyne's 360 photography solution and more.