The current state of the world is unique. The world has just come out of covid 19, which has created some interesting set of problems. To name the elephant in the room, supply chain disruption. A lot of things have become a lot more expensive, which can be credited to these supply chains being in a poor state. China, which is known as the world's factory, has enforced a serious lockdown in an attempt to crack down on the pandemic.
This has led to a lot of shortages, but chiefly among them are "Semiconductor Chips." This has caused a huge line of people who want to buy a car and have to wait to get it for months. Hence, more and more people are looking at used cars as a better alternative.
What is a Used Car Dealership?
A used car dealership is a business that sells used cars based on a dealership contract between a seller and a buyer. They often also sell maintenance and accessories. Shoppers for used cars would start online and then come to a used car dealership to look for what is on offer. To browse used cars, they would also travel to used car lots (A parking lot where used cars are parked for display in order to find a buyer).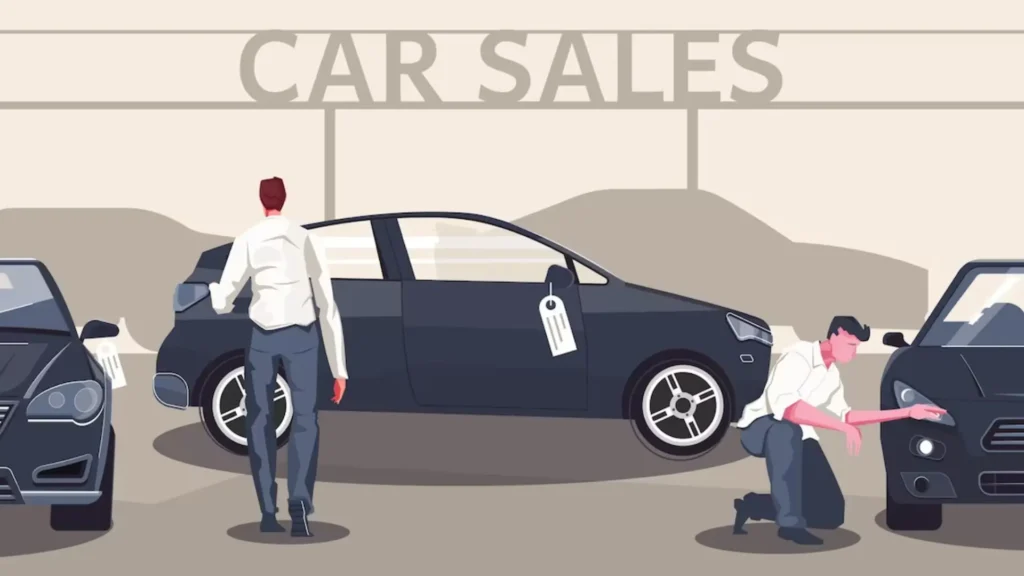 The national association of independent automobile dealers has 20,000 member dealerships from across the nation, and it includes small family businesses such as CarMax, with 175 locations across the country. Their staff might usually contain people who are specialized in the models they sell. We also have an used car dealership online which generally refers to the digital used car marketplace.
Market Segments of an Automotive Industry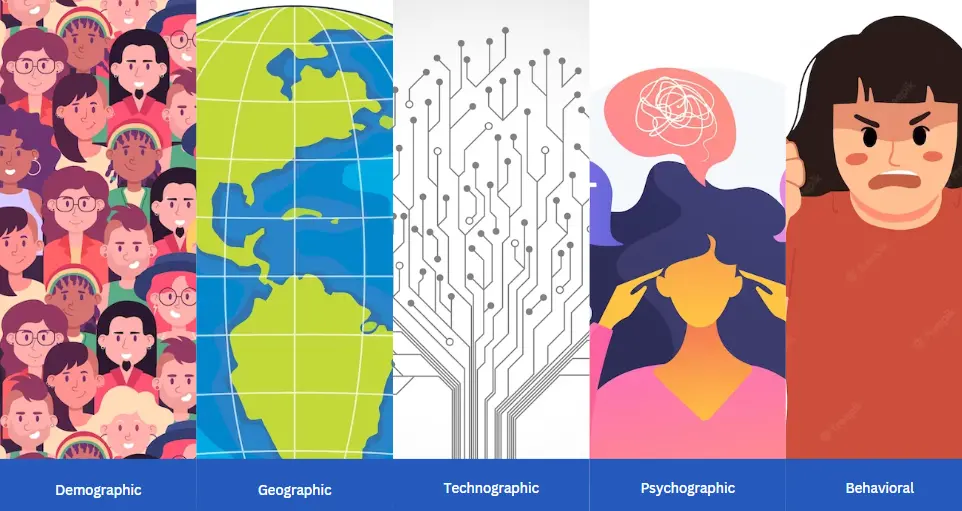 There are 5 market segments for cars:
Demographic
Geographic
Technographic
Psychographic
Behavioral
Let us go through each one of them in detail.
Demographic
A used car dealer marketer could look at data on the income level of localities and decide to target the group that won't be able to afford a brand-new car. Pre-owned car dealerships can also choose to split a zip code to better reflect the concentration of lower-income households.
Geographic
This segment looks at factors such as city limits, distance from point A to point B, and state lines. For example, if a lot of used car dealerships are already working in a city or a state, then it's better to focus on a place where this service is not widely available. If you mark your customers on a map, then you will likely notice a hotspot, and you can focus your attention there to gain new customers.
Technographic
In this segment, we concentrate on how technology is being used in car dealership marketing strategies. For example, if a locality is using televisions as its favorite media, then it is better to reach them through ads on channels with high TRP from that area. If another locality where you want to advertise uses mobile phones, then it is best to use SMS as a good form to reach new potential customers.
Psychographic
In this segment, we chiefly target potential customers through conscious or unconscious messaging by targeting their beliefs. For many modest-income homes, the mindset is very traditional and an important part of life. You can convey to them how your services will help their beliefs. Another example is picking a locality where people are predominantly environmentalists; then advertising used electric cars at a cheaper cost will be quite successful.
Behavioral
In this segment, we look into customer behavior, such as browsing history, eating habits, and time spent on a website. For example, a certain locality has a lot of single parents. So, a lot of the members of single households go to clubs. So, you can advertise through posters near these clubs.
Starting a Used Car Dealership Business
If you want to start the business of a used car dealership, then you have come to the right place. Here we will tell you not only about how to start the business but also how to run a successful used car dealership. So, try following these steps: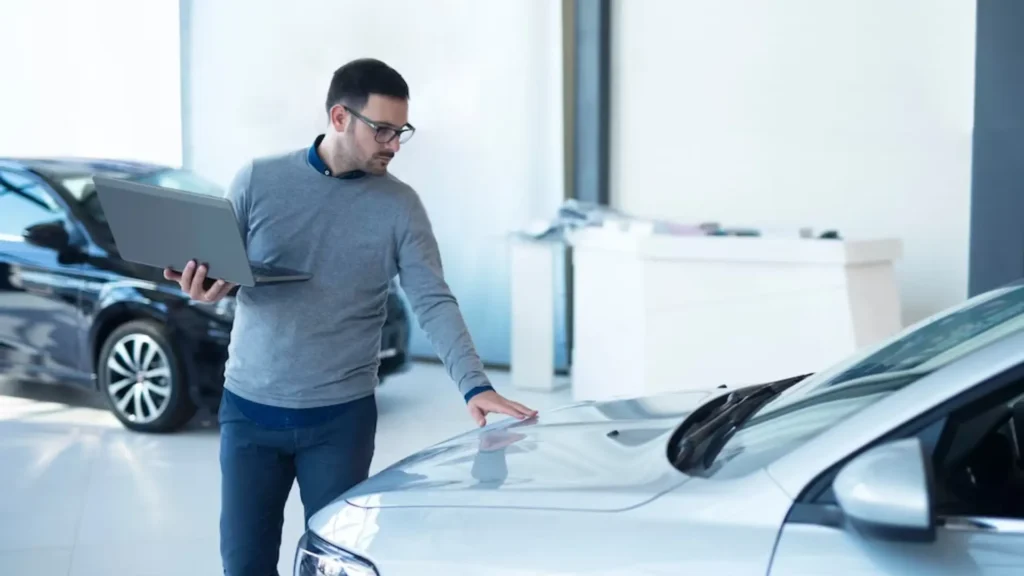 1. Gain the mindset of an entrepreneur
When you enter into this business, you will also be making some changes to your lifestyle. It chiefly means getting an entrepreneurial mindset. You should at least 1 essay every day about this topic so that you understand your responsibilities. It is equally important to understand every tiny detail of cars. Get a job selling cars to gain experience in this field.
2. Organize startup costs
Like all businesses, you are going to require capital to get started. These costs in a used car dealership business model will include
Business Registration
Auto Dealer Bonds
Auto Dealership license
Health, Fire, software license, etc.
Attorney
Accountant
Location
Marketing strategy and branding
Office Supplies
Inventory
A startup will face inescapable fees in business registration, auto dealership licenses, and dealer bonds. There will also be additional and ongoing costs, such as Rent, Payroll, Insurance, and advertising.
If you have an online dealership, then you need good images on your VDP. Customers will browse your website longer if they like what they see, and they will be looking for good images of the cars to make their decision. So, you can hire a professional studio for high-quality dealership photography, but that can be very expensive, especially for a starting business.
To minimize your costs, try Spyne; it is easy to use, scalable, and generates high-quality images in no time! Spyne users have observed an 80% faster time-to-market, a 75% reduction in cost, 40% better sales conversion, and 100% consistent results.
3. Know your market and choose a location
Now it will be time to do the hard work that might make or break your business. Understanding the current market situation is a huge factor in a company's growth. Conduct market research and figure out your niche. That can be done by determining where the demand is coming from. Analyze the data you collect and figure out what category your customers belong to. These categories can include:
Age
Income level
Marital status
Occupation
Location
You will also need to figure out the demands common in these categories. These can be:
Luxury Vehicles
Classic Cars
Collector Cars
It is very important to find the ideal real estate. Based on your market, make sure that your location supports the business. To collect and deliver a car, your physical presence is important, and your customers will always be comfortable with the fact that they can approach you personally with their dissatisfaction.
4. Source cars for reselling & distribution network
It is very important to understand what your target customers like or dislike for a good dealership profit margin. The demands of the customers vary based on their location. For example, if you have opened a dealership in a place that usually witnesses heavy snowfall. The popular demand in that location should be four-cylinder, all-wheel drive.
You can ask yourself other questions while choosing a car, such as "Does the location of my dealership has demands for trucks due to the presence of industries?" or "are there big families in the locality who would be interested in SUVs?" Most dealers get their cars from dealer-only auction companies. You will need a dealer license to participate in these auctions and sell multiple cars legally per year.
Top dealer auction companies in the US include ADESA, Copart, ACV auctions, etc. But you can also visit sites such as eBay Motors, Auto auction mall, etc.
5. Used Car Dealership Business Plan
Now let's discuss getting funds to get yourself started. Firstly, create a solid automotive dealership business plan. You will need this plan to get a business loan to start your journey. Make sure that your auto dealership business plan includes these important points:
Executive summary of the business
Objectives and mission statement
Keys to Success
Company Summary
Inventory
Market analysis
Web plan
Management Summary
Financial Plan
It is also possible to get a credit card with a 0% introductory rate if you have good credit. Economic analysis must be used to keep track of the demand and supply currently in the market. Try to fill the supply where it is lacking. That can be done by studying reports published by research companies, or you can look at the prices of products in the market.
6. Volume and Financial Goals
You should start a business with a primary goal, that you need to make money. So, it is important to quickly establish the financial goals for the business. You will not only have to track the margin at which your cars are being sold but also their volume. If you want to sell a huge volume of cars, then you will need a team to make a decent profit. In dealerships, the selling of 60-70 cars is of decent size instead of being a massive one.
7. Repair and maintenance
Also, provide the repair and maintenance for sold cars to keep the customers happy and gain additional source of revenue; then they will refer you to other potential customers. Here are some tips to keep in mind when dealing with customers:
Loyalty is King
Potential customers admire the good attitude
Keep a clean environment in the office
Call the customers and ask them about the performance of cars
External Factors that Affect the Used Car Dealership Industry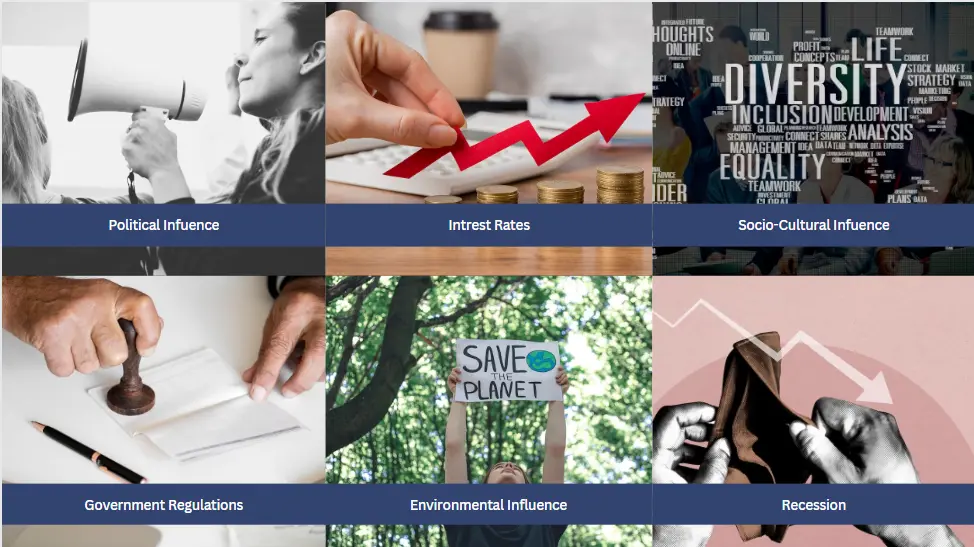 There are several factors outside of the industry which you must keep in mind. These are not usually caused by the auto industry but impact it gravely.
Political Influence
Government usually promotes public transport, so this can be considered a valid threat to your business. Aggressive tax policies also threaten the industry with increasing taxes. Political stability also determines the likelihood of the success of a new business. Less taxation in this industry or less fuel cost can bolster the industry. But the opposite will incentivize the public to use public transport.
Interest Rate
Economic factors affecting the automobile industry are the most important for any dealer. Among these factors, interest rates have a chief role in impacting the car dealership industry. Lower interest rates may encourage clients to borrow from banks and buy cars, while if interest rates are increased, then people will be hesitant to borrow and prefer to wait for interest rates to go low.
Socio-Cultural Influence
Cultural and social factors are affecting the automobile industry in dynamic ways. Currently, there is a growing demand for electric vehicles due to their eco-friendly nature. Such external factors drive the demand for a type of car. There is also a trend of vehicle sharing, which comes across as a threat to the industry.
Government Regulations
The automobile industry works within government laws and regulations. Rules under the laws and regulations directly influence the performance of the industry. In most circumstances, the government implements regulations to protect consumers and the environment. Dealers who fail to comply with these regulations are faced with hefty fines.
Environment Influences
A client's perception plays a key role in the business. If you get embroiled in controversies related to pollution, then clients will not want to be associated with you. So, make sure to stay away from controversies by following regulations set by the government.
Recession
In 2007, a huge rising debt worldwide created an economic crisis throughout the globe. These caused banks to stop giving credit, which prevented people from making new purchases. This caused other industries to suffer as well, including the automotive industry.
Legal Requirements of a Used Car Dealership
You will need some legal documents to start a pre-owned vehicle dealership. These documents will register you as a dealer, and the government will be able to regulate your business more effectively, for the benefit of both. Car dealer license requirements depend upon the state in which you have to operate. Your license will also vary depending on what kind of cars and services you are going to offer. A used vehicle dealer license will allow you to sell certified preowned vehicles in retail or to the wholesale business.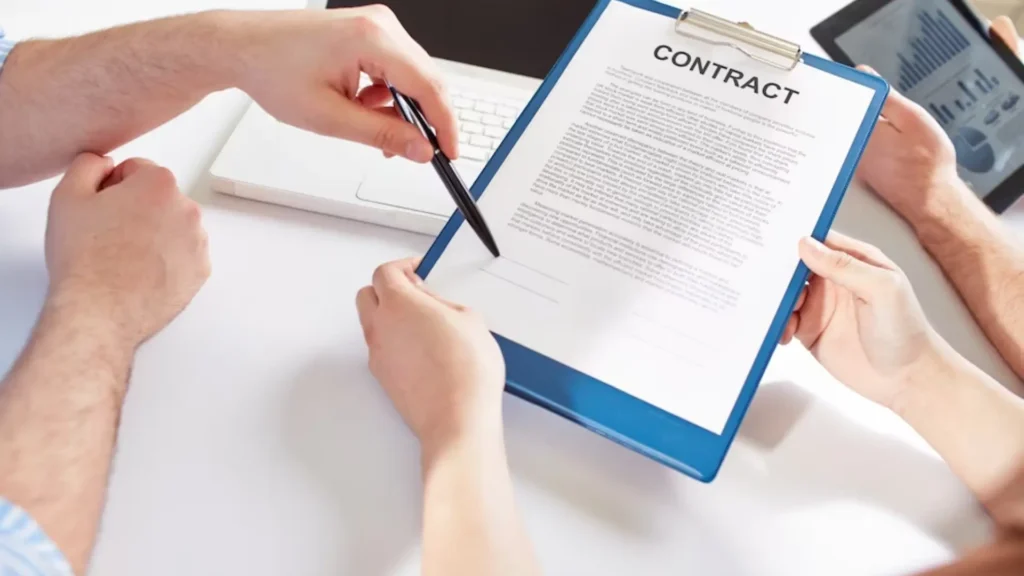 A certified pre-owned vehicle is typically an accident-free and a low-mileage car that has been certified by the factory of the model to which the car belongs. You can get this by completing a used dealer license application through your state's motor vehicle commission. A small business lawyer can help with that. Here are other documents required to run this business.
Distribution agreement
Car Dealership Distribution agreements enable retailers and wholesalers to sell a manufacturer's product. Car dealerships sign these with vehicle suppliers.
Sales Commission Agreement
Sales commission agreements at car dealerships set terms for the compensation of the employees for selling the vehicle. It is needed when you are working with a sales rep.
Bill of Sale
Bill of Sale offers customers proof of purchase. This is used to transfer ownership of the vehicle to customers.
Employment Contract
Car Dealerships Employment Contract sets terms and guidelines for a relationship between employer and employee. It will be needed when you require a full-time employee.
Liability Waiver
For Car dealerships, Liability Waiver separates the owner from customer actions. This is signed by the customer, usually during test drives.
Commercial Lease
Commercial Leases set the terms for renting commercial property. You will need it when you are renting an office space or any other commercial facility.
Land Lease Agreement
Land Lease Agreement is specifically when you rent commercial land. These are needed while renting car lots.
Loan Agreement
Loan Agreements establish terms to lend credit to customers. Often car dealerships also provide credit to customers, and this is when you will need it.
There are also insurance requirements for used car dealerships, for example, General Liability insurance. This insurance covers negligence or breach of claims. This is needed to protect operations if an adverse claim prevails against it.
Conclusion
Just like any startup, starting a used car dealership will take commitment, effort as well as luck. It is a rewarding business, and you will be doing a service to society by providing cars to those who could not afford to buy a new one. More competition joins this industry every second you wait, so all the best. It is worth owning certified pre-owned cars if you can't afford a new one, as they provide comfortable travel at a reduced cost.