In the dynamic world of automotive sales, dealerships seek every advantage to connect with buyers and manage their inventory efficiently. CarsForSale, a tech-based platform, offers a robust solution to streamline the buying and selling process. This integration of comprehensive services, from lead generation and efficient digital paperwork to AI-powered vehicle imaging by our advanced AI, transforms the automotive dealership experience. In this blog, we explore the benefits and services offered by CarsForSale, the advantages and disadvantages, and the synergy of integration, revolutionizing the way dealerships operate in the automotive industry.
What is Carsforsale?
Carsforsale is a tech-based platform that connects car dealers and car buyers across the country. It is also a lead-generation platform for car shoppers. It provides a digital marketplace where car dealers can list their vehicles for sale, and potential car buyers can browse, search, and connect with dealers to make purchases. Additionally, CarsForSale functions as a lead generation platform, helping car dealers connect with interested car shoppers, thereby facilitating the buying and selling of vehicles. It simplifies the process of finding and purchasing cars, making it a valuable tool for both buyers and dealers in the automotive industry.

What are the Services Offered by Carsforsale?
The services offered by CarsForSale, available through the carsforsale dealer login, are both extensive and cost-effective, starting at just $99 a month. These services include:
1) Lead Generation Management: CarsForSale provides a powerful lead generation system with features like the Lead Trio, Rapid Reply Messaging System, First Party Leads, Lead Central, Loan Application Leads, and Lead Reporting.
2) Auto Dealer Websites: Car dealers can benefit from mobile-friendly websites with features like lead generation tools, well-structured vehicle detail pages, custom-built design, search engine optimization (SEO), integrated services, domain registration, hosting, and access to website examples for reference.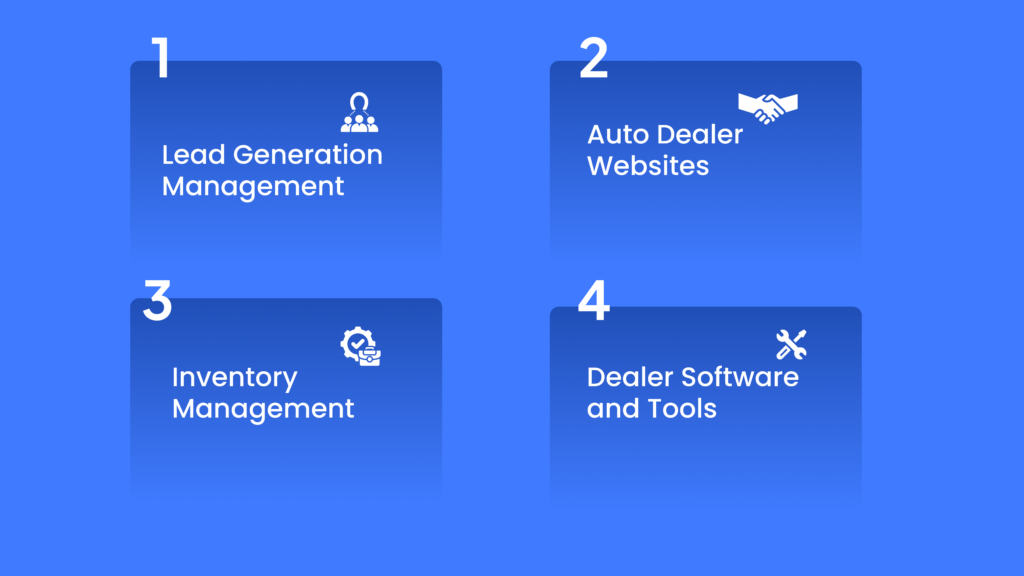 3) Inventory Management: The platform offers tools such as a VIN decoder, inventory distribution and import capabilities, detailed inventory information, inventory reporting, and the option to list vehicles on Google Vehicle Listings.
4) Dealer Software and Tools: CarsForSale equips dealers with essential software and tools, including the CarsForSale.com Dealer App, virtual selling features, photo overlays, digital paperwork and car merchandising tools, reporting and insights, a Facebook schedule tool, and access to 200 NMVTIS vehicle history reports.
The CarsForSale platform provides a comprehensive set of services to help car dealers manage their inventory, connect with potential buyers, and enhance their online presence and marketing efforts.
What are the Advantages and Disadvantages of Carsforsale?
Carsforsale offers various advantages to dealerships like large inventory, Competitive prices, a user-friendly interface, a vehicle history report for free, and last but not least you don't need to negotiate with the salesperson However, there are a few drawbacks to consider, including a limited selection of pre-owned cars and the absence of a physical dealership.
Advantages of Carsforsale
1) Wide selection of cars: It has a large inventory of cars from a variety of brands, makes, and models. This means that you are likely to find the car you are looking for on Carsforsale.
2) Competitive prices: It is known for its competitive prices. They often have lower prices than traditional car dealerships.
3) Easy-to-use website: The website is easy to use and navigate. You can easily search for cars by make, model, year, price, and other factors.
4) Free history reports: It provides free Carfax history reports on all of its cars. This allows you to see the car's history, including any accidents or repairs.
5) No-haggle pricing: It offers no-haggle pricing, which means that you do not have to negotiate with a salesperson. The only price you will pay is the one you see online.
Disadvantages of Carsforsale
1) Limited selection of certified pre-owned cars: It does not have a large selection of certified pre-owned cars. This means that you may have to look elsewhere if you are looking for a certified pre-owned car.
2) No physical dealerships: It is an online car retailer, so it does not have any physical dealerships. This means that you cannot test-drive a car before you buy it.
How Does the Facebook Scheduling Tool of Carsforsale Work?
The Facebook Scheduling Tool offered by CarsForSale is a valuable resource for car dealerships looking to enhance their social media presence. It simplifies the process by offering pre-designed posts, which can save time and effort. Dealers can personalize these posts by adding custom messages to better connect with potential buyers. The scheduling feature allows dealers to plan and post content at times when their target audience is most active, maximizing exposure. Additionally, the tool enables easy reposting of high-performing posts, providing a convenient way to leverage successful content for continued engagement and lead generation.
Benefits of Carsforsale Digital Paperwork & Merchandising
Carsforsale digital paperwork &  car dealership merchandising offer multiple benefits, Let's explore these in detail:
1) Fast selling: With the fast digital paperwork and merchandising able to close deals faster and effortlessly.
2) Efficiency: The system does it all for you with professional, detailed paperwork. These are pre-made merchandising materials that require no extensive time to create. Simply print them and utilize comprehensive paperwork to finish up the sale.
3) Customization: Tailored window stickers, mirror hangers, and buyer's guides.
4) Comprehensive Documentation: Inclusive Bill of Sale and state-specific paperwork for all 50 states.
5) Protective Vehicle Inspection: Used vehicle inspection form to safeguard your financial interests
6) Organized Trade-in Records: Trade-in negotiation form for meticulous detail tracking.
How Spyne Integrates with Carsforsale
The seamless integration between Spyne, an AI-powered vehicle imaging platform, and carsforsale, a leading automotive inventory management solution, empowers dealerships to streamline their vehicle imaging and marketing processes, ultimately enhancing their overall efficiency and effectiveness.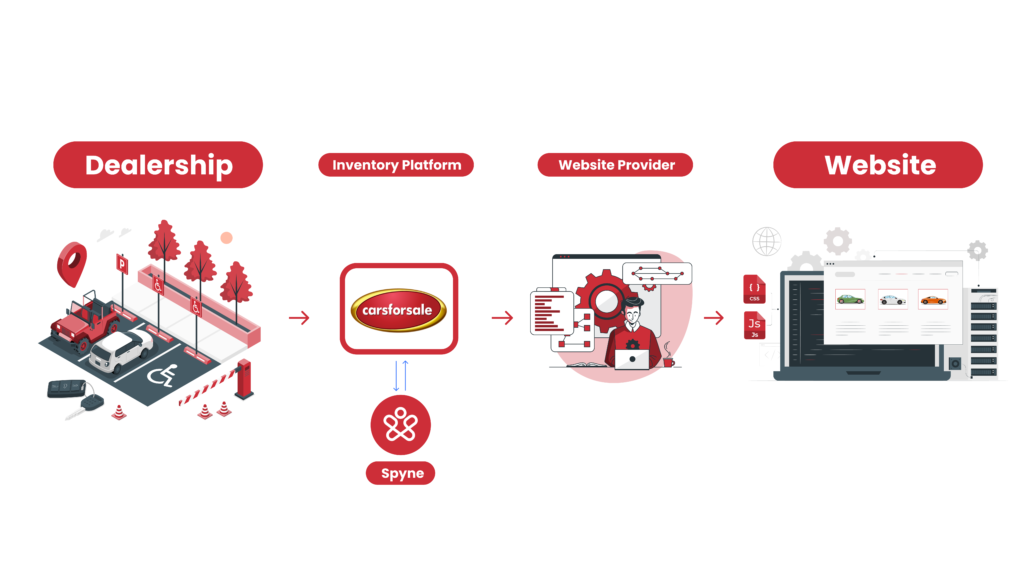 Step 1: Initiating the Integration
The integration process commences with seeking explicit authorization from both the dealership and DMS. Once consent is granted, the DMS provides us with access to its database, enabling the retrieval of vehicle-specific information and images.
Step 2: Image Received via FTP
When the dealership shoots the images itself, carsforsale (DMS) transfers the unprocessed images to us then we receive the image and transform it into a processed image.
In cases where dealerships choose to capture images directly through our app, the images are automatically processed and transferred to the DMS, eliminating the need for manual image upload.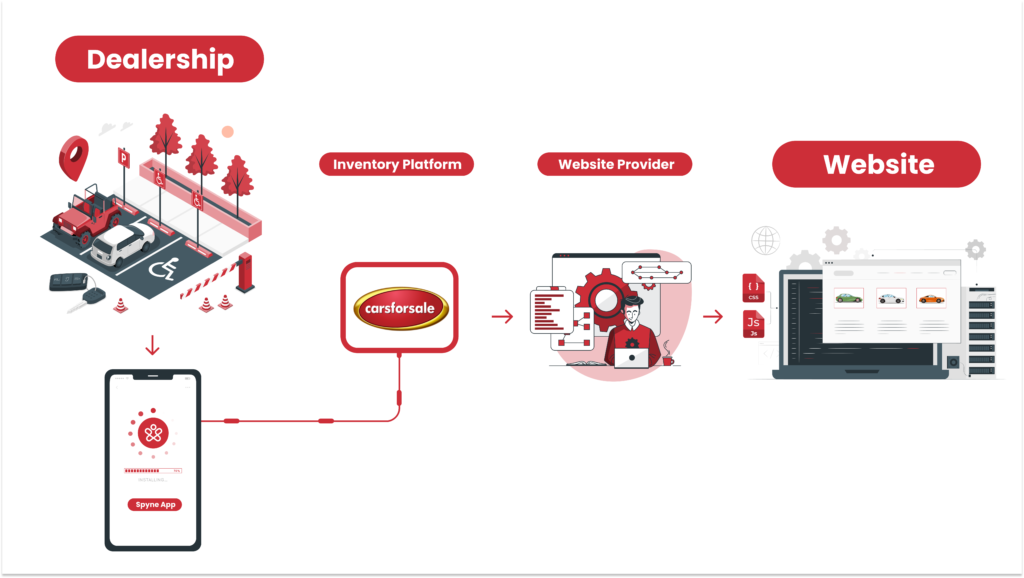 Step 3: Processing Images
For traditionally captured images, Our AI leverages its advanced image processing capabilities to transform them into high-quality, studio-grade photographs. This automated process significantly reduces the time and effort required for manual image editing. This ensures consistent image quality across the dealership's inventory.
Step 4: Image Transfer via FTP
Post completion of image processing received from the DMS, Our software securely transfers the enhanced images back to carsforsale via FTP, a robust file transfer protocol. This ensures seamless data exchange between the two platforms.
If you're using our app, then the images are automatically transferred to the DMS via FTP, a robust file transfer and they are forwarded to the website provider.
Step 5: Distribution to Website and Marketing Channels
Carsforsale seamlessly integrates the enhanced images into its platform, enabling them to be effortlessly published across the dealership's website, social media channels, and advertising campaigns. This unified approach ensures that customers have access to high-quality vehicle imagery regardless of the platform they are using.
Step 6: Continuous Updates
Our app integration automatically updates vehicle information and images across all dealership platforms. ensuring that customers always have access to the most up-to-date information.
Benefits of Spyne and CarsForSale Integration
The integration of the best AI-powered vehicle imaging platform, and CarsForSale, offers numerous benefits to both dealerships and consumers. These advantages include:
1) Enhanced Inventory Management: Automatic data synchronization and elimination of manual processes that reduce the risk of error. Real-time inventory updates that have the most accurate updates.
2) Improved Customer Experience: High-quality visuals from Spyne enhance the customer experience and attract buyers. Buyers can easily compare the vehicles and make an informed decision.
3) Increased Sales & Reach: Access to a broader audience through CarsForSale's extensive online marketplace. Enhance product listings with high-quality images and interactive features to attract more buyers. Experience increased sales opportunities and revenue potential for both businesses.
4) Cost Savings: We reduce the need for manual image processing which saves on labor, studio, production, and heavy equipment costs.
Overall, the integration can significantly enhance the efficiency, reach, and customer experience of both businesses. This leads to increased sales, revenue, and brand reputation.
For carsforsale dealer login and carsforsale.com owner, please ensure that you access the CarsForSale platform using the provided login credentials.
Conclusion
Overall the integration of both brands epitomizes the evolution of automotive sales, providing a comprehensive solution that empowers dealerships to enhance their online presence, streamline operations, and, most importantly, connect with a broader audience. The advantages and services offered by CarsForSale, coupled with the efficiency and convenience of Spyne's image integration, pave the way for increased sales and customer satisfaction.