Photographing your car is a great way to show off its features, document its modifications, and even make it more marketable when you want to sell it. But getting the angles, lighting, and other details just right can be challenging without the right car photoshoot ideas. Luckily, some simple tricks will help you take an ordinary photoshoot and turn it into something extraordinary.
When surfing through a car dealership website, buyers want to see what they're paying for when making an offer on a vehicle. Showcasing cars through professional photos can increase their sales potential, which means you get more leads that are likely to convert.
You might think that this only applies if you plan on selling your automobile online. This, however, isn't completely true. These days, customers begin their car-buying journey online, even if there is a physical purchase planned.
In this blog, we delve into how one can capture stunning car photography, along with tips to enhance your photography game. Let's take a detailed look at it.
What is car photography?
Car Photography can be defined as the art of capturing multiple series of car photographs that highlight its various features. Right from the car model to the colors, the edges, as well as the curves, car photography, takes into account all of these to capture a potential buyer's interest. These car photographs can later be used by car dealerships for digital catalogs or uploads on websites and social media platforms.
Car Photography Guide – Best Tips and Tricks
Attention-grabbing images can steal the deal; here are some cool car photography tips through which you can create better car images.
Choose the best settings for car photography
While modern DSLR cameras work brilliantly in the "automatic" settings, for professional photography, it's best to choose custom settings for every shoot.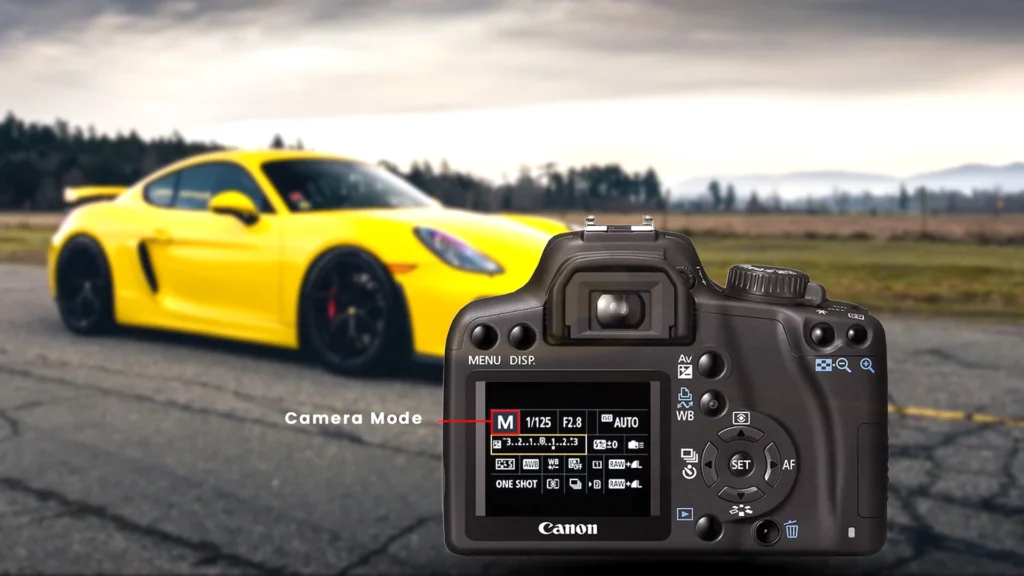 For shooting static cars, it is best to use a shallow depth of field – aperture between f/4 (for blurred background) and f/8 (for clearer background). For clicking cars in motion, you should use a fast shutter speed (e.g: 1/125) to catch sharp details. You'll also need to learn how to pan your camera to follow the subject at speed.
The white balance and ISO settings need to be altered as well appropriately. However, we find it best to leave them in "auto" mode!
Both interiors and exteriors must be highlighted
High-quality pictures ensure multiple angles that a consumer can explore. If the pixel density is well managed, the consumer can also zoom in on any specific feature they want to explore.
Perfectly shot images through the right car photoshoot ideas capture the interiors and exteriors of the car with minute details so the consumer is aware of all the details.
While most car dealerships will focus on exterior shots, you can make a difference by highlighting the interiors more. Remember that a car has a lot to offer when it comes to providing the right comfort to the potential buyer. If your car images can capture this comfort, the images can get to a whole new level instantly.
Shoot the car in motion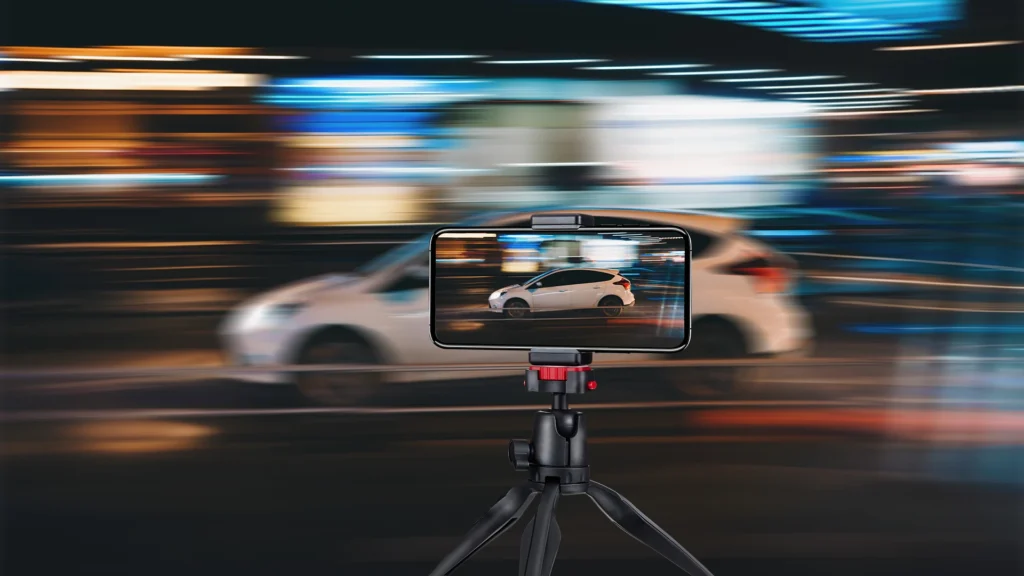 While this may be a difficult shot to capture, if done right it can really make your car photo stand out. Try using a high shutter speed in order to capture no blur on even moving of the wheels.
Capture the features of a car correctly
A car picture might be shot with the perfect background and lighting; however, if the quality doesn't highlight the features of the car, it may become useless. A perfect car picture not only has the perfect lighting and background but also manages to capture the features of the car.
After all, your consumer will primarily be looking for the right features of the car, and your car images should highlight the same.
Get the right lighting
Ideally, you would want to capture your car images in natural daylight. This has multiple benefits, given that natural lights can ensure capturing the correct color of your car. However, in a situation where you cannot manage shooting under natural lighting, it is best to get the best quality lights in place.
These lights need to be high quality and should not affect the colors of the car.
Be careful of reflections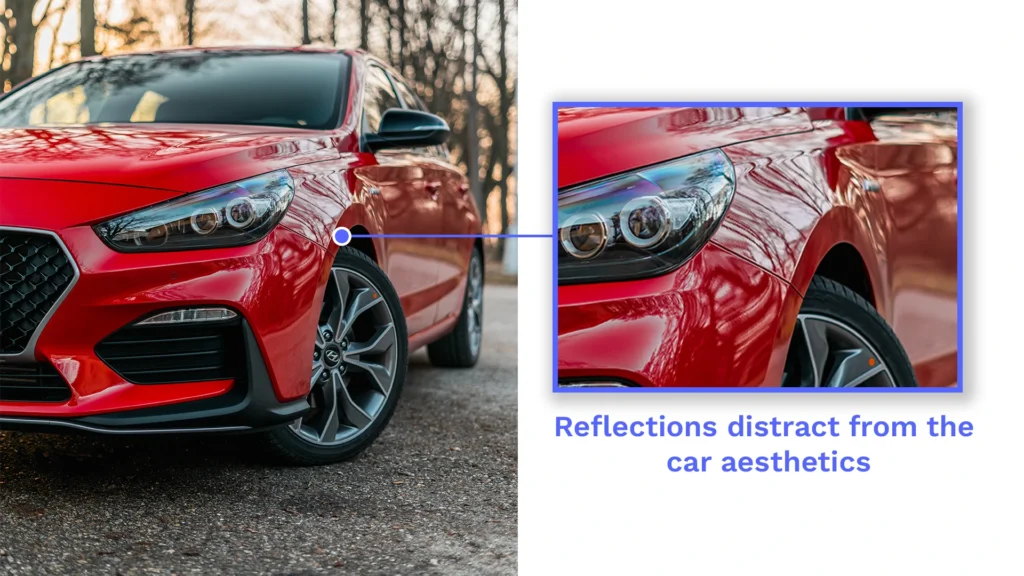 If professional-quality pictures are what you are aiming for, you must be doubly careful to look out for any reflections in the car. While one of the most important factors of the right car photograph is the edges, these are the easiest to catch reflections. So before you capture any image, look out for any reflections that may spoil the end result.
Choose the perfect background
One of the most important yet the most underrated feature of a perfect car photograph is the background. A background can make the car stand out or manage to overshadow it completely. And while you may not be able to get the right background in the first go, AI options can enhance the background of your car images instantly.
Use image editing software
Even with the perfect background, great lighting, and the best settings for car photography, you still may not capture the right picture on the first go. This is where the addition of editing software comes in. This software may not be the easiest to use but it can still manage to bring a picture from the ground level to a much higher level. Software like Adobe Photoshop is perfect to learn and use to get your car photo editing in place.
Best composition for car photography
Let's look at other ways in which you can make your car images better.
Correct framing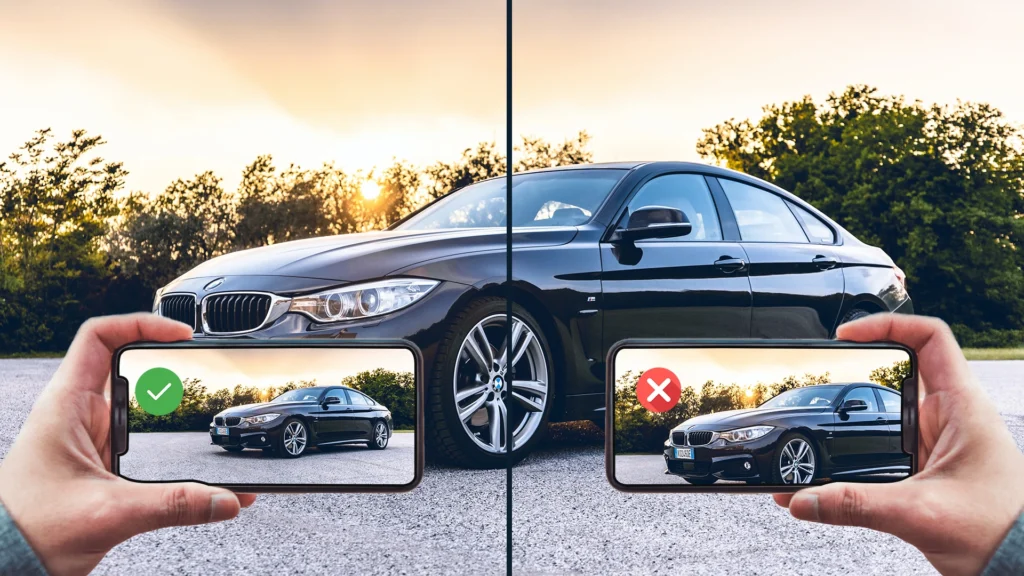 The subject needs to be framed appropriately for the shots, depending on your car photoshoot ideas. The wide shots would require you to frame the entire car within the confines of the frame. For close-up shots, you can keep the detail you want to highlight in the center of the frame. For artistic shots, you can take experiment with the framing and see how your pictures turn up.
Add contrast between the subject and background
A sharp color contrast between the car and the background helps bring more attention to the former. That said, you should always remember that the backdrop of the image should not overpower the subject, rather it should draw attention to it.
Play with light and shadows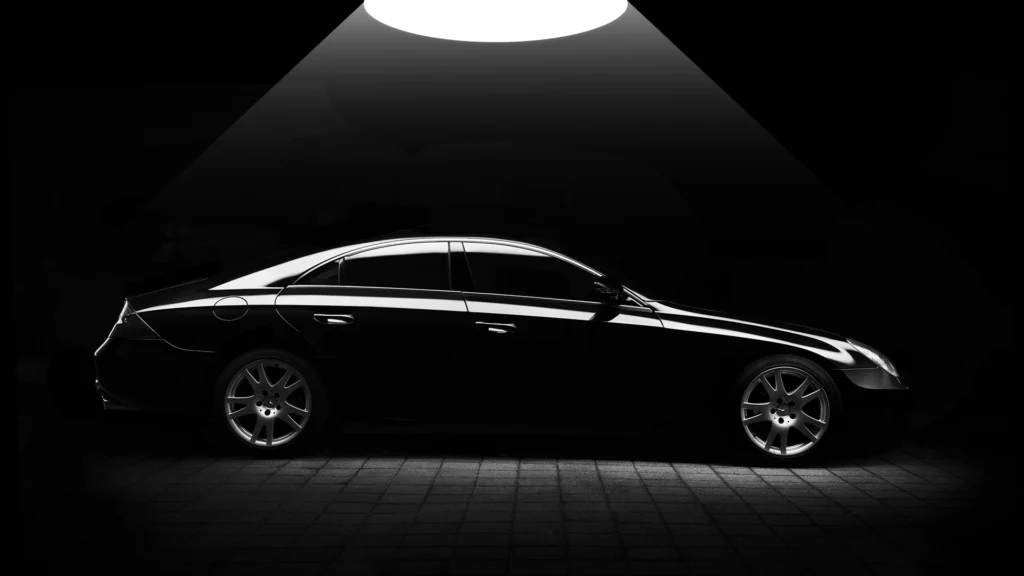 Not just lighting, you can also play around with shadows to make the vehicle pop out in an image. You'll have to experiment a lot to properly understand how light effects can affect an image. Some environments also present unique lighting opportunities, like light falling on the subject through a window or slots on the roof. You can use these to create some brilliant car shoot ideas.
Car photography tips: Before you start
Before you rush off to a photoshoot, there are a few things that you should take care of beforehand:
Get the right equipment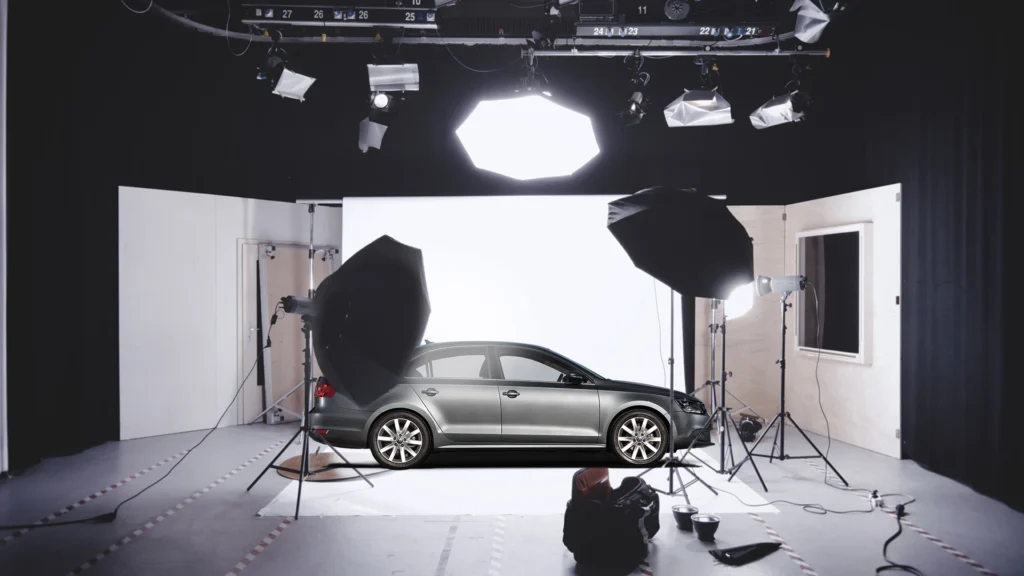 The best photos are shot with the best cameras. You cannot use your smartphone to capture high-quality pictures. It makes sense to rent or invest in a DSLR camera that has the right autofocus features and manual edition options.
With the right types of camera equipment, including tripods, lights, and the right camera, you can manage to capture the best angles for car photography.
Scout for a good location
You can think of some interesting car photoshoot ideas based on the location of your shoot. If you wish to shoot outdoors, then take your time to search for a great location. Regardless of the theme of your shoot, the environment should complement your vehicles.
If planning to shoot indoors, you should select the correct studio. It shouldn't be too far from your lot, otherwise, you will end up wasting time and money driving cars to and fro.
Brainstorm for unique ideas
As mentioned earlier, the internet is flooded with images these days. You need great car photoshoot ideas so that your pictures can stand out and grab the attention of potential consumers. These unique ideas could be specific to the best angles for car photography or could be unique with respect to the backgrounds used.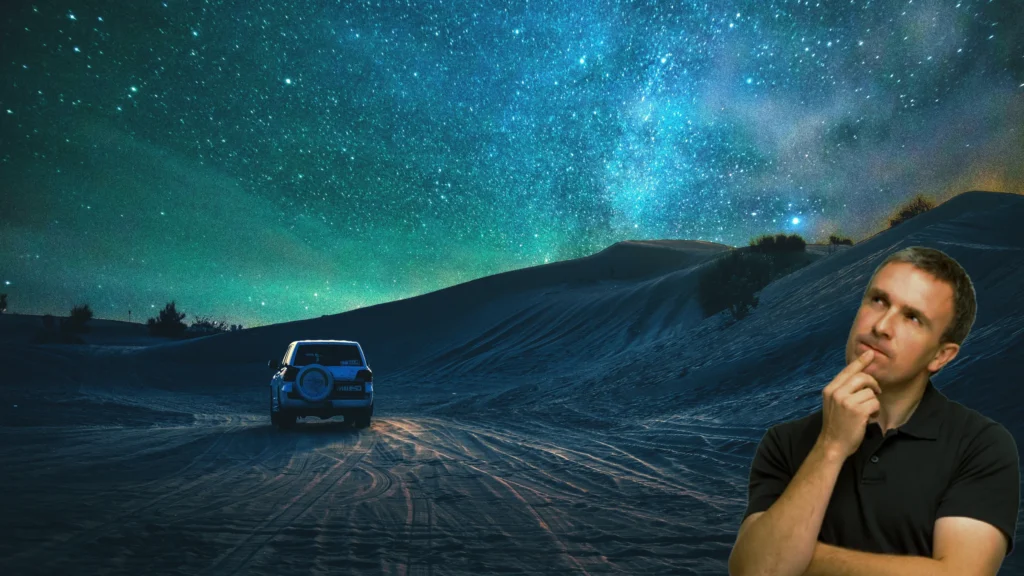 Automotive photography tips and tricks can instantly enhance a typical car photo and make it more appealing.
Get expert guidance if needed
If you are not born an expert photographer, you can join a course that can help you learn car photography techniques. A car dealership is expected to be always on the lookout for the perfect car photoshoot, so it makes sense to invest in learning a course.
A photography course can enhance your photography skills and lead to better-quality pictures.
AI-led car photography ideas and enhancements
If you want to stay ahead of the competition, you need to move fast. While getting the perfect car photographs can seem time-consuming, the process can get faster and smoother with AI-led additions. At any given point in time, a car dealership will have multiple photo enhancement needs, which could take hours and weeks.
Luckily, with the advancements in AI, these tasks can be easily managed in just a few minutes with the right car shoot ideas.
Here are a few ways in which AI-led car photography enhancements can benefit your car photography:
1. They help you save up on costs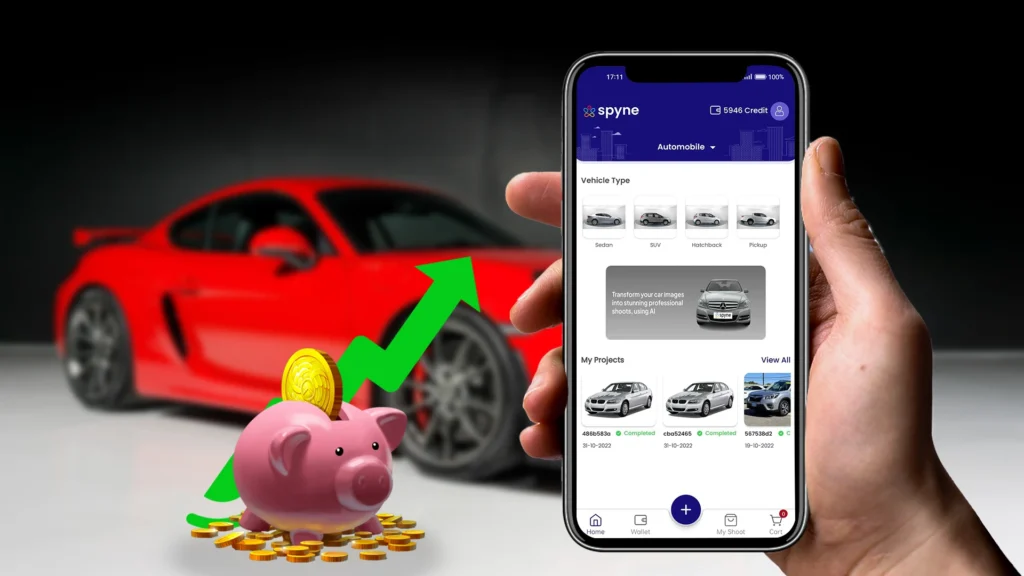 The common notion of getting better-quality pictures in a studio setting can be misleading. You can get equally good shots with the help of AI editing software (like Spyne), thereby saving big bucks on automotive photography pricing, studio rents, and fancy equipment.
2. They are automatic in nature
Manual software may require you to edit details individually, but AI-led tools do the detection for you. Right from choosing the areas to enhance to actually rectifying those errors, you can do it easily with these tools.
3. It's scalable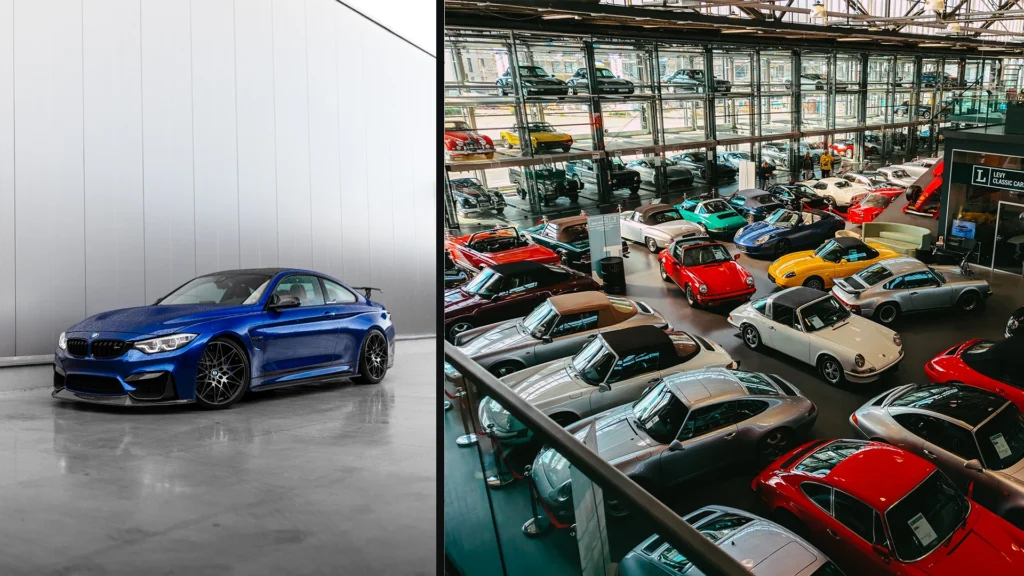 Manual editing can help you when you have limited pictures to enhance, but when the volume goes up, the need for scalability comes in. AI tools can instantly edit multiple images and help in scaling up your requirement.
4. It's consistent
Manual editing may not guarantee accurate results every time. This is where AI can act as a game changer. No matter the number of car images that you need to edit, you can rest assured to get consistent results.
So what can AI do for you? AI tools like the one offered by Spyne can help you in creating professional-quality pictures in a simple yet faster way. You can instantly download our application and follow the instructions to create stunning car photography.
Conclusion
We hope this article helped you with some really amazing car photoshoot ideas and tricks to not only click better quality images but also enhance your existing set of images. With the addition of the right AI tools, your digital presence can shoot up your sales immediately.