Did you know that an average online car buyer visits merely 4.2 websites in their entire car-buying journey? Just imagine – an online buyer clicks on your website amidst millions of online car sellers jostling for their fair share on the internet. Unless you can convince them to buy from you, all your efforts are for naught. Visuals are the best way to do that, which is why you need professional images shot in a car photography studio.
When people browse through your VDPs, they immediately switch over to your competitor if they come across blurry car pictures that don't give them a good look at the vehicles. You'll end up losing a sale! You can avoid this situation by using high-impact images shot by a professional in a car photo studio (or perhaps other means – keep reading to know more about that). Research says high-quality visuals can boost sales by 65% more than any textual or verbal info on the page.
This blog will run you through everything you need to know about capturing top-quality virtual showroom photography. Let's dive in.
What is a Car Photography Studio?
A car photography studio is an establishment where you can shoot professional car images. In simple words, it is a studio for car photoshoots, as the name suggests. Automobile retailers and OEMs often require high-quality vehicle pictures – for advertisements, promotions, sales listings, etc. – for which they turn to car showroom photography. Usually, a car photography business is run by a seasoned photographer (or crew) specializing in automotive photoshoots.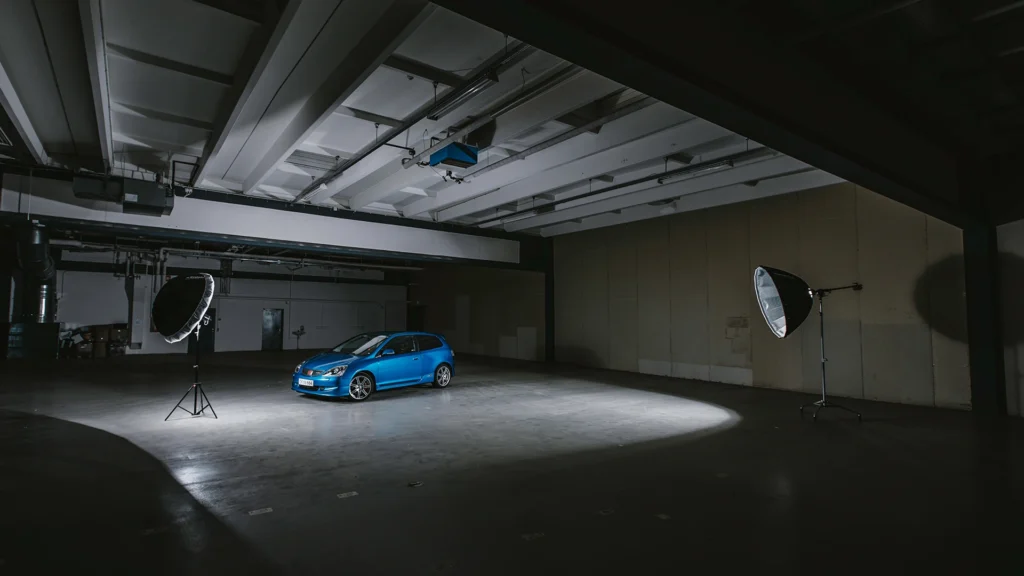 Plenty of car retailers worldwide employ third-party car studios for their photography needs. These studios can have an installed revolving platform for 360-car photography. However, they need to pay a hefty fee, and photoshoots can take hours. Larger businesses, with hundreds of cars on their lots, usually build their studios and hire photography crews, which saves them time but increases their investment considerably. Many small-scale vehicle sellers get intimidated by the costs involved and skip professional studio photography entirely.
Advantages and Disadvantages of Car Photography Studios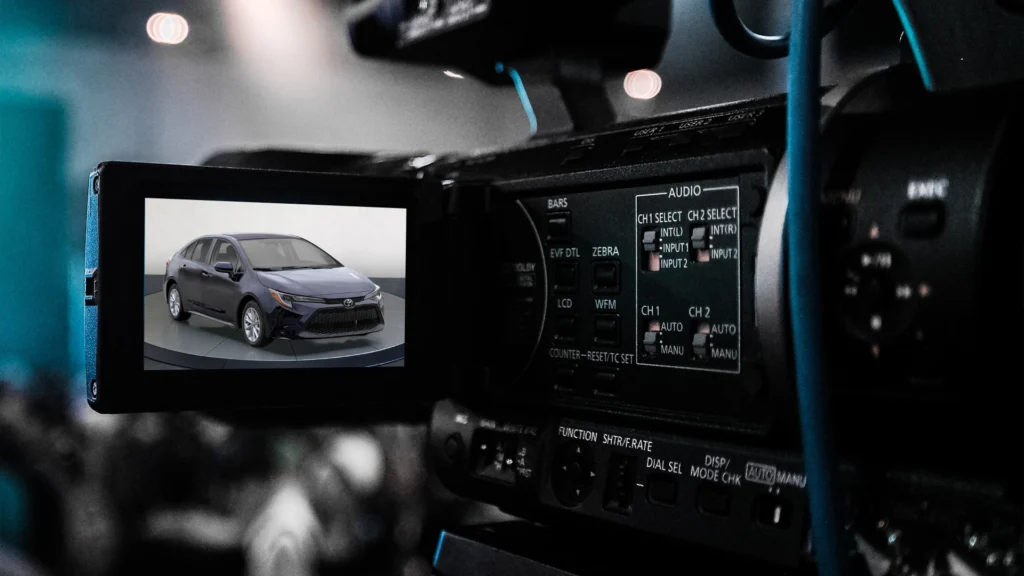 There are plenty of advantages to opting for an automotive photography studio:
With high-quality images, 360 car pictures, and videos, they can help your dealership stand out from the crowd.

With the help of professional equipment, your photos will be more striking in terms of quality.

The studio staff takes care of all your photography and editing needs, so you usually don't have to worry about them.

It helps you create images that leave a lasting impression
There's no doubt that vehicle photography studios provide excellent results. However, they have some disadvantages:
There are location restrictions on studios. If your studio is far from your lot, then driving cars to and fro between the two would be an additional task

Images shot in

car studios

undergo manual editing, which can be slow and tedious
Top Tips for Shooting the Best Car Dealership Photos
If you are new to virtual car showroom photography, these Car Photography Tips will be a blueprint to kick-start your car photography journey. Good car photography calls for techniques and understanding the coordination between lighting, lens, and background. Acing the timing of these components lets you win half the game to get the best car pictures.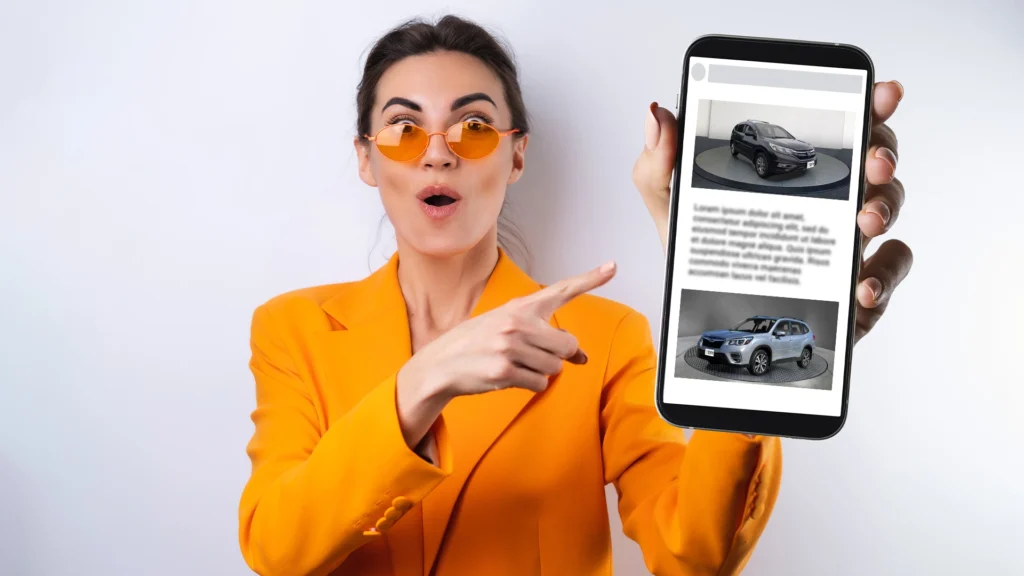 Here are a few pro tips:
1. Get Long Lenses
Consider using long lenses like 70-200 mm f/2.8L IS to get full-frame shots. They will help you zoom in for motion shots and capture compressed perspective for static shots. Moreover, fast apertures like f/28 make it super easy to take pin-sharp shots and maintain zoom range.
2. Macro photography for car interior
For a vehicle's interior, you'll need to zoom in on notable design details to highlight them. The steering wheel, dashboard, etc., often have intricate details worth showing off. This isn't true for all cars, especially affordable ones.
3. The circular polarizing effect
Polarizing filters attached to your lenses are one of the most powerful tools to capture the right car images. Polarizing filters help you eliminate all unnecessary reflections from the car body and puddles. You can also make the sky complement the car by filtering out the polarizing light.
4. Make smart use of the space
Placing cars in the right place in an image makes a huge impact. For instance, if you capture side views of the car moving from right to left, the best way would be to place the car somewhere in the right corner of the frame. It helps create an active space and adds life to the vehicle. On the other hand, placing the car in the center would create dead space, making images look ugly.
5. Identify the golden hours of shooting
Golden Hours is a vital factor for good Car Photography. Shooting in hard lights will create unnecessary reflections and shimmering on the car body, making images highly unattractive. The best time to shoot cars outdoors is during twilight, that is, either early morning or sunset. The low angle of the sunlight will help you add warmth and texture to the image while dimming lights allow you to arrange the image elements.
Photographing Interior and Exterior Shots in Car Studios
Interesting angles, backgrounds, spinning views, etc., serve more like a head-turner, forcing the buyer to stop, notice, and engage. However, buying decisions depend on the images that capture the interiors and exteriors as they help buyers understand the condition of your cars.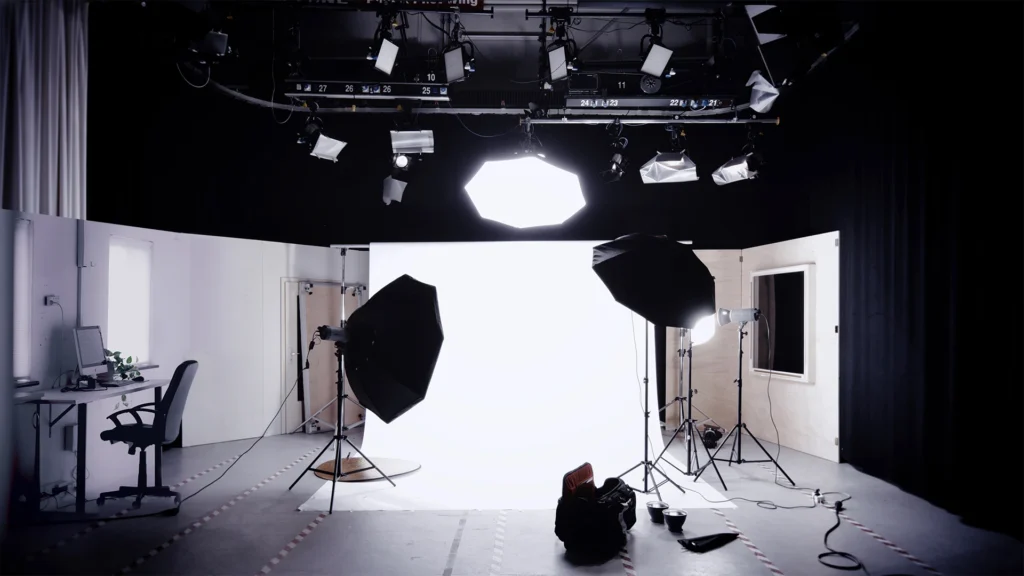 So, it becomes critical that you put all your efforts into producing best-in-class car-studio-like interior and exterior visuals. Consider these few tricks while shooting the interiors and exteriors of a vehicle.
Interior photography tricks for virtual car showrooms
Try matching the color of the car interiors with the background since you want to cover the scenery from the windows and windscreen of the vehicle. The surroundings and interiors should complement each other. For this, set the aperture at f/4 to blur the background through the windows.

Make sure there's no wear and tear inside the car. If the edge of your leather seats is ripping apart or the leather covering of the gear is showing sponges, make sure to mend them all before you shoot. You won't want to show a car that's an absolute mess from the inside.

Don't forget to light the car interiors. If you are shooting in daylight, the sun can create high-contrast areas, causing unnecessary dark spots in the image. Using a scrim and light bar, you can diffuse the natural light to some extent and create soft spots.

Focus on every little feature. Do you have a cassette player in that old vintage mustang? Or a headrest on the passenger seat? It can create micro-moments for buyers, leading to an ultimate sale.

If you are shooting at night, ensure that dashboards are well lit-up. Try with timed exposure, focusing on a spinning tachometer. If you sell a modern car with LED accent lights, keep them on and try to capture different exposures.
Exterior photography tips for virtual car showrooms
If there are unnecessary elements in the surrounding, try to go for the bokeh effect. Widen the aperture lower than f/4 and concentrate only on the vehicle.

Use a pair of wide-angle lenses to increase the captured area in the image. They have a smaller focal length, allowing you to insert more background portions.

Play with the shutter speed and ISO to get an accurate exposure. If the light is sufficient, go for a lower ISO and faster shutter speed. If it's dim, keep the ISO higher, but not so much to include noises and grains.

Deciding on image composition before shooting can help create high-impact visuals while saving time. Bracketing or taking the same scene with different exposure settings works if you want to monitor and manage composition based on exposure. You could combine several photographs into one to make a composite image.
No Car Studio? No Problem! 
You are shooting car visuals with different angles, backgrounds, effects, rotating views, etc. Now, what is next? It's the post-production phase – editing. Unfortunately, this is car showroom photography's most tedious and tricky part. You either need professional editors who can process them manually, or you need to install Photoshop or other image editing software to do it yourself.
Either way, it's a time-consuming, expensive, laborious, and non-skippable part of virtual showroom photography. You need to ensure that these image carousels, videos, and other visual formats comply with the marketplace requirements and are not too heavy to load.
AI-Led (Automated) Virtual Car Photography Studio
Automated car photography studio uses AI-powered software to help you click images of your vehicles. Usually, such car showroom apps offer plenty of different photography solutions – guided static photoshoots, automatic image editing (like car background removal and replacement), 360-degree guided photo/video shoot, etc.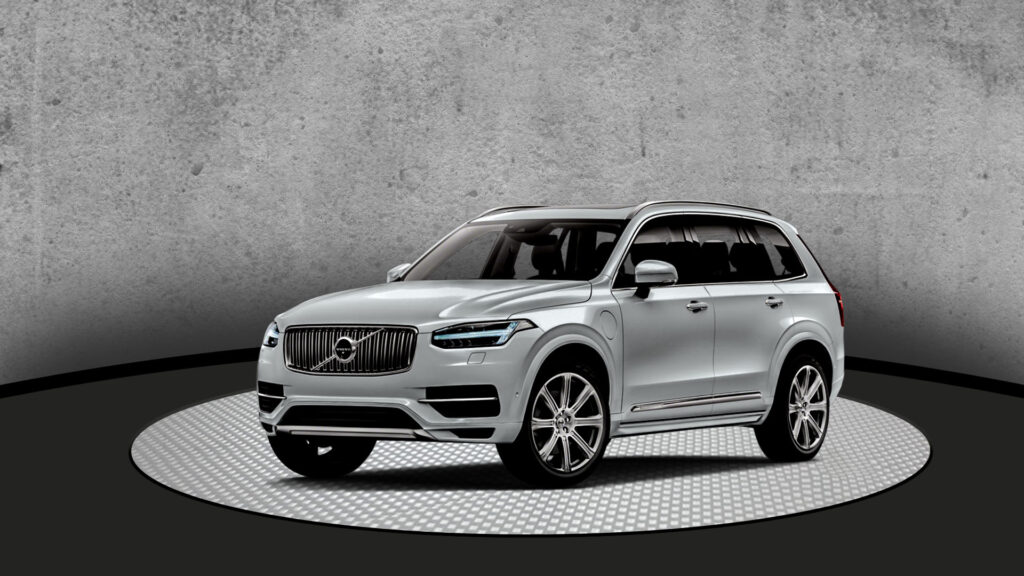 Auto dealerships are always looking for ways to save time and money, and AI-led vehicle photo studios are one of the most cost-effective options. With this type of photography, dealerships can eliminate the need for manual photo processing and retouching. This means less time spent on photo taking and more time selling cars.
Additionally, AI applications can capture high-quality images that are perfect for online listings, online advertising campaigns, and even in dealership showrooms. There are plenty of options available, including Spyne.
Advantages and Disadvantages of AI-Powered Car Photography
There are many benefits to choosing AI-powered car photoshoots over traditional photoshoots. 
The most obvious one is that AI photography is quicker and more affordable.

Some advanced AI systems can detect distinct features of a vehicle – like dents, scratches, stains, etc. This will allow the customers to see every detail of your car and help you establish a trusted bond with them.

You can create 360 car pictures in a matter of minutes without going through the rigorous editing process. The system automatically compiles the images taken from different angles to create a perfect spin car visual.
While AI photography offers a range of benefits, there are a few disadvantages as well:
Not all AI-powered photoshoot systems provide a multitude of features. Some only have guided static photoshoots; others only have automatic image editing. You'll only be limited by your choice of platform.
You must be careful when selecting the right AI automotive photography studio for your dealership. Choosing one with every possible feature isn't always the right choice. Also, if the software crashes for any reason, you'll need prompt customer service, so check for that as well.
AI apps like Spyne are the solution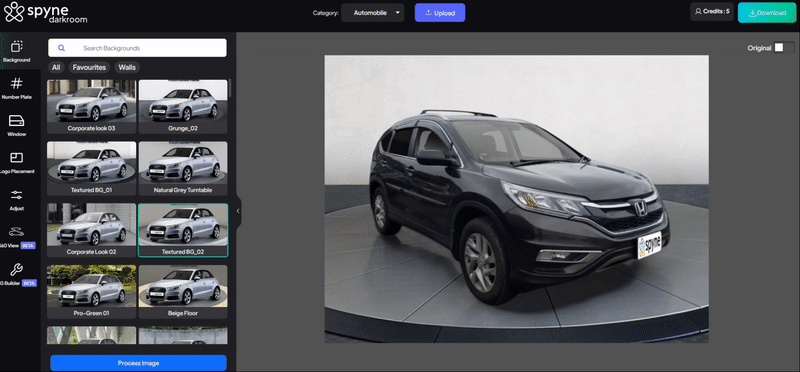 Looking to sell your cars online but don't have a professional car photography studio?  Well, guess what? You can make this phase a breeze and chaos-free with an AI-led Virtual Car Photography Studio. AI image editing solutions like Spyne offer numerous features to shoot and edit car images in the most hassle-free way.
With the help of AI, Spyne creates a realistic studio environment through background editing, shadow generation, and its 360 spin view offerings. Spyne aims to create the best automotive photography system. To achieve show-stopping inventory images, all you have to do is:
Download the Spyne app and open the app camera.

Follow the on-screen guide and ensure that the car fits the overlay sketch. It will help maintain accurate angles.

Choose backgrounds from 100+ marketplace-ready templates and apply the relevant ones. You can also upload a custom background to match your automotive studio photography ideas.

Shoot 360 spin car videos to your VDPs to increase the visual appeal and showcase your cars in an even better manner.

Once done, click on upload and publish images on your

virtual car dealerships

.
Spyne also offers virtual car photo studio API and SDK solutions that seamlessly integrate with your existing system. This means that Spyne's solutions can be customized to fit your dealership needs.  Spyne enables you to enhance your car photos with subtle touches and create showroom-like quality images that will leave a lasting impression. By leveraging the power of artificial intelligence, Spyne automatically applies necessary adjustments to your uploaded car photos.
Want to learn more about how to produce car studio photos for your digital dealership without hassles? Dive into the benefits of AI-led virtual showroom photography. Reach out to us or book a free demo today.
Conclusion
Car studios are crucial for your Car Digital retailing business, as you need great images to strengthen your online presence. However, the traditional means are expensive and quite slow. In comparison, AI-powered photography and editing are much quicker as well as affordable. They can be customized to match your car photo studio ideas. You can capture as many as 1000 images in one go with minimal retakes and errors and process them seamlessly.
The cherry on top: by making images marketplace-ready, you start cracking deals in no time!