In the rapidly evolving world of e-commerce, leveraging the right tools is key to staying ahead of the competition and maximizing your online success. Moreover, e-commerce tools encompass a wide range of software applications and platforms specifically designed to streamline various aspects of running an online business. From setting up an online store to effectively marketing products and providing exceptional customer support, these tools are essential for businesses to thrive in the digital marketplace.
This blog post will deeply dive into the essential e-commerce tools that can empower your online business. Whether you're a budding entrepreneur venturing into the e-commerce realm or an established business looking to optimize your operations, understanding and utilizing these tools will help you drive growth, improve efficiency, and deliver a superior customer experience.
By the end of this blog post, you will have a comprehensive understanding of the different e-commerce tools available and how they can be harnessed to drive your online success. Whether you're seeking to boost your marketing efforts, optimize your inventory management, or enhance customer support, this guide will equip you with the knowledge to make informed decisions and propel your e-commerce business to new heights.
So, let's embark on this journey into the world of e-commerce tools and unlock their potential for transforming your online business.
What are E-Commerce Tools?
Ecommerce tools encompass various software applications, platforms, and plug-ins designed to assist entrepreneurs in effectively overseeing their digital storefronts. Although these tools come in diverse forms, their fundamental objective remains consistent: simplifying, structuring, and mechanizing the operations of and expanding an online retail enterprise.
E-commerce tools are digital solutions that help businesses to sell their products or services online. Furthermore, these versatile tools provide a wide range of features that simplify and streamline various aspects of the e-commerce process. Key functionalities include inventory management, payment processing, customer relationship management, marketing, and analytics.
The major advantage of e-commerce tools is their scalability and flexibility. As businesses grow and expand their online operations, they can easily add new features and functionality to their e-commerce platforms, such as integrations with third-party services and marketplaces. This allows businesses to stay ahead of the competition and adapt to changing customer needs and market trends. Additionally, e-commerce tools can be customized and personalized to fit the unique requirements of each business, which means that companies can create a tailored e-commerce experience that aligns with their branding and customer needs.
Different Types of eCommerce Tools
To support the complex and dynamic nature of online business operations, various e-commerce tools have emerged. Furthermore, these tools play a crucial role in facilitating and enhancing the efficiency of e-commerce processes. From managing inventory and processing payments to marketing products and analyzing customer behavior, each tool fulfills a specific function that contributes to the smooth operation of an e-commerce business.
Various e-commerce tools are available to support different aspects of online business operations. Here are some key categories:
Marketing Tools
Marketing plays a crucial role in the success of an e-commerce business, and various tools are available to support and enhance marketing efforts.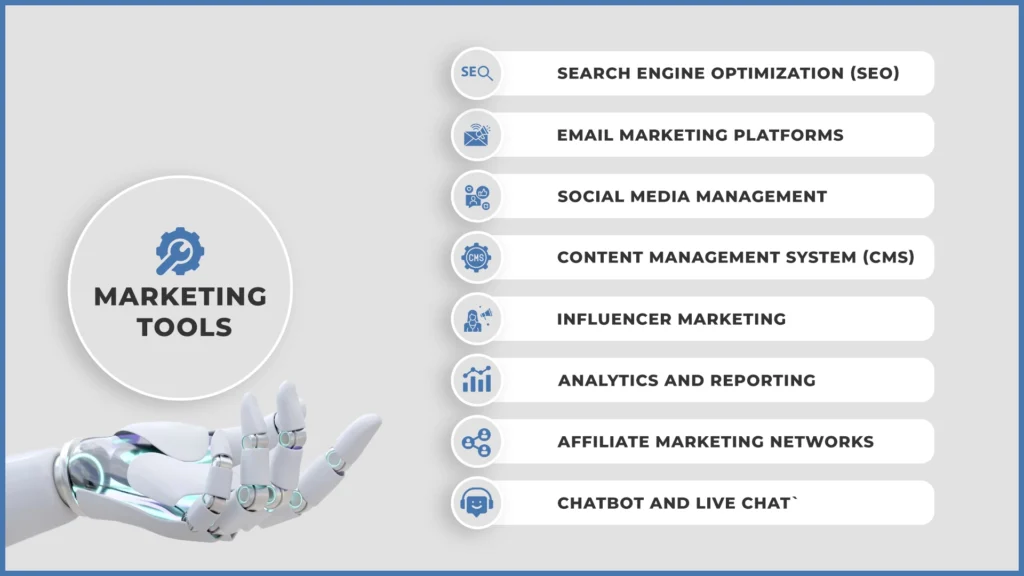 Here are some commonly used marketing tools in e-commerce:
1. Search engine optimization (SEO) tools
SEO tools help businesses optimize their websites to rank higher in search engine results. These tools provide insights into keyword research, on-page optimization, link building, and competition analysis.
Examples – SEMrush, Moz, Ahrefs, and Google Keyword Planner.
2. Email marketing platforms
allow businesses to create and manage email campaigns to engage with customers, promote products, and drive sales. They provide email automation, subscriber management, and performance tracking features.
Examples – Mailchimp, Klaviyo, Constant Contact, and Campaign Monitor.
3. Social media management tools
These tools simplify managing multiple social media platforms by offering features like post-scheduling, content creation, social listening, and performance analytics.
Examples – Hootsuite, Buffer, Sprout Social, and Later.
4. Content management systems (CMS)
CMS tools enable businesses to create and manage website content easily. They provide features like customizable templates, blogging platforms, content scheduling, and analytics.
Examples – WordPress, Shopify, Joomla, and Drupal.
5. Influencer marketing platforms
Businesses utilize influencer marketing tools to actively identify, connect with, and manage relationships with influencers. These platforms offer search and discovery features, streamline campaign management, and provide performance tracking capabilities to promote products or services effectively to their followers.
Examples – AspireIQ, Upfluence, and Traackr.
6. Analytics and reporting tools:
Analytics tools help businesses track and analyze website and marketing performance. They provide website traffic, conversions, customer behavior, and campaign effectiveness data.
Examples – Google Analytics, Adobe Analytics, and Kissmetrics.
7. Affiliate marketing networks
Affiliate marketing platforms connect businesses with affiliate marketers who promote their products or services in exchange for a commission. These networks provide affiliate tracking, payment management, and performance reporting.
Examples – Amazon Associates, ShareASale, CJ Affiliate, and Rakuten Advertising.
8. Chatbot and live chat platforms
These tools enable businesses to provide real-time customer support and assistance on their websites. They use automated chatbots or allow live chat interactions to engage with visitors and answer their queries.
Examples – LiveChat, Intercom, Zendesk Chat, and Drift.
These marketing tools enable businesses to reach their target audience, build brand awareness, drive traffic to their e-commerce websites, and convert visitors into customers.
Sales Tools
Sales tools play an essential role in increasing eCommerce revenue and optimizing sales. They provide the functionality to manage leads, track sales, perform tasks, and improve customer interactions.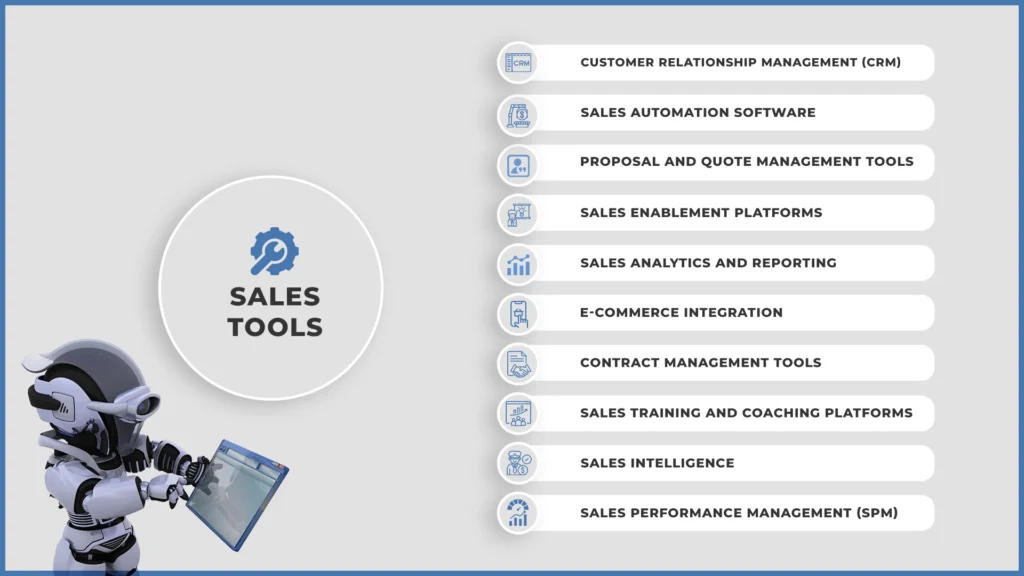 Some of the sales tools used in e-commerce are:
1. Customer Relationship Management (CRM)
CRM tools help businesses manage customer data, track interactions, and improve customer relationships. They store customer information, track leads, and sales channels, run operations, and provide sales analytics.
Examples – Salesforce, HubSpot, and Pipedrive.
2. Sales automation software
These tools simplify and automate repetitive tasks, allowing businesses to focus on more profitable activities. This tool provides lead generation, email marketing, tracking, and supply chain management.
Examples – Advertise, SalesLoft, and Pardot.
3. Proposal and quote management tools
simplify creating and managing sales proposals and quotes. These tools allow businesses to generate professional-looking proposals, track their status, and manage revisions.
Examples – PandaDoc, Qwilr, and QuoteWerks.
4. Sales enablement platforms
They provide resources and content to support the sales team throughout the sales process. They offer features like content management, sales training, and collaboration tools to enhance productivity and effectiveness.
Examples – Highspot, Seismic, and Showpad.
5. Sales analytics and reporting tools
These tools provide insight into sales, helping businesses track key metrics, identify trends, and make decisions with high data. They provide features such as sales forecasting, monitoring, and pipeline analysis.
Examples – Highspot, Seismic, and Showpad.
6. E-Commerce integration
They connect e-commerce platforms to sales tools for seamless data flow and order. These integrations enable businesses to secure customer data, orders, and inventory between eCommerce platforms and sales tools.
Examples – Shopify integration with CRM systems like HubSpot or Salesforce.
7. Contract Management Tools
These tools streamline the contract management process, making it easier to create, track, and manage sales contracts and agreements. They provide features like template creation, digital signing, and contract lifecycle management.
Examples – DocuSign, PandaDoc, Concord.
8. Sales Training and Coaching Platforms
These platforms help train and develop sales teams through e-learning modules, role-playing exercises, and performance tracking. They offer tools for onboarding, skills development, and ongoing coaching.
Examples – MindTickle, Showpad Coach, Allego.
9. Sales Intelligence Tools
These tools provide valuable data and insights to sales teams, including prospect information, company details, contact data, and social media profiles, enabling more targeted and personalized selling.
Examples – ZoomInfo, InsideView, DiscoverOrg.
10. Sales Performance Management (SPM) Tools
SPM tools help businesses set sales goals, track performance, and incentivize sales teams. They offer features like goal setting, performance tracking, commission calculation, and gamification.
Examples – Xactly, Anaplan, Optymyze.
Businesses can use these tools to manage customer relationships, make sales, get approvals, and better sell to customers.
Technical & Customer Support Tools
Technical and customer support are the keys to running a successful eCommerce business. Providing timely and effective customer support can improve their experience, satisfaction, and repeat business.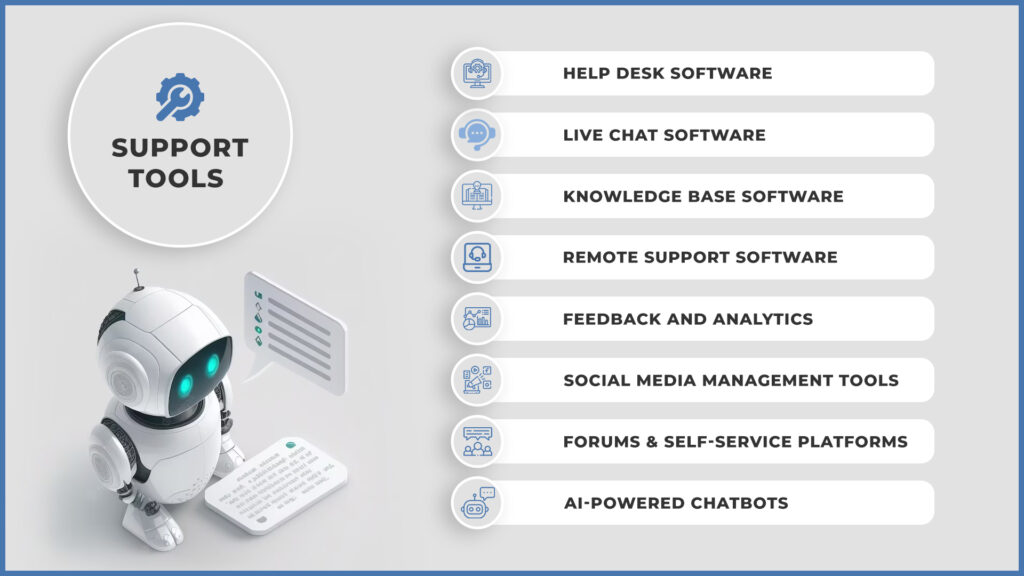 Here are some tools and customer support in e-commerce:
1. Help desk software
It centralizes customer support inquiries and provides a platform for management and solution customers. It allows businesses to track and prioritize support tickets, automate responses, and collaborate on support teams.
Examples – Zendesk, Freshdesk, and Kayako.
2. Live chat software
This enables businesses to provide real-time customer support via instant messaging on their website or app. They facilitate quick communication, timely problem-solving, and personal assistance.
Examples – LiveChat, Intercom, and Drift.
3. Knowledge base software
This software allows businesses to create and manage FAQ sections where customers can find answers to frequently asked questions. This tool provides an archive of articles, instructions, and instructions, reducing the need for customer service.
Examples – Zendesk Guide, Helpjuice, and Document360.
4. Remote support software
Support agents can remotely log in and troubleshoot customer devices or systems. These tools help solve problems effectively and reduce the need for site visits.
Examples – TeamViewer, LogMeIn Rescue, and AnyDesk.
5. Feedback and analytics
It helps businesses collect customer feedback, understand their interests, identify areas for improvement, and gather ideas. They can be used to evaluate the effectiveness of customer support and write recommendations.
Examples – SurveyMonkey, Typeform, and Qualtrics.
6. Social media management tools
These tools help businesses track and respond to customer questions, comments, and complaints across various social media platforms. They offer features like social media listening, scheduling posts, and managing multiple social media accounts.
Examples – Hootsuite, Buffer, and Mention.
7. Community forums and self-service platforms
These tools enable businesses to create online communities or forums where customers can ask questions, share knowledge, and find answers from other customers or support agents. They empower customers to help each other and reduce support ticket volumes.
8. AI-powered chatbots and virtual assistants
These tools use artificial intelligence and natural language processing to provide automated customer support and assistance. They can handle frequently asked questions, offer product recommendations, and assist with basic troubleshooting.
Examples – Chatfuel, Ada, and Bold360.
These technology and customer support tools help businesses provide effective and efficient support to their customers, solve their problems in a timely manner, and improve their experience.
Additional E-Commerce Tools
E-commerce tools are essential for businesses to manage their online stores effectively, streamline operations, and provide an exceptional customer experience. The following additional tools enable businesses to maximize efficiency, drive sales, and build long-lasting customer relationships in the competitive world of ecommerce.
Analytics Tools
Analytics tools provide valuable insights into customer behavior, website traffic, conversion rates, and overall marketing effectiveness. Here are some commonly used analytics tools in e-commerce:
Google Analytics: Google Analytics is undeniably one of the most popular and widely used analytics tools in the digital landscape. Furthermore, it offers comprehensive features to track website traffic, user behavior, and conversion rates. The tool provides a range of essential metrics, including session duration, bounce rate, goal completion, and e-commerce tracking, Google Analytics also offers advanced features such as audience segmentation, event tracking, and custom reporting.
Adobe Analytics: Adobe Analytics is a robust analytics platform that provides detailed insights into customer behavior, conversion paths, and marketing attribution. It offers real-time data analysis, advanced segmentation, and AI-powered predictive analytics. Adobe Analytics also integrates with other Adobe Marketing Cloud solutions for a comprehensive marketing analytics ecosystem.
Kissmetrics: Kissmetrics is a specialized analytics platform that strongly emphasizes customer behavior analysis, offering businesses deep insights into individual customer journeys. By leveraging Kissmetrics, businesses can understand how customers interact with their website, identify key pages that lead to conversions, and determine how various marketing channels contribute to the overall customer journey.
Hotjar focuses on understanding user behavior through heatmaps, session recordings, and feedback polls. It visually represents how users navigate and interact with a website, highlighting areas of interest and potential improvements. Hotjar also includes conversion funnel analysis and user feedback features.
Shopify Analytics: They provide built-in analytics capabilities for businesses using the Shopify e-commerce platform. It offers a range of reports and dashboards to track sales, customer behavior, and marketing performance. Shopify Analytics includes features like product performance analysis, customer lifetime value, and marketing attribution.
These analytics tools enable businesses to make data-driven decisions, identify areas for improvement, optimize marketing campaigns,   and enhance the overall customer experience.
Inventory Management Tools
Good inventory management ensures that businesses have the right products, avoid out-of-stock or out-of-stock items, and streamline the order completion process. Here are some eCommerce inventory management tools:
TradeGecko: TradeGecko is an inventory management system designed for eCommerce businesses. It has real-time inventory tracking, order management, and automatic transaction processing. TradeGecko also offers integration, sales, and marketing tools with popular eCommerce businesses and markets.
Zoho Inventory: Zoho Inventory is cloud-based inventory management software that helps businesses track and manage inventory levels. It provides features such as quantity and tracking numbers, order management, and inventory management. It integrates with other Zoho application suites, including Zoho Inventory, CRM, and Zoho Books.
DEAR Inventory: DEAR Inventory is a powerful inventory management tool designed specifically for e-commerce businesses. With its advanced features, DEAR Inventory offers comprehensive solutions for inventory tracking, purchasing management, order fulfillment, and seamless integration with various e-commerce platforms.
Fishbowl: Fishbowl is a popular product management system that integrates with many eCommerce platforms such as Shopify, WooCommerce, and Magento. It has been featured in inventory tracking, order management, automatic transaction processing, and barcode scanning.
SkuVault: SkuVault helps businesses track real-time product levels, manage multiple warehouses, and streamline order fulfillment. SkuVault offers barcode scanning, pick-and-pack functionality, and integration with popular e-commerce platforms.
Orderhive: Orderhive is a cloud-based product management system that includes many features for e-commerce. It has inventory tracking, order management, integrated shipping, and multiple sales features. Orderhive also provides analytics and reporting capabilities to help businesses learn about their products.
These inventory management tools allow businesses to simplify inventory management, reduce errors, and ensure product quality. Moreover, by utilizing these tools, businesses can effectively streamline their operations.
When delving into automotive e-commerce, leverage the right tools to optimize your online store, market automotive products, manage inventory, and provide exceptional customer support.
Order Management Tools
Order management is an essential process in e-commerce, encompassing various tasks such as tracking and fulfilling customer orders. Moreover, these tasks can be efficiently handled by utilizing order management tools. These tools play a vital role in helping businesses simplify and streamline their ordering processes, inventory management, and order fulfillment. Here are some order management tools in e-commerce:
ShipStation: ShipStation is a popular business management and shipping software that simplifies the shipping process for eCommerce businesses. It includes various sales and carriers, collects order information, and provides functions such as import orders, batch printing of waybills, and real-time tracking updates.
Skubana: Skubana is an all-in-one management system that helps businesses manage and synchronize orders, inventory, and fulfillment across multiple channels. It provides functions such as order routing, inventory tracking, purchasing management, and carrier integration. Skubana also provides analytical tools and business intelligence for data-driven insights.
ChannelAdvisor: ChannelAdvisor is an advanced e-commerce platform offering robust multi-channel sales, digital marketing, and order management capabilities. With ChannelAdvisor, businesses can effectively manage orders from multiple sales channels, ensuring seamless fulfillment and optimizing distribution.
Stitch Labs: Stitch Labs is an order and product management software product designed for the rapidly growing e-commerce industry. It contains order information from multiple sales channels, updates inventory, and provides functions such as order routing, management control, and reporting.
Brightpearl: Brightpearl is a marketplace with order management, inventory management, and marketing capabilities. It provides central ordering, inventory synchronization, and multi-selling capabilities. Brightpearl also cooperates with many eCommerce platforms, POS systems, and distribution companies.
These order management tools help businesses fulfill customer orders efficiently and effectively, improve product quality and provide a great shopping experience.
What Tools are Used to Build Ecommerce Website?
To build an ecommerce website, you can utilize a combination of tools and technologies. Here are 10 commonly used tools and components:
Content Management Systems (CMS): CMS platforms provide a solid foundation for building ecommerce websites.
Examples: WordPress, Drupal, and Joomla
Ecommerce Platforms: They provide comprehensive features for product management, shopping cart functionality, payment gateways, order processing, and inventory management.
Examples: Shopify, Magento, WooCommerce (a plugin for WordPress), and BigCommerce
Web Development Frameworks: These frameworks provide the necessary tools and libraries to handle complex functionality, database management, and server-side scripting.
Examples: Ruby on Rails, Laravel, Django, and ASP.NET
Front-End Technologies: HTML, CSS, and JavaScript are essential front-end technologies used to build the user interface and interactivity of ecommerce websites.
Examples: React, Angular, and Vue.js
Payment Gateways: Payment gateways enable secure online transactions. These services provide APIs and plugins that integrate with ecommerce platforms, ensuring smooth payment processing for customers.
Examples: PayPal, Stripe, Square, and Authorize.net
Database Systems: Database management systems store and manage product data, customer information, orders, and inventory.
Examples: MySQL, PostgreSQL, and MongoDB.
Analytics Tools: These tools help track and analyze website traffic, user behavior, conversion rates, and other key performance indicators.
Examples: Google Analytics or Adobe Analytics.
Security Tools: These tools help protect sensitive information and guard against cyber threats.
Examples: SSL certificates, firewalls, and security plugins.
Design and Graphic Editing Tools: These Tools are commonly used for designing and editing graphics, product images, logos, and other visual elements of the ecommerce website.
Examples: Adobe Photoshop, Sketch, or Canva.
SEO and Marketing Tools: SEO tools like SEMrush, Moz, or Google Keyword Planner assist in optimizing the website for search engines. Marketing tools like Mailchimp, Klaviyo, or HubSpot can help manage email campaigns, customer segmentation, and promotional activities.
Benefits of Ecommerce Tools
Benefits of Ecommerce Tools E-commerce tools offer a wide range of benefits to online businesses, and incorporating AI technology, like Spyne AI, can amplify these advantages. Some benefits include:
1) Improved Efficiency: E-commerce tools automate various processes, reducing manual work and streamlining operations. It can enhance this by optimizing image processing, editing, and organizing, saving valuable time and effort.
2) Enhanced Customer Experience: AI-driven tools can provide personalized recommendations and customer support, creating a more engaging and tailored shopping experience for users.
3) Better Decision Making: AI-powered analytics in e-commerce tools can process vast amounts of data, enabling businesses to make data-driven decisions, identify trends, and optimize their strategies.
4) Increased Sales and Conversions: E-commerce tools can optimize product listings, images, and descriptions, leading to better visibility, higher click-through rates, and increased sales. With Spyne, businesses can enhance the visual appeal of their products, driving conversions. 5) Inventory Management: E-commerce tools with AI capabilities can analyze inventory levels, predict demand, and automate restocking, ensuring products are available when needed, thus reducing out-of-stock situations.
6) Cost Savings: Automating tasks through e-commerce tools, reduces the need for manual labor and streamlines operations, leading to cost savings in the long run.
7) Fraud Detection: AI-driven e-commerce tools actively detect and prevent fraudulent activities, safeguarding businesses and customers from potential risks effectively.
8) Real-Time Insights: AI-driven analytics in e-commerce tools can provide real-time insights into customer behavior, allowing businesses to adapt quickly and make data-driven decisions on the go.
By leveraging the power of e-commerce tools, businesses can gain a competitive edge, enhance customer experiences, and drive growth in the dynamic digital market.
Conclusion
Consequently, using eCommerce tools is essential for success in the competitive world of online commerce. From the powerful eCommerce platforms that power online stores to business tools that enable customer acquisition, various tools play a key role in building the difference in eCommerce businesses. Additionally, inventory management systems are crucial in increasing productivity, while tools that support customers and improve business performance are equally important. Each of these tools contributes to the overall success of an eCommerce business, working together to create a seamless and efficient operation.
Using the power of these tools, you can manage your online store, reach your target audience, improve inventory management, and provide effective support to your customers. Investing in the right e-commerce tools can greatly impact your online success, whether a small start-up or an established business.
Regarding eCommerce tools, choosing a tool that fits your business needs, integrates with your operations, and enables future growth is paramount. Furthermore, it's crucial to constantly evaluate and update your assets as your business evolves and new technologies emerge. By leveraging the power of eCommerce tools, you can proactively stay ahead of the competition and unlock the full potential of your online business. Furthermore, with the right tools in your arsenal, you can accelerate growth, increase sales, and consistently deliver exceptional products that cultivate customer loyalty and encourage repeat business
In addition to essential e-commerce tools, don't forget the power of ecommerce photography tools to showcase your products beautifully and captivate customers' attention.