With the internet permeating every nook and corner of the world, consumers are rapidly going digital. This also includes the way they buy cars – both new and used. According to research, 59% of car buyers research the model online before making their purchase. This was back in 2019, and since the COVID outbreak, the trend has spiked sharply.
Needless to say, businesses need to go beyond brick-and-mortar stores to stay ahead of the competition.
Digital presence, however, is much more than just a website. The power lies in the ability to sell products through top-notch visual appeal. This is where artificial intelligence is marking its presence.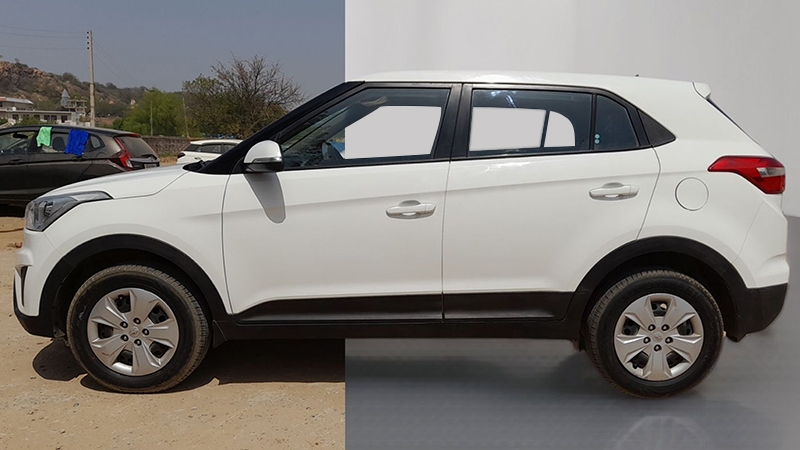 AI-led image editing is giving brands the ability to produce studio-shot product images simply using smartphones. These high-quality catalog images are already helping smart businesses to save time and costs by a huge margin.
Here, we have highlighted how AI-led image editing is revolutionizing the way automobile businesses sell their products.
The journey of a car buyer and where AI fits in it
To understand the role of AI in cataloging, we first need to understand the buyer's journey and the challenges.
Studies show that the decision of the car buyer is influenced by a multitude of factors. Following are the major reasons why car sellers lose their buyers to their competitors:
1. Limitless options
With the rapid digitization of markets, almost every car seller is setting up an online presence. This has multiplied the competition in the automobile industry.
Buyers today are empowered to pick from a large pool of car sellers available at the tap of the screen.
2. Buyers learn throughout the journey
In the process of researching the most suitable car to buy, a buyer learns consistently. This also includes learning something that could prevent them from reaching to the final decision of purchasing a particular car.
Source: AutoTrader
It is essential to help your buyers make an informed decision at every step. Images play a crucial role in making all the information about the product accessible to the customers.
3. Low-quality images
Images can increase sales massively, but an unappealing product image can also repel customers.
High-quality images are essential not only to catch buyers' attention but also to help them make an informed decision. They prevent them from going backward in the journey of buying.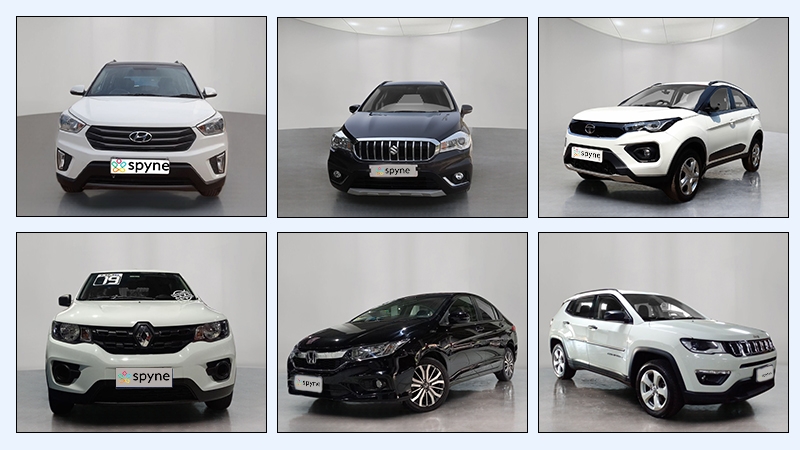 While selling used cars, one needs to ensure a high quality of images and of the presentation of VDP (Vehicle Detail Pages).
Suggested Read:5 Essentials to Creating VDP That Acts as Lead Magnet
Why are images so important?
When the COVID outbreak paralyzed the markets, car dealers went through a monumental shift in the way they used to sell. Dealers, who had long resisted the e-commerce space, realized the significance of taking their businesses online.
Since then, online car sales have become more mainstream, as more and more dealers are now selling digitally. Websites have become a variant of physical stores, and uploading images is the new way of putting cars on display.
The higher the quality of the car images, the better the conversion rate is for dealerships. However, a shift to online selling usually means added cost of car photography, post-production catalog creation, and management. Usually.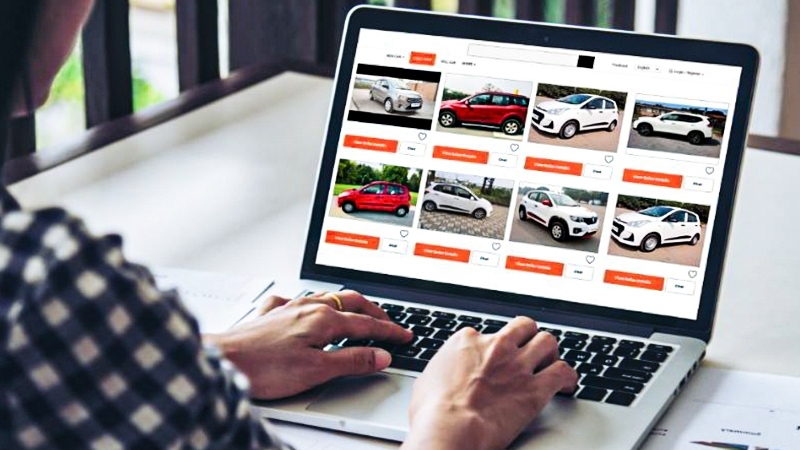 If you are leveraging AI for the cataloging process, you can save a lot of costs!
Also Read:Comprehensive Guide on 360 Car Images For Dealerships
Can AI also revolutionize the used cars market?
80% of used car buyers browse through the internet before actually visiting a car dealership or showroom.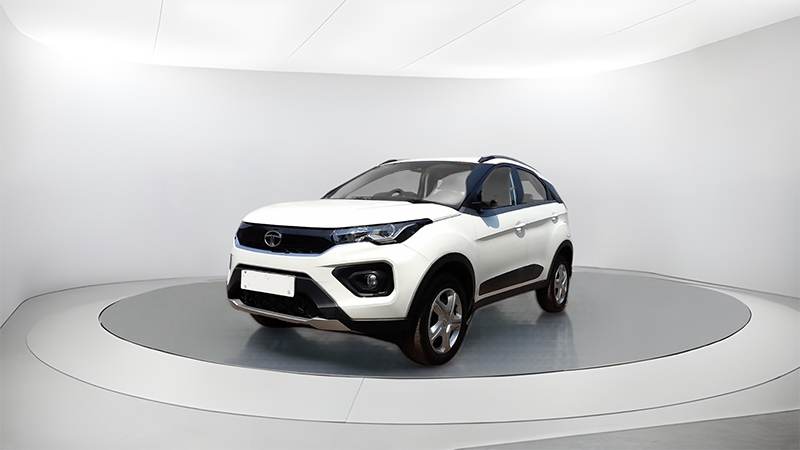 Therefore, images play a significant role in the used-car industry too. High-quality car images can help attract more buyers and drive sales.
How is AI image editing a new revolution for the car reselling industry?
One of the biggest mistakes that car resellers commit is ignoring the power of images.
Pre-owned car sellers must provide professional-looking and detailed images for buyers. With artificial intelligence, even photographs taken through smartphones can be converted into an appealing pitch for potential customers.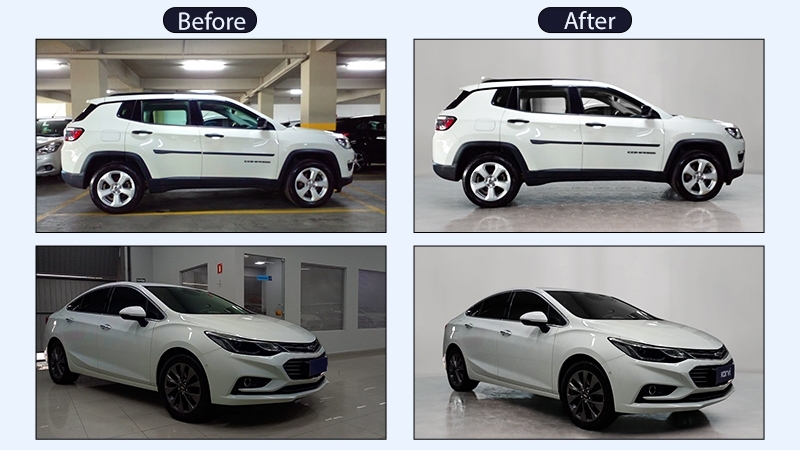 AI-enabled photo editors can shoot, edit and publish product images at a reduced cost, that too within seconds.
High-quality product images
Traditionally, the automotive industry has relied on high-cost and manpower-driven post-processing for vehicle images. This is a tedious and expensive process.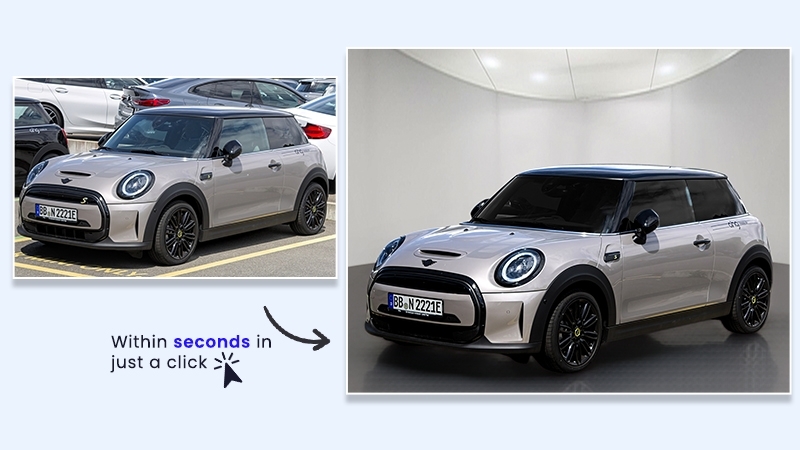 However, AI-powered image editing has made this process easier and seamless for car dealerships, resellers, etc.
The features like background and floor editing, with essential attributes of shadow and reflection, add studio-level finishing to images. The best part – it only takes a few seconds to get a high-quality processed image!
Try it for yourself by clicking on this link.
Reduce your cataloging cost with AI editing tools
AI tools are proven to increase the conversion rate through images by 40%.  Not just that, it makes studio-grade car image output possible at a 75% lower cost. 
This way, you can save money and improve your business growth. You don't have to queue up your car images in a manual editor's computer, you can process those on your own with ease, as it is 100% automatic. 
Faster turnaround time
A few seconds is all it takes to make your car image look perfect. It can instantly attract customers' eyes and increase the click-through rate on your ad, product listing, etc.
Leveraging artificial intelligence for catalog creation ensures 60% faster delivery compared to manual means.
Conclusion
To help car dealerships, Spyne – an AI-driven company – is offering automated cataloging solutions, which reduce costs and increase efficiency.
Our state-of-art AI infrastructure is replacing the tedious cataloging process and eliminating the long hours of manual endeavor to create attractive product images.