Online shopping has gained massive popularity in recent years across industries, accelerated by the pandemic. This is also true for the automobile industry. People are now open to the idea of purchasing a car online – a notion that would've sounded crazy a few years ago. Thanks to that, the importance of automotive digital retailing has increased multiple-fold for car dealerships and marketplaces.
Even when people won't purchase a vehicle online, they use digital platforms to research their options. To cater to that audience and more, you'll need the appropriate digital retailing tools. This blog takes a look at digital retailing for car dealerships and how to leverage it.
Ready to learn how to grow your online car retail business? Let's begin!
What is Automotive Digital Retailing?
Automotive digital retailing consists of solutions – for car dealerships, marketplaces, and independent retailers – to help their business grow in the digital world. It is a process that enables sellers to offer a fully connected and integrated experience to buyers, which makes the buyer's car buying journey a lot more convenient. This includes easing up everything, from customer research to getting finance options, scheduling test drives, etc. Digital retailing allows customers to do a major part of the transaction online and finalize the purchase in-store.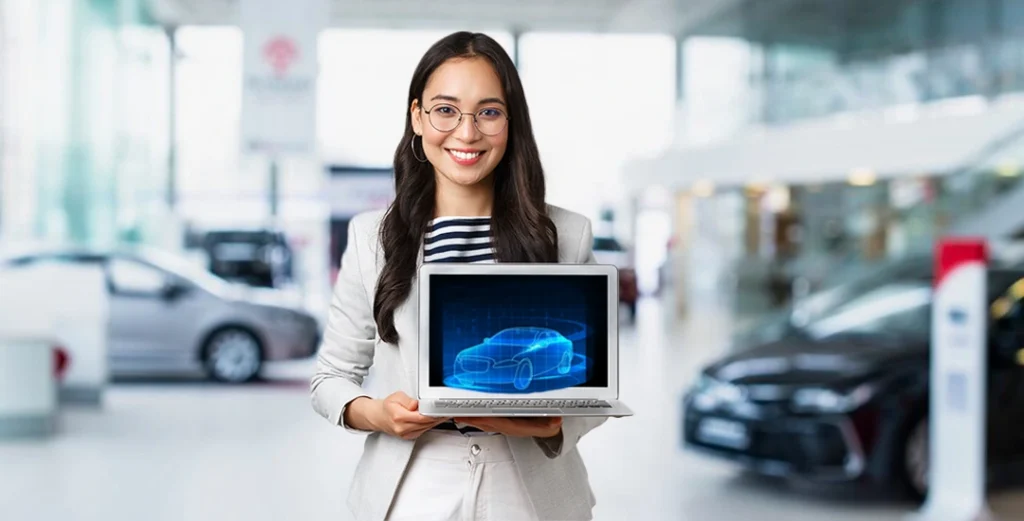 Through effective digital retailing, automotive businesses can merge their path-to-purchase seamlessly between in-person and online purchases. Consumers can choose to buy a car online or offline, or even start the purchasing process online and then switch to the traditional, offline approach by visiting the dealership, thus completely changing the way vehicles are sold.
This allows you to offer a seamless experience to your buyers, streamline your sales channels, improve your customer support system, build brand image and consumer loyalty, increase sales and profit, etc. Thus, it equips your sales department to create good interpersonal relations with customers and bring in better deals.
Automotive retail software like Cox Automotive Digital Retailing, Upstart Auto Retail, PureCars, Dabadu XRM, etc., are great options for your dealership. These platforms are a great help to retailers for selling cars online, as they assist in delivering an effortless research experience, consistent buying experience, easy finance options, etc.

Benefits of Automotive Digital Retail for Dealers
Online automotive retail is quickly growing because of the convenience it offers to car buyers. It helps retailers deliver what customers expect – an accelerated buying experience. People can now use their mobile phones or computers to check out cars, even order them online, and get finance options, all from the comfort of their couch! If the curiosity bug bites them, your prospects could even book appointments at local dealerships to check cars out in person.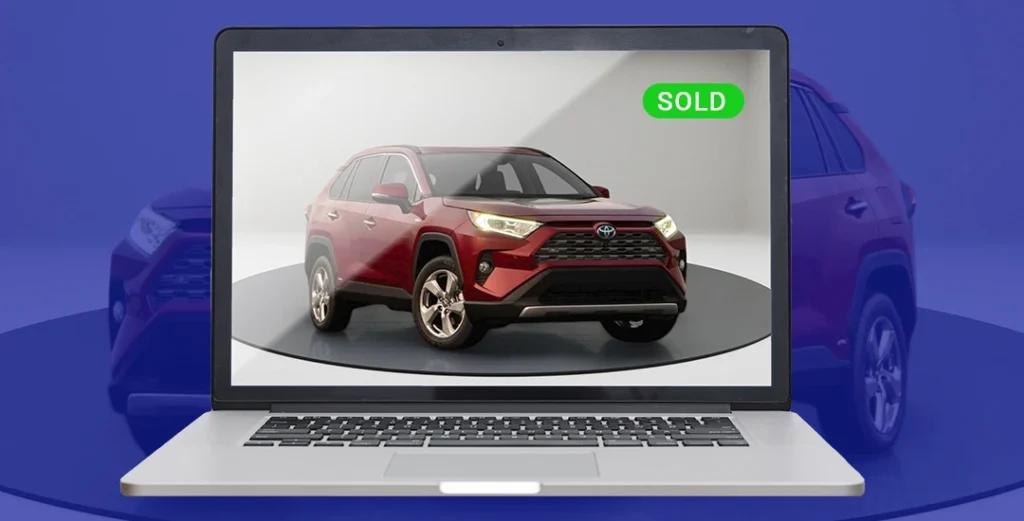 The main reason why this trend is successful is because of improved technology. The internet has made it easy for consumers to find attractive deals on cars, which means they're more likely to buy online than in person. Digital retailing is an all-in-one sales process that allows customers to have a streamlined online buying experience, and retailers gain high-quality leads. It helps you have a customer-centric approach through the sales process.
We'll let the numbers speak for the rise in online car sales:
The notion of online shopping for vehicles looks like a practical choice for 57% of all new potential customers and intenders, and 66% of 18-34-year-old buyers.
The market size of the online car dealers industry in the US has grown 6.4% per year on average between 2017 and 2022.
Here are the biggest benefits of digital retailing for car dealerships and retailers:
1. The shift toward online sales
Plenty of vehicle sales (including both new and used cars) are being conducted online, with consumers using smartphones, tablets, and other mobile devices as their primary point of purchase. Automotive digital retailing companies and platforms can help your business transition from the old, traditional sales methods to new, online ones.
2. Making things easy for customers
To understand how this trend is changing consumer behavior, consider this: Today's consumers are more comfortable buying things online than ever before. In 2021, more than 80% of consumers in the US used contactless transactions. Thus, it isn't hard to see the importance of automotive digital retailing solutions for car dealerships and marketplaces in the current times.
3. Improving inventory showcase
To aid consumer research and gain trust, you need to present your inventory on the internet in the best possible way. You'll need to have proper strategies in place for that, to ensure that your website/sales portal has engaging and informative content.
What Automotive Digital Retailing is Not – Addressing Misconceptions
More often than not, people have a misunderstanding or incomplete understanding of automotive digital retailing solutions. One should always remember that digital retailing is:
Not just building a website
Not just creating an eCommerce outlet
Not just digital marketing
Not just car sales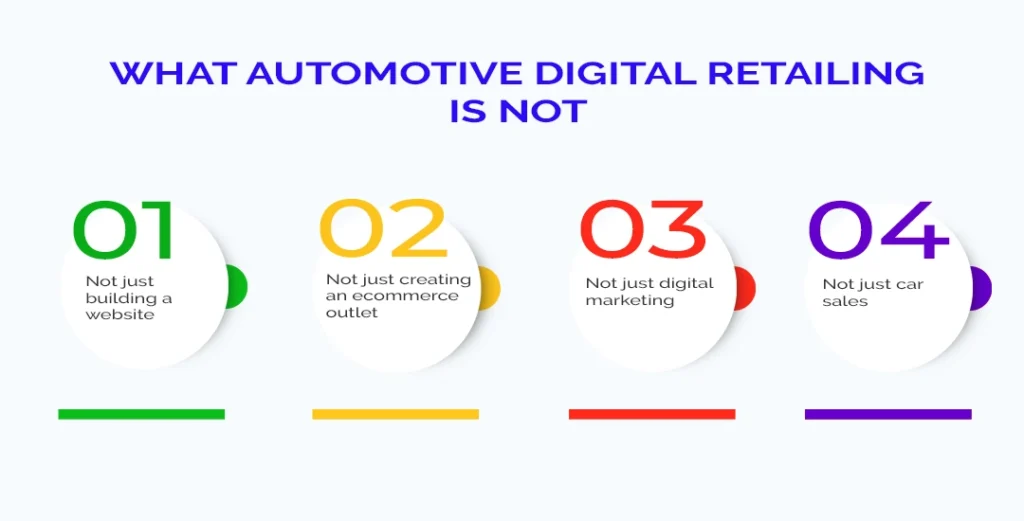 Let's dive deeper into the above-mentioned points.
Not just building a website
Just by the name, 'digital retailing', you might get an idea that it's about selling your product online. Is your job done once the website is live? No! It's just the beginning. Making the website appealing, getting people to the website, and generating a lead is all part of digital retailing solutions.
Not just creating an eCommerce outlet
As important as it is to have an e-commerce outlet, it's still not all. It has its own reasons for it – even though online shopping is rapidly increasing, a lot of people still want to visit the car dealership for a test drive and delivery of the vehicle. Having an eCommerce store gives you the edge as the major decision-making of a customer is online, but it's not the sole purpose.
Not just digital marketing
Digital marketing in the automotive industry can have different goals – awareness, engagement, generating leads on various platforms, etc. Digital retailing is more website focused, which is connected with the goals of all car dealerships, online or offline.
Not just car sales
It might seem like digital retailing is all about 'sales', there's much more to it. It's a medium to give people the time and space to understand the brand and make a connection in the comfort of their homes. It allows your customers to get familiar with your online inventory showcase and clear their doubts at their convenience. It's all about making your customers' lives easy!
Also, you shouldn't confuse automotive digital retailing software with Car Dealer Software (also called dealership management software). The latter is used to run and keep track of all the operations of a dealership; its role revolves around sales and inventory management. On the other hand, the role of digital retailing software is to cover the car buying process.
Key Elements of Successful Digital Automotive Retailing
Automotive digital retailing helps in selling cars online to generate revenue. It is an all-encompassing sales process that transforms the way retailers and dealerships sell cars. Every digital strategy for car retailers needs to have the following elements:
Car sales menu with appropriate filters: Option on the website for users to filter the available options based on make and model, price, miles/kilometers driven, etc.
A search bar on the website: This makes it easy for customers to check out their preferred options, thus making navigation easy.
Offer finance options and EMI calculator: People interested in buying a car will also be on the lookout for finance options. Make life easier for them by offering the latter on your website; you can partner up with banks or NBFCs for that. An F&I tool should ensure that F&I profit is maximized for online car sales. A good automotive digital retailing practice is to decide the monthly payment based on accurate lender rates, value their trade, and later shop for accessory items.
Car value calculator: If you also allow your customers the option to sell or trade in, then adding a car value calculator is a smart decision. This will allow people to check the approximate value of their existing car(s) and decide if parting with it is a good decision or not.
At-home consultation and booking a test drive: Your digital dealership should offer all the benefits of a physical dealership, with the added convenience of being able to do it from their homes. Your sales representatives need to provide online and on-call consultations to potential buyers. Your website should also have a provision to schedule appointments for test drives.
Choose the Right Automotive Retailing Tools for your Dealership
Automotive retailing solutions should integrate right into your website VDP. Before you proceed with your digital retail strategy, you should pick the right tools for it. Look for the right online and in-store capabilities, management, finance tools, etc. Here are some features and components to look for in an automotive digital retailing platform:
1. Vehicle price evaluation tool
You need a tool that effectively estimates the value of the vehicles in your inventory. Overpriced cars tend to turn away buyers, while underpriced ones lower your profit margin.
2. Car appraisal tool
While determining the value of most used cars is relatively easy, a few are complicated in that regard. Due to strong demand, scarcity, cult-like following, etc., some pre-owned vehicles can be sold for a much higher price (provided they are in great condition). You'll need the correct tool to leverage market data and determine which models will be the most profitable.
3. Inventory management system
You don't want to spend all your time managing your car inventory and maintaining sheets, do you? Choosing an inventory management tool helps ease the work, it will also help reduce inventory turnover time and boost profits.
4. Online retail channels
A car sales website (or a third-party online automobile marketplace) is absolutely necessary. You can go a step further and offer a smartphone app as well, which can offer a smooth and intuitive buying experience.
5. Vehicle display page
Your dealership website/marketplace needs to have a Vehicle Display Page, or VDP, for every model, so that people can check each vehicle out individually. These VDPs should offer all the relevant information – engine, fuel economy, features, equipment, etc. Bonus points if your VDPs are interactive and have high-quality images and videos.

6. Vehicle history report
When selling used cars, it's hard to get consumers to trust your business or the vehicles you have listed. This can be rectified by offering a vehicle history report, which lists every detail about the vehicle one should know, including any accidental damage.
7. Analytics tracker
It is necessary to track the performance of your advertisements across platforms, listings on different portals, different marketing and sales channels, etc. This can help you understand what aspects of your digital retailing strategies are working and which aren't.
8. Online reputation management
Online reviews can help build your reputation, but they can also spoil it. Any malicious and hurtful content aimed toward your business needs to be tracked down and reported. Note: You also need to ensure that genuine complaints are addressed instead of being shot down.
Connect Your Dealership – Best Practices for Digital Vehicle Retailing
The automotive industry is changing quickly and dealership owners, salespeople, and managers must be prepared to adapt. To stay ahead of the game, they need to be ready to make changes and connect to digital audiences. Your digital retailing should give a clear path to purchase for car buyers to complete the entire buying process online. It should provide a connected and full-integrated experience to make car buying more convenient for your customers.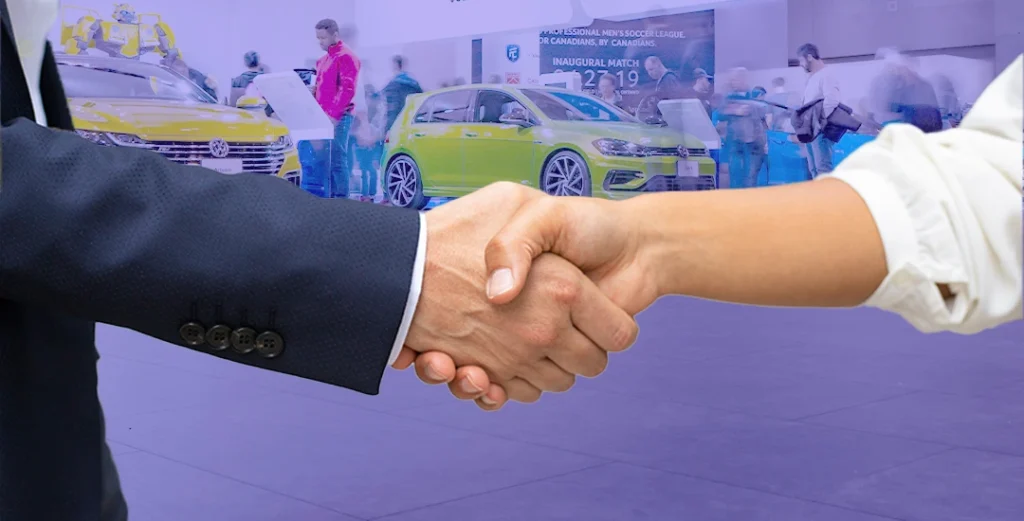 Here are five strategies that will help your car retail business do just that:
1. Transparency builds trust
The single-point-of-contact sales model, which is gaining popularity in the automotive industry, is a great digital retail strategy for automobile dealerships and marketplaces. This concept enables dealers to provide a more individualized, open experience because one person guides the consumers through the entire purchasing process.
2. The appeal of your website
As stated earlier, a website is one of the most important parts of your digital retail strategy. You need high-quality car photography, along with an attractive, simple, engaging, and consistent web design. Your vehicle display pages (VDPs) need to offer an immersive and informative experience to users for maximum impact.
Concerning vehicle eCommerce online, we will loosely classify photos into two categories:
Specific Images: These photos help buyers take a detailed look at a vehicle, checking out the design and features that entice buyers to make a purchase. Essentially, these photographs are the main attractions on your VDPs.
Additional Images: These photos support the dealer in creating a further impact on the client. These include all the additional details that could convince curious consumers, like optional extras, accessories, etc.
To know more about how you can get high-quality images for your car catalog without spending a lot, book a demo.
3. Easy-to-use navigation on your website
When designing a website, simplicity is the key. While it's easy to get caught up in all the fancy features that can be added to a site, the first and foremost consideration should always be the user experience. Does your site make it easy for new visitors to find the information they need when they arrive?
To ensure your visitors take the next step, make your main navigation clear and not confusing. Develop a hierarchical structure that encourages viewers to check your car inventory out and make a purchase. Your dealership's main navigation should include the following, depending on your customer base:
Car listing menu page (linking to individual VDPs)
Selling/Trading (customer sales) page
Discounts and Finance page(s)
Maintenance and repairs booking page
Availability of resources
Contact us page
4. Email marketing
Email marketing is another brilliant automotive digital retail strategy; it's a great way to engage with your customers and generate new leads. This can also be used to promote a brand, increase awareness, drive traffic to your website, and more. Here are some ways that email marketing can benefit your dealership:
Impacts online sales of a car dealership
Increases brand awareness
Increases website traffic
Generates leads for sales reps
Provides company news and updates
5. Continuously improve your process through reviews
Are your customers liking the way you are operating at present? What do they have to say about you? Is there anything that reduced their buying satisfaction? Reviews are not just the means to boast testimonials. They are great learning resources for your team. Use them wisely to improve your customer experience.
How to Implement Digital Retailing for your Dealership
Once you understand what digital retailing is and you have a strategy in place, you'll need to implement it smartly. Here's how you can do it:
1. Have a vision for your business
The goals of your digital retailing efforts should be clear before you begin. Why are you doing it? To increase your online presence? Capture more customers? Clear out old stock in your inventory. Once you have recognized your goals, working towards them is significantly easier.
2. Set a brand theme & language
Your website, advertisements, car listings, etc., should all have consistent language and design themes. This will also help increase brand retention among viewers. We suggest opting for an image editing service that automatically Replaces the Car Background of your listing images, so you can have a uniform theme for your online inventory.

3. Offer a complete omnichannel experience
All channels of your dealership – desktop website, mobile website, smartphone app, and even physical dealership – should offer a unified experience to viewers. No matter which channel they visit, or even if they jump between different channels, your viewers will have a consistent experience throughout their car buying journey.
4. Optimize your website for sale
Your website shouldn't just be a tool to showcase your inventory, but a tool for people to buy cars. Make the purchasing process as easy as possible – list the prices (and discounts, if available) upfront, capturing buyers' attention. Offer easy finance options as well, to ensure that unprepared buyers don't jump away from your website. Of course, you should provide people the option to purchase online, complete with doorstep delivery.
The above-mentioned convenience should also be available via in-app purchases.
5. Have a customer-centric approach
A customer-first approach is necessary for a car retail business to succeed. Your website and app should first try to identify a customer's requirements, and then make personalized suggestions based on that.
Installing a chatbot is perhaps the most effective way to do this. A chatbot can engage your potential customers and ask preset questions to determine what they need. After that, they can suggest options based on the submitted answers. If the queries are complicated, then the bot can set up a meeting or call with a sales representative, who can offer better and more personalized advice.
The Future of Automotive Digital Retail
As the automotive industry continues to evolve, it is important for auto dealerships to stay on top of trends and changes in their industry.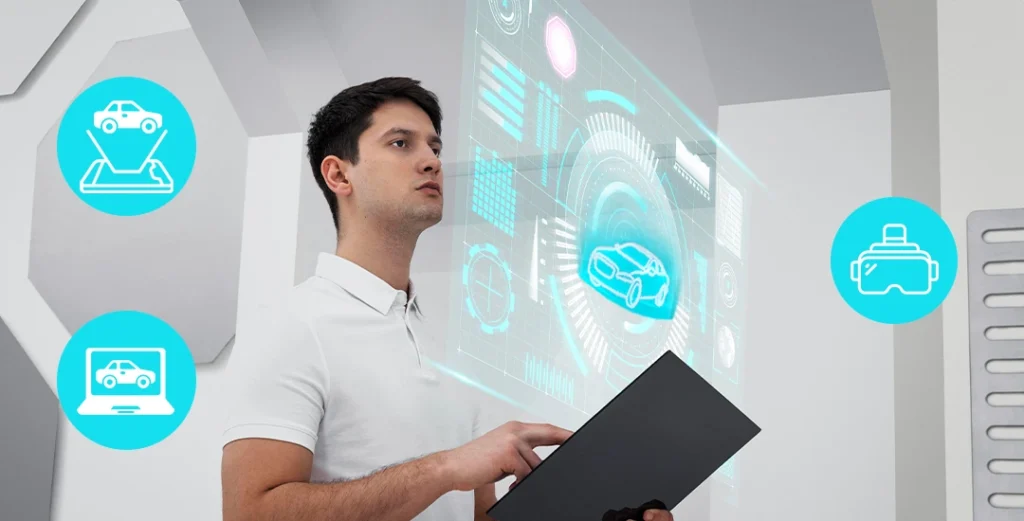 One area that has seen some significant change over the past few years, and is expected to affect the future of car dealerships, is how people shop for cars. According to a study conducted by JD Power and Associates, only 28% of people who are shopping for a new vehicle are doing so at an auto dealership. This number has steadily decreased over time, as more consumers prefer to do their research online before visiting a dealership.
Not only does this mean that fewer people are visiting dealerships, but it also means that fewer salespeople will be making their way out into the field to meet with customers face-to-face.
This trend will continue as more consumers look at purchasing cars online or through other channels like word-of-mouth referrals from friends or family members who have purchased cars from these sources before them.
Conclusion
The future of selling vehicles lies in expanding automotive digital retailing. The way consumers shop today is online, and that's what we need to understand. Nowadays, consumers expect convenience when buying products. With just a few clicks, they can order their favorite restaurant meal and have it delivered right to their doorstep.
It is also important for car dealerships to recognize that. The number of consumers shopping for cars online will continue to grow. It is likely that more people will expect to be able to complete at least part of the process online if not all of it. For this, car dealership photography will play a vital role. 0
By embracing this reality, dealers will be able to increase sales and efficiency. Without them, dealers will have a hard time staying in business.