As a car dealer or independent seller, you deal with multiple responsibilities. You must maintain a full inventory of your available vehicles, regularly update your online listings and website, engage with potential customers, and handle various other tasks. Balancing these demands can be overwhelming, especially as dealerships often need to multitask. To ensure the seamless operation of your car dealership, you require tools that streamline and expedite processes, reducing the need for manual effort. HomeNet offers top-notch automotive dealership management solutions designed to enhance efficiency and productivity.
What is Homenet?
HomeNet Auto stands at the forefront of the retail automotive industry, offering invaluable insights and services for online car merchandising, empowering dealers and partners to optimize their visibility and profitability. Home net auto's user-friendly suite of efficient products enables dealers to set their inventory apart from the competition. With various merchandising tools and seamless online syndication to all third-party advertising platforms through a unified platform, their vehicle merchandising solutions include rich, engaging content that meets the expectations of modern vehicle buyers.

Services Offered by Homenet
Home net auto offers many solutions that can help dealerships give their customers an immersive experience.
Some of the services or homenet products are:
1. Snaplot 360: Helps you take 3D images of a car's inside and outside to make shopping more engaging and lifelike.
2. Photo Background: Take great car pictures and put them on nice backgrounds automatically. The great thing is you won't require any manual car background editing. Also, you can share these pictures easily on different websites.
3. Image Overlays: Make your car ads stand out with attractive overlays that show important features. You can use them for individual cars or all the cars you're selling.
4. Powerwriter next: Create automatic descriptions for new and used cars with messages that you can change to fit your dealership.
5. Snaplot: You can use a smartphone or tablet to take pictures of cars on your lot and upload them without any wires. This helps you get them online faster and get more people interested.
6. Video online: Turn your current pictures and information into videos automatically, or make special live videos for an amazing media experience.
7. Rapid detail: Gather information and pictures of cars you buy at auctions, make them look good while they're on the way to your dealership, and share the new listings on advertising websites.
Advantages of Homenet
Homenet automotive inventory provides many benefits that dealerships can take advantage of.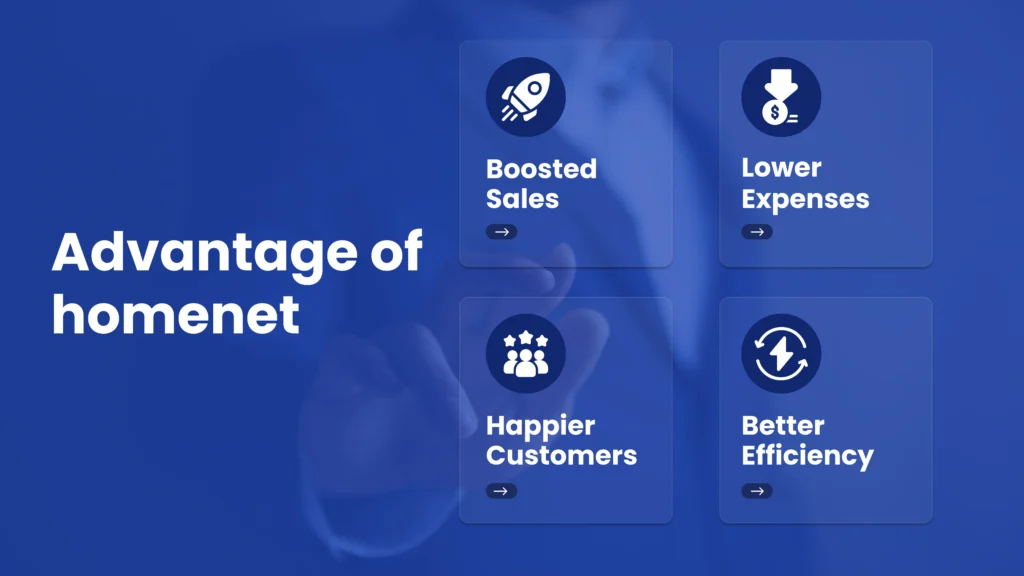 Here are some of the pros:
1. Boosted Sales: This online retailing platform helps dealerships sell more cars on the internet.
2. Lower Expenses: Home Net Auto's BTO tool helps dealerships cut down on inventory expenses.
3. Happier Customers: Their offerings help dealerships enhance the customer experience.
4. Better Efficiency: Helps dealerships simplify their operations and work more efficiently.
Disadvantages of Homenet
There are many advantages that one dealership can have, but that's not it. There are few disadvantages too that you need to consider.
Here are some of the disadvantages:
1. Complexity: The things they offer might be a bit tricky, especially for dealerships that aren't used to tech stuff like digital selling. The digital selling thing has many cool tools, and it might take a while for the dealerships to get the hang of using it right.
2. Technical problems: There's a chance of issues and technical glitches, which can cause the system to stop working and sales to drop. For instance, if the digital selling system has a problem, customers might not be able to buy cars online. And if the BTO or trade tools have a glitch, the dealership staff can't use them to handle customer orders or trade-ins.
3. Cost: Homenet pricing can be costly for some small dealerships. The price of the digital selling system can change based on how big the dealership is and what features they choose. But usually, it's a big expense.
On top of that, there might be extra costs for making everything work together. Like, the dealerships might have to buy more gadgets or programs, or they might need experts to help them connect HomeNet Auto's tool with what they already use.
How is Syndication Done in Homenet Automotive?
Syndication is one of the most effective tools that helps dealerships create a new and used car inventory. All of this can be done from one centralized location. It can also distribute those inventory listings automatically on key advertising sites. Therefore, it allows your customers to see photos, data, and videos no matter where they shop from.
How Does Homennet Auto's Powerwriter Next Tool Work?
Homenet's Powerwriter Next tool can create descriptions for both new and used cars quickly. This tool lets you connect with customers by making automatic, changeable messages with different options and various templates that tell more about your dealership.
You can also make your descriptions better by including awards, praises, and reviews from the industry's best brands and experts to make people trust your dealership more.
How Spyne Integrates With Homenet
The integration between Spyne, which is an AI-powered imaging platform, and Homenet is seamless and easy to understand.
Step 1: Initiating the Integration
The process starts by getting permission from the dealership and DMS. When they agree, DMS (which is HomeNet in this case) lets us into its database so that we can get the details and pictures of specific vehicles.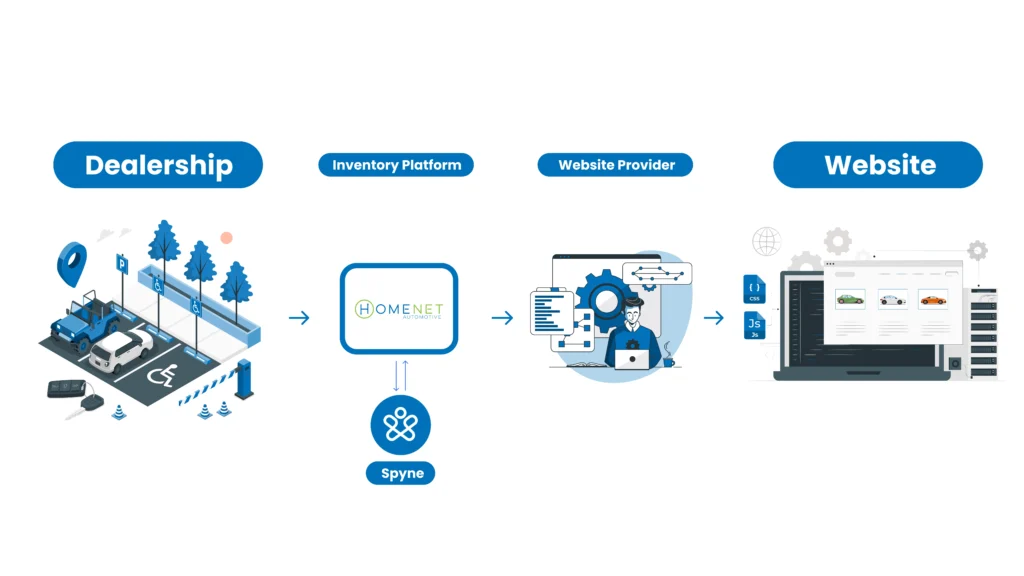 Step 2: Image Received via FTP
If the dealership takes the pictures, HomeNet Auto sends us the raw images, which we turn into processed images.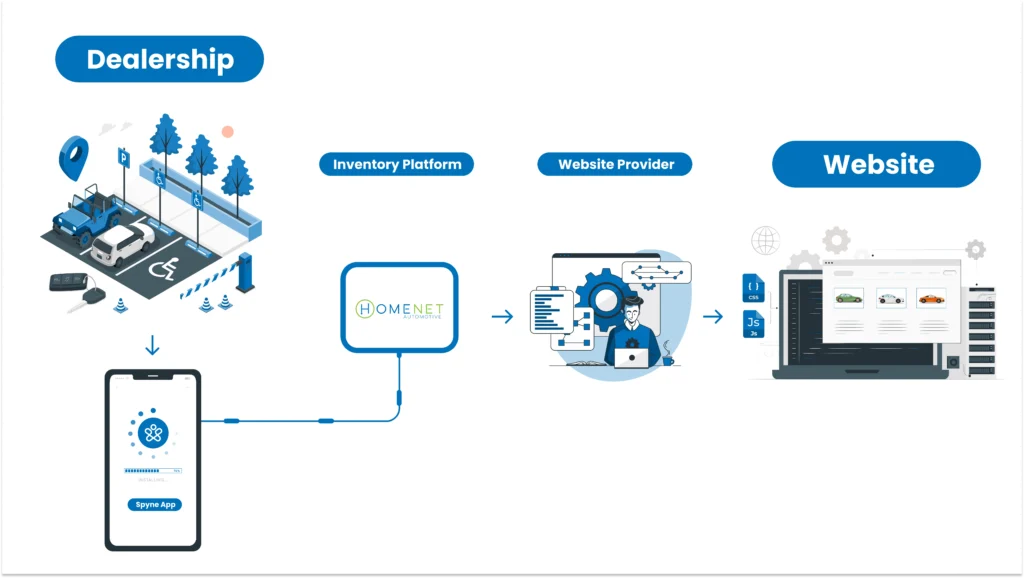 But if dealerships use the Spyne app to take the pictures, they get automatically turned into finished images and sent to DMS, so there's no need to upload them manually.
Step 3: Processing Images
With regular pictures taken the usual way, We use our next level image skills to turn them into top-notch, studio-quality photos. This automatic trick saves a lot of time and work that would otherwise go into fixing pictures and ensures all the dealership's cars look great in their photos.
Step 4: Image Transfer via FTP
After we're done making the pictures better, our software sends the improved pictures to DMS (HomeNet) safely using FTP, a strong way to move files between systems. This makes sure the data flows smoothly between the two platforms. If you're using our app, the pictures are sent to DMS through FTP automatically, and then they go to the website provider.
Step 5: Distribution to Website and Marketing Channels
HomeNet smoothly puts the improved pictures into its system, making it easy to show them on the dealership's website, social media, and ads. Therefore, HomeNet Auto customers always get great car pictures no matter where they look.
Step 6: Continuous Updates
The setup makes sure that whenever there are updates to the car details or pictures, those changes automatically show up on the dealership's website, social media, and ads. This way, customers always get the latest info
Benefits of Spyne and Homenet Integration
Dealerships can benefit from this integration if used in the correct way.
1. Increased customer engagement: Spyne's car photo imaging can generate special car configurators and condition reports. These tools can make it easier for dealerships to talk to customers and give them more helpful information when they're shopping for cars.
2. Reduced costs: Our integration with HomeNet Auto can save dealerships money by avoiding the use of many different vendors in their online sales process. Our imaging technology can make everything needed for the HomeNet Auto platform, like pictures, videos, configurators, and VCRs.
3. Increased sales: By improving their vehicle imaging, increasing customer engagement, and reducing costs, dealerships can use this integration to increase their sales.
Conclusion
To sum it up, Home net automotive dealer management system provides important tools to help car dealers handle their inventory well and make sales better. They offer services like managing inventory and creating a digital showroom. When you add Spyne to the mix, dealerships can enjoy automatic listing creation, better visibility for their inventory on other websites, and smoother inventory management. So, why not give this DMS a shot and watch your dealership's sales soar?