It's 2023, and e-commerce has become the norm for almost every industry worldwide, including automotive. The first impression in eCommerce depends largely on product visuals, which is why car retailers need high-quality images and videos of their inventory. As such, processing and editing your visuals properly becomes essential, adding aesthetically-pleasing car background wallpapers wherever necessary.
With countless competitors fighting in the same market as you, it becomes even more crucial to pay extra attention to how your online car imagery and how it adds to the overall appeal of your brand. Automotive brands invest extensively to make their product stand out; the main idea of good vehicle imagery is to sell the idea of an "experience" the customer means to find through the purchase—ultimately adding to the overall standard a brand sets for itself.
The online car-buying market is already fairly popular, and it's projected to reach $722.79 billion globally by 2030, a study by Allied Market Research shows. Moreover, 95% of vehicle buyers use digital search as a source of information. Since car purchasing is a big decision for the majority of shoppers, they turn toward online searches to get solutions to their queries.
The best way to make potential customers convert easily is by capturing their attention using great product visuals. How to do that, you ask? Well, let's start by understanding what car image backgrounds are and why you need to pay attention to them.
What is a Car Image Background?
In car photography, the image background is everything besides the picture's main subject, i.e., the car. The background of an image can be anything – the natural landscape behind, buildings, illustrations, grand constructions, random people walking by, etc. Car image background can severely affect the aesthetic appeal of the picture; cluttered backdrops can make an image look bad or busy, while simple and impactful ones can push onlookers' attention toward the subject.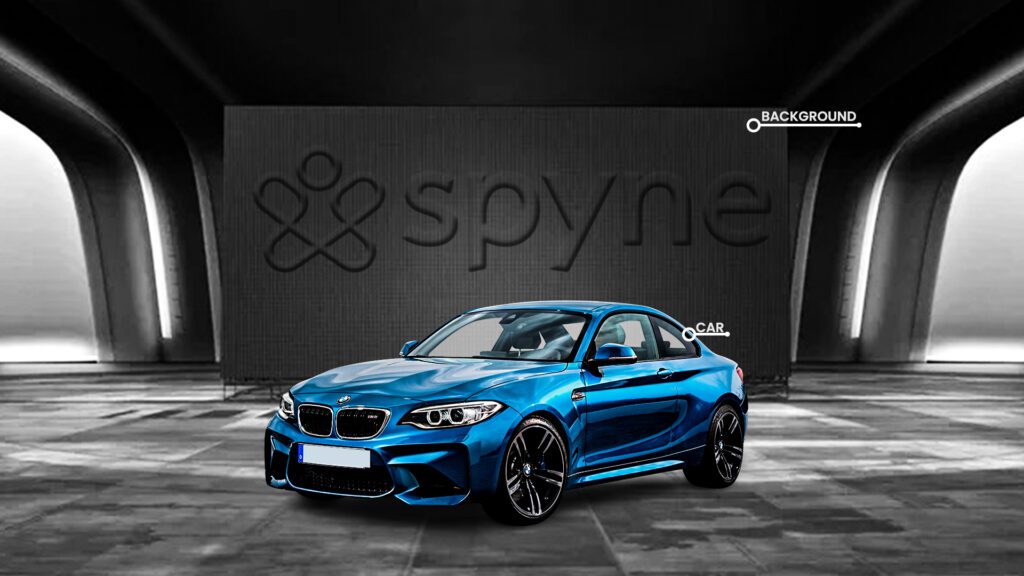 Researchers found that imagery has the ability to affect a person's mood, even when they're unaware it's happening. Moreover, it helps the viewer navigate through a pleasant online car-buying experience. Leveraging top-quality, high-impact visuals can help automotive retail businesses find success online.
Why do Car Images Need Spectacular Backgrounds?
A 2021 survey found that new car buyers spend an average of 5 hours and 22 minutes on online automotive research and purchasing. Moreover, used-car buyers spend an average of 7 hours and 22 minutes researching and purchasing their cars.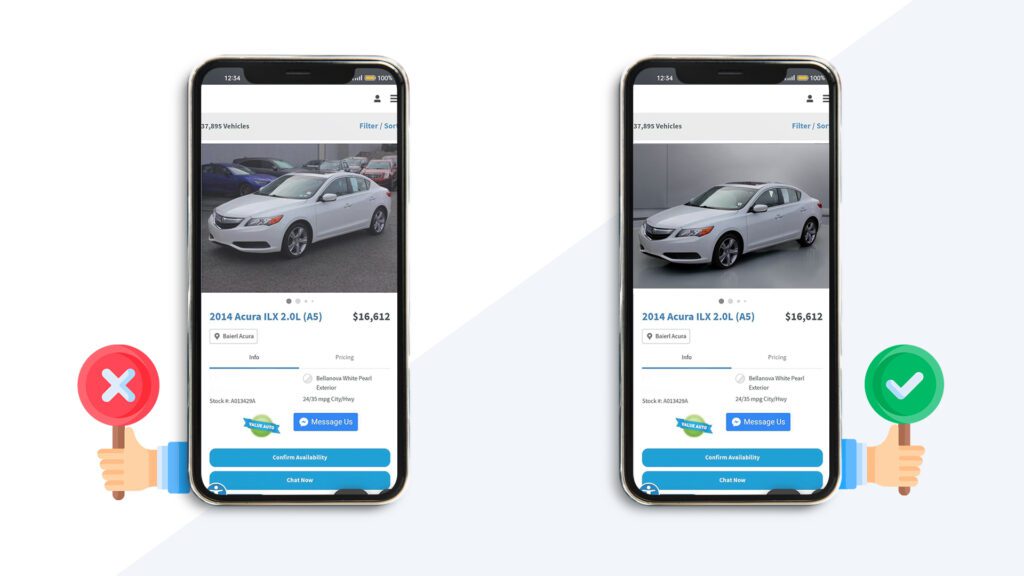 It becomes a huge reason to build a strong online presence showcasing the best car imagery to attract potential customers — that's where the appropriate car image backgrounds will help your inventory shine.
Following are some reasons why car images need spectacular backdrops for your online inventory:
1. Helps an automobile be the center of attention
An appealing background can help your product be the center of attention and look more attractive. In contrast, a cluttered and busy backdrop will draw attention away from it, as onlookers' eyes will often wander off to check that out. That's why having professional-looking HD or 4K car background wallpapers in your car pictures is necessary.

2. Helps emphasize the car's beauty
A great image background will also help bring out the beauty of the automotive imagery. In fact, the entire point of Car Background Removal, replacement, and editing is to enhance the visual appeal of the vehicle in the picture, making it more alluring to the audience.
3. Boosts your brand's value
Brands and businesses spend a lot on website design, graphics, and visuals to make them look appealing, provide a good user experience, and build a distinct identity. Adding a high-quality backdrop to your entire online inventory will help do the same – uplift the brand image of your dealership website or online car marketplace.
4. Helps your brand look more organized
A neat, clean, and orderly vehicle image gallery, without any scattered and chaotic pictures, floating around on your website or internet, goes a long way in establishing your brand as credible and distinct. It also helps you build a strong brand identity.
We suggest that you pick one HD car background wallpaper, and make sure all the vehicles in your online inventory have that. The selected backdrop could be custom-made, representing your dealership or brand. Also, consistent image backgrounds will help improve user experience too.
5. Helps dealerships elevate their online presence
In today's digitized world, having an online presence is non-negotiable for businesses to flourish. Potential customers go through a brand's website and social media profiles before purchasing. If you miss making your business stand out on the web, your customers will likely jump over to your rivals.
As stated prior, high-quality visuals (both images and videos) are crucial to building an online presence. Making sure that the car backdrops in all your images look good is just the first step. You also need to make sure the car itself looks good, along with the host (if there is one). Every visual should be appealing for maximum impact.
6. Higher sales
The ultimate purpose of every business is to make their customers pass down all the marketing funnel stages and convince them to make that final purchase. Distinguishing your brand with the best quality product pictures leads to increased online engagement, thus boosting sales.
Even if your product is better than that of your competitors, if you don't provide your audience with a good user experience – be it through attractive graphics, alluring advertisements, a smooth and engaging buying process, or showcasing your cars through HD images with all the features/elements on display – it'll become very difficult to convert them into buyers.
Car Background Editing for Your Online Inventory
Well, not everyone has the budget to build/rent a car studio or the time to scout a great location for your photoshoots. How can you get great car imagery backdrops, then? Well, you can simply use the power of editing!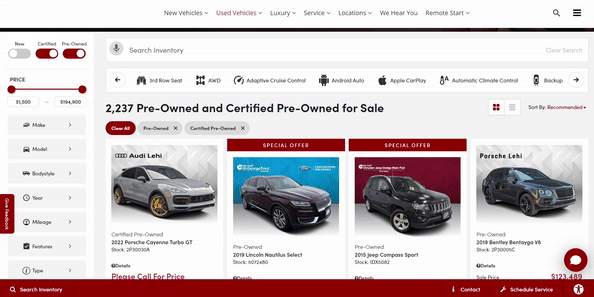 There are three main things you need to understand:
Car photo background removal
Car photo background replacement
Car photo background editing

Let's take a brief look at each one of these.
Car background removal
Don't need a distracting, cluttered backdrop for your car pictures? Well, simply remove it! There are plenty of online tools that can help you remove the background of your car images, giving you transparent or white backdrops. If simplicity is your forte, this option should serve you the best.
Car background replacement
If the original backdrop looks cluttered or is not to your liking, and you have a better one lined up, then a simple background removal won't be enough. You should go for Car Background Replacement instead. All you need is high-quality car background wallpapers for your images, which you can add to the images. Simply remove the unappealing environment in your pictures and replace it with a different, better-quality one. There are plenty of tools that can help you in this regard as well.
Car background editing
Sometimes, you might need further Car Background Editing to enhance the visual appeal. You can choose to keep the original BG if it looks great, making only minor changes and edits, or replace it with a high-quality car background wallpaper if it doesn't. Apart from background removal and replacement, this includes plenty of other operations, such as editing the car shadow, removing certain objects or elements from the picture, color correction, etc.
Car Background Stock Photos vs. Custom Backgrounds
Now that you understand car image background editing, you may be wondering how to get the best background for your images. Well, you can either pick stock images or create your own Car Custom Background. If you are looking for car background HD images for Photoshop, there are many websites that offer a wide selection of high-quality image backdrops to choose from.
Take a look at this scenario—you run a stock photo search, find some 'suitable' pictures that can work with your cars' backgrounds, creatively edit them, and woot–your pictures are ready. But what about your competitors who have the same budget as yours? And what if they use the same stock imagery for their cars' backgrounds?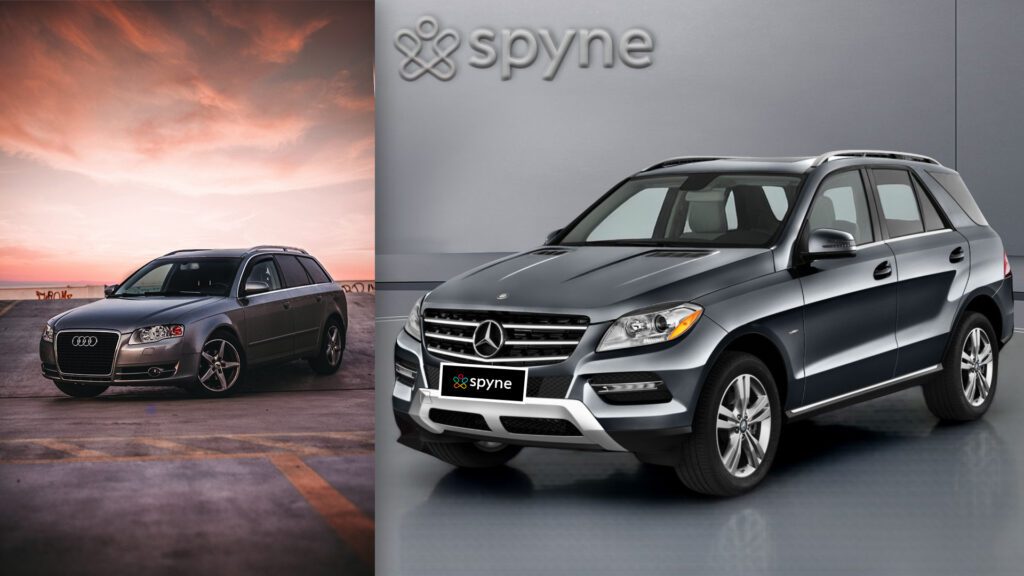 Prospects generally do a lot of research before making a big purchasing decision, like buying an automobile. And it becomes a huge possibility that they've already seen similar automotive imagery, which, again, helps with anything but building brand loyalty. Using stock photos carries another big risk–if you're unable to edit the pictures properly, it becomes a huge factor for prospects to drift away.
That's where stock photos lose credibility, trust, and every inch of distinctiveness that you were trying to showcase.
On the other hand, custom backgrounds – real or virtual – offer much more freshness and variety. However, they call for a lot of investment–be it time or money. And the worst part? You can only have a certain number of images with questionable reliability if the photos would be worthy enough—given the lighting adjustment, angles, and sharpness to be processed through.
Interestingly, plenty of car photo background replacement and editing platforms, like Spyne.ai, offer a host of backdrops for you to choose from. This saves you the hassle of finding an appropriate stock photo or designing one yourself.
How does Spyne AI Improve your Car Imagery?
Spyne's AI-powered photoshoot and image editing application work like a charm for car sellers. It helps with removing and replacing backgrounds specifically for vehicle images.

You can choose from a collection of 100+ backgrounds, consisting of studio settings and a few "real world" environments. You can also insert a custom logo in the picture, which is a great branding exercise for your automotive retail business.
Other features offered by Spyne AI:
Professional shoot experience where our technology offers instructions regarding the perfect angle, exposure, crop ratio, and more–all while shooting a car image from your smartphone.
Removing reflections from the windows and windscreen of the car for better impact. Window tint can also be added.
Replacing the original floor in the image and generating shadow to create a life-like virtual appearance.
Spyne.ai also offers features like masking the registration plate, placing a logo in the background or foreground of the picture, and many more.
Using an automated car image backdrop editor benefits you on many levels, and the biggest one is its affordability. Let's compare it to manual editing, which requires expensive equipment and many other props. Automated solutions are way more inexpensive, as you only need a smartphone with good camera quality. Yep, that's it!
It also becomes very time-effective when you are scaling up and adding new cars to your lot. Your cataloging continues effortlessly as the AI system processes pictures very quickly without compromising the quality.
How to replace the car image background using Spyne AI
Follow this quick tutorial to edit car image backgrounds using Spyne's AI cataloging platform:
Go to the Spyne darkroom or download our smartphone app.
Choose the "automobile" category to proceed further.
Click on upload and select all the car images you want to process.
Upload your brand logo and select its position in the pictures (you can skip this step if you don't wish to add your branding).
Check Spyne's library of 100+ HD car backdrops in the photo editor, and choose the one you want.
Click on "Process Image" to apply the changes. The editing is 100% automatic!
Click on 'Download' to save the edited images.
Follow these steps, and you'll have studio-quality images ready within seconds. You can also book a demo so that our team can give you a detailed walkthrough and address your queries.
12 Best Car Backgrounds by Spyne for Perfect Studio-Finish
Here are a few handpicked HD Automobile backgrounds for all these categories that will help you make car visuals appealing and land qualified leads and significant traction.
1. For Studio View
Beige Floor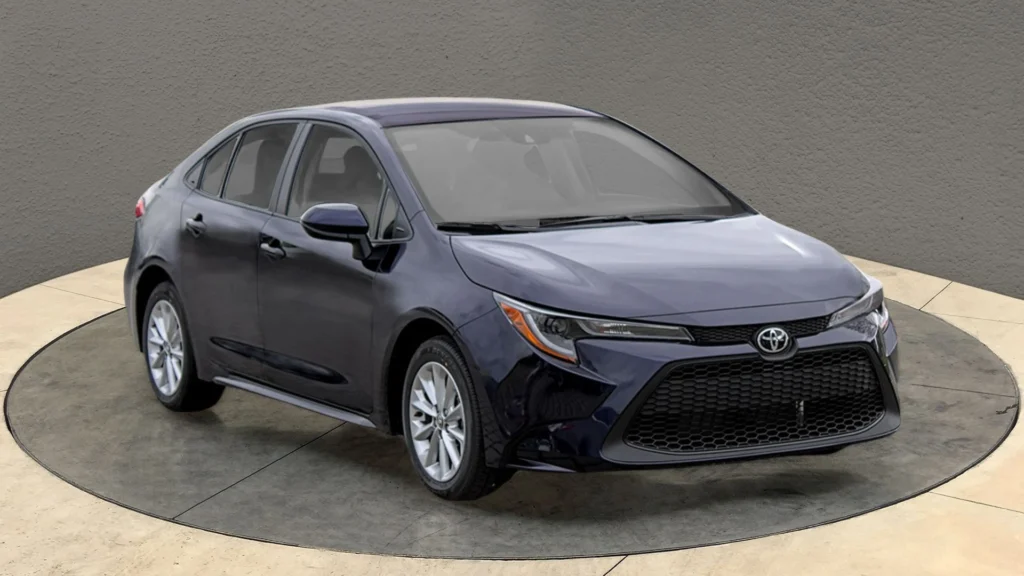 This simple, clean car background works well for most images. The light and sober color on the floor enhances the shine and dark-colored metallic parts of your vehicle.
Since there's no other element in the pictures except the car, it helps brings focus to the product.
Textured BG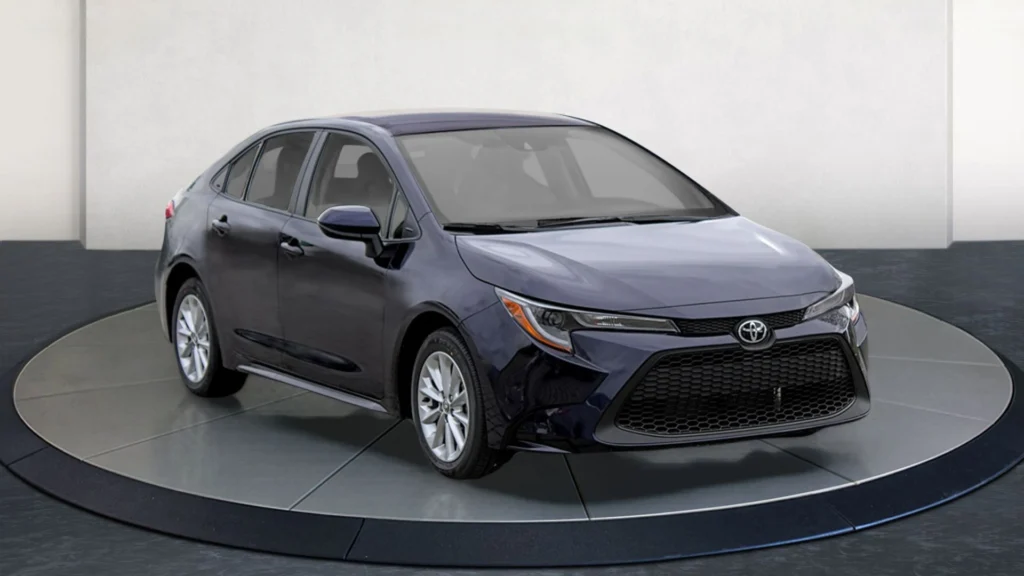 The name might not sound appealing, but this is one of the best vehicle backgrounds for 360-rotating car visuals. With a perfect grey turntable at the center, your 360-car spin feels extremely realistic. The sober colors of the wall and floor make the color of your car pop up.
Red Accent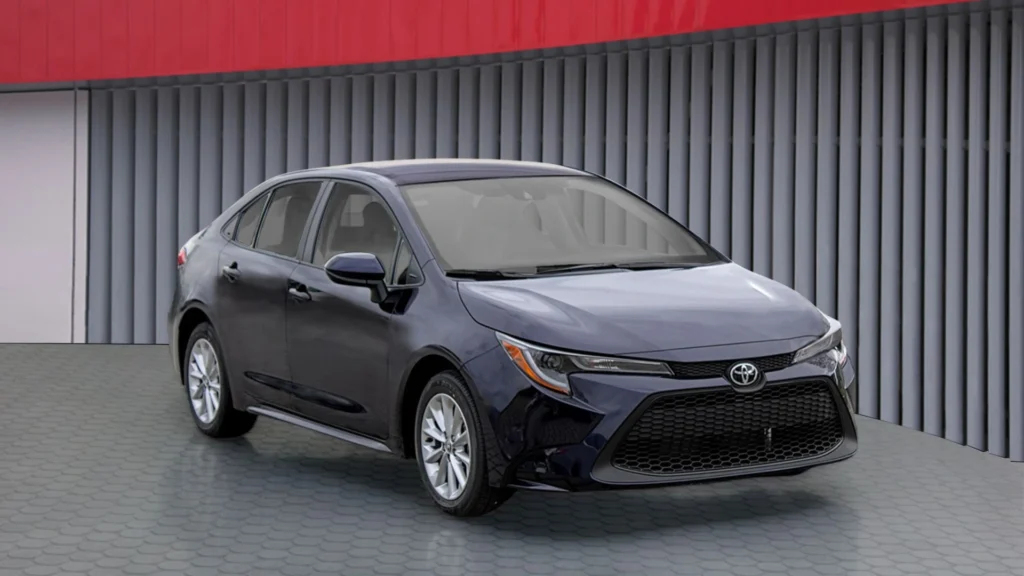 As the name suggests, there's a subtle touch of red at the top of the image, along with a gray textured floor and wall, that will help cars with a soft color look sharp.
Wall Striations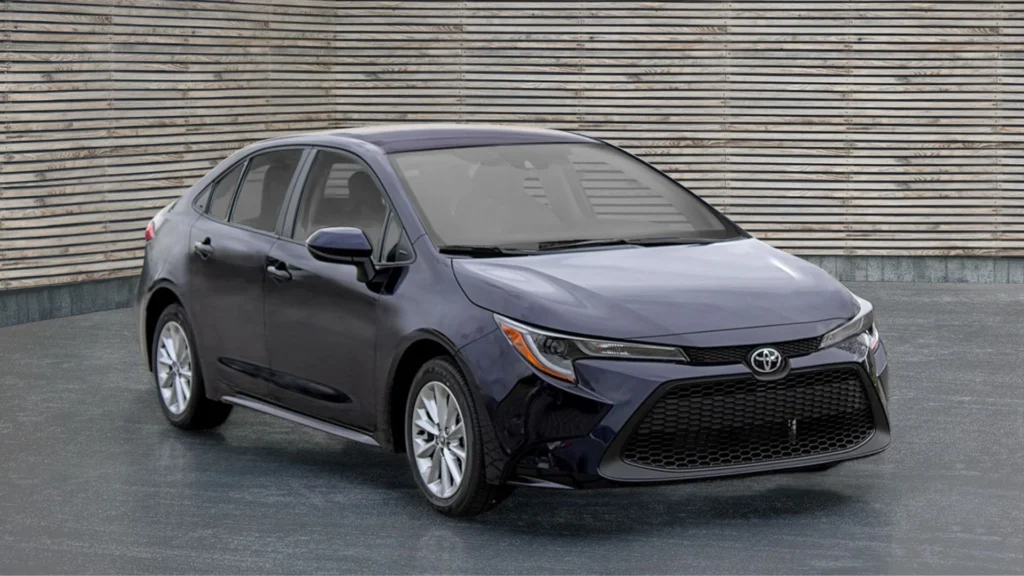 This is the best car background for a simple yet bold VDP. The detailed, complex backdrop makes the vehicle feel relatively simple and uncomplicated in design unless your car has an extremely complicated, other-worldly design.
Natural Grey Turntable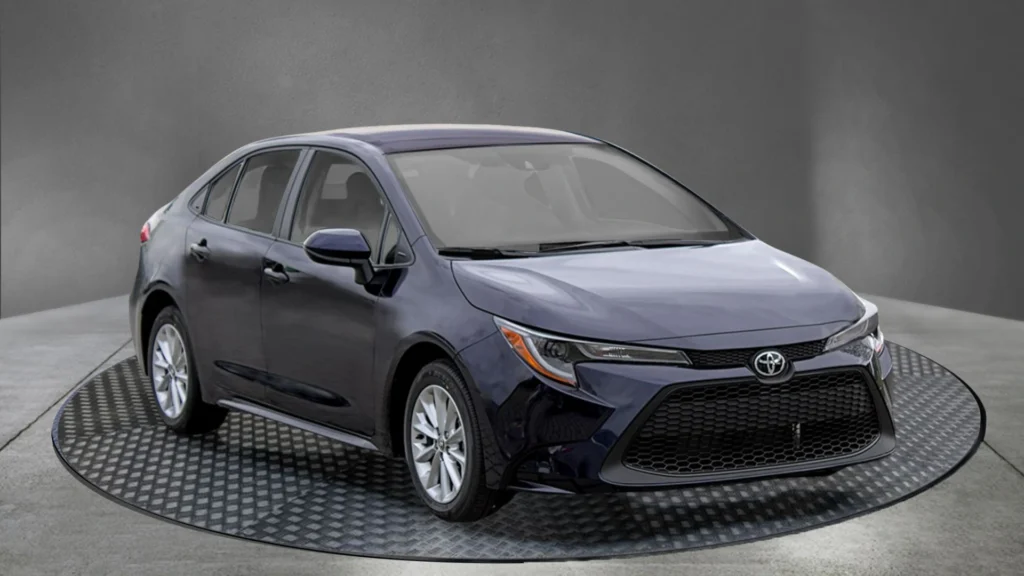 Consider this car background if your car has bold, bright colors or matte paint. The combination of grey floor and walls, along with a black metal floor, will draw attention to bright-colored vehicles and give the feel of a professional studio photoshoot.
Duotone Natural Grey Stripes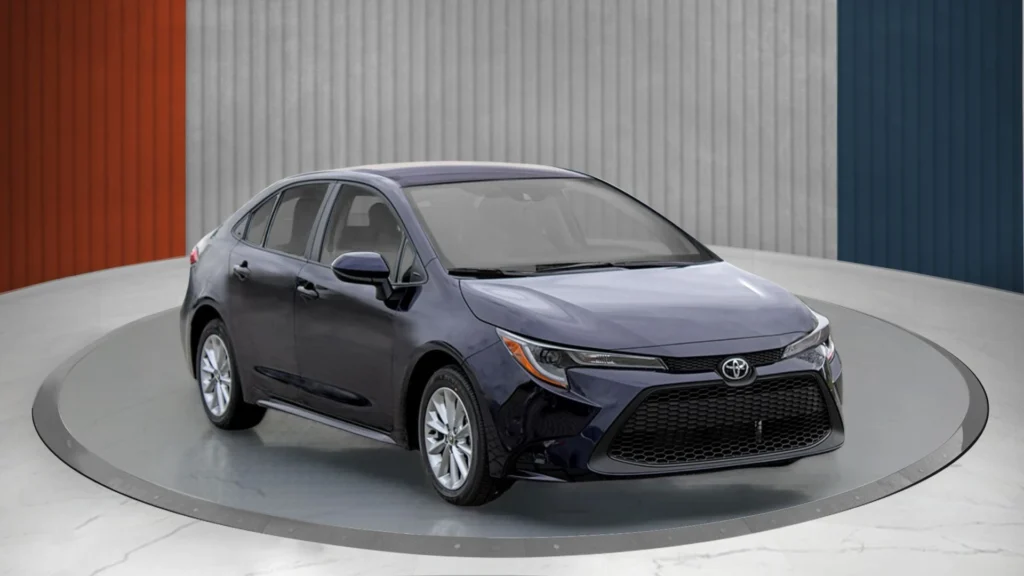 You should consider this car background if you are selling a used car whose color has started to fade. The stripes of red and blue will overcome the dull nature of the vehicle, while still keeping the latter at the center of attention.
Concrete Floor Turntable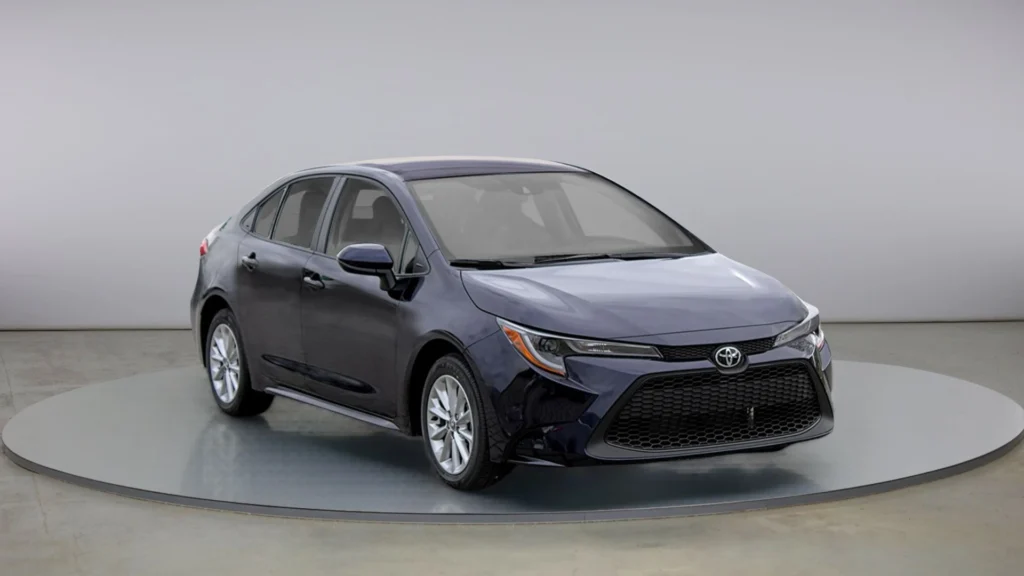 Sometimes, subtlety is the way to go. This option can be a perfect background match in such situations. The minimalist effect includes a light grey wall and a matching turntable on a concrete floor.
Showtime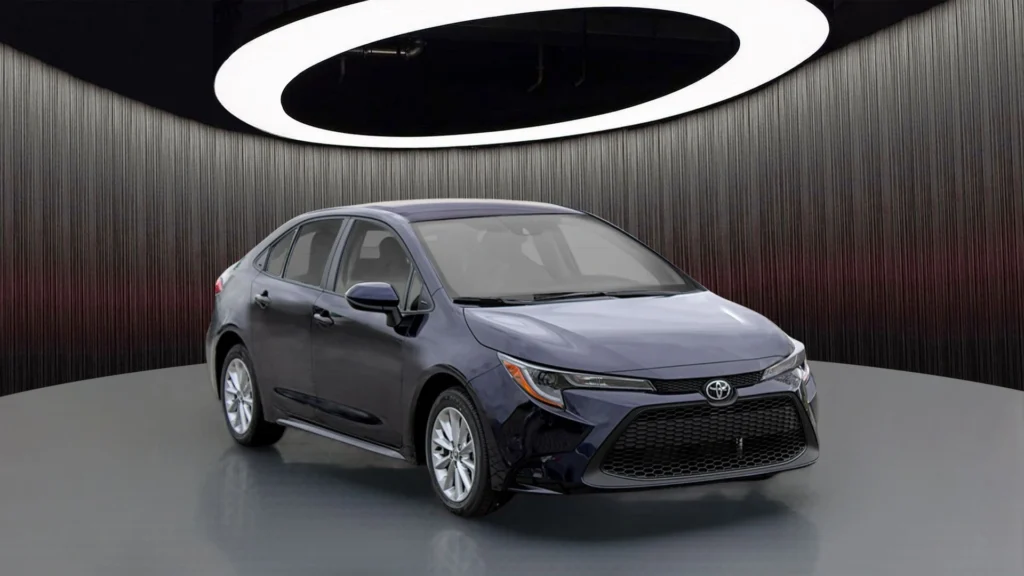 Let your car be the star of the show! This virtual background brings a premium feel to your automobile images, with glistening walls and an off-center overhead ring light.

2. Outdoor views
After Rain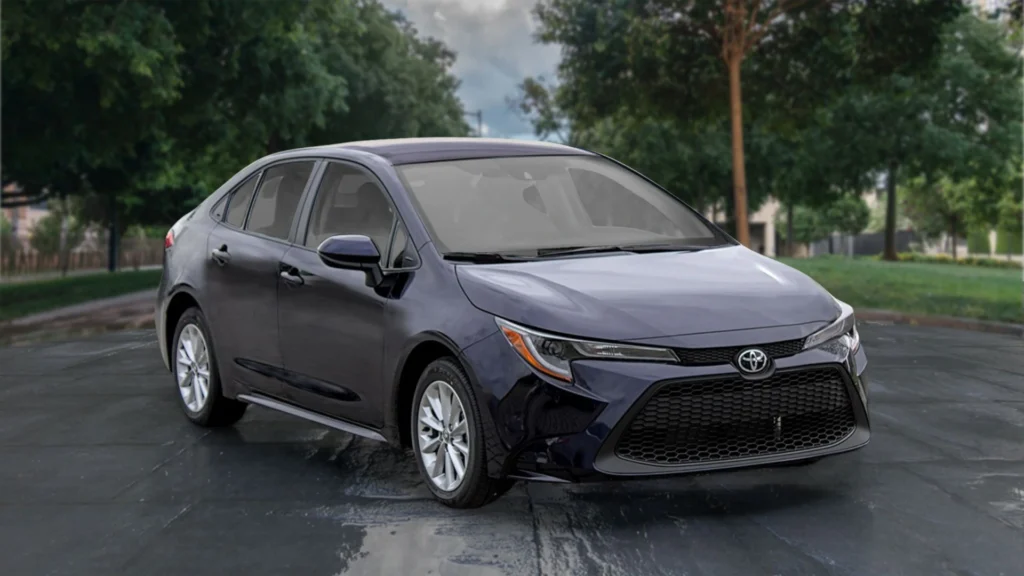 After-rain visuals always look serene and soothing, even through a screen. Thus, it can add a high impact on your car images as well. The half-lit, half-bright background will provide an excellent contrast to cars of all colors, making the metallic bodies look sharp and cool against a wet floor.
Skyline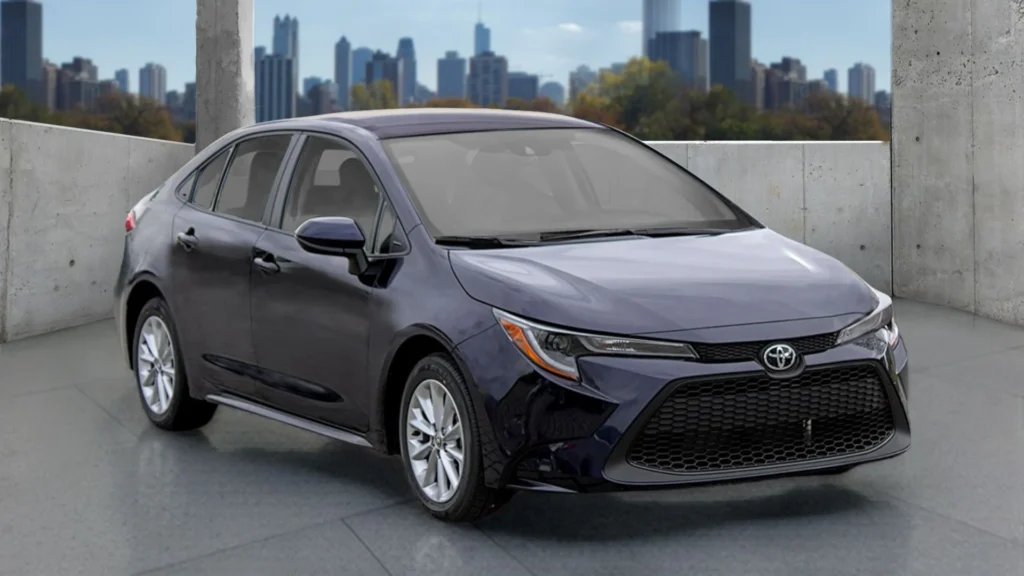 This could be an excellent backdrop if you want to add little elements of nature without losing focus on the car. You only get a hint of open skies while most of the background remains covered by a wall.
Pro-Green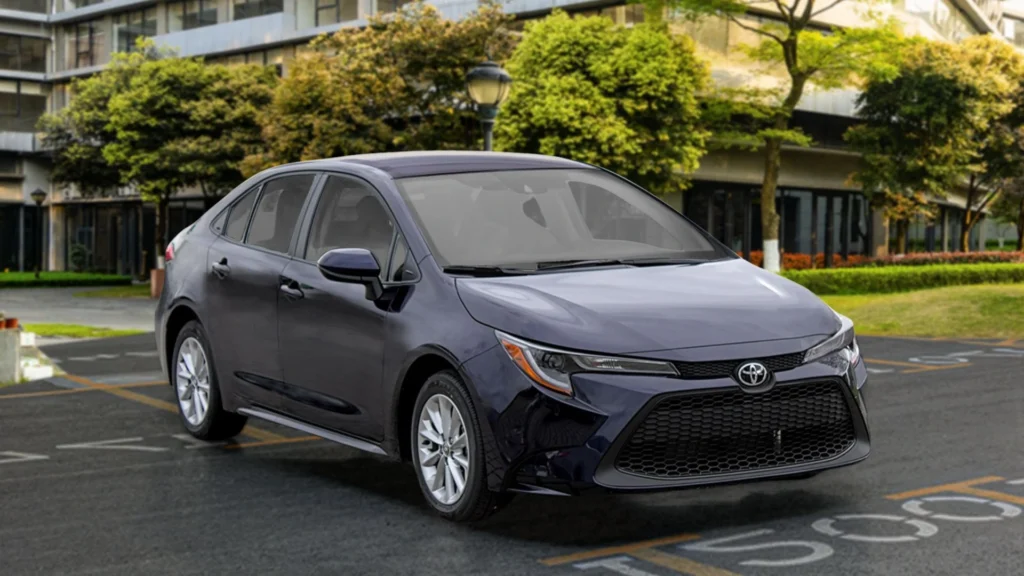 Greenery makes everything better, doesn't it? The "Pro-Green" background captures a combination of concrete and green, giving the feeling of an office or residential area.
City Life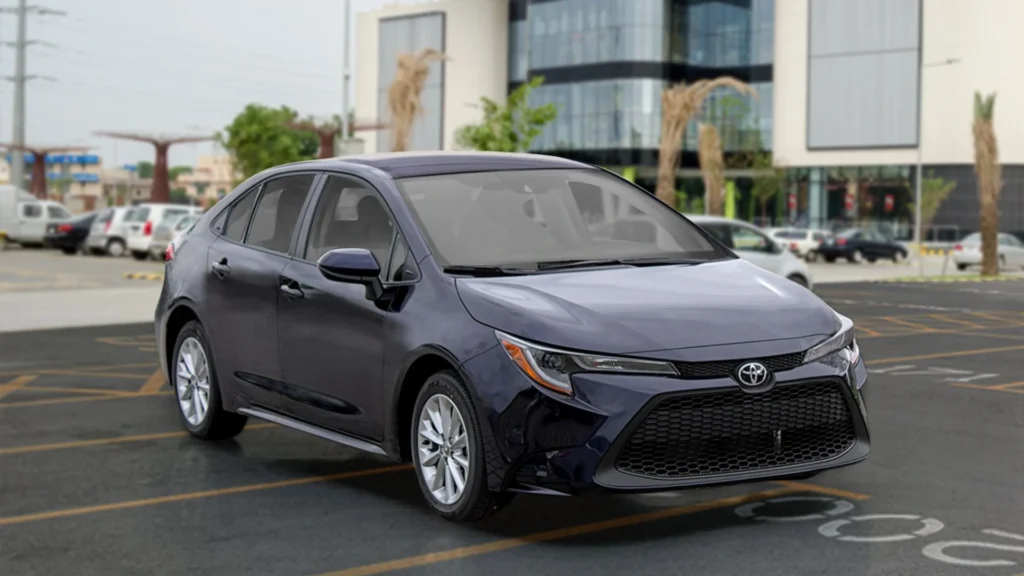 This one is similar to Pro-Green 01, but with a concrete jungle in the back instead of greenery! Despite the urban backdrop, the vehicle stays focused, making this a unique backdrop in Spyne's arsenal.
Conclusion
Since the commencement of e-commerce shopping trends, it's become a retailer's responsibility to stand out from the crowd of competitors, which requires you to put your best foot forward. Be it a dealership, car marketplace, or even an independent seller, one cannot neglect the importance of high-quality images to attract customers online.
Now that you understand the role car background wallpapers can play in enhancing the appeal of your online inventory, you should be able to increase your digital presence and find more sales! Happy selling!