Impel digital platform, formerly known as SpinCar, is a digital engagement platform that provides wholesalers, retailers, OEMs, and third-party marketplaces digital, AI-driven solutions, to help them cater to every need of the customers. Their digital engagement platform, with the help of conversational AI technology and omnichannel solutions, gives the automotive marketplace a technology-driven solution that matches the needs of advanced-generation customers.
This digital engagement platform gave the automotive industry a new perspective and seamless solutions to automotive-related customer queries. But as technology advances and competition arises, various other digital engagement platforms have been introduced, specially designed to be more advanced, innovative, and AI-driven for an overall automated experience for retailers, dealers, and customers.
At this point, it is vital for dealers and retailers to first identify various types of digital engagement platforms and understand them by their needs and demands, before investing in any type of software or platform. There are various alternatives for Impel digital engagement platforms which are worth checking and trying.

The article will help to understand the services offered by Impel, the advantages and disadvantages of their platform, and what alternatives you can use.
Let's get started!
What is Impel?
Impel io is an AI conversational software for the automotive industry, used by multiple automotive retailers for automated sales experience. Their digital engagement platform combines technology and data that helps retailers provide customers with a customized and engaging experience. Impel car digital engagement platform provides various digital services to automotive retailers that help car sellers convert leads into customers. Their software solutions are designed to offer different features for dealerships/marketplaces to build consumer trust and confidence.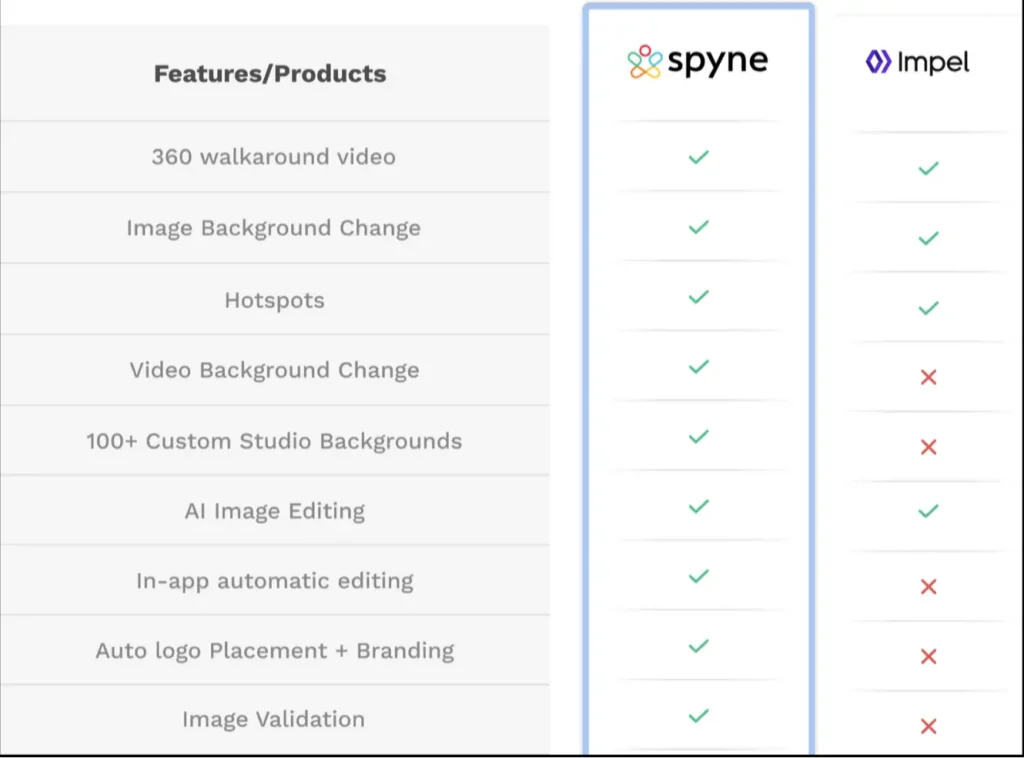 What Services Does Impel Offer?
Impel group provides various services necessary for the high-tech automotive industry. The software majorly deals in communication-related services, merchandising options, and the production of high-quality images. The services include-
Conversational AI technology
Integrated communication options
Advanced merchandising options
F&I services (Finance and insurance merchandising)
Damage tracker
Impel capture for high-quality images
360-spin car views
Video tour of automobiles
Car background Removal
Image cloning
Feature tour
Smart photoshoot options
What are the Disadvantages of Impel?
With growing advancements in technology, there is always a scope for doing better, and something is always lacking. The disadvantages of Impel are listed below.
High Impel pricing makes merchandising expensive
Limited photoshoot and editing options
360 spin car solution doesn't give studio-quality output
Alternatives to Impel
There is always something new and better to try when it comes to digital engaging platforms. Various alternatives to Impel app can be much better, convenient, and cost-effective. Discussed below are some alternatives to help you decide better.
Spyne
Spyne is a one-stop solution for all automotive image and video-related needs and queries. It is advanced software that empowers the automotive marketplace by providing AI-driven features to develop high-quality automobile images and catalogs. Spyne provides a virtual car studio and advanced 360 spin features that are required for producing high-quality images, videos, or catalogs.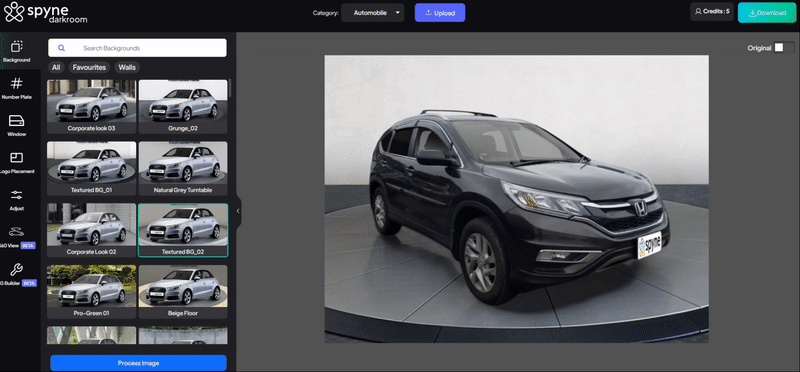 With the help of Spyne, now you can capture images of automobiles from anywhere, and advanced AI tools help you to edit them and give them a professional look. Editing the car background, number plate masking, window shadow removal, and shadow generation to make the images look professional is now just a matter of a few clicks with Spyne. Also, the 360 spin features of Spyne help to get detailed and high-quality videos in a precisely clear format for maximum customer engagement and a high conversion rate.
Spyne is an easy-to-navigate software that provides AI-driven editing features for excellent visual outcomes. Also, compared to various other software, Spyne is highly affordable. That means Spyne is a perfect combination of top-notch quality features and affordability.
Spyne also guides dealers and retailers about the automotive marketplace trends by publishing informative blogs.
Motorcut
Motorcut is an AI-assisted software that edits numerous images in a matter of seconds using advanced AI technology. It is dedicated to helping the car marketplace avoid costly automobile photoshoots, to manual editing and framing. Motorcut enhances the background of the images and gives them a professional look. To achieve this, there are two options- half cut and full cut.
Half-cut background editing allows the dealers to only remove the background and replace it with a professional background or company logo. Full-cut background editing allows the dealers to not only replace the background with a professional look or company logo but also replace the uneven surfaces that disturb the look of the image. Motorcut also allows synchronization of the smartphone version with the web version of their software for easy access.
Glo 3D
Glo 3D is a 360-car photography software that creates interactive and engaging virtual tours and professional video tours of automobiles in a few minutes. They also enhance the background by customizing the car background and adding personalized banners to it. Glo 3D presents images of automobiles from every angle for high customer engagement, and 16k resolution features with multi-level zooming of images making the images and videos highly professional. Also, they sync the data with social media, websites, and inventory for easy access and convenient use.
Remove.bg
Remove.bg is a background removal software that has its use for almost everyone. If you are an individual photographer or an e-commerce retailer, or maybe a car dealer, remove.bg is for everyone. The software removes the background of the image and replaces it with a more professional background or any other background that you may like. For instance, the background could be a solid color, scenery, transparent background, and several other possible options. Remove.bg is an AI-driven software that replaces the background quickly and appropriately to make images more professional and appealing.
Fotor
Fotor is an online photo editor tool that is suitable for use by everyone and every industry. It provides various options like editing the photos, cropping the photos, removing the background, removing objects from photos, adding filters to the images, and enhancing the quality of the images. Fotor can be used through both smartphones and the web. Automobile dealers can edit, enhance, and remove backgrounds from automobile images.
Octopus tools
Octopus tools is a highly engaging and interesting image-retouching software, specially designed to cater to the needs of the automotive industry. It provides various next-generation solutions that are cost-effective, save time, are consistent, and provide high turnover rates. Octopus is an umbrella term that constitutes various other features with names like Piranha, Natas, Meg, Eagle, Gecko, and Orca.
Piranha is responsible for making automobile photography simple and intuitive, Natas is AI-driven that is responsible for retouching automotive images, Meg is responsible for connecting tools to the system for reducing manual work, Eagle is responsible for overviewing imagery-related operations, Gecko is responsible for replacing the backdrop, and finally Orca is a web version of Piranha for uploading images for a retouch.
CarCutter
CarCutter software is an AI-driven tool that helps to enhance SRP and increase low click rates by helping list high-resolution images and videos on the website. It helps capture car images and 360-spin car videos, and improve the quality of the images by increasing resolution and also removing inappropriate background, replacing professional background which looks more appealing on the website. The software is easy to use with easy navigation.
InstaVid 360
InstaVid360 is an all-in-one merchandising software that helps the automotive marketplace to develop high-quality and high-resolution images and videos of automobiles and also provides 360 car spin of the vehicle, interior and exterior. The software can be used on both android and iOS devices, in several languages. Also, the marketing services, CRM operations, and database management features are a boon for automotive dealers.
AutoUpLink Tech
AutoUpLink Tech is an advanced merchandising software that enhances the quality of images and aligns them in a manner that results in high engagement and sales. It has an advanced Application Programming Interface (API) that can import and export data from any software and integrate it with the software that the dealer is using, like RCI, CDK, etc. AutoUpLink collects and integrates the data in real-time and integrates the data with other software.

Virtual Car 360
Virtual Car 360 or VC 360 is an advanced digitizing software that enhances the vehicle sales process by publishing and generating high-tech images. They provide various features, like a photo studio, offer manager, photo app, and others. With the help of VC360, automotive dealers can develop high-resolution images with an utterly professional appearance. Also, it is useful in developing repeatable presentations of vehicles in 360-degree technology that involves images both from the interior of the vehicle and the exterior of the vehicle.
Flick Fusion
Nucleus powered by Flick Fusion is a software that aims to provide high-tech and high-quality video experience to the leaders in the automotive industry by creating, syndicating, tracking, and integrating the best automotive's online video experience. The market, communicate, and merchandise with the customers using videos. Flick Fusion provides various features like a 360 spin car, live video communication, video texting/ emailing, and live video walkarounds.
CloudPano
Capture, create, and publish. That's how easy CloudPano is. It is a 360 virtual tour software for capturing high-quality 360 virtual tours of automobiles and publishing them on the website for better customer engagement. They also host 360-degree video chat calls to provide customers with a better experience.
DealerSync
DealerSync is an advanced platform that has various features like smart VIN+, inventory management, dealer websites, marketing analysis tools, internet lead management, SEO, marketing, and shipping. They also provide a 360-degree car spin feature that is useful for making high-quality automotive videos. The 360-degree spin car videos include interiors, exteriors, and hotspots.
Gubagoo
Gubagoo is a smart live chat software that is specially designed to make the customer's journey of finding a vehicle online easy and enjoyable. The end-to-end digital car retailing feature provides live assistance to customers and aids in a smooth online purchase. Also, omnichannel chat platforms are designed to boost engagement and convert leads. The chat channels are integrated into various platforms for the ease of the customer.
Matador
Matador is an advanced conversational automation platform, specially developed for the automotive industry. It is an AI-equipped software that analyzes the conversation, identifies and analyzes the client's objectives, provides smart human-like responses, understands and represents where the client is in the journey of buying, and identifies patterns on appointments. Matador accelerates the conversion, enhances engagement rates, and increases the lead conversion rate.
Conclusion
You believe what you see. Strong, clear, and high-quality visuals are everything in the automotive industry. What you will list on your website will decide your engagement and sales rate. Hence, make sure to list the high-resolution images and videos of automotive for maximum reach. Also, the 360 spin car feature is a highly convenient feature that easily grabs the trust and confidence of the buyers.
Dealers can critically analyze these Impel alternatives and identify which one suits best their needs.