If you're an online car dealership, you already know that visuals are everything! To capture the attention of online shoppers, you need high-quality, innovative images and videos. Google research reveals that 56% of auto shoppers agreed that they would buy a car after watching a 360-degree video without the need to take a test drive! Want to know how to shoot such videos? Well, you'll need a car turntable!
The traditional way to shoot a 360 spin video is to build or rent a car studio with a turntable integrated into the floor. You would also need to invest in expensive photography equipment – camera, lens, lights – and then hire a professional crew to click the pictures and videos. Also, you can completely outsource the job to a photography agency, but you'll still have to constantly monitor the quality.
You could also opt to leave the turntable and studio out of the equation, and simply shoot your car images and videos on the lot. However, the results won't be as impressive.
There's another way to do this – the Spyne way! You can click hassle-free 360-degree photographs and videos of a car, without the overhead costs, time, and resources. How? With virtual studio and turntable!
Now the question is, will you take a ring-around-the-roses approach for a 360-degree car photograph or video? Or would you rather yield the benefits of a turntable? Even if you opt for the first option, you'll return to the second one, and we'll tell you why in this blog.
What is a car turntable?
A car turntable, also known as a vehicle turntable, is a platform capable of rotating with a car on top of it. It can be manually rotated or motorized, as per the requirement. It is primarily used by car studios for 360 photography, by dealerships for vehicle displays, and by car owners in their home garages for easy parking. Usually, these rotating platforms are built into the floor, which means they aren't easy to install and require professional help.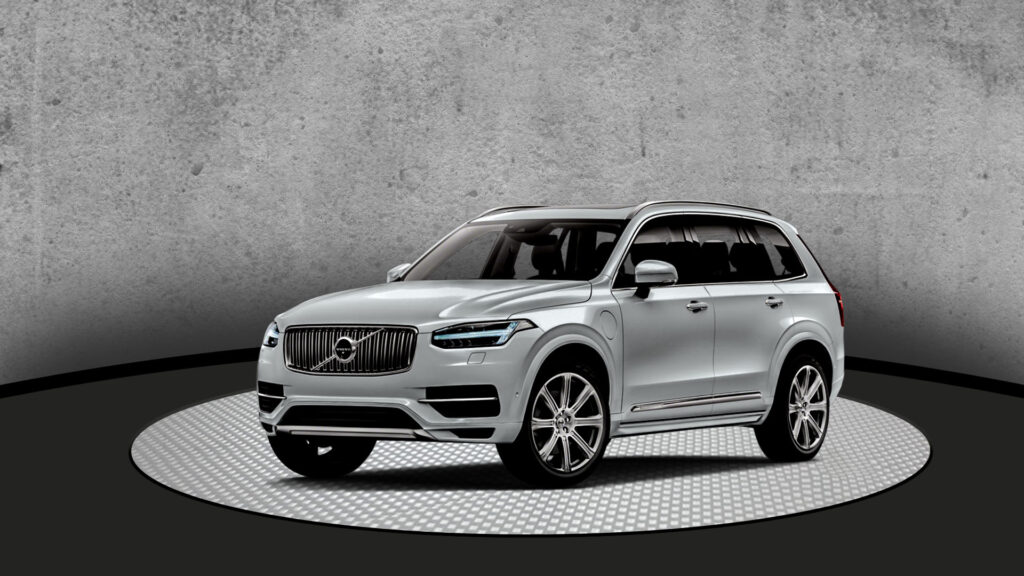 A turntable has now become universally recognized as an effective selling tool for car dealerships. The movement of the turntable induces excitement in viewers, akin to that of a motor show. For your physical showroom, investing in a 360 car turntable is a smart choice. As for your virtual car showroom, a turntable will be great for clicking high-impact pictures and videos.
There are two basic kinds of turntables – in-ground and above-ground. An in-ground turntable lays flat on the floor, and it may require extensive remodeling of the garage for installation. An above-ground turntable, on the other hand, protrudes above the floor. It can be built without any modifications to the dealership/garage floor.

Importance of turntables for online car sellers
Imagine driving your car back and forth repeatedly to get the perfect shots against the same background. The photo shoot would take hours, and if you're unhappy with a few pictures, reshoots will take ages!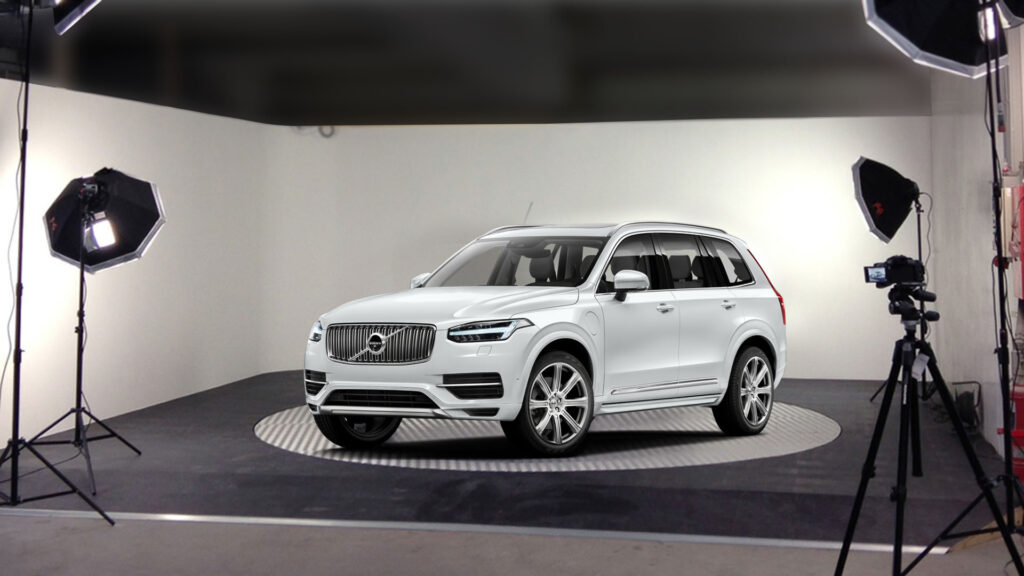 In such situations, a turntable would make things significantly easier and more efficient. This is a boon for online car sellers who strive to create attractive Vehicle Display Pages for the cars in their inventory.
Also, a car photo booth turntable would add a studio backdrop for all your car images and videos. It will help make your photographs look uniform, giving them a professional look. It helps automotive retailers take their online presence to a higher level and distinguish themselves from their competitors.
So, vehicle turntables ensure faster and more efficient car photography, and they are also great for in-store car displays. Their correct use will help garner more leads for your automobile sales business.
How does a car turntable work?
As stated prior, a turntable can be motorized or it can be manually rotated. Electro-mechanical turntables use a floor raceway and a single inner ring bearing for rotating. The central pivot drive assembly of a turntable is activated by the hydraulic motor drive unit of the system, causing the platform of the turntable to rotate with the vehicle above it.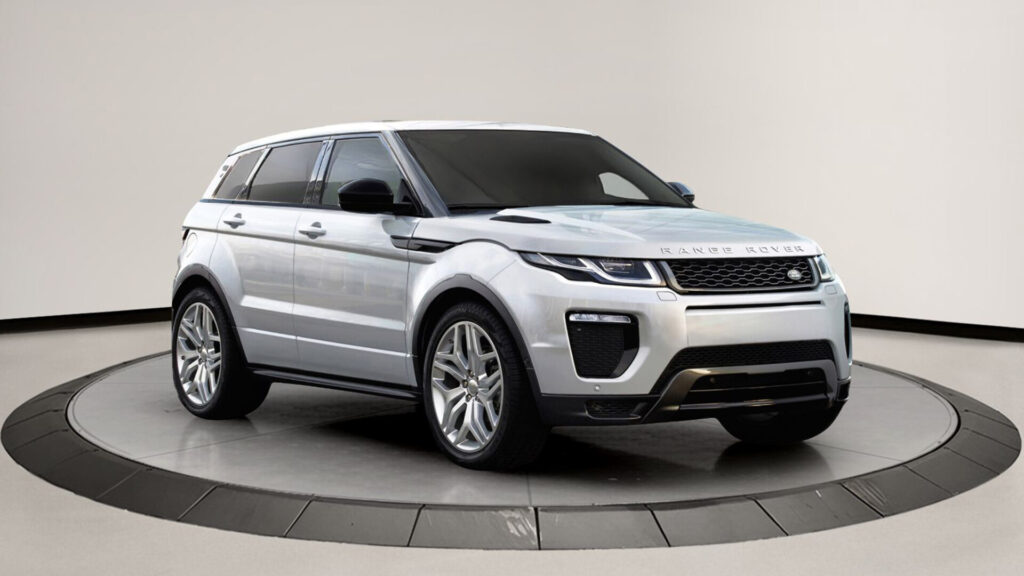 A car rotating platform comes equipped with basic controls, including a control panel with buttons to start, stop, and rotate left or right and speed control. It can also be set to spin continuously at a specific speed, which comes in handy when shooting 360-degree videos.
A standard vehicle turntable measures 177 inches across (diameter of around 4.5 meters) and has a weight-bearing capacity of 6600 lb (nearly 3000 kg). For heavier vehicles, like pickup trucks or large SUVs, you'd need larger ones. A bigger disc may also be added for dealership presentations.
You may also want to check out car turntable prices before running off to buy one. While you may come across plenty of budget-friendly options – costing around $3000 to $5000 – not all of those options would be good. For commercial needs, you may have to spend upwards of $10,000 for just one car turner. DIY car turntables cost a lot less, but the installation may be a hassle.
Factors for selecting a vehicle turntable
With a wide range of car rotating platforms in the market, there needs to be more clarity as to which is the most suitable for your purpose.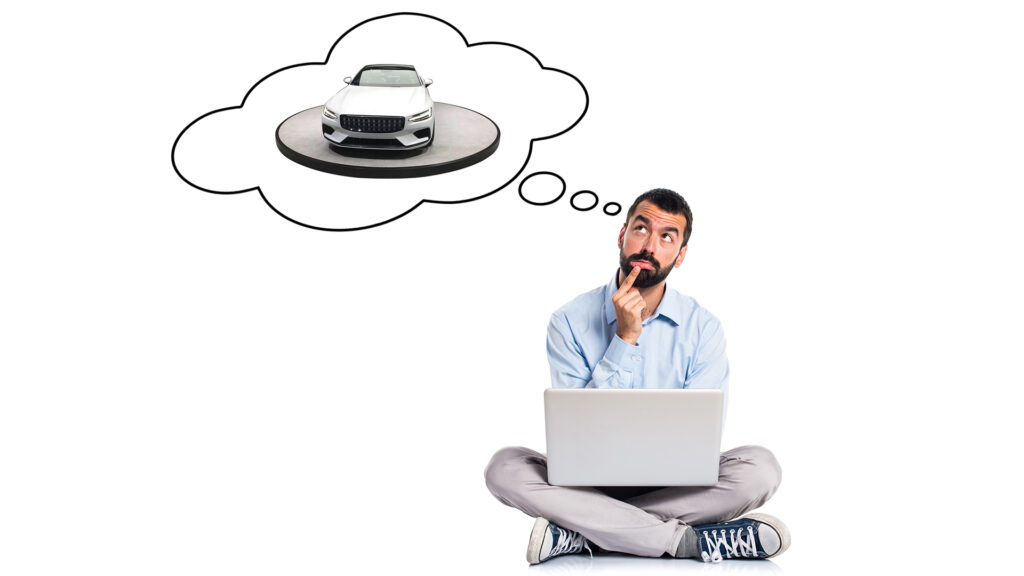 Given below are some important factors to consider when selecting a vehicle turntable:
1. Diameter of the turntable
The size of the car or vehicle predominantly decides the size of the turntable. You will need a sufficient diameter for your car to rotate efficiently, or else it will be a flop show. While most cars would work fine with spin car turntables measuring 4.5 meters in diameter, you can consider your car size and space when deciding the diameter of the turntable.
For a car studio, you might need a one-size-fits-all approach, so choosing a larger one (5 meters or 5.5 meters) would be the better choice.
2. The space availability
Your turntable-buying decision should also factor in the space you have available in your studio (or garage, dealership). Here's what you should consider:
a. Clearance Zone
The clearance zone is an additional space or meter on the radius of the turntable that facilitates rotation without collision. The clearance zone ensures that the car rotates efficiently. Hence, it would be best to consider a rotation zone of at least 6.5 meters (or more, depending on your requirements) for easy turning.
b. Anti-collision sensors
If the proper rotation zone is absent, anti-collision sensors would also work. If the turntables are equipped with these sensors, they will prevent the car from colliding with surrounding elements if anything (or anyone) is in the way.
3. Power requirements
A car photo booth turntable requires adequate power to keep working efficiently and smoothly. In most cases, the power supply needed for a turntable to operate is 240 V/10 amp. Manually rotating turners do exist, and if you're fine with a little manual labor, go for it!
4. Price
Lastly, you should consider the car turntable cost when investing in one. Set a budget and look for plenty of options, both in stores and online. You can also find a nice used turntable for sale at a fair price.
If you don't like your options or if your budget doesn't stretch too high, you can choose a DIY turntable option instead – just build your own!
Virtual Turntable – Next-Gen Solution for Automotive Photography
While there are several advantages of turntables, like making 360-degree videos and car photography easier for online car sellers, finding and installing the perfect car rotating platform can be difficult and extremely expensive. Maintenance and user control expertise is an addition to the effort that goes into buying or renting one.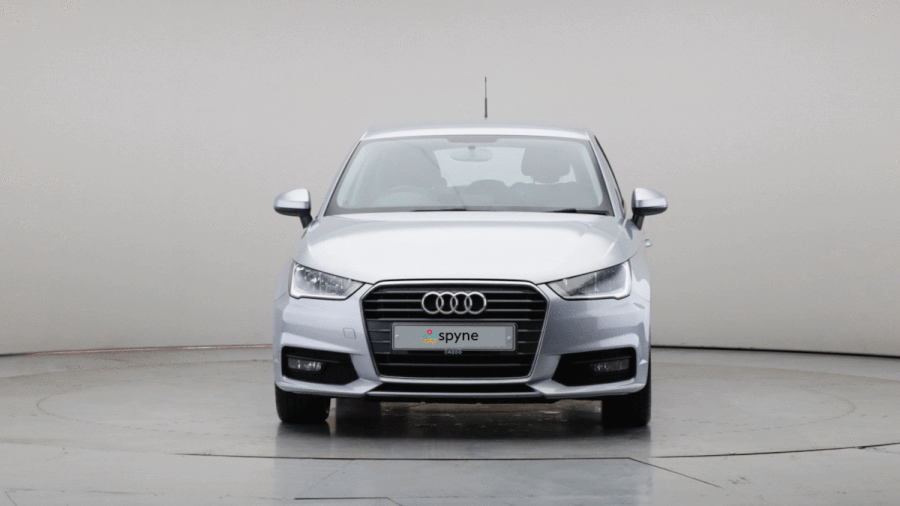 Additionally, most cars require a turntable with at least 4.5 diameter, which requires a clearance zone for the car being at least 6.5 meters in the radius. Moreover, automobile turntables also require constructing an elevated floor around the turntable for aesthetic appeal. As an online car dealership, would you invest your time, energy, and resources into sourcing a turntable that matches the diameter and space requirements? If it is for multiple car photo shoots, chances are it might empty your pockets and test your patience.
What if there was a way to avail all the benefits of a 360 car turntable but without the disadvantages? Yes, there is! Virtual turntables are significantly easier and more effective for car photography and videography.
A virtual vehicle turntable, as the name suggests, is a virtual platform that can be added to car images and 360-degree videos for a professional look. The shoot can be done in a dealership lot or any other location. The virtual turntable can be added later digitally, along with a virtual studio background, life-like shadows and reflections on the floor, etc.

How To Use Spyne's Virtual Car Turntable
Spyne's AI-powered photoshoot and image editing platform makes shooting 360-degree car images a hassle-free experience. It gives you two rotating car view options – an outdoor shoot or an indoor shoot. The indoor 360 spin option consists of a car placed in a virtual studio on a rotating virtual turntable. The outdoor shoot option, on the other hand, comprises a fully digital, immersive, VR environment that rotates alongside the vehicle.
With Spyne, you don't need an actual turntable or set up a real photoshoot studio. All you need is a smartphone with our AI-powered app!
Spyne assists you in creating interactive 360 videos that are fully controllable by the viewer. This gives the viewer a feeling like they are physically inspecting the car in a digital setting.
Here's how you can shoot 360-degree car images with Spyne:
Download the Spyne AI app
Spyne AI self-serve photography app is available for Android and Apple smartphones.
Choose the relevant category and sub-category 
Open the Spyne app and select 'Automobile' in the category label.
Choose the correct body style of the car, such as; SUV, sedan, hatchback, etc.
Photoshoot using guided overlays
As per the car's body style selected, Spyne offers overlay sketches on the screen for reference.
Just line up the car as directed in the overlay and click the picture.
Spyne is your best friend for car photoshoots; if there are any inconsistencies with what you've clicked, the app will suggest a reshoot.
Wait for Spyne's AI to edit the images: 
The images of the car clicked are edited by Spyne's sophisticated AI.
This includes background removal and replacement and stitching together images for an interactive 360-degree view.
The editing section is automated, so you have one less thing to worry about!
Note: You can choose against background removal and replacement in Spyne 360 spin car photography, if you so desire or if you're limited by budget.
Conclusion
The traditional photoshoot methods of using a car turntable are effective, but they increase your dependency on external factors and also comprise a hefty investment. But with a virtual turntable, you get the same benefits and results, while saving a lot of time, money, and effort.
With Spyne, you can create a 360-degree showroom experience with the benefit of automated editing. With innovative, high-impact visuals, you can make your inventory listing all the more captivating for prospective car buyers!