Photography is a powerful medium that allows us to freeze fleeting moments and preserve them for eternity. Whether we are capturing the breathtaking beauty of nature, the candid expressions of loved ones, or the vibrant essence of a bustling city, photography enables us to convey emotions, tell stories, and share our unique perspectives with the world. However, even the most skilled photographers are not immune to making mistakes. In fact, mistakes are a crucial part of the learning process.
It can serve as a stepping stone toward growth and improvement. Recognizing and rectifying these mistakes is crucial for honing our skills and capturing remarkable images. Whether you're a beginner taking your first steps into the captivating world of photography or a seasoned professional seeking to refine your craft, this comprehensive guide will help you navigate the pitfalls and elevate your photographic prowess.
By understanding and overcoming these mistakes, you can unlock your potential as a photographer and produce captivating images that evoke emotion, inspire, and stand the test of time. So, let's dive into the fascinating world of photography mistakes and embark on a journey of growth and improvement together.
What are Photography Mistakes?
Photography mistakes refer to errors or missteps made while clicking images. These mistakes can occur at any stage, from setting up the shot to post-processing, and can significantly impact the final image's quality and effectiveness. Identifying and rectifying these mistakes is crucial for photographers who strive for excellence. By understanding what can go wrong and how to avoid these pitfalls, photographers can elevate their skills and produce more compelling and visually striking images.
It's crucial to recognize photography mistakes for several reasons. Firstly, mistakes can hinder the communication of the intended message or story behind a photograph which can effect product photography pricing as quality is a big factor. They can lead to technical deficiencies like overexposure, underexposure, blurriness, or poor composition, which can detract from the overall impact of an image.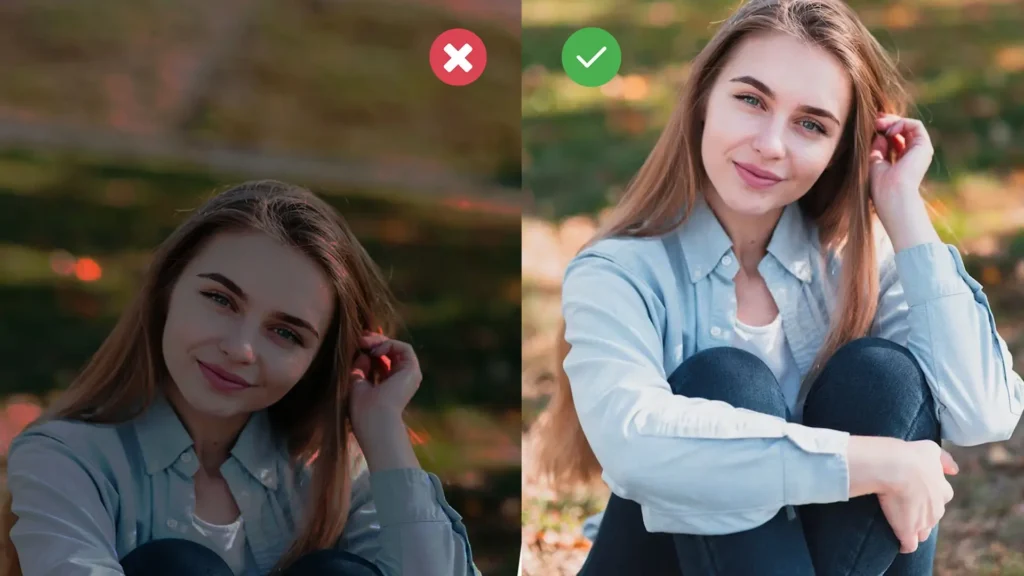 Additionally, fixing these mistakes helps photographers develop a critical eye and a deeper understanding of photography's technical and artistic aspects. Through analyzing and addressing their errors, photographers gain insights into the importance of exposure settings, composition techniques, lighting conditions, and other crucial elements contributing to a successful photograph.
By acknowledging and learning from mistakes, photographers can grow technically and artistically. They can refine their ability to observe, await challenges, and make informed decisions in shooting situations. Mistakes, therefore, serve as stepping stones towards mastery, pushing photographers to improve and push the borders of their art continually.
Photography Mistakes to Avoid
Common Mistakes Made by Photographers (and How You Can Avoid Them)
Awareness of common photography mistakes and how to avoid them is crucial. By understanding and addressing these mistakes, you can enhance the quality of your photographs and take your skills to the next level. Let's find out common photography mistakes to avoid and capture stunning images.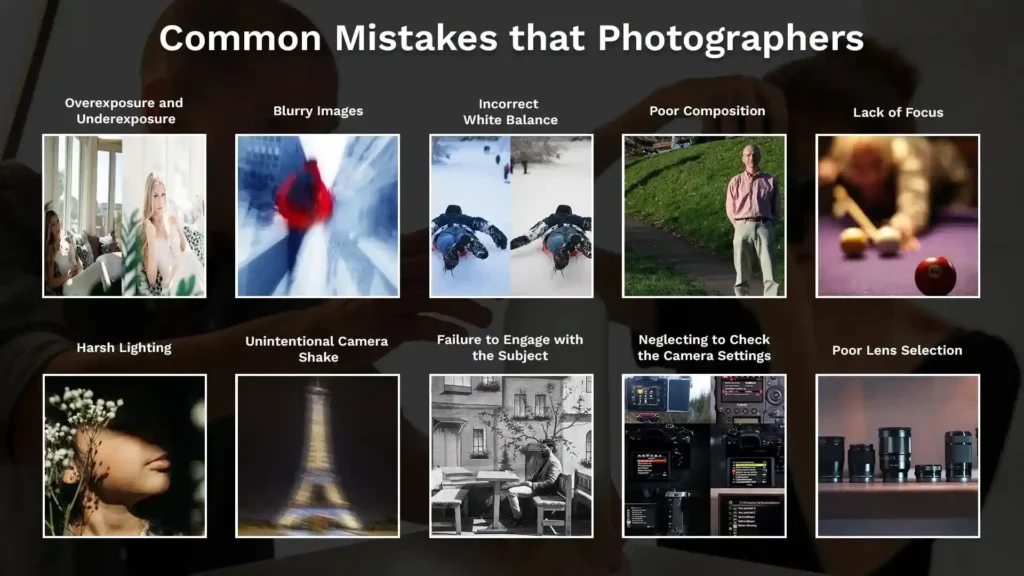 Listed below are some of the common mistakes to avoid:
1. Overexposure and Underexposure
One of the most common portrait photography mistakes photographers make is mismanaging exposure settings, leading to overexposed (too bright) or underexposed (too dark) images. To avoid this, it's crucial to understand the exposure triangle comprising aperture, shutter speed, and ISO. Experiment with different settings to achieve the desired exposure and consider using exposure compensation to fine-tune the exposure levels.
2. Blurry Images
Another common mistake in photography for example product photography, is blurry images. These can result from various factors such as camera shake, subject movement, or improper focusing. To capture sharper photos, use a tripod or stabilize yourself when shooting handheld. Opt for faster shutter speeds to freeze motion, and practice proper focusing techniques, such as using single-point autofocus or manual focus. Additionally, utilize image stabilization features or lenses with built-in stabilization to counteract camera shake.
3.Incorrect White Balance
Incorrect white balance can lead to images with unnatural or inaccurate colors. To ensure accurate white balance, use the appropriate preset for the lighting conditions (e.g., daylight, cloudy, or tungsten). Alternatively, shoot in RAW format and adjust the white balance during post-processing to achieve the desired color temperature.
4. Poor Composition
Composition plays a vital role in creating visually appealing images. Avoid these common photography composition mistakes, such as placing the subject in the center, neglecting the rule of thirds, or cluttering the frame with distracting elements. Instead, explore techniques like the rule of thirds, leading lines, framing, and negative space to create a balanced and engaging composition.
5.Lack of Focus
Achieving sharp focus is crucial for capturing impactful images. Avoid the mistake of having your subject appear soft or out of focus. Use autofocus modes effectively, select the appropriate focus point, and consider focus tracking for moving subjects. Additionally, pay attention to the depth of field and adjust the aperture to achieve the desired sharpness.
6. Harsh Lighting
Harsh lighting conditions, such as harsh midday sun or intense artificial lighting, can create unflattering shadows and highlights in your photographs. To work with or avoid harsh lighting, consider shooting during the golden hours (early morning or late afternoon) when the light is softer. If shooting in intense light is unavoidable, use diffusers, reflectors, or fill flash to soften shadows and balance the exposure.
7. Unintentional Camera Shake
Camera shake can result in blurry images, especially when shooting handheld with slower shutter speeds. To avoid this, use proper hand-holding techniques, such as keeping your elbows close to your body, exhaling slowly before pressing the shutter, or leaning against a stable surface. Alternatively, use a tripod or other stabilizing tools for maximum sharpness.
8. Failure to Engage with the Subject
Connecting with the subject is crucial for clicking trendy and emotive photographs in landscape mode. Avoid such landscape photography mistakes of remaining distant or divided from your subjects. Interact with them, establish rapport, and make them feel comfortable. This will result in more real and fascinating portraits.
9. Neglecting to Check the Camera Settings
It's common to forget to adjust camera settings correctly amid excitement or a fast-paced shooting situation. Double-checking camera settings, such as ISO, shutter speed, and white balance, before clicking each shot helps avoid mistakes in photo shoots and ensures optimal results. Develop a habit of reviewing and adjusting settings as needed.
10.Poor Lens Selection
Choosing the right lens for the scene or subject is crucial in photo shoots. Using an improper focal length or lens type can result in distorted perspectives, limited framing options, or subpar image quality. Take the time to understand different styles of lens and experiment with various lenses to find the most fitting choices for different plots.
Common Beginner Photography Mistakes (and How to Fix These):
As budding photographers embark on their journey, they must recognize these pitfalls and learn how to handle around them. Here are some common beginner photography mistakes and how to rectify them. By understanding and addressing these errors, novices can hasten their learning curve and elevate their photo shoot skills.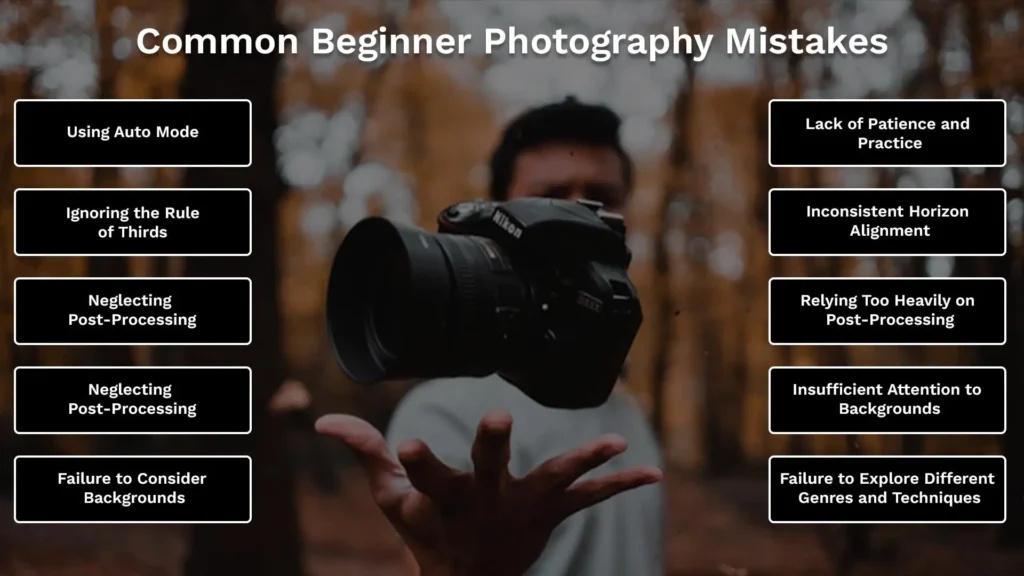 Here are some obvious mistakes that should be kept in mind:
1. Using Auto Mode
Relying solely on auto mode limits your creative control over the camera settings. To overcome this, learn the fundamentals of manual mode and experiment with aperture priority (A/Av) or shutter priority (S/Tv) modes. This gives you more control over field depth, motion blur, and overall exposure.
2. Ignoring the Rule of Thirds
The rule of thirds is a fundamental composition guideline that helps create pleasant and balanced images. Avoid placing your subject directly in the center of the frame. Instead, split the frame into thirds, both horizontally and vertically, and position key elements along these gridlines or their intersections for more engaging compositions.
3. Not Exploring Different Angles
Sticking to eye-level shooting can result in predictable and mundane photographs. Angles and perspectives should be tested with to add appeal for the images. So, get down low, try shooting from a higher vantage point, or explore unique view points to capture your subject fresh and captivatingly.
4. Neglecting Post-Processing
Post-processing is a crucial step in digital photography. Hence, avoid the mistake of forgetting post-processing or relying solely on default camera settings. To enhance your images, you should learn these basic techniques. Adjust exposure, contrast, color balance, and sharpening to bring out the best in your photographs. But remember to exercise restraint and maintain a natural looking result, as it is crucial for photo shoots.
5. Failure to Consider Backgrounds
The background of your image can significantly impact its overall appeal. Avoid busy or unruly backgrounds that draw attention away from the main subject. Respond to the environment and choose backgrounds that complement and enhance the issue. Adjust your shooting position or use a wider aperture to create a pleasant background blur (bokeh) when necessary.
6. Lack of Patience and Practice
Photography is an art that requires practice and patience. Wait to capture masterpieces. Avoid the mistake of getting discouraged by initial failures or setbacks. Embrace the learning process, keep practicing, and be open to trying new things. With time and zeal, your skills will improve, and you'll develop your unique style and perspective.
7. Inconsistent Horizon Alignment
Crooked horizons can significantly impact landscape or horizon-based photographs' overall balance and visual appeal. Avoid this mistake by using the level indicator on your camera or approve gridlines in the viewfinder or live view mode. Alternatively, you can flatten horizons during post-processing using image editing software. It is crucial during fashion photography as horizontal image alignment impacts the appeal of the clothes.
8. Relying Too Heavily on Post-Processing
While post-processing can enhance your images, relying too heavily on editing to fix mistakes made during capture is a standard novice error. Instead, focus on getting things right in the camera. Pay attention to exposure, composition, and other technical aspects to minimize the need for broad post-processing. Remember, post-processing should be a tool for refining and enhancing your images, not a crutch for fixing significant errors.
9. Failure to Explore Different Genres and Techniques
Beginners may limit themselves to a single genre or technique, missing out on opportunities for growth and exploration. Embrace curiosity and experiment with various genres of photo shoots, such as landscape, portrait, street, or macro. Try different techniques, such as delayed exposure, quick photo shoots, or creative use of depth of field. This allows you to broaden your skills, discover new perspectives, and find your own unique style.
10. Insufficient Attention to Backgrounds
The background of your photograph can either enhance or detract from the main subject. Beginners often need to pay more attention to the background, this gives us messy or unruly images. Develop the habit of scanning the entire frame before pressing the shutter. Pay attention to elements in the background and ensure they complement and do not compete with the subject. So, adjust your composition or shooting angle to achieve a clean and pleasant background.
Alternatively, you can choose the background for your image during its editing. The best will be to use Spyne. Spyne's AI is trained on millions of images to give you the best results. Hence it is cost-effective and faster than traditional and manual editing. You can try the dark room for free and see how product background removal makes images more proper for ecommerce.
Conclusion
Overall, photography mistakes offer valuable learning moments for photographers of all levels. Throughout this blog, we have delved into many common errors and provided practical solutions to avoid them. We have probed the key areas where photographers often stumble, from technical errors such as exposure and focus issues to compositional and lighting challenges. Whether you are new or a professional, it is crucial to understand these mistakes and make a step toward growth.
By knowing to and learning from these errors, photographers can enhance their skills and capture more pleasant images. Patience, grit, and a zeal to learn are very important for success.
Photography is a journey of personal growth and making yourself heard. Each mistake you face, presents an opportunity to refine your craft and develop your unique and creative style. So, keep shooting, testing, and pushing your creative borders. With zeal and a commitment to endless learning, you will continue to evolve as a photographer and produce images that inspire and echo with others.
Embrace the lessons learned from these mistakes and remain open to making new ones. Keep your camera by your side, explore the world through your lens, and let your passion for photo shoots shine through.