It wasn't that long ago when families spent whole afternoons going from dealership to dealership just to get the best deal on a car. They often relied on the salesperson's word to find out about a vehicle. However, things have changed. Dealerships are now attracting potential buyers through appealing car ads- reasons why car sellers must research well about car advertising. 
Shoppers now do all their research from home before even stepping into a dealership. In fact, modern car buyers spend around 59% of their time researching online. 
The trouble that many dealers face is that they don't understand the right way of doing online car advertising. If you are just getting started in the digital world or have been considering outsourcing the task to a reliable automotive agency, digital advertising could solve your lead generation and marketing problems.
Tips to construct winning car ads for dealerships
75% of consumers use social media as the medium to select a car dealership. 38% of visitors on the car dealership websites visit through the paid search on Google. Needless to say, whether social media or search engines, advertisements are an essential tool to reach out to your target market.  
Also Read-The Future of Dealerships- Car Shopping to go Wholly Online
That being said, these are five tips that might help create a successful car dealership campaign–
1. Don't just sell cars, build an emotional connect
Buying a car is an emotional decision. From spending years-long savings to fulfilling a childhood dream, everything about selling cars involves sentimental values.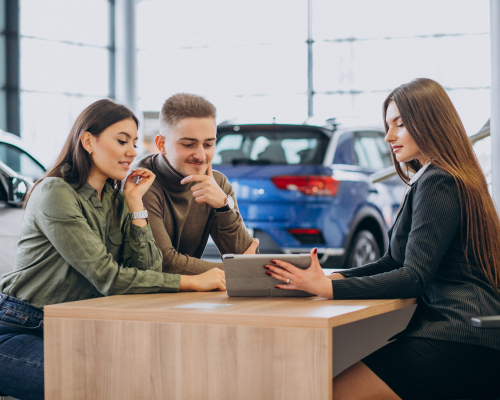 Don't just ask a customer to buy your car. Talk to their emotions. This doesn't mean that you should craft a high-budget campaign with professional actors and a production team. Even writing copy content that is only two lines long but stimulates the buyer's psychology, fulfills the purpose.
This is the power of storytelling. Give a soul to your car ads and see your conversions skyrocket.
To really stand out, dealerships should consider taking an unusual marketing angle- like presenting faux testimonials from happy garages or showing a series of jealous family members with big frowny faces. 
2. Create video ads
As potential car-buyers are increasingly turning to videos to help them make purchasing decisions, it's more important than ever that your car dealership advertising include walk-around videos.
In this regard, these are some of the types of video ads that a dealership should launch – 
Bumper ads

In-stream ads

Out-stream ads

Interstitial ads, and more.
The most important part of making video ads is deciding what should go in them. Vehicle walkaround videos and 360-degree car view videos are the best way to display your inventory on car ads.
Such car ads are highly interactive and therefore, provide 50% more value on the conversions than normal ads. Such video visuals of your car can also be used on the VDP to increase sales.
ALSO READ: Guide: What is a VDP And How to Get The Basics Right
So how do you make vehicle walkaround videos that are also not expensive and look highly professional?
Try Spyne.ai. Spyne has developed a one-of-its-kind AI editor that helps dealerships and sellers create high-quality car images and 360-degree videos without the need for an actual shoot. All you have to do is click pictures through your smartphone. Spyne's AI editor converts the shots into high-quality studio-like images and videos 80% faster.
This technology helps you save 75% of the cost that is incurred in the process of shooting inventory for catalogs. Bonus- the professional-looking images created with Spyne convert 40% faster than regular smartphone shots.
Want to know more or book a demo? Click here.
3. Optimize not just your car ads, but your whole digital presence
Customers were not always tech-savvy. Therefore, dealerships have maintained a bare minimum website until now. The same is true for social media handles.  
However, websites and social media are of utmost importance now. These platforms not only need to be optimized well with keywords, backlinks, and meta details, but should include high-quality photos, videos, infographics, and sharable content to capture a visitor's eyes.
Note: It's not just about how the site looks.
Most of your buyers are either using Google or at least one social media platform. Meet them there by optimizing your VDP (Vehicle Detail Page) right. 
ALSO READ: 5 Essentials to Creating VDP That Acts as a Sales Magnet
4. Follow the industry trends
Adaptability is the key. While you're thinking about how to divvy up your media spend, keep in mind how different circumstances can affect your ROI.
For example, seasonality and the release of new car models can have a pretty big impact. 
To get a handle on what's coming down the road, try to familiarize yourself with popular trends in the automotive industry. 
That way, you can adjust your plan as needed and make sure you're getting the most bangs for your buck.
5. Repurpose customer reviews for car ads
So you have got awesome reviews and testimonials from happy customers. Why not make it the face of your selling pitch?
Customer reviews can be a solid element for car advertising. Let the potential buyers know how happy other buyers are after purchasing a car from you. Give proof of trust.
6. Advertise on as many channels as possible
There's a lot of competition out there. So how do you make sure your car dealership is the one that potential clients see? Well, by promoting your car ads on every marketing channel possible.
In this regard, don't just run Google ads. Understand where your competitors are advertising and where your buyers spend most of their time digitally. Example- Facebook, YouTube, marketplaces, etc. 
Read more: 10 High Impact Marketing Tips That Are Both Innovative And Time-Tested
7. Utilize the most out of Facebook Ads
Facebook is a great place for car sellers and dealerships to advertise their offerings. Plenty of groups to buy and sell used and new cars add to the popularity of this platform. 
Therefore, you MUST consider running car ads on this social media platform.
Facebook ads can help dealers generate 2x greater CTR when compared with other platforms.
8. Car advertising through direct mailers
Direct mailers can be quite valuable, but they often go to waste because dealers don't utilize them very well. Context is the key when it comes to making the most out of direct mailers.
Instead of just mass-mailing consumers, target specific types of customers with specific services. 
Ads with context are more likely to be noticed and appreciated.
ALSO READ: Carvana's Exponential Growth is an Urgent Message for Car Resellers
9. Use social media to its best
Social media is for people of all ages. Whether you're a teenager or a baby boomer, you likely have at least one social media account that you check regularly. While it may take some time to find the specific groups of people that you want to target with your brand, it's not as difficult as it may initially seem.
75% of consumers use social media as the medium to select a car dealership. 
Your dealership's social media posts are only one aspect of what helps your brand grow. It's important to remember that if your posts come off as relatable. Only then does it have the potential to resonate more effectively with potential customers. 
Additionally, presenting your dealership in a relatable light will also help improve its reputation in the community.
To conclude
Dealerships that use targeted display advertising, paid social media, and video advertising has more access to buyers than ever before. These targeted campaigns can be highly effective when combined with excellent customer service and will ultimately positively impact your bottom line.
And with the right car ads tracking and reporting in place, you'll be able to figure out which channels are working the best.
That way, you can focus your efforts on the media that are actually yielding results and cut out the ones that aren't doing anything for you.
FAQ
What is a Unique Selling Proposition for car dealers?
Your dealership's USP (Unique Selling Proposition) is what makes you stand out among all the other competitors. It differentiates you from any other dealer in your geographical area. 
Prospective auto buyers often have a lot of questions and concerns when it comes to making a large purchase. They want to find a dealership that they can trust and feel good about the quality of the car. By highlighting your expertise and guidance, you can help them make the best decision for their needs and budget.