Digital technology allows people to rely on the Internet for various purposes, including research, advertising, and information gathering. The one that truly creates a good impression for the consumers is images. Photographs are all you need to connect with an audience, which can lead to increased demand and make customers view or buy your products.
This can be great for any business, but it can be beneficial, especially with respect to restaurant photography. Having enticing and visually appealing images of your food and ambiance can make an impact. As a restaurant owner, your job is to ensure that you post pictures that evoke hunger in the minds of your customers.
Mobile phones can be useful for clicking pictures, but you need a different impact. They can be grainy, poor quality, and out of focus, so you need professional photography.
What is Restaurant Photography?
Restaurant photography is the art of capturing high-quality images of food, drinks, ambiance, and other elements that showcase the dining experience in a restaurant. It is a type of commercial photography that aims to entice potential customers to visit a restaurant by visually showcasing its unique features and offerings. Restaurant photography can include various images, including menu items, interiors, exteriors, and events. The photographs are usually used for marketing purposes, such as on a restaurant's website, social media pages, etc.
A skilled restaurant photographer will use various techniques, such as lighting, composition, and color grading, to create images highlighting the food's texture, flavor, presentation, ambiance, and overall experience.
Restaurant Photography Tips
If you're looking to improve your restaurant photography skills, here are some tips to get you started:
1. Lighting
Lighting is crucial for any photography, particularly food menu photography—natural works best because sunlight allows you to experiment as you like. Use spaces with sunlight. If there is insufficient light, you can always set up artificial, studio, or smaller light boxes to create more appeal.
It is also great to experiment with new locations so that your images stand out. What does capturing images at new locations mean? It means working with the spaces that you have while still making sure that you catch the customer's eye.
2. Backdrops and props
Having a backdrop is beneficial to your restaurant photography, such as when setting a scene and using specific props to complement the view of the food. They provide great aesthetics; you can use crockery, tables, cups, and plates for backdrops. You can also use the ingredients as props, such as certain dressings that go with the leading food that you are presenting. If you are showcasing a burger, you can use garnishes or melted cheese. This will let the customers know what ingredients are used, creating a sense of art in your food.
3. Camera
Having a camera is an advantage. It can capture what a small phone's camera cannot capture. Before purchasing a camera, check for its quality, depth, and compact use so that it is easier to carry around with the promise of good-quality photos.
4. Focus on the main product
All your efforts will go to waste if you are not focusing on your main product, food. Food Backdrops are great for giving a holistic sense to your customers, but they should never be the focus, or you will be losing Customers.
Remove any props if they are distracting from the main product. Also, using the right props is essential. If you want to showcase a dessert, capture the image by placing a fork beside it. Avoid going overboard with props, colors, and patterns that distract the customers from the food.
Tips to Instantly Improve Your Restaurant Photography
Here are some tips that can improve your restaurant photography in no time:
1. Capturing your restaurant
Before food, service, and private parking space, people first notice the ambiance and how the restaurant looks from the inside.
Yes, food is definitely on their priority list. Still, if the restaurant pictures look shady and your restaurant doesn't have any good reviews, there are very few possibilities that the customer will come to your restaurant.
So, start by photographing the interior of your restaurant. If there's an aesthetically pleasing spot in your restaurant, capture it. Also, make sure you click the pictures of the place from different corners. The restaurant's ambiance attracts many people who like eating out rather than cooking at home.
2. Time for the menu
Now that you know what sells on social media, you should be ready with prepared dishes from your menu. After the ambiance, the main attraction is the food you are serving.
Food should have been on top, but if the food is good and its overall setting is terrible, it becomes a vibe-kill and drives even the existing customers away.
Coming back to the point. You can use food pictures for marketing purposes or advertising your restaurant. You often publish them on social media with relevant hashtags to brand your business and make people aware of your dine-out.
So, make sure that you click the best pictures of your food so that you can publish them on social media sites such as Instagram and Pinterest.
3. Bring the camera to the kitchen
Some may disagree, but shots from the Kitchen also sell. Don't believe us? Let us tell you that the shots from your kitchen testify to your restaurant's hygiene. It shows that your restaurant doesn't take any risks with food and is a clean place.
Apart from that, photos of the Kitchen should include the staff as they are an essential part of your restaurant who work behind the scenes to provide the food served to the customers. This brings us to our next point.
4. Capture the staff
If you are capturing photos of your food and the place, there's one thing that you should never forget to achieve. It is the staff. Everyone from the waiter to the head chef in your restaurant is important and deserves recognition.
When doing a professional business photoshoot like this, capture your staff in a group and individually.
The best part is that you can get creative with the shots and capture them while they are on the job. You don't have to make them pose in front of a white background when you can shoot them in their natural habitat.
5. Use the props at hand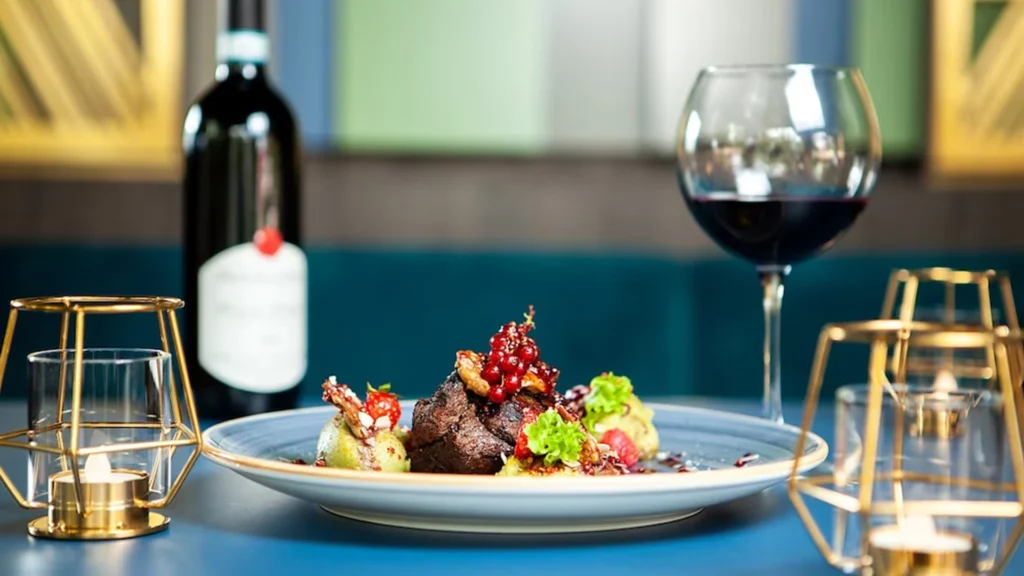 Sometimes, props can be limited, so scrambling through the restaurant for them is good. Anything can be used: napkins, pottery, candles, vases, and even chairs.
6. Include movement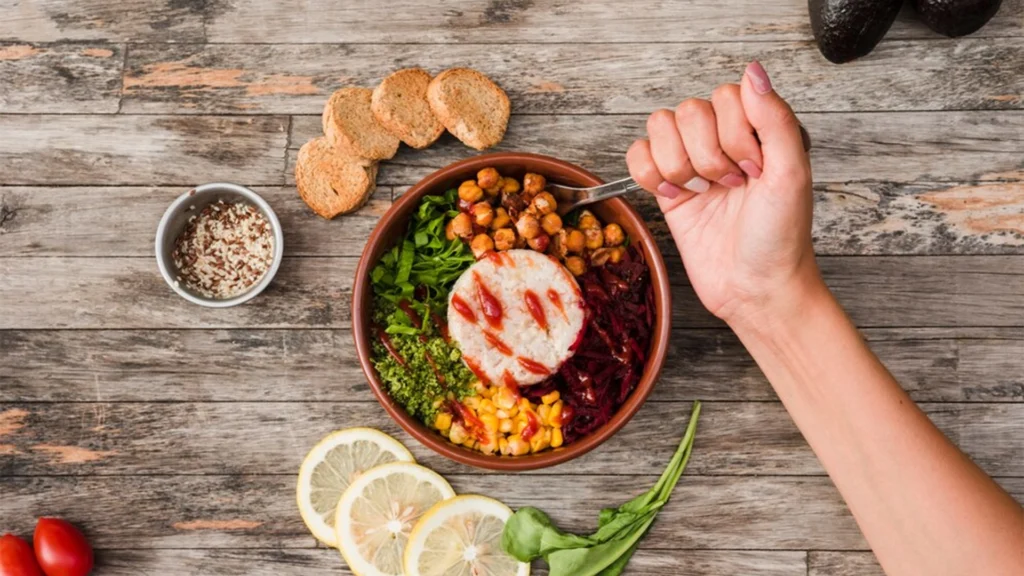 You can show food cooking or hands, which is more realistic. Ensure it is aesthetically pleasing using clean utensils and, if possible, wooden crockery. Showing hands can also benefit, as it adds a human element. It can be a hand holding a glass or stirring a pot. Hands aid in storytelling and avoid making the photo look too staged.
Tips for Profitable Editorial Restaurant Photography
Editorial restaurant photography involves capturing images of food and the dining environment in a way that tells a story and engages the viewer. Here are some tips for creating compelling editorial restaurant photographs:
1. Restaurant Photography Shot List
For best restaurant photography, making a shot list of precisely what you require is critical. You can focus on what you want to capture—food, beverages, ambiance, the kitchen, and how many images you need. It will be the deciding factor about the pricing.
2. Understand The Difference Between a Stylist and a Photographer
Food stylists differ from photographers. A food stylist will use specific crockery and a color palette when arranging food to make it look appealing and delicious. A photographer, on the other hand, is responsible for the light and image capture.
3. Plan ahead
Before you begin shooting, think about what story you want to tell with your photos. Consider the mood, tone, and style you want to convey.
4. Composition
Pay attention to the composition of your photographs. Use the rule of thirds to create balance and symmetry. Experiment with different angles and perspectives to add interest to your images.
5. Details
Capture the details of the food, such as the texture and color, to make the viewer feel like they can almost taste it.
6. Atmosphere
Show the restaurant's atmosphere by including people and décor in your shots. This helps convey the restaurant's ambiance and create a sense of place.
7. Editing
Use editing software like Spyne to enhance your photographs. Adjust the brightness, contrast, and saturation to make your images pop. However, be careful not to over-edit, as this can make your images look unnatural.
The key to great editorial restaurant photography is to tell a story and create a sense of atmosphere. By paying attention to lighting, composition, and details, you can create images that engage and delight viewers
Tips for Creating Restaurant Photography that Delivers
While food-related skills are essential for taking the best food photos, mastering basic photography skills is also essential for taking any photo. In fact, the three most critical tips for getting professional photos are:
1. Choosing The Right Equipment
Although a DSLR camera matters, it does not have to be the end goal. If you do not own a professional camera, a smartphone can be just as good; try to experiment with the settings, apps, and ring lights to get good photos.
2. Depth Of Field
Depth of field means to focus and distance. This ensures that your picture focuses on what matters rather than other elements.
3. Color Schemes
This ensures a restaurant's vibe and aesthetics by balancing colors, adding decor, and using tones. Creating with what you have in your restaurant or working on it if you don't have any.
How to Approach Restaurants for Food Photography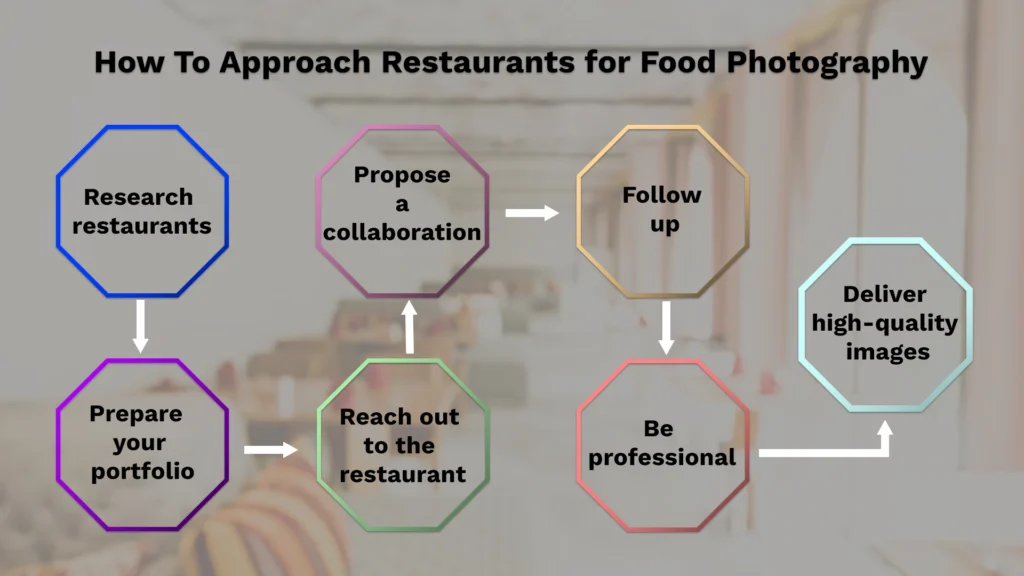 Approaching restaurants for food photography can be a great way to build your portfolio and get exposure to your work. Here are some measures you can take to make the process easier:
Research restaurants: Look for restaurants in your area that are active on social media and have a strong online presence. These restaurants are more likely to be interested in working with a food photographer.
Prepare your portfolio: Create a portfolio of your best food photography work that showcases your skills and creativity.
Reach out to the restaurant: Once you have identified the restaurants you want to work with, contact them by email or phone. Introduce yourself and explain that you are a food photographer interested in working with them.
Propose a collaboration: Be specific about what you can offer the restaurant. For example, you could offer to take photos of their dishes in exchange for credit on their website or social media accounts. You could also propose a paid collaboration where you provide high-quality images for their menu or advertising materials.
Follow up: Don't be discouraged if you don't hear back from the restaurant immediately. Follow up with them in a week or two to see if they have had a chance to consider your proposal.
Be professional: When you start working with a restaurant, be professional and respectful of their time and resources. Arrive on time, dress appropriately, and be prepared to work efficiently to capture the best images possible.
Deliver high-quality images: Ensure you deliver high-quality images that meet the restaurant's expectations. Edit the images as necessary to make them look their best, and ensure they are delivered in a format that is easy for the restaurant to use.
If there is a photo shoot to be done, approach a restaurant to get information beforehand. As a photographer, one can introduce their work to restaurants—maybe do an hour's photoshoot for free. Also, sticking to a few items for a restaurant photoshoot is a great way to establish the connection and go from there.
In such cases, it's a win-win for both since the restaurant may want to rehire, which also favors the food photographer.
Restaurant Food Photography Pricing
The rate for food photography can vary based on several factors, such as experience, location, and project scope.
There are different rates; however, here is the list of restaurant photography pricing.
Entry Level: Entry-level food photographers with little to no experience can expect to charge around $50 to $100 per hour or $250 to $500 per day.
Intermediate: $100 to $250 per hour or $500 to $2,000 per day for photographers with experience and a quality portfolio.
Professional Level: An experienced, reputable food photographer with an extensive portfolio and reputation for producing high-quality work charges $250-$500 per hour or $2,000-$5,000 per day.
Please note that these restaurant or food photography pricing are estimates only and are charged for food photography on various factors, including project scope, location, and client budget. Discussing your specific needs and budget with a photographer is best to determine a fair price for your restaurant photography jobs.
What Props and Linens Should you Bring in Restaurant Photography?
As a restaurant business owner, you must use a variety of linens of different shapes, colors, and sizes, including cutlery, as props for a photoshoot. Anything that adds to an experience that the customer would want to feel.
Even cutting boards, bowls, and salt or pepper shakers will add an element to the photography. Wooden props, such as wooden tables, spoons, handmade things, and ceramics, are also a great addition. They make the customer feel like they are in nature. You can also use baking steel, pans, and ovens as props, making your image pop. Also, glass jars and bottles always create a layered effect in your photos.
Why you Should Involve the Client and the Chef in the Shooting Process
Clients are the most critical people in a photo shoot because they are the ones who tell their requirements. They are also the ones who provide creativity and how they want their product to look. In this way, if they are not present, a client can't demand a re-shoot.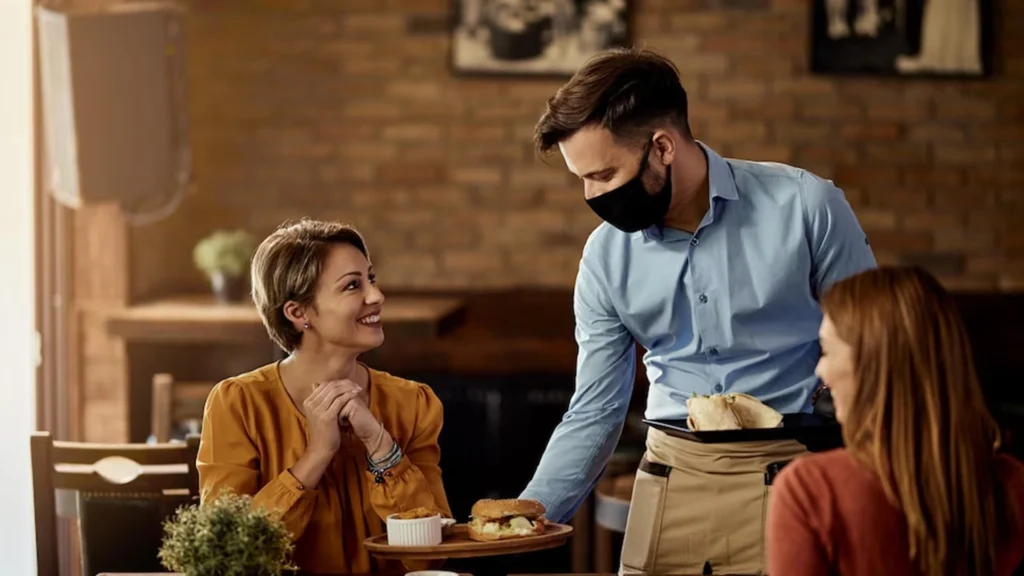 The chef is another important person because he or she can serve plates instantly that want to be photographed. Sometimes well-experienced chefs can present the plate ready to photograph, which only needs a little styling.
Mouth-Watering Restaurant Food Photography that Will Leave you Hungry
If you want to create an even greater impact with your restaurant food photography. Here are some more tips that will be useful in restaurant marketing and help make the customer's mouth water.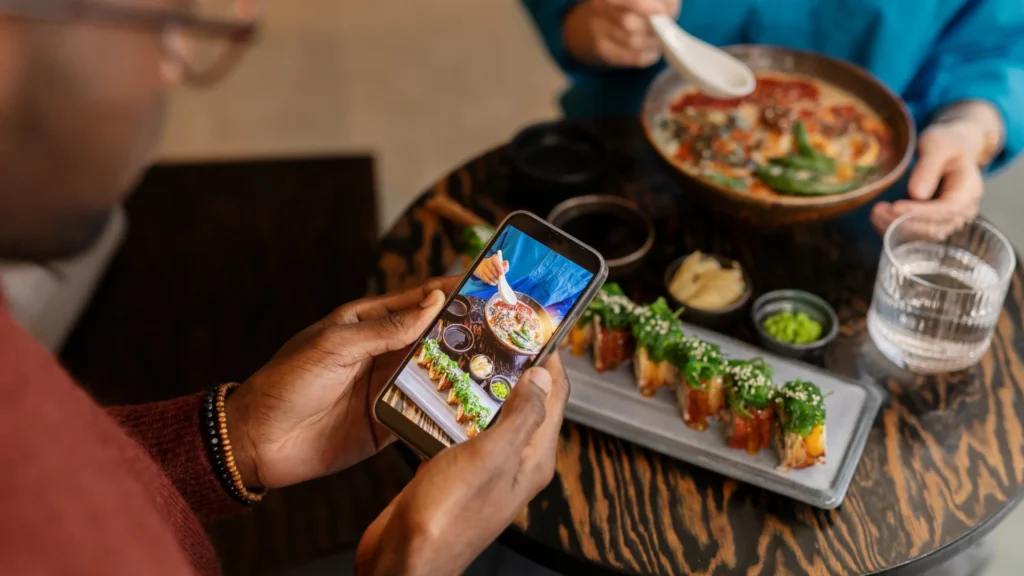 Use fresh ingredients
When you use damaged, wrinkled, or worn-out ingredients, it will show. That's because if you photograph them closely, the tiniest flaws will show. You will need to use fresh vegetables and ingredients and capture them at an angle that makes them more appealing. Check the ingredients before using them.
Sprinkle a bit of oil or water
Even if fresh ingredients are fresh, they don't always capture the camera perfectly. Add some water or oil to make your food look fresh, giving them a shine.
Display Your Restaurant
Showcase your restaurant by capturing it in a way that makes people want to visit. Your potential customers will get the feeling of sitting at your restaurant and feeling the ambiance. Show your restaurant's design in your food photography too. Show off what you serve at your restaurant, including movement or actual people at the restaurant. You can photograph a complete food menu to show your restaurant's offerings.
The photos can include discounts or offers by posting about them on social media so first-time customers can feel comfortable trying them.
Want More? Try Spyne AI Food Photography
The restaurant food photography pricing is very high, and If you cannot hire a professional photographer, there is no cause to worry. Without the need for a photographer, technology, particularly artificial intelligence (AI), can create beautiful, high-quality images for your business. Spyne is an AI-based application that generates images. It can edit images in seconds without the use of photography or a studio, saving you unnecessary expenses.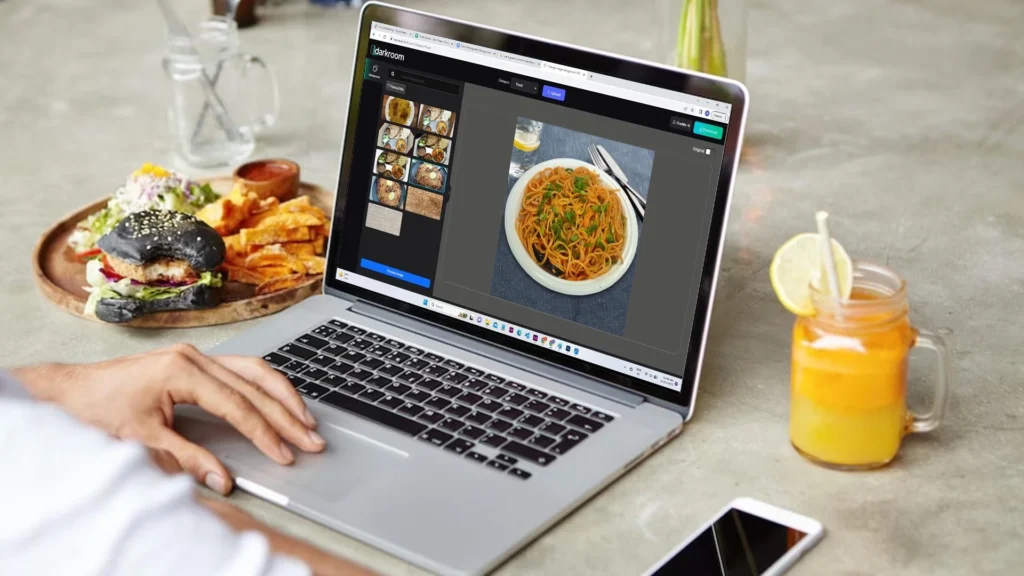 You can choose backgrounds and add spin videos to your images, giving the customer an immersive experience. This is a great food photo editor to use if you want to showcase your food with clear images.
Conclusion
Food is the best way to connect with people bringing comfort. This is why presentation matters: they can feel the same connection through the screen and feel the need to taste it. Digital technologies can help with creating such an experience. However, it becomes important to consider the tips mentioned above before clicking pictures, or you will lose the customer's interest.
If you show what customers need, it will help them, and you will find them easily, increasing your presence. Ultimately, consistent engagement via email or social media platforms is a winner in creating trust and authenticity in your brand.