We understand the importance of visually appealing food photography in today's digital age, where social media and online presence can make or break a business. We created this blog to provide vital knowledge to help you become a professional food photographer and take your skills to the next level.
Our team of experienced photographers and bloggers is passionate about food and photography, and we're here to share our knowledge and expertise with you. We'll cover everything from food styling and lighting basics to the latest editing tools and techniques.
You'll also find inspiring examples of food photography from different corners of the world and the experience of top food photographers and bloggers, whether you're a professional chef, food blogger, or simply someone who loves food and photography.
Let's capture the beauty and art of food together!

A food photographer specializes in professional photography in capturing images of food. They work with various clients, such as restaurants, food companies, cookbook publishers, and advertising agencies, to create visually appealing food photos.
Famous food photographers often work closely with food stylists and art directors to create the perfect image. They use specialized lighting, props, and techniques to showcase the food in the most delicious way possible. They may also edit and retouch photos using software such as Adobe Photoshop to enhance the visual appeal of the final product.
To become a food photographer, one typically needs to have a background in photography and a strong understanding of lighting, composition, and color theory. It can also be helpful to know styles and styling and experience working with clients in the food industry.
Types Of Food Photographers
There are several types of food photographers, each with a different specialty or approach to capturing food in photos. Here are some common types of food photographers: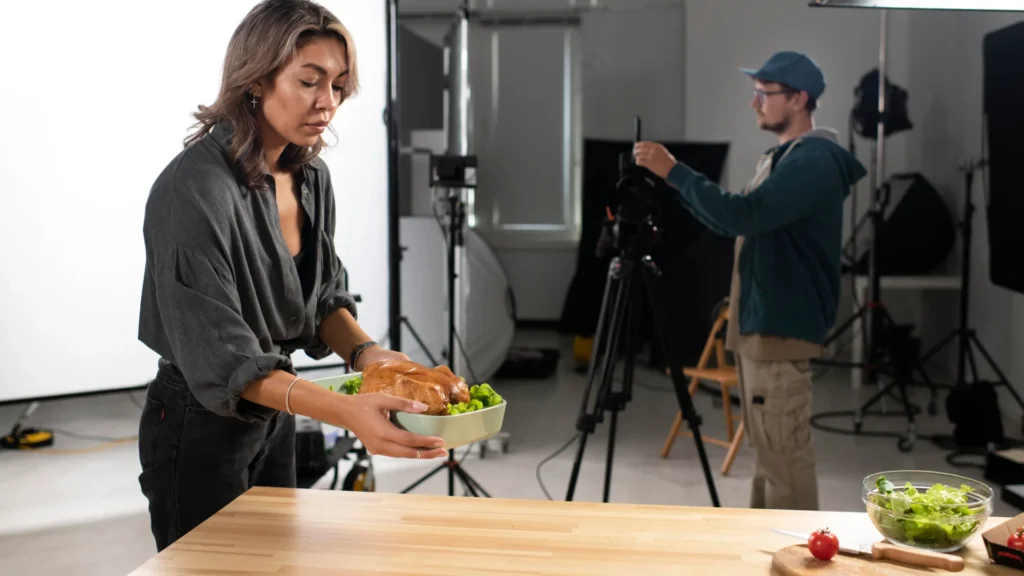 Editorial Food Photographer: Editorial food photographers take pictures for food magazines, cookbooks, and other publications. Their photos present food in a visually appealing way while being informative.
Commercial Food Photographer: Commercial food photographers work for brands and companies, creating images for advertising campaigns, menus, and packaging. Their pictures are often stylized and designed to sell products.
Fine Art Food Photographer: A fine art food photographer creates images to be displayed in galleries or sold as prints. They often experiment with unique lighting and composition techniques to create abstract or conceptual food images.
Instagram Food Photographers: Instagram food photographers specialize in creating visually stunning images for the social media platform. Their pictures are often curated and designed to be shared and enjoyed by their followers.
Restaurant Food Photographer: Restaurant food photographers create images for restaurant menus, websites, and social media platforms.
They work closely with chefs and restaurateurs to present the dishes in their best light.
Food Stylist Photographers: Food stylist photographers specialize in arranging food for photos in a visually appealing way. They work closely with photographers to create delightful and inviting images.
Travel Food Photographer: Travel food photographers capture food images from different cultures and regions worldwide. Their photos often tell stories about the people and places where the food was discovered.
How To Become A Food Photographer
As a food photographer, you should have skills, knowledge, and experience in photography and the culinary arts. Steps to get you started are: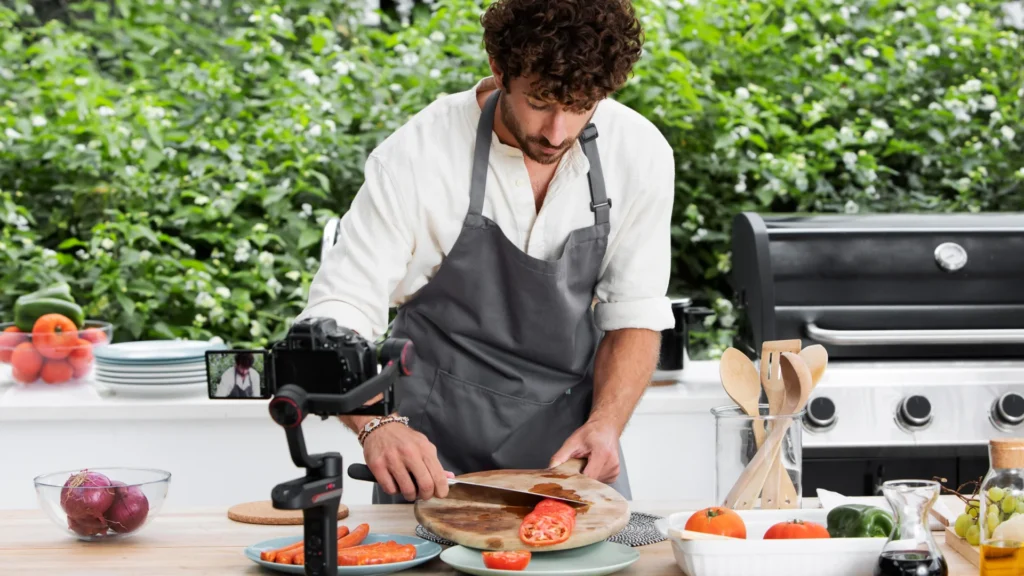 Learn the basics of photography: Before you can specialize in food photography, you'll need a good grasp of the fundamentals of photography, including lighting, composition, exposure, and color theory. You can learn these skills through online tutorials, courses, or workshops.
Invest in good equipment: You need high-quality cameras and lenses to take professional-looking photos. While you don't have to spend much money on the latest and greatest equipment, you should invest in equipment that meets your specific needs and budget.
Study food styling: Food photography isn't just about photographing food; it's about capturing the essence of a dish and making it as delicious as possible. Knowing food styling techniques will help you make your food look better in your photos.
Build a Portfolio: As you gain experience and confidence, create a portfolio of your best work. Use your portfolio to showcase your skills to potential clients and employers.
Networking: Attend food events, connect with chefs and restaurateurs, and build relationships with other food photographers. This can help you gain visibility and find new opportunities.
Keep learning: The field of photography is constantly changing, so it's essential to keep up to date with the latest trends and technologies. Attend seminars, conferences, and courses to develop your skills and knowledge continuously.
Remember, becoming a food photographer is a journey, not a destination. Practice, learn, and hone your skills and you will be a successful food photographer.
Top Skill Required To Be A Food Photographer
Becoming a food photographer requires technical skills, creativity, and knowledge of the culinary world. Here are the top skills needed to succeed as a food photographer:
Lighting Knowledge: Using natural or artificial light to create a beautiful, eye-catching look for food is essential for any food photographer.
Food Styling: Knowing how to style food in a visually pleasing way and make it look delicious is an essential skill for food photography.
Attention to detail: Capturing fine food details such as texture, color, and composition requires careful attention.
Technical Skills: Mastering the technical aspects of photography, such as exposure, aperture, shutter speed, and white balance, is essential to producing high-quality images.
Creativity: Having a creative eye and the ability to think outside the box is essential in developing unique and visually stunning images.
Culinary Knowledge: Understanding different cuisines, cooking techniques, and food trends will help you create images that look good and accurately represent dishes.
Communication Skills: Effective communication with customers, chefs, and food stylists is essential to understanding their vision and achieving the desired results.
Crucial Elements To A Professional Food Photography
Professional food photography requires attention to detail and an eye for aesthetics. Here are some crucial elements to consider when creating professional food photography:
Lighting
Composition
Color
Focus
Food styling
Props
Background
Post-processing
Editing
Attention to detail
You can create professional food photography that stands out by paying attention to these crucial elements.
Food Photographer Education
Becoming a food photographer often requires formal education, on-the-job training, and experience. Here are some educational paths that can help you pursue a career in food photography: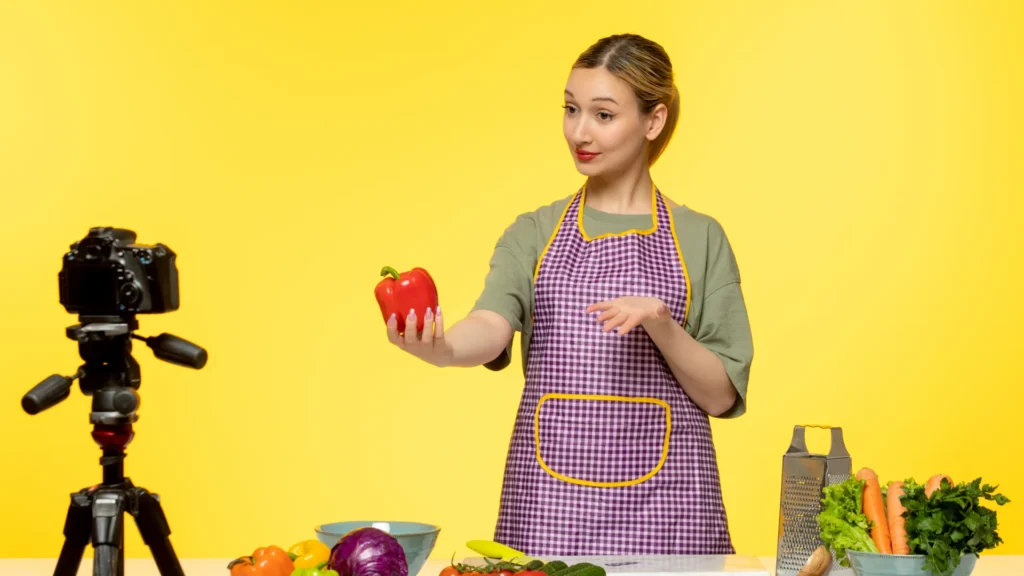 Photography Course: Taking a photography course can give you a solid foundation in the technical aspects of photography, including composition, lighting, and assembly. Some colleges and universities offer photography courses, but you can also find classes at community colleges, vocational schools, and online platforms.
Culinary Arts Class: Understanding food and cooking is essential for food photographers, as it helps create engaging images that make food taste delicious. By studying a culinary arts program, you can develop a deeper appreciation and understanding of food and cooking.
Visual Arts Classes: Visual arts classes such as sketching, drawing, and graphic design help develop an eye for aesthetics, composition, and color theory, which are foundational skills in food photography.
Business Lesson: Running a successful food photography business is more than taking good photos. Knowing business basics like restaurant marketing, accounting, and customer relations can help you become a successful food photographer.
Apprenticeship or Internship: Working as an assistant or apprentice to an experienced food photographer can provide valuable hands-on training and help you build your portfolio. Additionally, an internship at a photography studio, advertising agency, or food publication can help you gain exposure to the industry and make connections.
Practice your craft, build your portfolio, and network with other industry players to improve your chances of success.
Average Prices Charged By A Food Photographer
Food photographers may charge varying prices based on several factors, such as their experience, location, project scope, and client budget. Here are some general guidelines for the average fee charged by food photographers:
Hourly rates: Many food photographers charge by the hour, ranging from $75 to $250 per hour, or more, depending on their experience and location.
Daily rate: Some photographers charge a flat daily rate, which can range from $500 to $3,000 or more, depending on the scope of the project, location, and experience of the photographer.
Project-Based Pricing: Some photographers charge based on the project's scope, including factors such as the number of photos required, the type of photo shoot, and the client's intended use of the images. It can range from a few hundred dollars for a small project to thousands of dollars for a large project.
License Fees: Besides the photographer's fee, clients may be required to pay license fees to use the images. These costs can vary greatly depending on the image's intended use, such as print advertising or digital marketing.
It is important to note that these prices are only indicative and that the final fee charged by a food photographer will depend on several factors specific to each project. It's best to discuss your specific needs and budget with a photographer to get an accurate quote for your project.
Best Food Photographers In The World
What made you search for a famous food photographer?
Are you a chef, a food blogger, or a product photographer, or do you want to be a professional advertising photographer?
If you're here, that means you want to learn and implement it in your life.
You've seen beautiful and delicious food photos in magazines, blogs, and Instagram. It grabs your attention.
You want to click images like these professional photographers.
In this article, I've rounded up 31 of the best professional food photographers to have you click mouth-watering photos.
let's see
List Of 31 Food Photographers Famous
Lenka
Moody might not be the first adjective that comes to mind when you think about food photography, but that's precisely the look Lenka creates with her stunning food images. Using well-placed lighting and expert styling, Lenka's work leans into texture and shadow while still showcasing food freshly and deliciously. Her food photographs always have a distinct look and feel, making her one of the top food photographers in the industry.
Marc Haydon
He shoots food full-time, creating editorial and advertising campaigns for various clients. His experience lies in his precision and well-balanced composition.
Louise Lister
She creates bright, delicious food images, often found in magazine spreads, cookbooks, and advertising campaigns. She also works towards creating a community of food stylists and photographers in Sydney, by offering studio space to other food photographers.
Dan Robb
He shows his image a bit messy with studio lighting and well-balanced props.. Still, he never enables mess to take over and always manages to create food photography that's stylish and professional.
Davide Luciano
His food photography comprises energy and personality. Davide always infuses his images with a unique style and perspective, from billboards to digital campaigns.
Kailee Mandel
She takes attractive and bright images of people holding food. Her images are famous for their warm and clean look, cementing her position as one of the top food photographers in the industry.
Sara Ali
Sara is an NYC-based professional food photographer, specializing in editorial and commercial images with a focus on natural lighting. Her delicious food photography is great for inspiration.
Mary Devinat
In her photography, her main focus is always on attention to detail, and she tries to give extensive knowledge of food through her images.
Linda Schneider
Linda's work focuses mostly on seasonal, fresh ingredients and a vibrant color palette.
Jackie Alpers
As one of the industry's most well-known commercial food photographers, Jackie has worked for high-profile clients like The Food Network, Taste Cooking, The Kitchen, and Refinery29. From editorials to advertisements, Jackie brings a food stylist photographer's eye to her work, creating consistently beautiful and delicious images.
Neal Santos
Neal Santos food photography focuses on beautiful dishes and the cooks and chefs in the kitchen. He combines food images with portraits of cook, encouraging personality and storytelling.
Thomas Brooke
Thomas creates clean, professional images for commercial clients. In addition to food photography, he shoots travel, portraits, architecture, and lifestyle campaigns. He always adds his signature style to his project.
Nick Ghattas
Nick is a self-taught food photographer with a lot of creative ideas. His images comprise movement, action, and texture.
Alana Haldan
She has a mindful approach to her work Alana creates simplicity in her food images by introducing fresh and healthy meals.
Radhika Penagonda
Radhika is a food stylist photographer who focuses on natural light. She creates images with vibrant colors and interesting compositions.
Andrea Di Lorenzo
He captures cocktails in well-styled settings, making them eye-catching. He also posts eye-catching food photography on social media for inspiration.
Dennis Prescott
Dennis is also a chef and cookbook author. He achieved fame and success quickly.
The hosts assist struggling restaurants and cafes, helping them start over and find their way.
Caroline Losse
Caroline, the owner of the blog 'Sugarberry,' is a food photographer and blogger. She specializes in capturing plant-based food and creating visually stunning smoothie bowls that are decorative and delicious.
Skyler Burt
Skyler's food photography skills are impeccable, and his attention to detail is evident in every shot. He has also honed his craft in drink photography, shooting beverage advertisements with stunning results.
Kimberly Espinel
Kimberly's expertise lies in capturing iconic food photos and visually good overhead shots that will leave you captivated.
Beata Lubas
Bea's motivation for food photography is not driven by her love for cameras and lenses but rather by her passion for food. According to her, food is more than just a combination of ingredients. She also specializes in drink photography and is known for experimenting with lighting techniques.
Rachel Korinek
Rachel is an Australian food photographer based in Vancouver. She specializes in editorial food and styling.
Her attention to detail and experimentation with lighting conditions result in stunning food photography that showcases texture and close-up shots.
Mauro Turatti
Mauro is the owner of Hyperactive Studio, an award-winning photography studio based in Milan. He has a post-producer partner, Mattia Giani, and together they bring their professional experience and skills to their work.
Julia Senta
Julia specializes in still life and food photography, having won numerous awards. Her food photos feature a moody and dark aesthetic reminiscent of Renaissance paintings as she seeks to reveal the hidden beauty in her surroundings.
Isabella Cassini
Isabella's food photography is characterized by its dynamism and complexity. Her work includes impressive action shots featuring splashes and smashes. Isabella has collaborated with prestigious clients such as Baileys, Galileo Foods, and Goodwolf.
Carl Warner
He is renowned for his distinctive style of creating "foodscapes," which are imaginative and intricate landscapes crafted from food items such as pizza, gingerbread, salami, and pasta.
Mowie Kay
Mowie's food photography often incorporates natural light, while his choice of black or grey backdrops contrasts the vibrant colors of the food subjects. His style evokes the British landscape with its grey skies and green fields.
Francesco Tonelli
Francesco is a versatile Italian professional skilled in food photography, styling, and cooking. He is known for his diverse portfolio and the ability to adapt his style to meet his client's needs.
Lauren Caris
Lauren Caris is a talented food photographer who has a particular focus on vegan cuisine. Her recipe blog has gained a strong following amongst food critics thanks to her easy-to-follow, plant-based recipes that are both delicious and nutritious.
Libby Bloom
Libby's food photography style highlights fresh and healthy food while promoting sustainability and reducing waste. As a dietician, she aims to inspire a healthier lifestyle through her visually stunning raw vegetable shots and plant-based recipes.
Christina Leopold
Christina is a passionate vegan chef and food photographer who aims to inspire people to embrace a plant-based lifestyle. Her journey began with the simple goal of sharing her vegan recipes online. Her work reflects her commitment to promoting a more sustainable and compassionate way of eating.
We hope you enjoyed this list of the best food photographers. These food bloggers are good at taking great food photos, and we're sure they can help you improve your skills. Whether you've discovered a new Instagram account to follow or a fresh take on food photography, we hope you're more inspired to create your first piece of food art!
Become A Professional Food Photographer With Spyne
As already seen, becoming a professional food photographer is an expensive, time-consuming, and hectic process. But with the Spyne application, you can quickly improve your food photography and become a professional food photographer.
Spyne provides all the skillset and experience of food photography in this app which is essential in all types of photography and will help you create better images. The Spyne's food photo editor offers many options to improve your skills like:
Food Photography Research: Research different food photography styles by browsing food magazines, cookbooks, and blogs. It will help you understand the other techniques used to create eye-catching images.
Use the features of the Spyne app: The Spyne app has features designed for food photography, such as AI-based image editing, color grading, and background removal -plan. These features help you create professional-looking images.
Zero Equipment investment: You don't need specific expensive equipment as an investment. You can start with your basic smartphone and try the spyne camera, which guides you to click images from different angles. Also, you can upload any image to their app and get instant results.
Build a Portfolio with Spyne: Build a portfolio of your best work and showcase it on social media platforms with the Spyne app. This will help you attract clients and get more photographs.
Spyne works with other food industry professionals to learn new techniques and gain exposure to help you gain more editing options and filters.
Remember that becoming a professional food photographer takes time and dedication. By using the Spyne app features and following these steps, you can improve your photography skills and achieve your g