Food photography apps are a huge part of what you do as a business or restaurant marketing. It's an appropriate way to itch your name to generate excitement among people about your products or services. But if you're new to food photography, it can be overwhelming! The good news is that tons of great food photography app are available for mobile devices and desktop computers, making it easier than ever to take amazing shots.
In this article, we'll look at some of the best ways to use these apps to improve your food photos. Let's venture more into it!
What is Food Photography App?
Food photography is a great way to capture memories and share your love for food with the world. With the help of a food photo app, you can take beautiful pictures of your favorite dishes, no matter what kind of phone you have. A food photography app allows you to take professional-looking photos with your phone and create fabulous images that will make everyone drool. It also provides tips and tricks to ensure your photos look their best and find the perfect angle for each dish.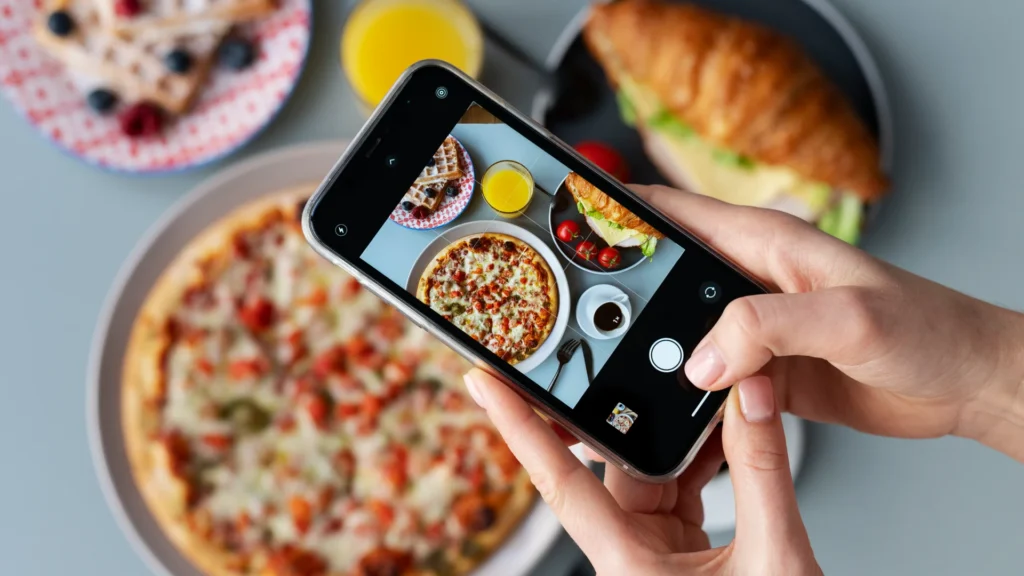 A food photography app is a mobile application that allows users to capture and edit photos of food. These apps usually offer features like filters, editing tools, removing backgrounds, and effects to enhance the look of your food images and make them more appealing and attractive.
Food Photography app is popular among food bloggers, chefs, and food lovers who want to share their food creations with others on social media platforms. By using these apps, they can capture and present their dishes in an aesthetically pleasing manner, which helps in attracting more followers and engagement.
Why do You Need Food Photography and Editing apps?
If you're a restaurant and food owner who likes to share photos of their meals on social media or want to do restaurant photography, you know a great photo can make all the difference. But what if your food photos look superb? That's where food photography and editing apps come in!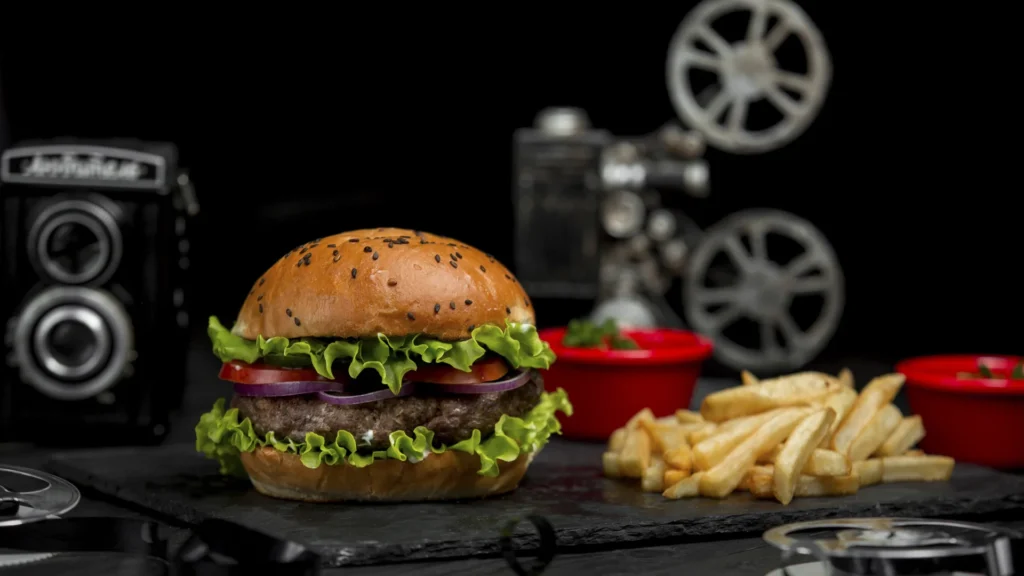 These apps can help make your food photos look more appetizing, professional, and unique. And they can be a great way to make your photos stand out.
At the end of the day, sharing your food photos aims to attract new customers. And luckily, there are plenty of editing features that can help with it. For example, you can use apps to add watermarks or logos to your photos, which can help promote your brand. You can also use apps to create promotional graphics or short video clips.
Top 15 Food Photography and Editing Apps
1. Spyne
Spyne is an amazing food photography camera app for photography that automates the editing of images through Artificial Intelligence (AI), which is trained on more than seventy million images. They provide services like: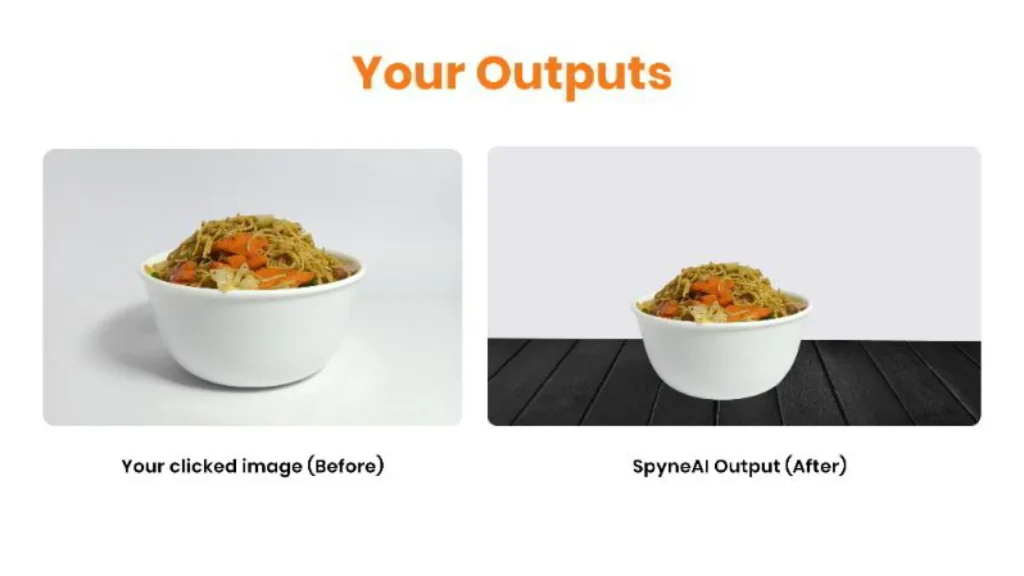 Processing images to higher quality
Taking care of lighting and angles
Removing watermarks
Aligns the product centrally
Background Replacement
Addition of margins
Furthermore, you can also avail more food photography services if you run an e-commerce business website, such as
Faster validation/moderation of images
Checks images for vulgar content
Color correction
Barcode scanning
Nutritional display of products
This results in decreased time to market as everything gets done quickly, and your operations become cost-effective thanks to automation due to AI. Looking for the best food filter online? This is the place!
2. FoodieFoto
FoodieFoto is an easy-to-use app focusing on taking better food photos with your smartphone. It's great for beginners and pros alike. Further, it has all the features you need to get started in food photography and includes:
Trim feature: Take a photo or choose from one of your stored images and ensure everything looks perfect straight out of the camera.
White balance setting: Adjust the color temperature of your photo before taking it so that it looks more natural onscreen.
3. Halide Mark II
It is versatile and the best camera app for food photography for iPhone. It comprises several professional tools, such as:
Histograms
RAW support
Manual focus & Depth capture
Color Zebra
In addition, features like Coverage lend firm control over images when editing and clicking pictures. Moreover, it also assimilates aspects such as Siri Shortcuts support, gesture control, and Apple Watch.
4. Snapseed
Snapseed is a robust photo editing tool that edits photos from your phone or tablet. Numerous filters, frames, and effects are available in the given app. It also allows you to add text and create collages from your images like Photoshop CC.
The free version has basic editing capabilities such as cropping, rotating images, adding borders and effects to photos (like vignettes), adjusting brightness/contrast levels, etc. However, the premium version offers advanced editing options like red-eye removal or converting RAW files into JPGs without losing quality information.
5. Afterlight
Afterlight is a photo editing app for iOS that allows you to edit, enhance, and share your photos. The app is simple and quick, making it great for beginners and expert food photographers.
It offers a variety of editing tools that lets you apply filters to your images in multiple ways. For instance, if you want a picture to look like another picture from various angles (like above), the use of Afterlight's Lens Blur feature is the best option. It permits users to add blur effects to photos, making them appear more realistic even viewing them from different angles.
6. VSCO Cam Mobile
VSCO Cam Mobile is the best food photography app for your business. It gives you control over the look of your photos. You can adjust everything from color, light, and exposure to make sure they perfectly capture what's in front of you.
It is the best free app for food photography for iPhone, iPad, and Apple Watch camera app which gives you access to over 20 million high-quality images—all shot by professional photographers using the same gear they do in their studios!
7. Photo Timer+
During a food voyage, it is painful to find a supporter. Here, the photo timer+ app can become your best pal. Using it, you can take multiple photos with several stoppages to make the image look perfect!
In addition, one can snap images ranging from 3 seconds to 1 hour. Besides, it offers several exciting features:
Handy flash control
Countdown audio
Direct photo gallery access
Easy preview
8. Adobe Photoshop Express
Adobe Photoshop Express is a free app that's great for beginners. It has many features, including filters, effects, and tools. Further, it also has editing options like cropping pictures or adjusting brightness and contrast.
Another great thing about Adobe Photoshop Express is its vast library of stock photos to use in your food photography setup. You can search through thousands of images or upload your photos directly into the app!
9. Camera+
Camera+ is an excellent app for taking photos and videos. It has many features that enhance your images, including filters, frames, crop tools, and more. This food photo editor app allows you to edit the photo before sharing it on social media or sending it as an email attachment.
Camera+ is available for free on both iOS and Android devices. However, in-app purchases are available to access more advanced editing tools such as professional effects (like black and white conversions).
10. Enlight 3D
Enlight 3D is a 3D modeling and editing app for iOS, Android, and Windows. It's available for free to download and comes with a lot of features for your business, such as:
Create animations with its built-in storyboarding tool
Add effects such as camera blur or tilt-shift distortion to photos (or any other image file you want) using its Effects Editor
Rotate your models onscreen by dragging them around in the viewport (or use the rotation arrows on each side)
11. iSight Camera for iPhone and iPad Pro
iSight Camera is a great app for taking photos and videos. It's also one of the best iPhone and iPad Pro food photo apps.
iSight Camera is a fun way to shoot your food, whether it's something you're serving at the table or a platter on the bar. It comes with flawless optimization and assures you get the best possible shots from every angle.
12. Hyperlapse by Instagram
Hyperlapse is a widespread app that allows you to create hyper-lapses, which are videos where there is an increase in the speed of the camera over time. Creating compelling content without worrying about technical know-how or expensive equipment is easy.
It provides several different options for taking your photos:
Time-lapse mode (1x): This mode causes your camera to shoot at 1/10th of its normal speed, giving it a quick look. After taking each photo, you can adjust this speed using sliders in the app's center.
Time-lapse (2x): This mode lets you choose between two speeds: 2x or 4x. Each one will shoot at half as fast as time-lapse mode but with twice as many frames per second. Both options give viewers something different but indeed a special one!
13. InShot Pro for iOS 12.0
InShot Pro is a terrific app for beginners and professionals alike. It is simple to use and comes with several features that comprise:
Portraits, landscapes, close-ups, and macro photography
Supports action shots like sports or wildlife photos
14. SnapDish AI Food Camera
Online food retail brands love the given AI-based food camera app. It helps them forecast your snap pic's photogenic aspect and make your meal look more mouth-watering. Besides, food lovers can share their recipes and aspire to new ideas for cooking dishes. In short, it assists in the following:
Making your dish look yummy with just a single click
Updates unknown dishes and recipes on the app
Assist in creating own cookbook
With just a single post, one can share their food ideas on multiple social media platforms
15. Cymera
While Cymera is primarily a portrait or enhancing editing app, it contains several useful functions for food photography. It includes seven different camera lenses.
The tool also offers a silent mode, anti-shake and out-focusing features, and unique filters and effects. Also, you get access to 15 different watermark styles, Bluetooth shutter compatibility, collage-making capabilities, and custom filter creation.
Many awesome food photography apps are available on the App Store, but you can take better photos with your phone. You may think it's different from taking a professional-looking photo, but it is! And if you want to quick-start with food photography, follow the above-given apps.
Conclusion
So, the given article helps us understand what makes a good food photography app. Many great options are available, but the ones we've picked out here are the best! Anybody who cherishes taking pictures of food understands how crucial editing is to the final product.
It's simple to create gorgeous food images that will make your friends and followers drool, thanks to various photo editing tools for foods. Thus, using the best camera app for food photography, you can generate mouth-watering food images for your online food retail brands.