As the automotive industry starts grasping its roots in the digital world of the internet. Dealerships are trying to find efficient and effective ways to increase their sales. DealerOn is one of the solutions in the market that is well known for opening new ways for dealers to achieve their final goals. This digital retailing can be a game changer for those looking to take the most out of the auto dealership market.
What is DealerOn?
DealerOn is a DMS that can give auto dealers websites that have higher conversion rates. SEO solutions that can bring traffic and ranking. They use testing, data, optimization, and the most advanced end-to-end digital advertising solutions to help dealers sell more cars profitably. The main aim is to make buying cars online really engaging. They want people visiting DealerOn websites to have an interactive experience and find exactly what they're looking for.

Services Offered by DealerOn
They make websites for dealers that help sell the most cars, use really great online search techniques, and offer super smart advertising solutions for everything in the car world. Some of the services that they provide are:
1. Website Design and Development: DealerOn digital retailing makes websites that are perfect for each dealership. These websites bring lots of people, make new leads, and turn visitors into happy customers.
2. Search Engine Optimization (SEO): Ensures dealers appear higher when people search online. This means more people will see their website and check out what they offer. They do many things, like finding the best words to use, making content better, and creating links to help websites rank better.
3. Digital Advertising: helps dealers connect with the right people using online ads. They use different channels like search engines, social media, and other online spots to show these ads to the perfect audience.
Advantage of DealerOn
DealerOn puts together three big digital marketing tools (Website, SEO, and SEM) in one place. Their smart solution uses data to help dealers make more profit and data transparency.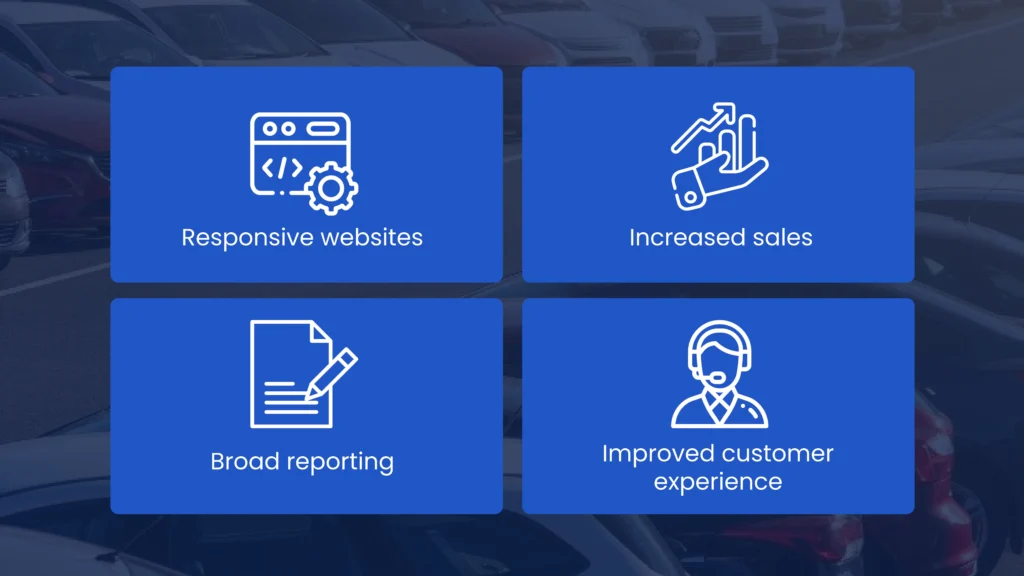 Some of the advantages a dealer can gain are:
1. Responsive websites: DealerOn's websites use a responsive platform called Cosmos to make sure your website looks great, whether someone is using a computer or a phone.
2. Increased sales: Their services have helped dealerships increase sales by as much as 30%. Their data-driven approach helps dealers make informed decisions about their marketing campaigns.
3. Broad reporting: The websites they built are well-optimized and maintained by Google Analytical Certified digital consultants. Therefore, these websites will bring you conversions with the addition of maximization of leads, phone calls, google map views, and coupon prints.
4. Improved customer experience: Websites and marketing materials are designed to provide a positive customer experience. They make it easy for customers to find the information they need and make a purchase.
Disadvantages of DealerOn
While DealerOn offers a number of advantages to car dealerships, there are also some potential disadvantages that dealers should be aware of:
1. Cost: This DMS isn't that cheap. Their set packages can be pricey for small dealerships, and if you want something special, it might cost even more. Dealers should check if they can afford it before saying yes.
2. Complexity: The Offers might be a bit tricky to understand at first. Dealers might need some time to figure out how to use it all really well. They might even need to hire more people or do some training to get the best out of the services that the DMS offers.
3. Integration: Services may not integrate seamlessly with all of the other software that a dealership uses. This can lead to problems with data management and reporting.
4. Over-reliance: Lots of dealers really need DealerOn's help. But if they suddenly stop working or start charging more or offering different things, it might leave these dealers in a tough spot.
What Products Does DealerOn Provide?
They give car dealerships a bunch of digital marketing tools and automotive solutions. They help make websites, and get noticed on search engines, online ads, videos, and special marketing for car services, and they're known for their great support. Here's what they offer:
1. Website design and development
2. Search Engine Optimization (SEO)
3. Digital advertising
4. Video services
5. Fixed ops marketing
6. Award-winning support
Who are the OEM Partners of DealerOn?
DealerOn is a certified OEM partner for a wide range of automotive brands, including:
1. Acura
2. Alfa Romeo
3. BMW
4. Buick
5. Cadillac
6. Chevrolet
7. Chrysler
8. Dodge
9. Fiat
How Spyne Integrates with DealerOn?
Spyne offers amazing image-processing solutions for auto sellers. When Spyne works together with DealerOn, there are tons of advantages. Let's see how they team up with this DMS:
Step 1: Commencing the integration
To bring things together, we need approval from both the dealership and DMS. Once they're on board, we dive into the DMS platform's database to grab info and pictures of particular vehicles.
Step 2: Pictures received via FTP
If the dealership clicks their own photos, the DMS sends us the original images, and we transform them into polished ones.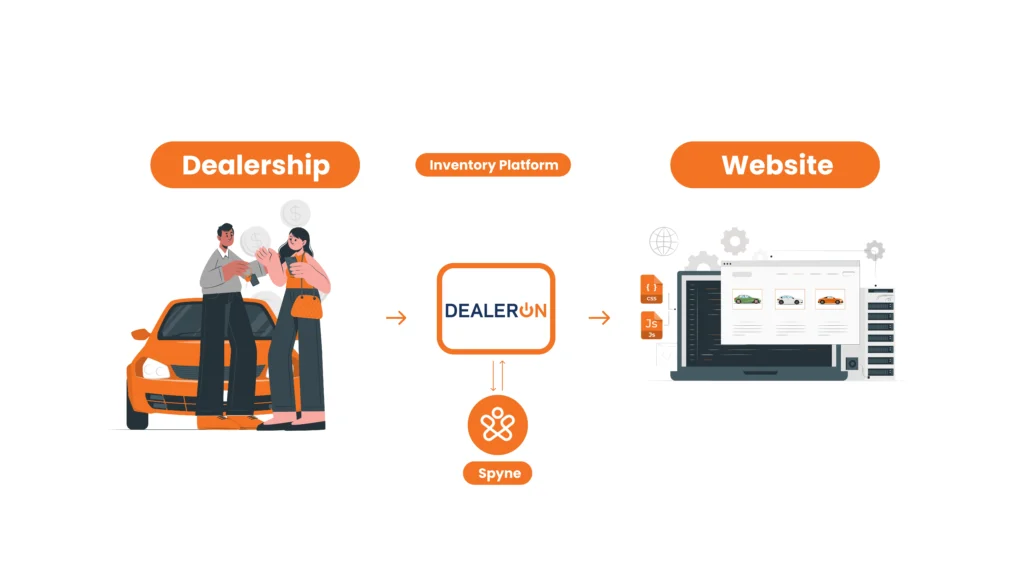 But if they use the Spyne app for photos, the app handles everything automatically and sends the improved images straight to the DMS, saving the hassle of manual uploads.
Step 3: Processing images
We use our clever image processing to make ordinary pictures look amazing and professional, especially for those taken in the traditional way.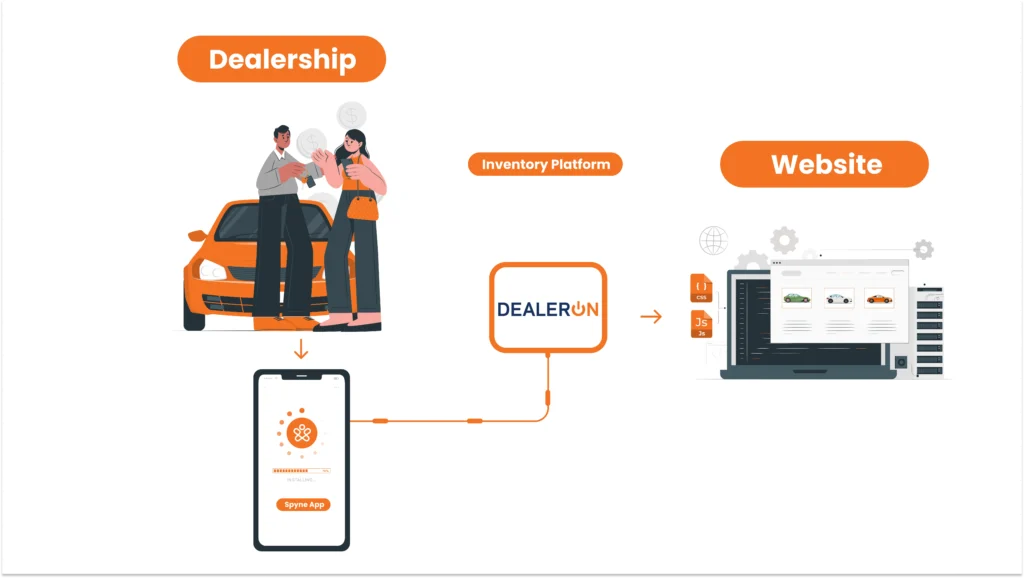 This automatic process saves allot of time and effort that would otherwise go into editing photos manually, ensuring all the dealership's inventory pictures look fantastic.
Step 4: Pictures transferred via FTP
Once we're done enhancing the images from DealerOn, our software sends these upgraded pictures back to the DMS using a secure file transfer system called FTP. This ensures a seamless flow of data between the two platforms. If you're utilizing our app, the images also travel to the DMS via FTP.
Step 5: Sharing on website and marketing channels
The API seamlessly places the enhanced images into its system, making it simple to display them on the dealership's website, social media, and advertisements. This approach guarantees that customers get to see excellent vehicle pictures, no matter where they're browsing.
Step 6: Continuos update
This setup ensures that any updates to vehicle details or pictures automatically reflect on the dealership's website, social media, and ads. That means customers always get the latest and most accurate information.
Benefits of Spyne and DealerOn Integration
Some of the benefits dealerships can receive after spyne and DealerOn integration are:
1. When you combine great vehicle pictures with well-organized listings, it makes the customer experience much better. People can quickly find what they need to know, which helps them make informed choices.
2. Offer car dealerships a single platform to manage all their vehicle listings and online marketing. It streamlines everything and allows them to track the effectiveness of their marketing efforts easily.
Conclusion
DealerOn is a game-changer in the automotive industry, offering a robust suite of services spanning website design, SEO, and digital advertising. Their focus on tailored websites, enhanced visibility, and strategic targeting elevates dealership performance. However, their partnership with Spyne in image processing fortifies their offering, enhancing inventory presentations and optimizing customer experiences.