National Automobile Dealers Association, or the NADA Show 2023, one of the most renowned and awaited automotive events, is almost around the corner. With an average of 10,000 dealerships, including 3,727 managers, 2,542 allied industries, and 795 internationals presenting at the event (attendance at the event in 2022), it's time for you to chalk out your game plan and seize deals like a pro.
If you are new to this field, don't know much about the NADA expo, or are looking to expand your scope in the automobile market this year, then you are at the right place. This blog will run you through the 2023 NADA event, what it is, what's in the store, how you can participate, how Spyne can assist you, and so on. Let's dive in.
What is the NADA show?
National Automobile Dealers Association show, or NADA show, is one of the most significant automotive events in the US. It's a comprehensive exhibition with booths displaying cutting-edge products and hot industry trends, and it offers networking opportunities to dealers, exhibitors, manufacturers, automotive service providers, etc. NADA has been the voice for vehicle dealerships and their teams for more than a century. The expo ensures that each player can exhibit their capabilities, services, and offerings for various dealership departments.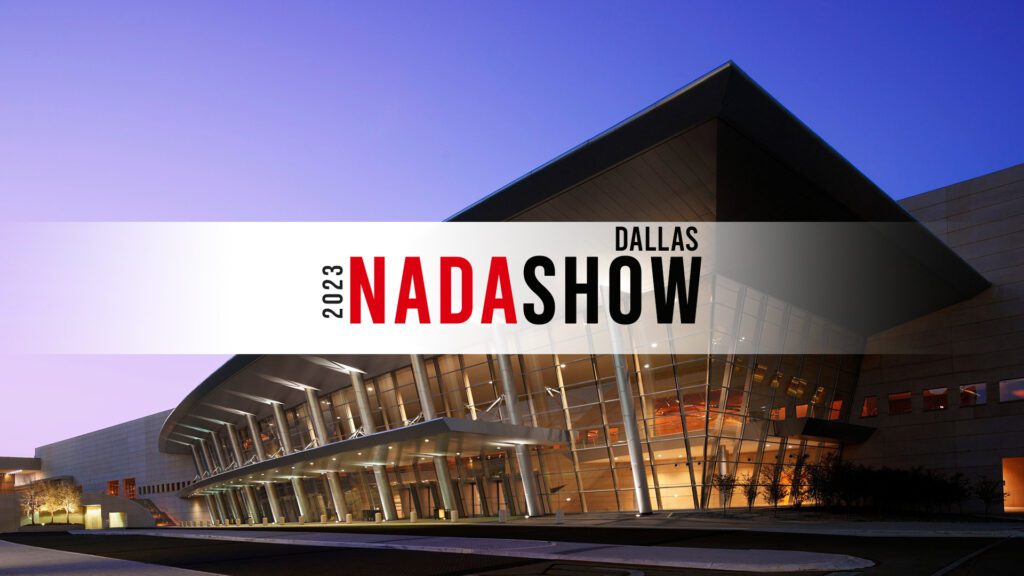 NADA was founded in 1917 by a group of car dealers and state automobile association executives. The association was initially based out of Washington D.C., with George Browne – a dealer from Milwaukee – as its first president. Currently, NADA is headquartered in Tysons Corner, Virginia, and is headed by Mike Stanton (President and CEO). The organization represents over 16,000 car and truck dealerships, including both US and foreign dealers.
The main aim of the NADA event is to help both young and established dealers sell more cars and maximize their profitability. From startups to automotive powerhouses, everyone can showcase or search for the best innovations and solutions under one roof. You can also learn about and discuss the latest tactics and industry trends, covering over 65 topics, employed by the leaders.
It is also a great networking opportunity for players – dealerships, marketplaces, automotive service providers, etc. Apart from the exhibition, the NADA show also has more than 100 interesting and insightful workshops for different automotive businesses.
This year, the NADA show dates are January 26 – 29, 2023, although the Expo will run from January 27 – 29, 2023. As for the location of the event, it will be held at Kay Bailey Hutchison Convention Center in Dallas, Texas. Registration and housing for attendees began on July 25, 2022. The exhibitor list for the event is quite extensive, featuring automotive giants as well as start-ups.
Interested people should check out the floor plan for the show as well.
The 2022 NADA convention had numerous interesting affairs, like mastermind sales and marketing platforms, sessions on evolving automotive trends, updates from dealers, partners, and the automotive community, and so on. The 2023 NADA event will be even more exciting and fruitful for dealerships.
What's in store at the NADA Show 2023?
The NADA 2023 expo will bring all auto industry experts, exhibitors, manufacturers, and dealers under one roof. Dealers attending the event will enjoy exclusive access to NADA auto franchise meetings, marked by automaker executives, and explore various challenges and opportunities directly with the experts.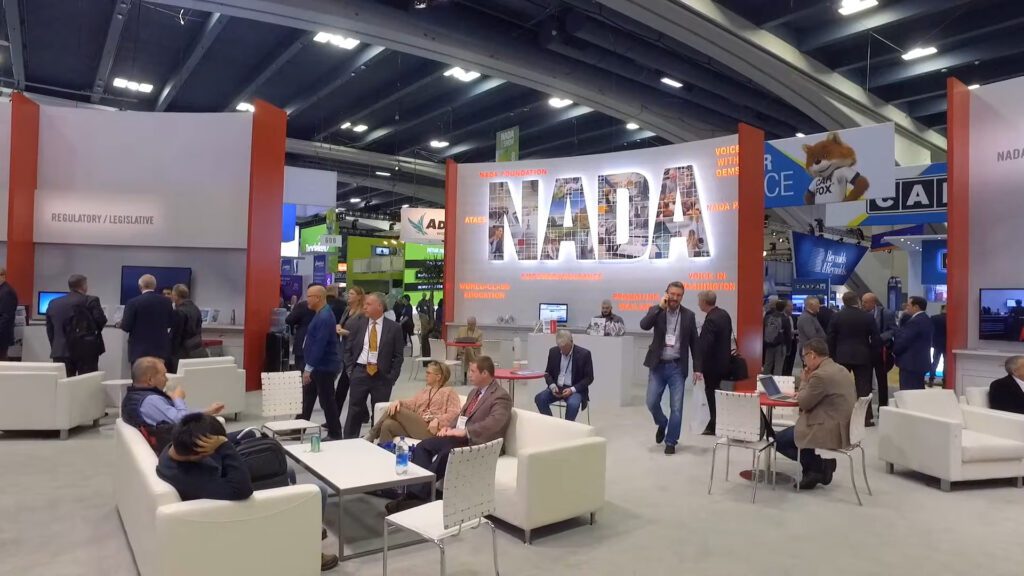 There's something useful for everyone at the NADA Show – car retailers can learn about emerging trends, leading technologies, successful management practices, business practices, knowledge of operations, and more, for their business. Automotive service providers – mechanics/garages, towing companies, car cleaning companies, merchandisers, etc. – get a platform to showcase their tech and products at the event, helping the aforementioned retailers with their operations and sales.
The NADA show will also offer a wide range of workshops for the attendees, covering marketing, fixed operations, variable operations, digital growth, leadership, business essentials & innovations, etc. The highlight, however, will be the special workshop for exhibitors and OEMs: "2023 Digital Update – Regulatory and Compliance Issues That Dealer Technology Vendors and OEMs Need to Know". This workshop will help OEMs, and third-party vendors understand data privacy and security issues.
Here is the complete list of workshops at the 2023 NADA Dallas Expo.
More about the NADA 2023 expo
The NADA expo is the automobile industry's favorite and premium marketplace that gives the platform to some of the hottest vehicle collections and most excellent auto tech. The event is tailor-made for dealerships selling new cars or good-condition used cars.
The cherry on top, the expo brings you some of the best decision-makers and retailers in the auto industry. The audience at the event will consist of the following:
48 percent – individual dealerships

50 percent – chain dealerships

2 percent – publicly owned dealerships
Moreover, the NADA event 2023 will cover over 700,000 square feet of exhibit space that can accommodate over 600 exhibiting companies. As per NADA's statistics:
80 percent of exhibitors rated the

NADA expo

as good to excellent

60 percent rated their projected ROI as good to excellent

75 percent of NADA exhibitors return every year for the event
The expo paves the way for merchandisers and other automotive service providers to connect with dealerships and marketplaces and offer innovative new technologies.
Participate in the NADA Show 2023 in Dallas
Do you know 70 percent of attendees (dealerships and marketplaces) plan to purchase products or services at this year's NADA expo? If you have a retail or merchandising solution, you should definitely set up a booth there! If you want to tap into this community and be a part of the uniquely branded show experience, register for the NADA 2023 in Dallas.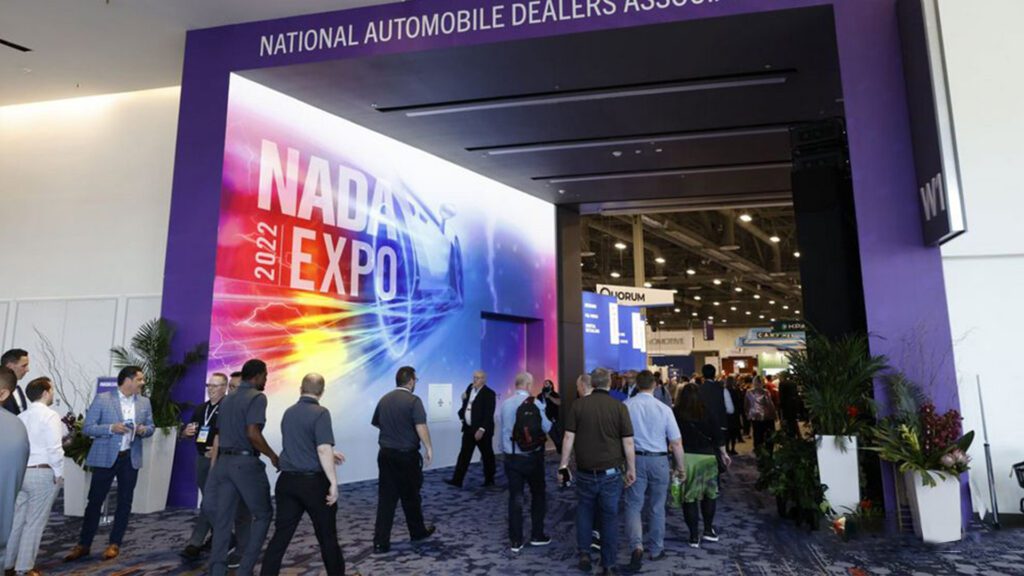 By booking booth space on the expo floor, you can leverage the power of face-to-face communication with the stakeholders while building trust, understanding, and a real sense of shared mission with automotive players.
NADA Show 2023 registration – How to do it
NADA registration for attendees: For attendees, i.e., dealer and marketplace executives looking to explore the educational sessions and workshops, visit the attendee registration page on the official NADA website. You can reach out to [email protected] or call 864.208.8439. Note: NADA members have a lower registration fee than non-member attendees.
NADA registration for exhibitors: For automotive solution providers, visit the exhibitor registration page and book a booth space. For any queries or questions, you can reach out to [email protected] or call 800.557.6232. The price of setting up a booth. The pricing starts at $35 per square foot, with a minimum booth size of 10×10 square feet. Exhibiting at the NADA Show 2023 can add value to your marketing spending in myriad ways. Some of the significant benefits include the following:
Program directory listings

Mobile app listings

Pre and post-show mailing lists of registered dealerships, managers, internationals, and allied industry affiliates

Ongoing updates of the

NADA expo

with all the recent news and info

You can leverage logos for all marketing-related activities at the show

Consistent pre-event marketing campaigns from NADA on the web via email, news wires, print publications, direct mail, and on social media

Four free exhibitor badges are available for every 100 square feet of space, for up to 60 free exhibitors for one booth
Make the most of your time at 2023 NADA Dallas
Now that you know how huge the NADA convention is for your business and why you need to care about it, your next step should be to chalk out a strategy and make the most out of it. So here are a few quick tips to help you make the best use of NADA Show Dallas 2023.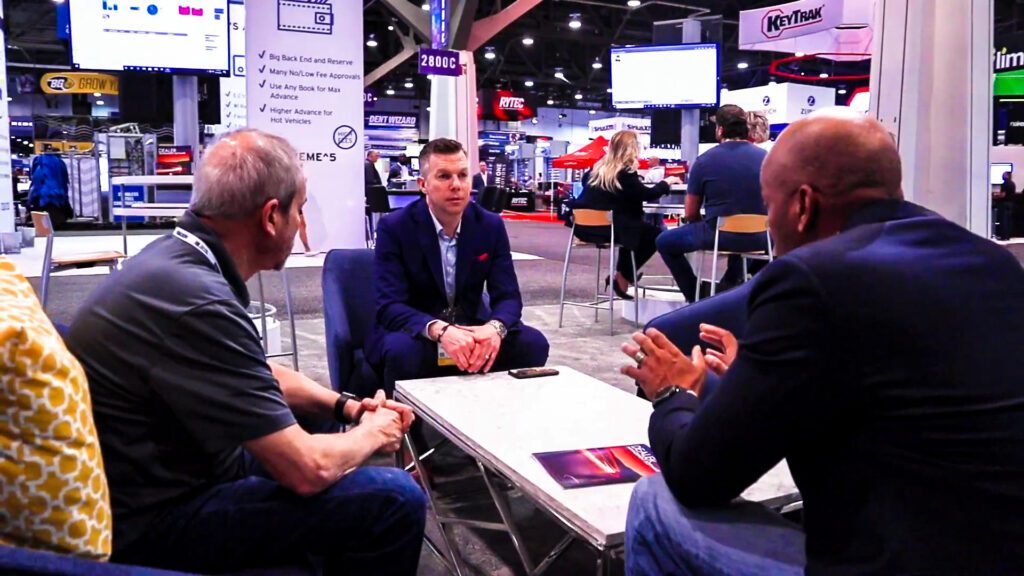 Best tips for car dealers and marketplaces at NADA
Talk with NADA 20 Groups about your dealership's needs before attending NADA. Why do you use the software tools that you do? Do you keep track of each ROI? What tools should be adopted early to establish a competitive edge, and how is the sector evolving?

Evaluate opportunities to collaborate with an automotive solution provider. However, investigate all the accessible options in that market and hold a roundtable with your team before signing anything. This is even more crucial while looking at alternatives to your existing DMS or CRM software.

Pay close attention to the smaller players. Smaller businesses can occasionally react to demands and changes more rapidly. An intelligent choice is to use a digital retail solution. Smaller teams can frequently be more agile and quickly adjust to your constantly changing dealership needs.
Best tips for automotive solution providers at NADA
The Dallas convention center will give 700,000 square feet of exhibiting space and accommodate 600 exhibitors at once. Thus, the competition is quite heavy. You need to apply for a booth in advance to secure floor space.

More than 20,000 attendees are expected at the NADA auto show, many of whom may consider stopping at your booth and gathering notes and info about your technology and solutions. This is your best chance to crack deals and make long-term associations. Be prepared to impress them with your offerings, testimonies, value propositions, etc.

You may not be able to convert everyone who comes to your booth, but those contacts are still potential leads. After the show, you can follow up and search for a more opportune time to close the deal.
Marketing and digital ideas (The most important bit)
Attendees at the NADA event will search for your business online after the show or contact you in the future based on your presentation and proactiveness. So it becomes essential to rethink your digital image and have marketing tactics up your sleeves. Here are a few to consider:
Make sure your website gives a brief but accurate description of your services or products.

Your social media team should be on its toes. Leverage Facebook, Instagram, etc., as much as possible and drive campaigns. For proper strategizing, you can divide it into pre-event, during event, and post-event phases.
Keep reminding your audience about your floor and booth number on all your digital channels. You can also run local ads on social media or SERPs to get the maximum reach.

Remember to track your leads, closes, gross, and everything when the event ends. You can retarget them better or improve your sales strategy to attract more leads.
Super Sessions at NADA 2023
In addition to the expo, the NADA 2023 will be marked by two super sessions: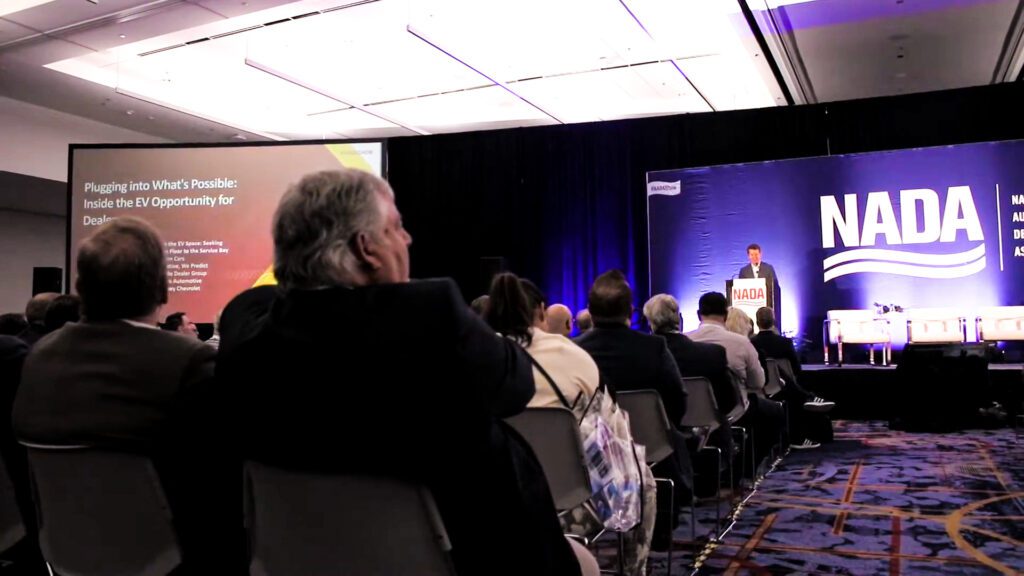 The Future of Automotive Retail Roundtable:

Moderated by Steve Greenfield, this roundtable discussion will offer insights about the technologies that are shaping automotive retailing from some of the most progressive dealers in the US.

Best of the Best Ideas From NADA 20 Groups:

This annual session of NADA 20 Groups contests and determines the best ideas for vehicle retailers to increase sales/profits, improve services, engage and retain customers, gratify employees, etc.
What's for you in this:
You can explore how top players are shaping automotive trends and what to expect in the future. Learn from your peers and redefine your implementation plans and strategies to get buy-in from your management, add to your profits, improve sales, marketing, and operational processes, and retain customers while showing measurable growth.
Learning, opportunities, and growth: all in one place.
Meet Spyne at the 2023 NADA Show Dallas
Planning to visit NADA Dallas 2023 show? Well, why not drop by and say hello to us? Here's a quick walkthrough of Spyne's digital merchandising solutions: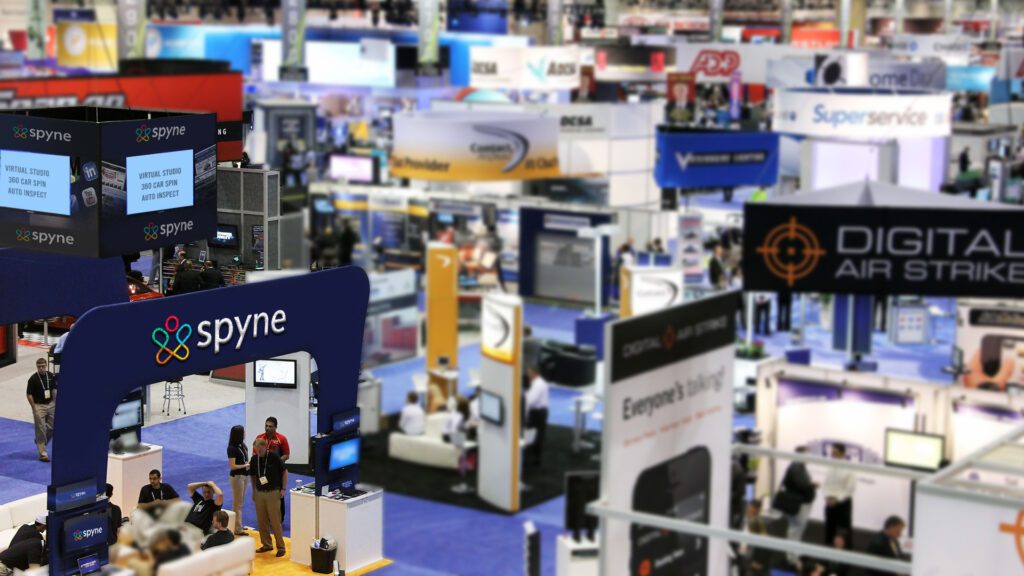 Virtual Studio:

No need to build or rent expensive car photography studios! Spyne AI smartphone app allows you to shoot and edit images quickly and affordably, automatically replacing cluttered backgrounds with high-quality virtual backdrops
360 Car Spin:

Enhance your VDPs and engage your customers with 360-degree car spin videos.
Inspect:

Use the power of AI to detect dents and damage on your vehicles automatically.
Our AI-powered solutions empower dealerships to create a winning digital retail experience.
Final Word
Long story short, if you are an automotive retailer and wish to take a giant leap in your network and business, NADA Show 2023 is the place. The same is true if you are an automotive retailing/merchandising company.
Though speaking of marketing strategies, videos and visuals can create an excellent first-time impression on visitors. As mentioned, you can build decks and visuals about your offerings and run them in your booth, on your social media channels, website, etc., for more awareness and clarity about your products/services.
Talk to us today to learn more.