Automotive photography is essential for dealerships in the 21st century. Around 69% of buyers find good car visuals critical while searching for vehicle options online, while 26% consider them moderately important. Vehicle photography with traditional (manual) methods is slow, tedious, and expensive. That's where the power of AI (artificial intelligence) can do wonders for you, by automating a portion of the task and guiding you through the rest. The first step to that is car detection. Once the AI performs that, image editing becomes a breeze!
Let's understand what car object detection is in the context of automated image editing and what happens after. 
What is Car Detection?
Car detection in an image is done with AI, wherein the latter can tell if the object in the image is a car or not, without any human intervention. The machine is trained with a dataset that contains images of vehicles and non-vehicle objects. It is shown plenty of images and told which object is a car and which is not until it can detect the same on its own with high accuracy.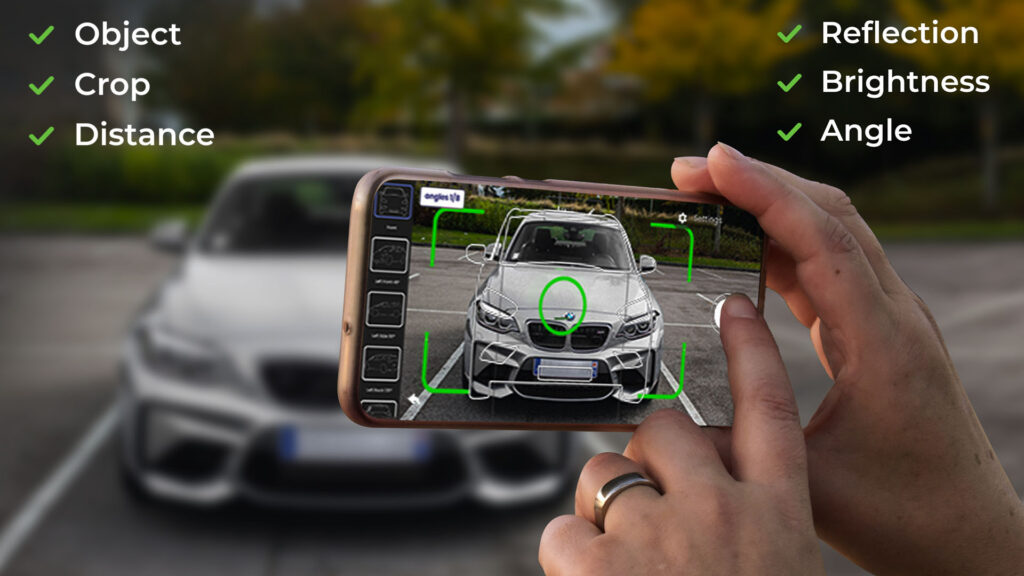 Car object detection helps edit automobile images smoothly and seamlessly. Once the AI recognizes a vehicle, it can easily remove and replace the original background with a new, custom backdrop. It can also work on the car – tinting windows and removing their reflections, correcting its tilt, checking if the car is clean, etc. You can also train the machine with other datasets, like the vehicle classification dataset, to further improve its detection and classification accuracy. Thus, the AI would be able to recognize even the car segment!
Car Detection Model of Spyne
Spyne's car detection image processing model takes things further. Our AI-powered editing platforms include a web browser application — named Darkroom — and a smartphone app for iOS and Android. Both Darkroom and the smartphone app offer automated image editing, with the latter additionally offering AI-guided photoshoots.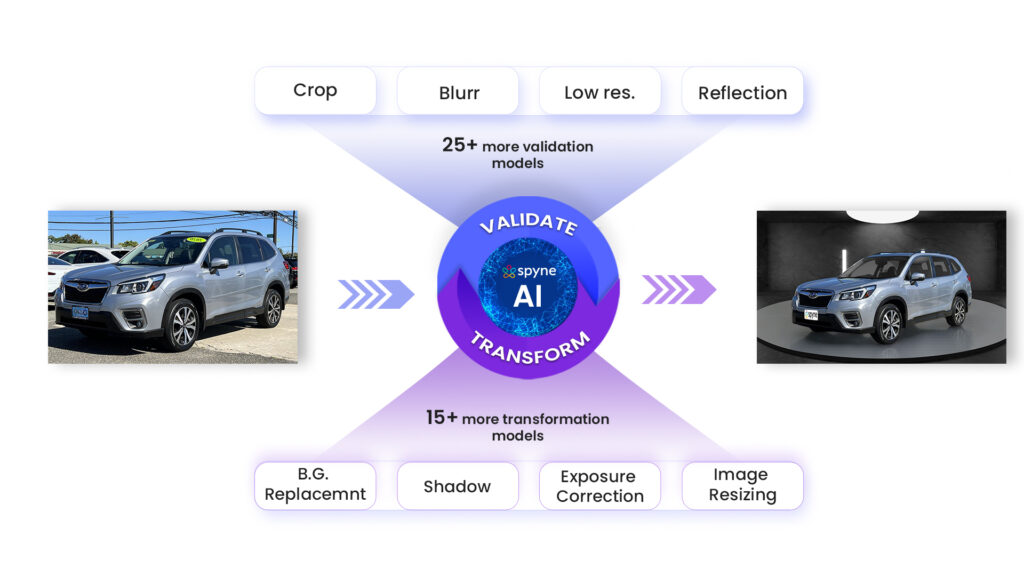 Any image you upload on Spyne is checked by 35+ individual APIs to give you the best image for your digital car catalogs. You can use our platform as is or individual APIs, depending on your requirements. You can also use our software development kit to build your own white-label app.
Steps for Car Detection and Classification
Let's look at some of the features that are included in Spyne's AI-powered vehicle detection and classification and what they do:
Car Classifier:

It performs

car object detection

, verifying whether the object in your image is a car or not. It is a built-in feature of Spyne's Virtual Studio and is also available as a separate API.
Car Type Classifier:

It classifies the car as per Spyne's vehicle classification chart – sedan, SUV, hatchback, and pickup truck.
Car Shoot Category Classifier:

It detects which feature of the car is being photographed, classifying it as an interior shoot, exterior shoot, or miscellaneous.
Car Shoot Interior Classifier:

It detects the different interior features, such as an odometer or dashboard, in the image.
Tint Classifier:

Detects if the photographed car's windows have been tinted or not.
Window Masking:

Masks the car windows in the image to remove reflections.
Window See-Through Masking:

Checks if the car in the image has see-through windows.
Tire Detection Classifier:

Checks if the object in the image is a tire or not.
Number Plate Detection and Extraction:

This API detects the number plate of the car object.
Number Plate Masking:

This feature masks the car's number plate in the image, replacing it with a custom virtual plate.
Angle Detection:

This feature detects the angle of the car relative to the camera.
Crop Detection:

This feature detects if the car in the image has been cropped or if it is visible in the image.
Distance Detection:

This API automatically detects the car's distance in the image from the camera photographing it.
Exposure Detection:

This feature checks the brightness of the image.
Exposure Correction:

Performs correction of the image brightness, automatically correcting bright or dark images.
Reflection Classifier:

Checks to see if there is any reflection on the car, like of a nearby object such as a tree or electric pole.
Reflection Correction:

This feature corrects the reflections on the car's body in the picture.
Car Is Clean:

This API checks if the car body is clean or has any mud on it.
Tire Mud Classifier:

Checks to see if there is mud on the car's tires in the photograph.
Tilt Classifier:

Checks if the car in the image is tilted to one side.
Exterior Background Removal:

Removes the original background from the car's exterior shots.
Interior Background Removal:

Removes background from the car's interior shots.
Miscellaneous Background Removal:

Removes background from all other pictures of the vehicle.
Floor Generation and Shadow Options:

Generates a virtual floor beneath the car to give the image a realistic look.
Logo Placement:

This feature assists in placing your dealership's logo in the image.
Tire Reflection:

Creates reflection of the tires on the virtual floor for a realistic look.
Watermarks:

Checks if there are any watermarks on the image.
Watermark Removal:

Removes any watermarks from the photograph.
Diagnose Image:

This feature checks if there is any issue with the image's aspect ratio, size, and resolution.
Super Resolution:

Increases image resolution as per your dealership website/marketplace requirements.
Aspect Ratio:

This feature uses super-resolution to increase or decrease the aspect ratio of the image as per your needs.
DPI:

This feature uses super-resolution to increase or decrease the DPI (Dots Per Inch) as per your needs.
Additional Parameter Correction:

 Corrects the image's aspect ratio, size, and resolution.
Video Trimmer:

Generates frames from a 360° car video to create an interactive 360° spin view.
Wipers Not Raised:

This API checks if the wipers of the vehicle in the image are raised or not.
Object Obstruction:

Checks if there is any object obstruction before the car leading to hampered visibility.
Blurry, Stretched, Or Distorted Images:

This API checks if the car or the image is blurry or doesn't adhere to the quality standards.
Doors Open:

This feature checks if the car doors are open.
Real-World Use Case of Car Object Detection
You can use Spyne's app to get studio-quality images for your digital showrooms. The app has a guided photoshoot telling you what angle of the vehicle to capture. The automatic validation feature will tell you if the photo can be edited or if you must reshoot it.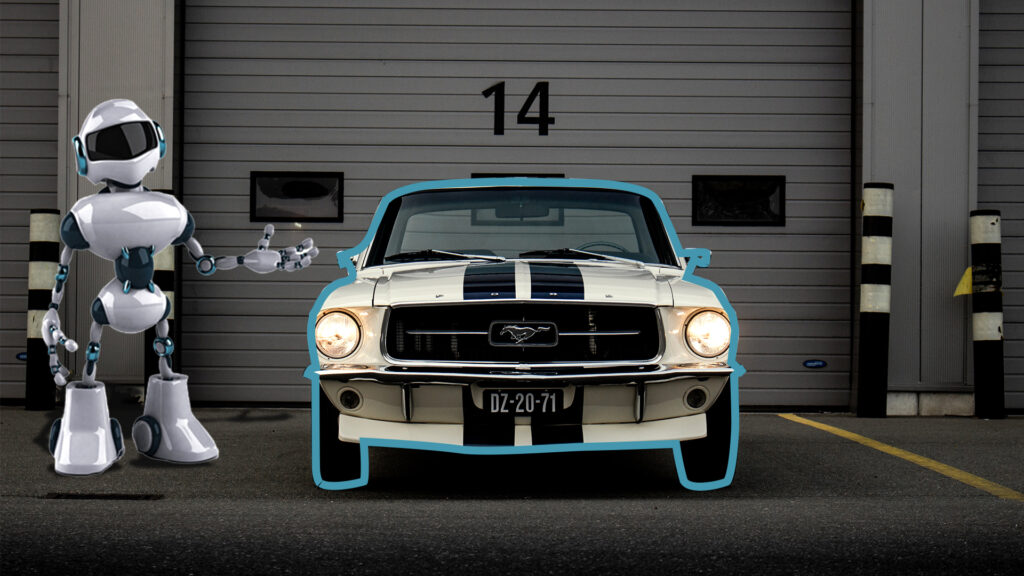 Upload the image to the virtual studio and select what edits you want, whether it is background replacement, window tinting, number plate masking, logo placement, etc. The virtual studio uses car detection image processing to determine where the background lies in the image, remove and replace it, and uses recognize the car to edit the windows, numberplates, tires, etc.
Through AI, you can edit images in bulk within seconds, and the system remembers your settings to give you a consistent-looking catalog throughout.
Benefits Of Spyne AI Car Detection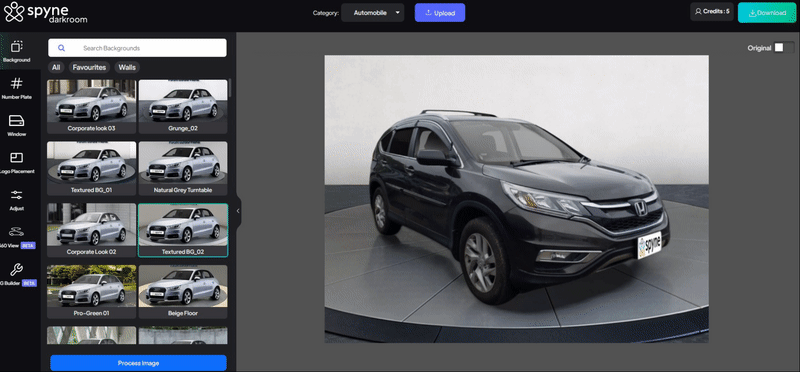 Let's look at the benefits of  Spyne's AI photo enhancer technology to create high-quality car images for your online car inventory:
It is quick:

Faster turnaround time is a dream for all retailers. AI photo editing software makes these dreams come true by being able to process hundreds of photographs in seconds.

It is cost-efficient:

AI photo enhancers will help you save a huge amount of money. It not just saves the cost of the workforce to edit the pictures but can even help you save money spent on car photography.

Allows bulk editing at once:

Getting a professional car photoshoot done and being highly disappointed with the background calls for a bulk editing session or maybe even reshoots! With AI editing, this is only a matter of a few minutes.

Accuracy and Consistency:

AI editors come to the rescue by eliminating and changing the background, changing colors, adding shadows, and meeting every other editing demand required. While the accuracy and consistency with manual editing rely on the editor, in the case of AI photo enhancers, you can get up to 99% accuracy without the chance of human mistakes or inconsistency in the edited photos.
Conclusion
Online viewers can have an attention span comparable to that of a goldfish. Without innovative car visuals, attracting their attention and converting them into buyers would be impossible.
Trying to produce high-impact visuals through manual processes brings numerous bottlenecks. Spyne's automated car photo shoot begins with car detection and ensures next-gen vehicle photography without hassles.
Still have doubts or want to know more about how Spyne can help you automate vehicle photography? Book a demo, and we'll get back to you.