In this era of digital marketing, it's not enough just to have a website and a few social media accounts. You need to use every tool at your disposal in order to reach out to the broadest possible audience to boost offline and online auto sales. Potential buyers and get them interested in your brand.
For the maximum effect, you should use digital media like images, videos and even live streaming sessions to boost your visibility. Here, we'll discuss how to do that.
Why car dealerships need digital media
As per Google research, most people rely on digital channels for research when buying a car. You need to have an excellent online presence to capture these potential buyers. For that, you'll need great digital media.
In fact, Google's studies have also found that new-age media, like 360-degree car videos, can convince 56% of buyers to purchase a vehicle without the need for a physical visit to a dealership.
Social media is a great place to connect with your customers. Of course, you'll need attractive and engaging pieces of media to stand out from your competition. For example, you can show the car's features in an online video, then answer questions about it on your social platforms.
Media tools to help boost your dealership's sales
Let's take a look at the different forms of media that can help you increase your online presence:
1. High-quality images
Using high-quality images for all your cars and trucks is perhaps the most critical step in selling a car. A compelling study by Cox Automotive shows that 90% of auto buyers find photos vital when looking to buy both new and used vehicles.
High-quality images will increase the impact of your ads and will attract more customers. For example, suppose a customer comes across your ad on Facebook with beautiful photos. The chances of them clicking on it will be much higher than less visually appealing ads with bad pictures. This will boost your click-through rate, conversion rate, and overall online auto sales numbers.
ALSO READ: Level Up Your Car Dealership Photography Through AI Automation
A professional photographer with a good eye will help you get that perfect shot every time. However, if you don't have access to a professional photographer or your budget doesn't allow for this expense (or if you're trying to keep costs down), you can use automated solutions for self-serve photography.
2. 360-degree interactive videos
360-degree product videos are the next big thing in digital media. They give customers a better, more engaging visual experience, which means they're more likely to take action after watching it.
Simply put, a 360 video allows buyers to get a virtual feel of the vehicle. This is crucial as it takes the customers closest to physically interacting with the car. You can further improve the experience by highlighting notable features on the 360-degree car view. This can include showing the damages, dents, stains, etc., on pre-owned cars. This brings more transparency, improving customer trust in your brand.
3. Test drive and detailed walkaround videos
Test drive and detailed walkaround videos should be a big part of your digital media strategy. Whether you're selling a car or just trying to get more people interested in your brand, this is the best way for customers to get a feel for what they're buying before making their purchase.
ALSO READ: 360° Spin Car Display – New-age Merchandizing Tool for Your Dealership
Test drive videos can give people a vicarious feel for the car – how it is to drive, how comfy the interiors are, the performance and gas mileage, etc. Walkaround videos allow you to show off a vehicle's condition while highlighting any cosmetic issues that may come up during inspection time (similar to 360-degree videos). Detailed car videos will help you come across as a brand with high integrity and build the trust factor to get new car sales.
Videos are much more engaging than text, which is why the internet is turning from a text-centric platform to a visual-centric one. People love seeing how things work rather than reading about them. Therefore, auto dealers should work on this to increase online auto sales.
4. Live sessions with sales executive
Even on your online channels, you should try to connect with customers in real time. You can use video calls and conferences to answer questions about the car, offers, financing and warranties.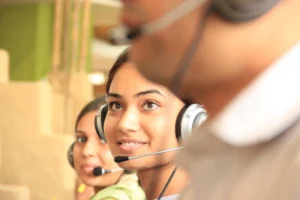 If you're having trouble getting people through your doors or want them to feel more comfortable when they come in for a test drive, try setting up a live session with one of your sales executives beforehand. You might even want to record it so others on the team can watch it later.
ALSO READ: 7 Hot Tips for Car Dealerships to Improve Customer Service
This will give buyers a chance to ask any questions they may have without worries or anxiety—and it also gives you an opportunity to show what makes your dealership special!
Also, this will help to enhance the customer service of your dealership. Buyers will feel that your dealership cares about their concerns and is ready to address and resolve them at the earliest. This will help to retain customers and build consumer loyalty, which is highly beneficial for your new or used car retail business.
Conclusion
Digital media can be a powerful way to build your brand and connect with potential new customers. With the internet being the primary source of consumer research regarding automobile purchases, you must put effort into creating a strategy that helps your dealership to generate more online auto sales. With these tips, you'll be able to do just that!