Fashion photography is about capturing the beauty of clothes, accessories, and models in a visually stunning way. The background is an essential element that can make or break a fashion image. A good fashion background can enhance the mood and subject of an image and create a visually pleasing composition. An improperly chosen background can ruin the overall effect.
In this blog, we will learn about the importance of a fashion photography background and give tips on how to choose the right background for your images.
We'll cover a variety of backgrounds, from natural backdrops to studio backdrops and cityscapes, and discuss how to use props, lighting, and color to create beautiful, stylish images. So, let's dig in and discover the secret to creating attractive fashion photography with the right background.
What are Fashion Photography Backgrounds
Fashion photography backgrounds refer to background settings used in fashion photography to enhance the visual appeal of an image. These backgrounds can include various elements such as sets, props, lighting, colors, and textures. In fashion photography, the backdrop is essential because it sets the photo shoot's tone, style, and subject. The right backdrop can create a sense of drama, elegance, sophistication, or playfulness that complements the clothing and accessories being photographed.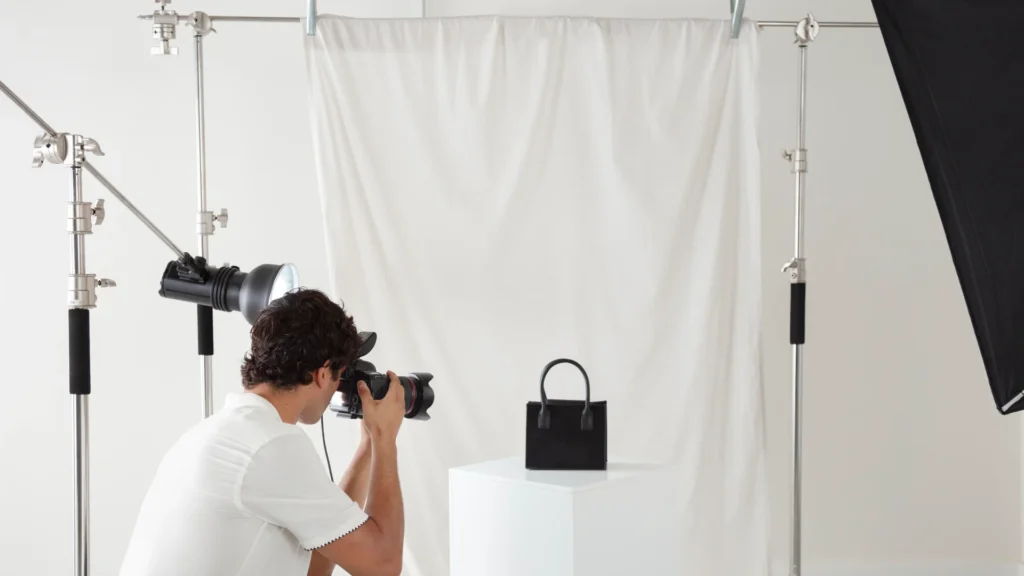 Fashion photographers often use a variety of backgrounds depending on the effect they are trying to achieve. Some popular, stylish fashion photography backgrounds include natural landscapes, cityscapes, vintage interiors, studio backdrops, and abstract patterns.
The Importance of Your Background
Fashion has its own language, and it can be difficult to navigate without a background in the industry. Following are some reasons to keep creative backgrounds in your fashion photography: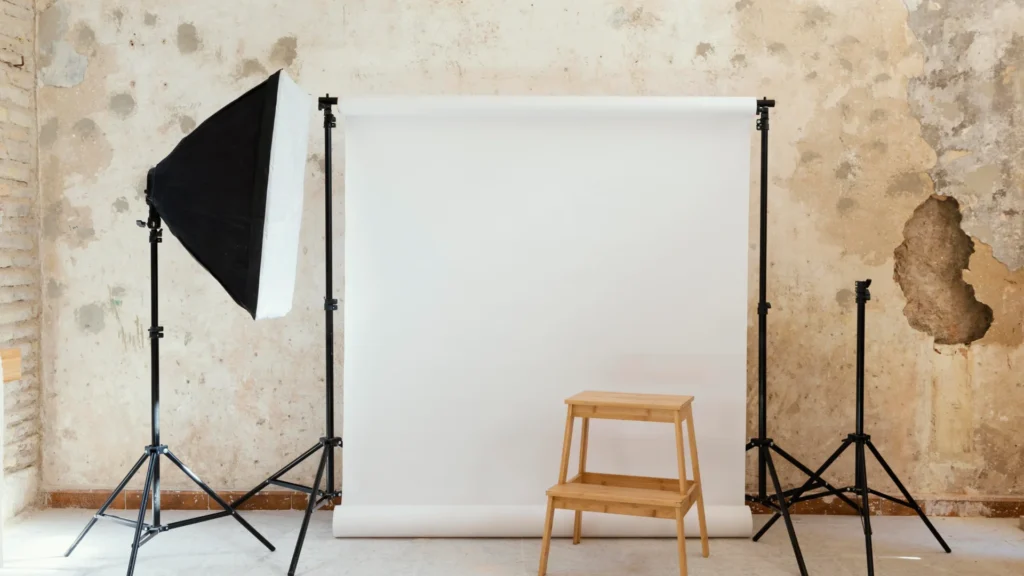 Understanding industry-specific terminology: Knowing the difference between a "collection" and a "line" or the nuances of different fabric types can be critical to success in the industry.
Developing an eye for aesthetics: Fashion is all about aesthetics and visual appeal. Having a background in fashion can help develop an eye for detail, color, and texture, which is essential in the design, production, and styling of clothing.
Keeping up with trends: The fashion industry constantly evolves, which is critical to success. Having a background in fashion can help individuals stay up-to-date with the latest styles and trends, which is essential in roles such as fashion buyer, trend forecaster, or fashion designer.
Building a network: The fashion industry is highly competitive, and having a background in fashion can help individuals build a network of contacts. This network can be invaluable for finding job opportunities or collaborating on projects.
Enhancing creativity: Fashion is an art form, and having a fashion background can help individuals improve their creativity and develop their unique style. This can be useful in a fashion designer, stylist, or fashion blogger role.
Knowledge of materials and construction: A background in fashion can give you a good understanding of different materials and how they're used in clothing. You'll also learn about construction techniques, which are important for creating well-made clothing.
Creative skills: Fashion is a highly creative industry, and a background in fashion can help you develop your own creative skills. This is important if you want to design clothing or accessories.
A fashion background can provide individuals with a competitive edge in the fashion industry, whether pursuing a career in fashion or simply having a passion for fashion.
What are Typical Fashion Backgrounds?
Fashion product backgrounds may vary depending on product type and brand design aesthetic. However, you can use the following fashion photography backdrop: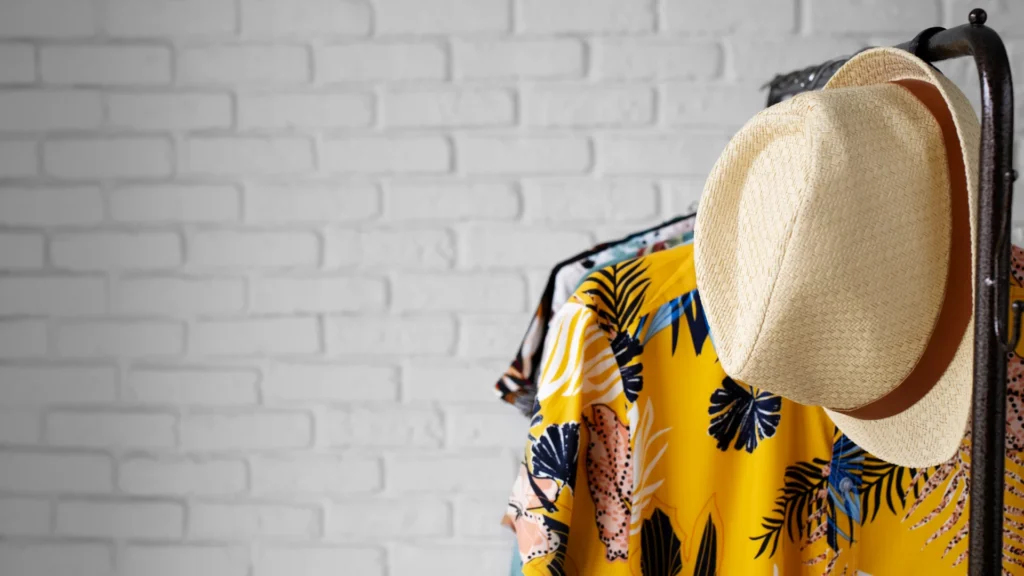 Solid Colors: Many fashion products, such as clothing, shoes, and accessories, are designed using solid colors or monochromatic patterns. These plain backgrounds bring out the design and details of the product.
Prints and Patterns: Prints and patterns are also commonly used in fashion products, including florals, stripes, polka dots, and animal prints. These backgrounds can add interest and dimension to a product and convey a particular style or theme.
Texture: Textured backgrounds are another popular choice in trending products. For example, velvet, lace, and leather fabrics can give a product tangible quality and enhance its overall design.
Graphics: Fashion products may also contain graphic designs or images, such as logos, slogans, or illustrations. These graphics help convey the message and style of the brand.
Minimalism: Some fashion products opt for a minimalist background, such as a simple white or black background. This design choice can create a sleek, modern look and accentuate the design and functionality of the product.
Ultimately, the background of a fashion product should complement and enhance its overall design and appeal to the target audience.
What are the Best Photography Backdrops?
The best background for fashion photography depends on the specific needs and style of the photographer. However, there are a few general factors to consider when choosing a background: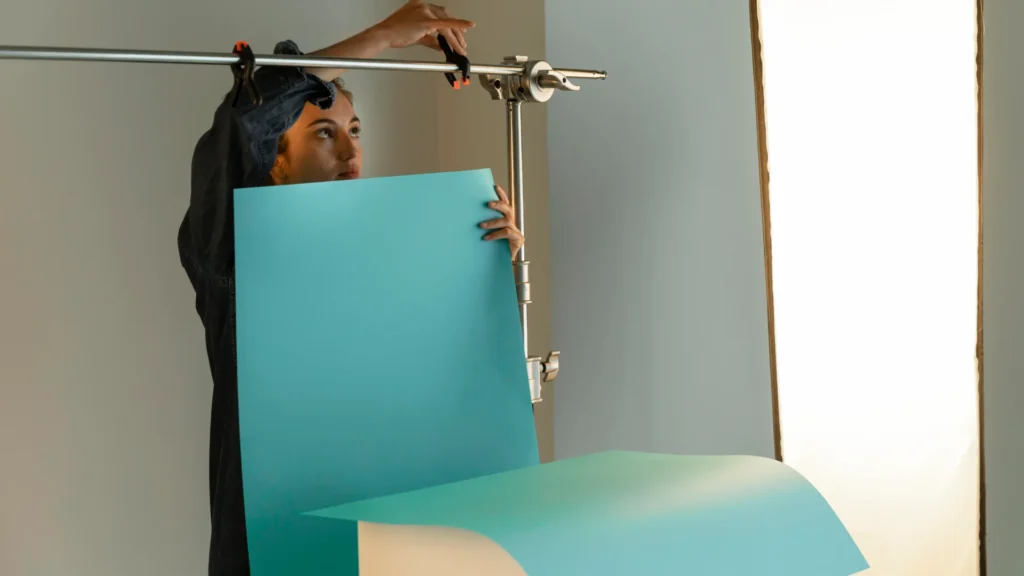 Material: Backgrounds are available in various materials, such as muslin, canvas, paper, or vinyl. Chiffon is a versatile option that can be dyed or dyed. The canvas is strong enough to withstand outdoor shooting. Paper wallpaper is disposable and available in a variety of colors. Vinyl one is wrinkle-free and easy to clean.
Color: Choose a color to complement your subject and enhance the mood of your photo. Neutrals like gray, white, and black are versatile and can be used in many different types of shots. Bright colors like red or blue can make a statement and interest photos.
Texture: Consider the texture of your background, as it can add depth and interest to a photo. Textured backgrounds can include wood, brick, or stone patterns.
Size: Make sure the background is the right size for your subject and recording space. The backgrounds come in different sizes, from small to large.
Some popular fashion photography backdrops include:
Seamless Paper
Chiffon
Tarp
Vinyl
Hand Painted
Ultimately, the best backgrounds meet the photographer's specific needs and style and improve the photo's overall quality.
Backdrop Ideas for Fashion Photography
Fashion photography is all about showing the beauty and elegance of models and the clothes they wear. A good background can highlight the subject and add to the overall visual impact of the photo. Here are some fashion backdrop ideas for photography:
Solid Color Background: A simple and classic choice, a solid background in black, white, gray, or neutral tones can give your fashion photography a clean and sophisticated look.
Natural Landscape: Natural settings such as gardens, forests, beaches, or mountains can create beautiful organic backdrops that complement the colors and textures of clothing and accessories.
Urban Places: The rough and bold aesthetic of urban environments, such as alleyways, graffiti-covered walls, or street corners, can give your photos a high-fashion vibe.
Textured walls: Try using backgrounds with different textures, such as brick, stone, or wood, to add depth and interest to stylish photos.
Abstract Patterns: Abstract patterns like stripes, dots, or geometric shapes can add a unique and playful element to your fashion photography.
Studio Sets: Create a studio environment with props, furniture, and accents that can complement an elegant style and enhance the visual appeal of your photos.
Remember to choose a background that complements clothing and accessories while accentuating the model's features and personality.
Various Photoshoot Background Ideas with Examples
Here are some examples of backgrounds that can be used in various photo shoots:
Solid Color Backgrounds: These backgrounds are simple and flexible and can be used in various photo shoots. Some popular colors include white, black, gray, and blue.
Seamless Paper Backgrounds: Available in various colors and sizes, ideal for indoor and outdoor photo shoots. They provide a clean, smooth surface for your subjects.
Textured Backgrounds: These add visual interest and depth to your photos. Some examples include wood grain, brick, and concrete textures.
Patterned backgrounds: These can add a unique and fun touch to your photos. Some popular patterns include polka dots, stripes, and flowers.
Chroma Key Background: Also known as Green Screen, used in video and photography productions to allow for inserting different backgrounds in post-production.
Printed Backgrounds: These can be customized with specific images or designs to match the particular theme or concept of the photo shoot.
Muslin backdrops: These are made of lightweight cotton material and are often used for portrait photography. Colors and textures are different types of muslin backdrops.
Fabric Backdrops: Made from various materials such as velvet, satin, or silk, they provide a luxurious and rich backdrop for portraits or fashion photography.
Outdoor Backgrounds: These can be achieved by choosing panoramic locations or using panoramic printed backgrounds.
These are some DIY backdrop for clothing photography, which you should try on your products.
Tips for Choosing Background for Your Photoshoot
Choosing the right fashion background for a photo shoot can significantly influence the photo's quality. Here are major tips to keep in mind when choosing a background: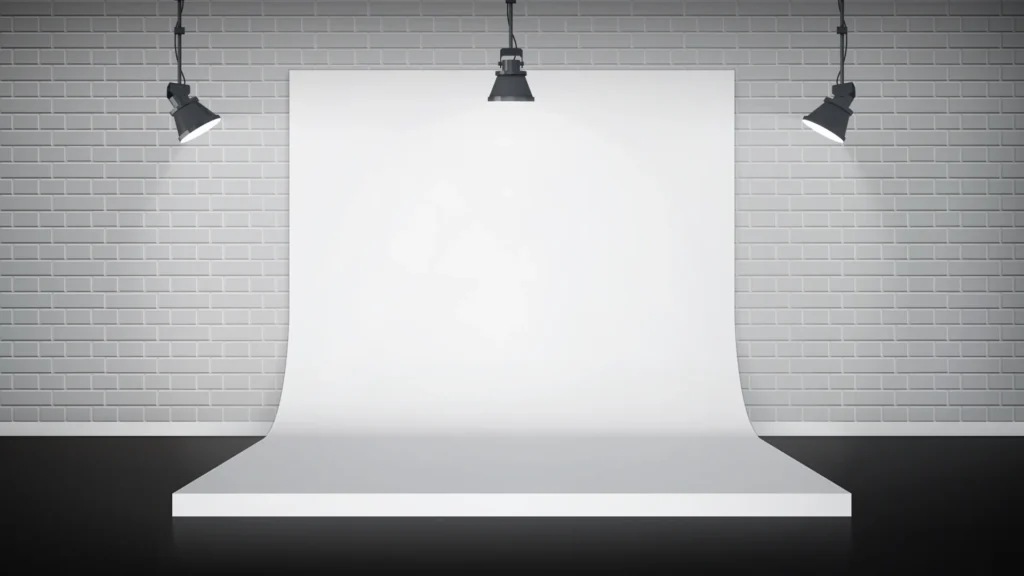 Consider the subject: The background should complement and enhance the photo's subject. Consider colors, patterns, and textures that complement what your subject is wearing or the product you photograph.
Location: Consider where you will be taking photos and what environment suits your photos best. Bustling city streets, quiet parks, or indoor studios are all options to consider.
Lighting: The lighting in your chosen location will also affect the final look of your photo. If you're shooting outdoors, consider the time of day and the direction of the light. If you're shooting indoors, consider the light sources available and how they will affect your subject and background.
Contrast: If your subjects wear colorful clothes, consider using a neutral or pastel background to help them stand out. Or, if your subject wears neutral colors, a vibrant background can add visual interest.
Theme and Mood: Consider the theme and mood you want to convey in your photo. A beach backdrop will create a different mood than a cityscape. Consider the emotion you want your photo to evoke and choose a background to match it.
Composition: Finally, think about the composition of your photo. A busy background can distract from your subject, while a plain background can create a clean, minimal look.
Consider where your subjects are about the fashion photography background and how they will react in the final image.
The Easiest Way to Remove the Background From an Image
Spyne is an application that uses artificial intelligence and machine learning algorithms to remove backgrounds from images automatically. It is the easiest way to remove backgrounds from images, as it requires no technical knowledge or expertise in image editing.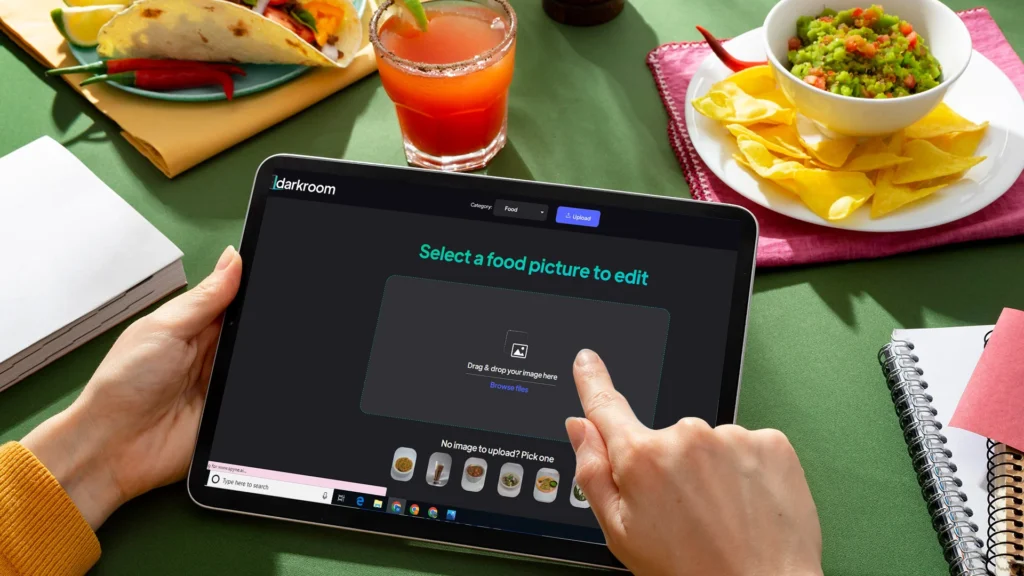 Spyne uses deep learning algorithms trained on millions of images to identify subjects in images and remove backgrounds accurately. The algorithm is designed to recognize different types of objects, including people, animals, and product objects, and it can handle complex images with multiple subjects and backgrounds.
To use Spyne, all you have to do is upload the image you want to edit on the website, and the algorithm will automatically remove the background for you. The process is quick and efficient; you can upload your edited image in minutes.
Overall, Spyne is a user-friendly and effective tool for removing backgrounds from images. It is a popular choice for amateur and professional photographers, graphic designers, and anyone else who needs to edit images.
Automated Background Removal from Clothing Image
To automatically remove background from clothes images using the Spyne app, you can follow these steps:
Visit the Spyne website and create an account.
Once logged in and logged in, select the "Background Removal" option from the menu.
Upload clothes images from which you want to remove the background.
Spyne's AI algorithm automatically detects clothing and removes the background from the image.
Before downloading the final image, you can preview the result and make the necessary adjustments.
Once satisfied with the result, you can download the image with a transparent background and use it for your desired purpose.
Spyne offers the best Fashion Photography Ideas and services, following the latest trends in the market.
Creating Custom Backdrop for Your Fashion Photos Utilizing Spyne
Spyne is an Artificial technology (AI) platform that provides various visual content solutions, including fashion photo editing and retouching services. One of the ways Spyne can help create custom fashion background images is by using its image editing tools to remove existing backgrounds and replace them with custom backgrounds.
For example, suppose you have a fashion photo taken against a plain white background but want to add a more interesting background. In that case, Spyne's AI and software tools remove the white background and replace it with one of your choices. Any custom background includes anything from textured backgrounds to landscape backgrounds and even digitally created designs.
With Spyne's services, you can ensure your stylish photos stand out and look professional with custom backgrounds that complement your brand and aesthetic.
Spyne's image editing services can help improve the overall quality of your fashion shots, including improving light and color balance, removing blemishes, and adjusting overall composition to make images more visually appealing.
Additionally, Spyne knows the importance of a fashion photography background and is the world's leading background removal and editing company.
Virtual Studio to Keep your Fashion Photography Scalable
Spyne Virtual Studio is a technology product that provides virtual photography services for the fashion industry. Their service allows fashion brands to create high-quality images of their products at scale without the need for physical photo shoots.
Here's how Spyne Virtual Studio keeps fashion photography scalable:
Virtual Photography: Spyne Virtual Studio uses 3D and virtual photography to create realistic images of fashion products.
Process Automation: Spyne Virtual Studio's platform is designed to automate most of the steps involved in creating product images. This includes things like lighting, background removal, and image editing.
Consistent Quality: Spyne Virtual Studio's technology ensures that all images are of consistent quality and follow a particular pattern provided by you, which is important for maintaining your brand image and reputation.
Flexibility: This means brands can use the platform to create images tailored to their specific needs, making the process more scalable.
Conclusion
Ultimately, fashion photography backgrounds are key to creating eye-catching fashion images. A good background can enhance an image's mood, subject, and beauty and create a visually pleasing composition.
The choice of background will depend on several factors, such as the brand's identity, the message the image is trying to convey, and the target audience. Fashion photographers can choose from various backgrounds, such as natural environments, studio backdrops, and cityscapes, to create the desired effect. In addition, the use of props, lighting, and colors contributes to the overall effect of the image.
It is necessary to experiment with different backgrounds and elements to find the perfect combination that showcases clothes, accessories, and models in the best possible way. Model Shoots can be a great way to publicize fashion images as well.
In conclusion, a great fashion photo requires a compelling background and the right combination of elements to create a beautiful image that grabs the viewer's attention and leaves a lasting impression.